For affiliate links and as an Amazon Associate I earn from qualifying purchases.
Here's another installment of the Pumpkin Pie Plus series, and trust me, you'll want to make today's recipe for the Best Gluten-Free Pumpkin Pie Ever … immediately.
Here's the back story. Reader, Raye Ann, commented on my original Crustless, Gluten-Free Pumpkin Pie that she had experimented and made a dairy-free version of my pumpkin pie. Then she went on to graciously share her adaptation in comments.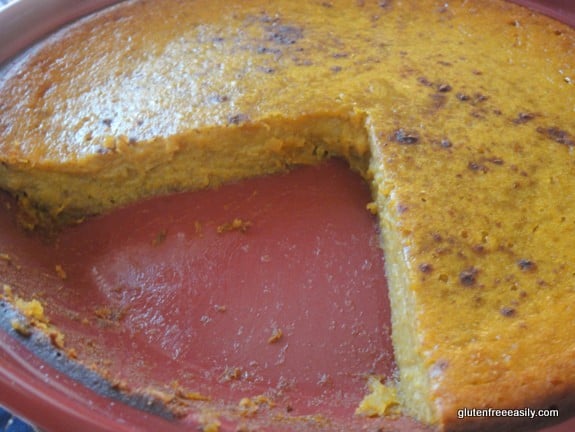 Raye Ann went on to say that she took two of her pies to a church function where both were quickly eaten. She added that she heard one fellow say that her pie was one of the best pumpkin pies he'd ever eaten.
Oh my. That was quite a recommendation, so I had to check out her new dairy-free version of this recipe. The timing for testing her recipe was good since I have a support group meeting tonight and didn't have any desserts planned.
Plus, as it turns out Sunday was National Pie Day. Hey, I'm game, even if I'm a couple of days late. Pies are one of our very favorite baked goods in the gfe house.
So I had to make Raye Ann's crustless, gluten-free, dairy-free pumpkin pie. First thing this morning, I quickly mixed all the ingredients including fresh (and thawed) pumpkin puree that I had frozen a few months back.
The verdict? Oh my goodness, you all, this pie is awesome! I really do think the title, "Best Pumpkin Pie Ever" is merited.
My mainstay original Crustless Gluten-Free Pumpkin Pie is very popular here at gfe and gets rave reviews—as it should—but I think this new version kicks that pie to the curb. Sort of. It at least pushes it to the back of the refrigerator.
There is no coconut flavor, but the canned, full-fat coconut milk provides the creamiest texture you can imagine and the pie sets up very nicely. Per usual, nobody will even notice that it's crustless. Everyone will just be focusing on how good it is!
If you're new to gfe, you may not know about the crustless pie concept. Again, I encourage you to check out the post on my original pumpkin pie recipe where I talk about the concept and search on crustless pie (my search feature is below the header in the top right corner of my site; or you can just look under Recipes) and then start baking.
You will be so happy with the results! I'm totally delighted to add this version of Raye Ann's to the gfe crustless repertoire.
Incidentally, I love that this dairy-free version is also healthier for you. A cup of coconut milk versus evaporated milk? That's an easy choice for me.
Did I tell you that this is the Best Gluten-Free Pumpkin Pie? It really, truly is! Enjoy!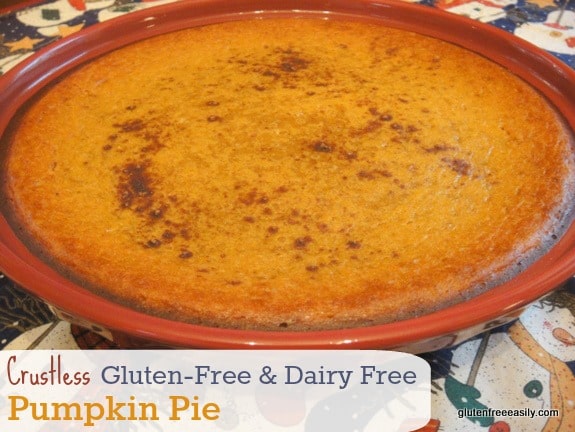 Other Fabulous Gluten-Free Dairy-Free Pumpkin Pies
~ Chiffon Pumpkin Pie from Primal Palate
~ Gluten-Free Vegan Pumpkin Pie Recipe from Gluten-Free Goddess
~ Vegan Pumpkin Pie Praline in Coconut-Pecan Crust from Gluten-Free Goddess
And finally, my epic Gluten-Free Pumpkin Pie Recipe Roundup of Over 50 Recipes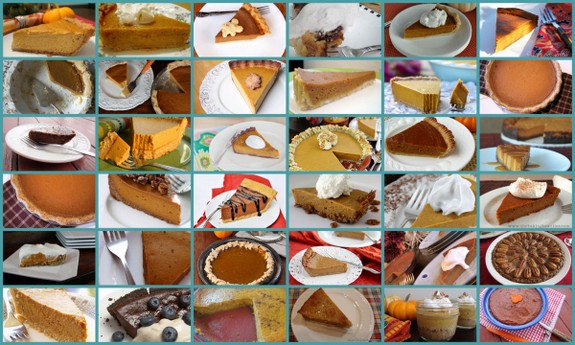 Best Gluten-Free Pumpkin Pie Ever Recipe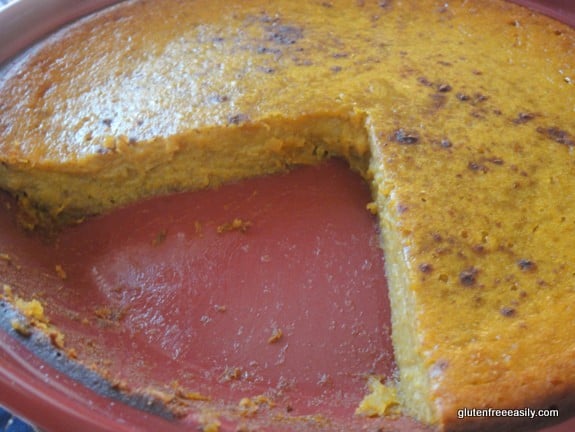 Yield: 8 servings
Best Gluten-Free Pumpkin Pie Ever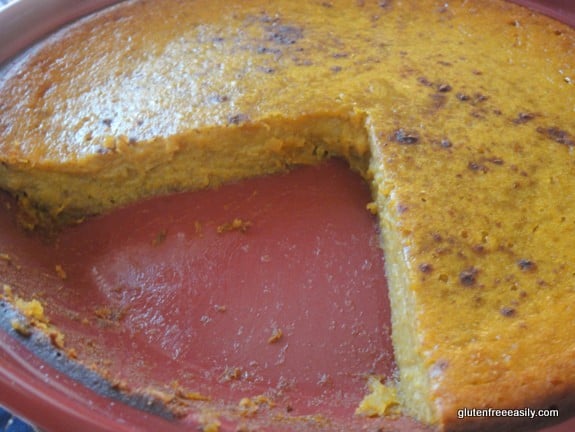 Yes, this really is the Best Gluten-Free Pumpkin Pie Ever! And it just happens to be crustless and dairy free as well. Love that!
Total Time
1 hour
5 minutes
Instructions
Preheat oven to 425 degrees F. Grease pie plate and set aside.
In large bowl, beat eggs slightly; mix in remaining ingredients.
Place pie plate on oven rack; pour in filling. (I almost never do this latter step, but it makes sense. Personally, I'm in the "hum" or "count as you carry the pie to the oven" school of thinking to ensure the pie plate contents do not spill. Hey, it works for me!)
Sprinkle with cinnamon. Bake 15 minutes.
Reduce oven temperature to 350 degrees F. Bake until knife or toothpick comes out clean, about 45 minutes longer. (Pies made with fresh pumpkin sometimes take slightly longer to bake due to higher moisture content if excess water is not drained before adding to recipe.)
Notes
I used fresh pumpkin that I had frozen for the pie pictured here. Hence, the lighter color. Fresh pumpkin also provides a much lighter taste in my opinion.
Flax or chia gel "eggs" can be used in place of the chicken eggs.
You can find my favorite gluten-free flour mix here.
You can use 1 3/4 tsp pumpkin pie spice (or "round up" to 2 tsp) in place of the individual spices.
Originally published January 25, 2011; updated November 11, 2022.