For affiliate links and as an Amazon Associate I earn from qualifying purchases.
I'm so very happy with this gluten-free Pot Pie that I'm sharing with you today! It's the ultimate comfort food dish and the best pot pie I've ever had in my life. Gluten free or gluten full. Let me tell you how this recipe came to be.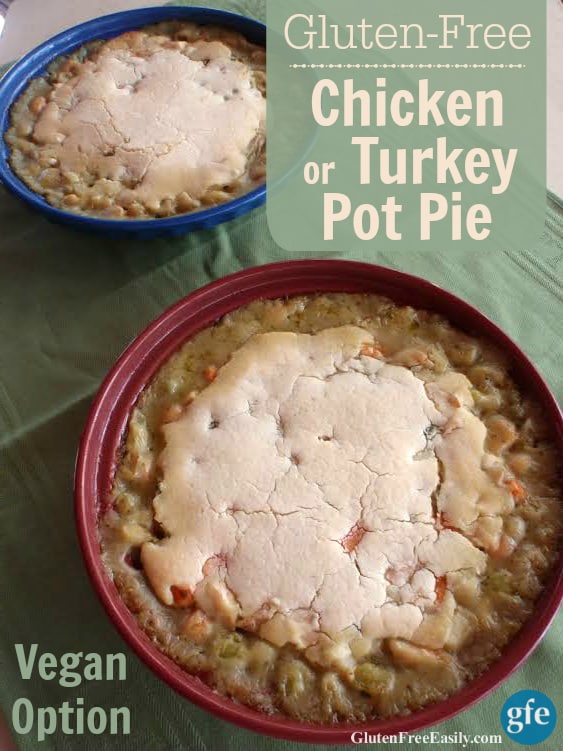 It wasn't long after I posted my recipe for Crustless Apple Pie back in May that I thought I could use the same "pour-over" batter concept to make an easy pot pie. But, it was May, then I got distracted … soon it was summer and I was out of the pot pie mood. (Out of any mood that meant turning on the oven actually.)
However, some gfe readers had thought the same thing about the possible pot pie idea and emailed me to ask if I had a simple conversion recipe. I say "conversion recipe," because the batter poured over the apple pie calls for a cup of sugar—which would definitely not be a good choice for a pot pie batter.
I had to reply that I'd had the idea on the back burner for a while, but hadn't come up with an ideal solution yet. I had actually made one pot pie using the method, but had not been really pleased with the results. The topping had been too thick and "doughy."
When Jessica asked me the same question in a lovely email she sent the other day, I decided the timing was right to seriously address this question/need. I had plenty of turkey left over from my slow-cooked turkey recipes—Traditional Turkey Breast and Special Turkey Breast.
So I looked online for some simple ideas that might inspire me further. There were many pot pies topped with standard, "roll-out" pie crusts, even gluten-free versions, and many of them did look wonderful. But, they weren't what I wanted.
Do I need to mention it was right after Thanksgiving? Not only was I looking for an easy topping, but I also didn't want too much "heaviness" or mega calories.
Other recipes called for a biscuit-type topping, which I wasn't interested in either. Finally, I found a promising turkey pot pie recipe (with a "pour-over" crust) at the Gluten-Free-Diet-Help site.
First, I halved the recipe (we certainly didn't need a 9 x 13 pan full of pot pie for just the two of us). Second, I decreased some ingredients, cut some ingredients, increased others,  and streamlined the recipe.
In the end, I was really pleased with the results and Mr. GFE gave his hearty approval, too. I may tweak the recipe for the crust topping if I make it again (and update the recipe here) because it was pretty thin (and looked somewhat like a cracked desert as you'll see).
I may decide that I'd like to try a more traditional crust as far as thickness next time. However, the filling was thick and luscious, so a light crust (again, given that it was immediately after Thanksgiving) seemed just right.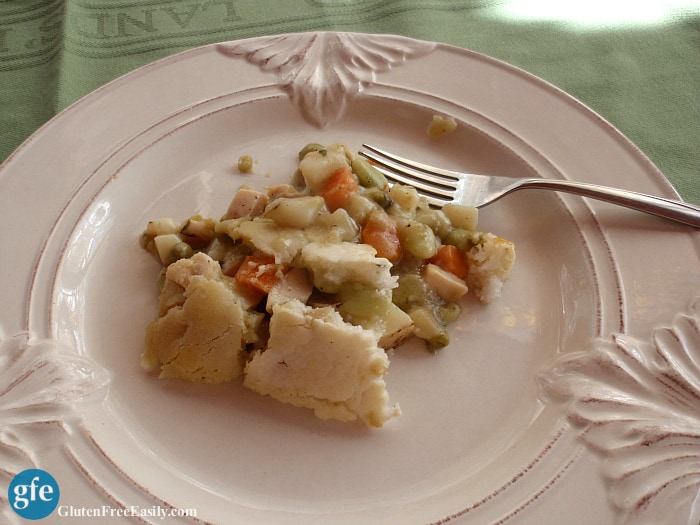 I used canned full-fat coconut milk in this recipe. That addition did not make the pot pie have a coconut taste, but it did provide a slightly discernible, yet pleasant sweetness. Note that the recipe I took inspiration from actually called for some sugar, but that was one of the things I omitted.
The herbs and seasonings (parsley, thyme, oregano, sea salt, and peppercorn medley) used also ensured that the pot pie did not come out sweet, but rather was the very definition of savory in my opinion. Last, here's the funny thing … I got so caught up in how beautiful the vegetables looked and how nicely the whole mixture thickened, that I completely forgot to add the turkey!
Cooking accidents can often yield some wonderful results—in this case, a lovely vegan and gluten-free pot pie if one uses vegetable broth  in the recipe. Because we wanted to use up our leftover turkey, I just diced some turkey on each of our plates and served the pot pie over it.
This method worked just fine, so consider this idea as a way to easily accommodate vegans and carnivores at the same pot pie meal. (Update: Readers who have family members in both categories tell me they go this route whenever they make this recipe.)
Gluten-Free Pot Pie Recipe
Yield: 8 servings
Gluten-Free Pot Pie (with Chicken or Turkey, or Vegan)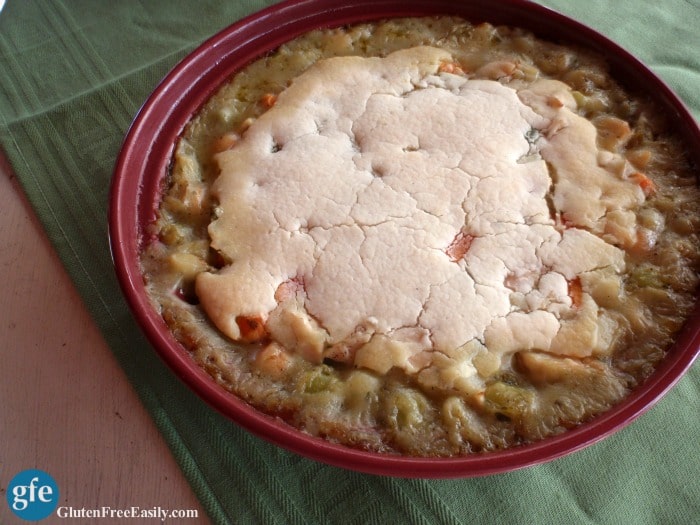 Reader review:  "I can't even begin to tell you how much my entire family and I LOVED this recipe! Completely and totally amazing and better than any (including "gluten full") pot pie I have ever eaten!"
Total Time
1 hour
45 minutes
Ingredients
Filling
Crust
2/3 cup gluten-free flour mix (I use my Two-Ingredient Flour Mix)
1/2 tsp sea salt
3/4 tsp baking powder
slightly less than 1 cup milk or non-dairy milk (I use full-fat canned coconut milk)
Instructions
In large, deep skillet or Dutch oven, heat 3 tablespoons oil and add the onions, carrots, potatoes, parsley, thyme, oregano, sea salt, and pepper. Allow to cook on medium-low or medium heat until vegetables are softened.
Add chicken broth and bring to a boil. Allow it to simmer about 2 minutes, then add peas and lima beans and cook until tender.
Preheat oven to 375 degrees F. Meanwhile, in a saucepan, mix the 1/3 cup flour and 2 tbsp oil until blended, and heat on medium-low a minute or two until thickened. Add the milk gradually to make a white sauce. When the mixture is almost thickened, add to the vegetable mixture. Stir in chicken or turkey, if desired. When all is thickened nicely, pour into a medium-sized greased casserole dish or deep dish pie plate.
In same saucepan, whisk together crust ingredients: flour, salt, baking powder, and milk. Pour over top of filling in casserole dish or pie plate. Even out the topping with a spatula, not quite going to the edge of the dish (leaving this space allows venting, if needed). Place pot pie into preheated oven and bake for 30 – 45 minutes, until crust is lightly browned.
Notes
Adapted from gluten-free-diet-help.com.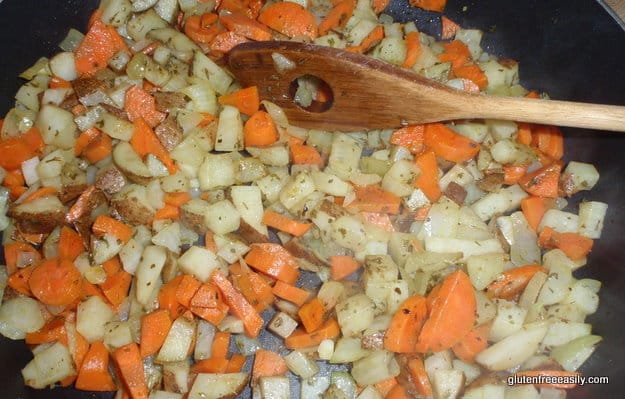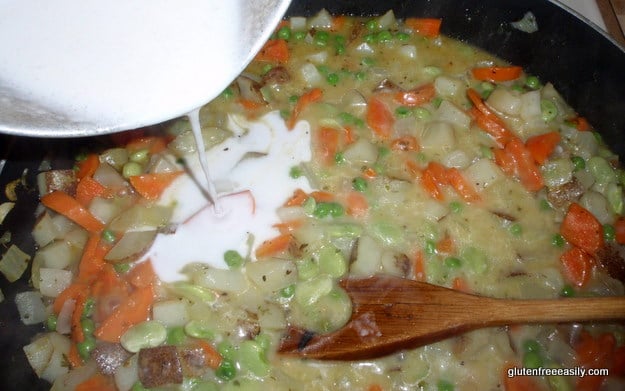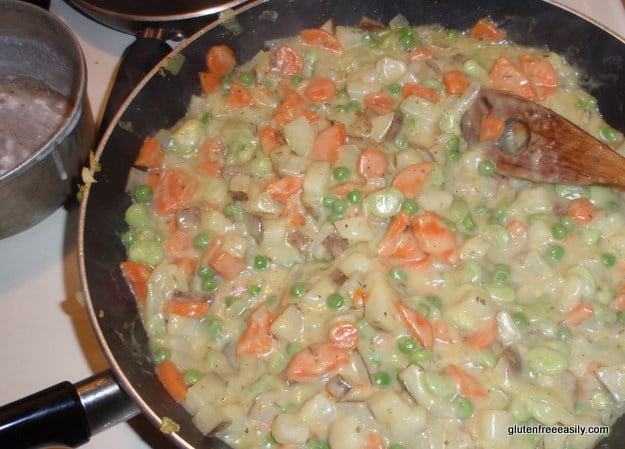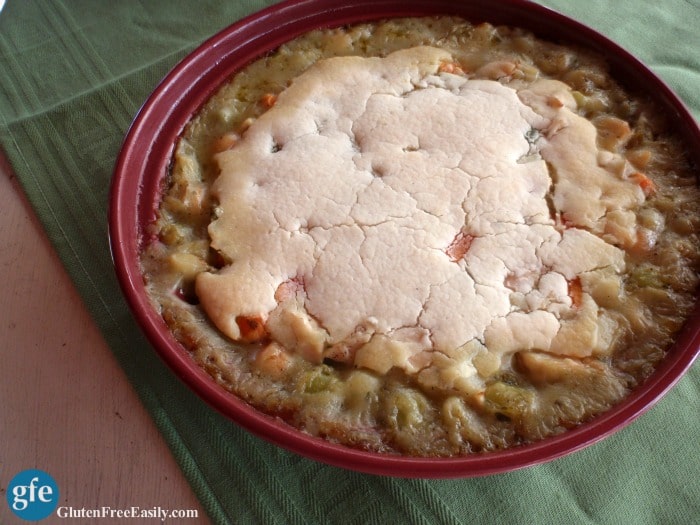 Originally published December 1, 2009; updated August 20, 2018.