For affiliate links and as an Amazon Associate I earn from qualifying purchases.
Mr. GFE is most content as a carnivore, so when I made this gluten-free Vegetarian Chili for us the first time, I simply said it was a new chili recipe that I wanted to try. Then I added that the recipe included a lot of mushrooms, which he absolutely loves!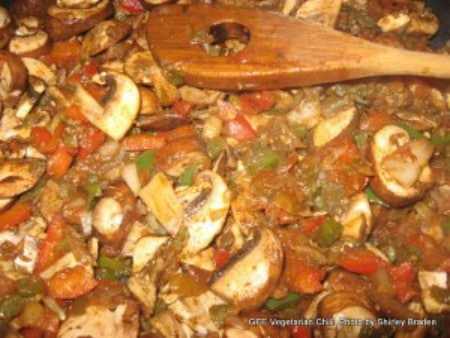 I used portabella mushrooms, which always add that nice "meaty" flavor. He ended up giving the new Vegetarian Chili recipe high ratings, and so did I.
Now when I make this recipe, I just say I'm making "That Chili with the Mushrooms." Oh, I did eventually tell him that it was a vegetarian recipe, but he didn't care because it's really good chili.
This gluten-free Vegetarian Chili is packed full of nutritious ingredients! It's also extremely flavorful, and while it's filling, it's not "heavy" as meat-based chili recipes often are.
I found the original recipe when I was looking for a vegetarian chili recipe online that didn't contain gluten to make for a friend. A lot of main dishes that are vegetarian contain gluten and I don't cook with gluten (even for someone else—it's just not safe).
I was pleased when I found a "starting point" recipe on allrecipes.com because the vegetarian recipe had many reviews, all of which were excellent. Just like those of us who are gluten free, vegetarians sometimes have to settle for salads or mediocre vegetable side dishes for their meals, but with this gluten-free vegetarian chili my friend didn't have to "settle" at all.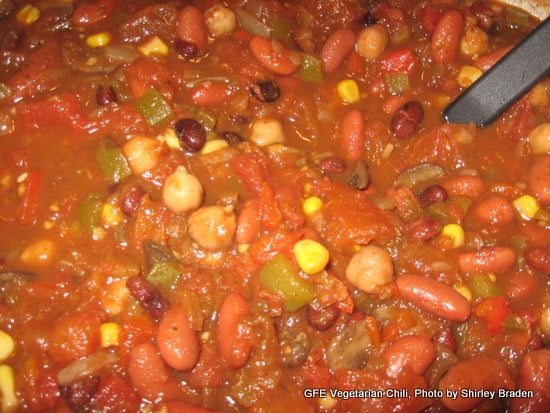 She loved this chili and I was really surprised at how much I enjoyed it as well. So much so, that it's now on the regular menu "rotation" at our house. I've come to actually prefer this recipe to my meat-based chili.
I made it on a recent Sunday, with plans to feed both of us and then have plenty left for our support group meeting on Tuesday.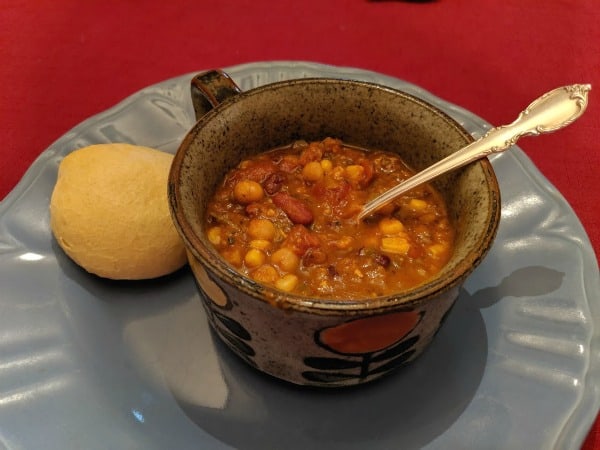 The recipe below perfectly fills a 4-qt crockpot. However, when I was ready to serve this gluten-free vegetarian chili to our support group (they've also become big fans!), I wanted to balance out the flavor from the fresh tomatoes (a little too many as it turned out) and re-fill my 6-qt Rival Smart-Pot.
So, I added another can of kidney beans, another can of chickpeas, and another half jar of salsa to start. I wanted to add another can of black beans, but since I had already used my last can, I decided to added a can of black-eyed peas. So "that chili with the mushrooms" take two is shown below.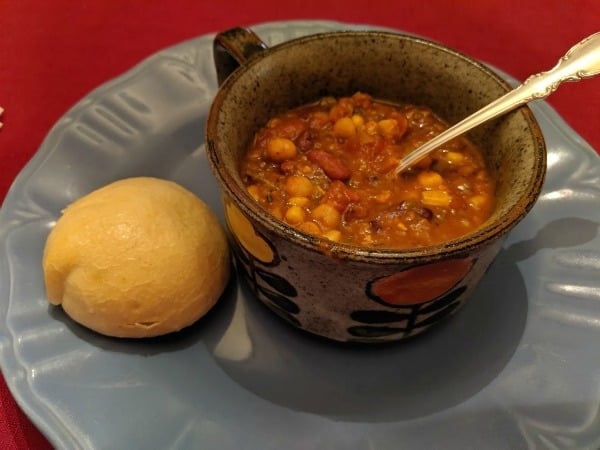 The results were just as delicious as ever, so obviously this recipe is the best kind—adaptable to what you have on hand, naturally gluten free, and easy to make … so gluten free easily—gfe!
By the way, I'm not always one to eat chili year-round, but this recipe is an exception. 😉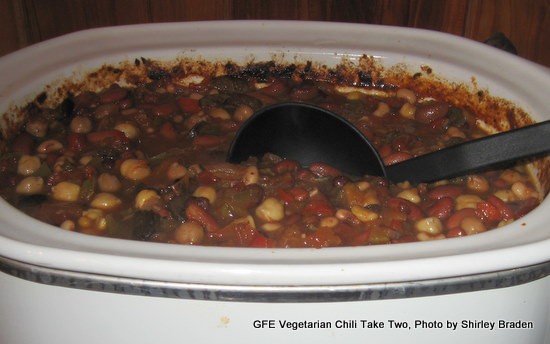 My flat and firm cornbread was the perfect complement to this chili. Because we have some support group members who are gluten free and dairy free, I made two versions—one with milk and butter for those who eat dairy and another using olive oil and rice milk for those who don't. (See olive oil for butter substitution guide.)
The latter version was a little crumbly, but still had the same great flavor. Next time I make the dairy-free version, I am going to decrease the amount of rice milk slightly and add a little xanthan gum.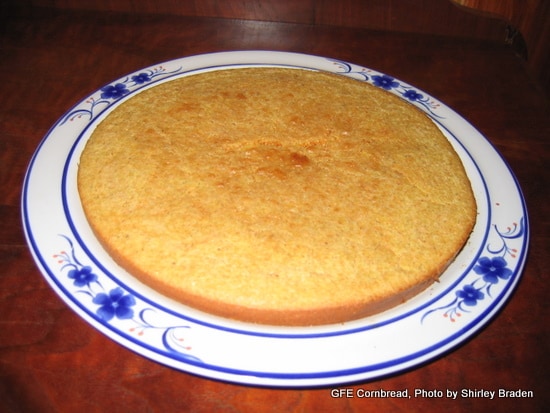 Gluten-free Vegetarian Chili—aka "That chili with the mushrooms"—and flat and firm cornbread … quite a nice combination!
What's your perfect chili combination? Do you make vegetarian chili?
Gluten-Free Vegetarian Chili ("That Chili with the Mushrooms") Recipe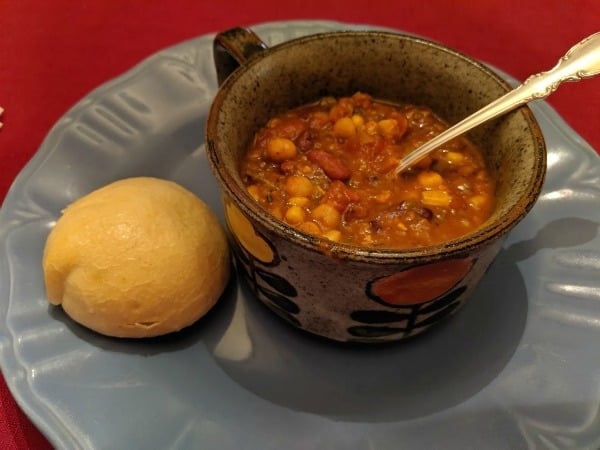 Yield: 8 servings
Gluten-Free Vegetarian Chili ("That Chili with the Mushrooms")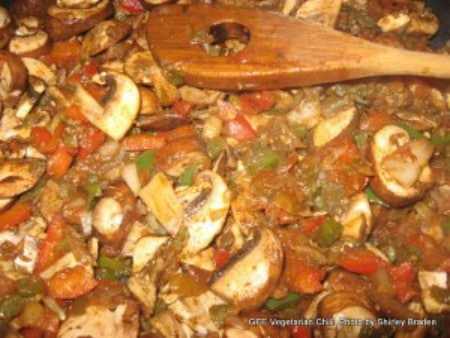 Don't bother telling the meat eaters that there's no meat in this gluten-free vegetarian chili, because they will love this chili and won't miss the meat one bit!

Prep Time 15 minutes

Cook Time 7 hours

Inactive Time 7 hours

Total Time 14 hours 15 minutes
Ingredients
1 tablespoon vegetable oil (I used olive oil)
1 cup chopped onions
3/4 cup chopped carrots (optional, I don't add carrots most of the time)
3 cloves garlic, minced
1 cup chopped green bell pepper
1 cup chopped red bell pepper
3/4 cup chopped celery (optional, I add when I have celery on hand)
2 tablespoons chili powder
1 1/2 cups chopped fresh mushrooms (I used portabella)
1 (28 ounce) can diced tomatoes with liquid, chopped (I used a combination of fresh tomatoes and canned diced petite tomatoes)
1 jar salsa (about 16 ounces, but I've made it with less, or you can sub 1 tbsp tomato paste and do not drain/rinse kidney beans and add additional chili powder to taste)
2 (19 ounce) can kidney beans drained and rinsed
1 can chickpeas, drained and rinsed
1 can black beans, drained and rinsed
1 (15 ounce) can whole kernel corn, drained and rinsed, or equivalent amount of frozen corn (I used Bird's Eye frozen baby gold and white corn, which is excellent)
1 1/2 teaspoons ground cumin
1 1/2 teaspoons dried oregano
1 1/2 teaspoons dried basil
Instructions
Heat oil in a large saucepan over medium heat. Saute onions, carrots (optional), and garlic until tender. Stir in green pepper, red pepper, celery (optional), and chili powder. Cook until vegetables are tender, about 6 minutes.
Stir in mushrooms, and cook 4 more minutes. Transfer ingredients to your crockpot. Stir in tomatoes, kidney beans, chick peas, black beans, and corn. Season with cumin, oregano, and basil.
Cook for 7 to 8 hours on low. (You can reduce the overall cooking time by cooking on high for an hour or two and then cooking on low the remainder of the time. Usually one hour on high equals about two hours on low.)
Notes
Shirley's Notes: Although I like carrots and celery, the first time I made this recipe I didn't have any on hand and the chili was still wonderful, so you can consider those as optional as shown.

This recipe is very flexible. Use what you have on hand, follow your personal preferences on ingredients, double the amounts if needed, etc.

I generally prepare everything and place it in the crockpot the night before, so I don't have to rush in the morning and so it is not overcooked by the time I get home from work.

My 4-qt crockpot does not have an automatic shutoff. The cold ingredients guarantee a slightly slower start.

I generally follow this approach even with my crockpot that switches from cooking to warming just so I'll have the ingredients ready to go in the morning. (I don't believe this approach is recommended by slow cooker manufacturers, but it has worked for me.)

I've also cooked this recipe and other crockpot recipes overnight before.

Adapted from a recipe on allrecipes.com

Originally published March 31, 2009; updated August 15, 2021.