For affiliate links and as an Amazon Associate I earn from qualifying purchases.
I didn't plan on sharing another sweet treat for a while, but when I mentioned this gluten-free Mediterranean Chocolate Cake at my presentation at our local Women's Forum last Saturday, suddenly everyone was rapt with attention. Yeah, I know … mentioning chocolate has a way of doing that!
I promised one particularly eager attendee, Deborah, that I should have the recipe for this gluten-free Mediterranean Chocolate Cake on my site in about a week. She was very interested in a recipe that was not only gluten free but also dairy free. So today I am honoring my promise!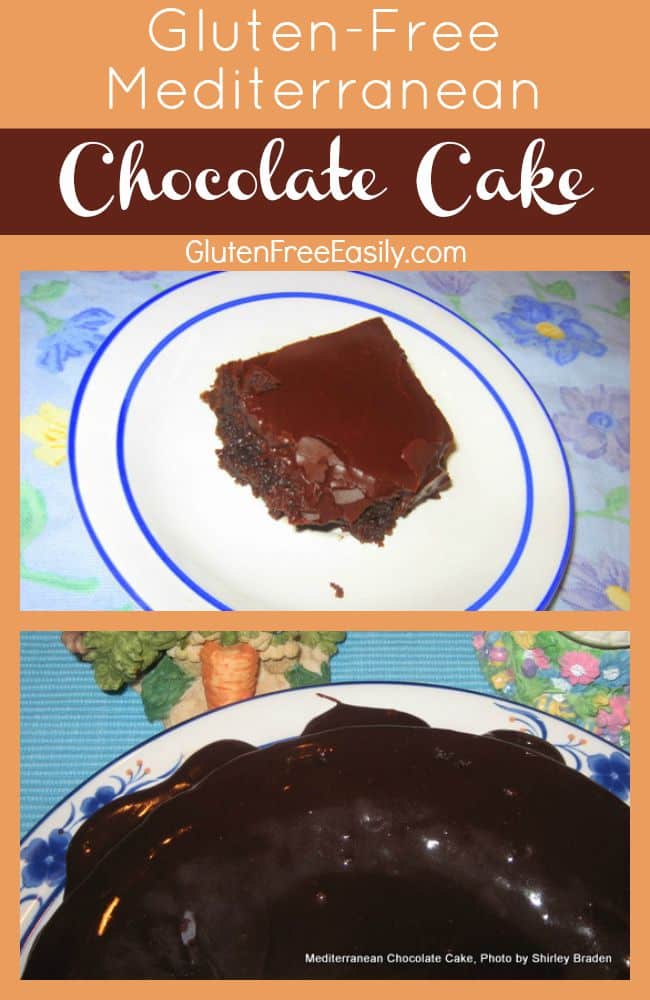 What makes this particular chocolate cake Mediterranean? Think about that for a moment. What's everyone's favorite Mediterranean product that also happens to be so good for you?
Olive oil, of course. Rich and wonderful olive oil! As I've recently mentioned, I'm trying to eat more dairy free. I've also mentioned that we have several members of our support group who are both gluten free and dairy free.
In offering more dairy-free options, I am taking the same approach to dairy free as I've always taken towards gluten free. I'm looking for recipes that are naturally dairy free or can easily be made dairy free and, most importantly, taste just as good as their dairy counterparts.
Not all recipes shared here at gfe will be dairy free, but many will be. But, I don't think you'll ever have any complaints about the recipes you find here. Case in point, today's gluten-free Mediterranean Chocolate Cake, which again happens to be dairy free as well.
When I was looking for guidance on how to substitute olive oil for butter the other day, I came across the Filippo Berio site. I found a handy substitution chart, which I've already printed out and put on the inside of the cabinet next to my stove.
But there's so much more helpful data on Filippo Berio's site, including a discussion on good fats versus bad fats and 12 Steps to Mediterranean Living. Remove the gluten factor (i.e., only use non-gluten grains, pasta, and breads) in the guidelines and you have advice that's terrific for all of us.
Really. Check it out here. But I know, I know … you want to hear more about the cake. I'm getting to it. I promise.
This site also offers recipes and as you would expect, they all call for olive oil. As I scrolled through the recipes, the Mediterranean Chocolate Cake caught my eye.
I appreciated that the recipe only called for a small amount of flour (which always allows one to get a bit closer to tasting the core ingredients of a recipe). It also required unsweetened cocoa powder, which can be a nice non-dairy way to get one's chocolate fix.
Cocoa also provides a simpler chocolate flavor than that offered by other ingredients like chocolate chips or baking chocolate. It's also less expensive and easy to keep stocked in your pantry.
The recipe called for grated lemon peel. I had a lemon, but in the interest of time, I used some dehydrated orange peel I had on hand. It was supposed to rehydrate from the liquid in the recipe.
Unfortunately, it didn't occur to me to test it before I added it to the batter. Apparently, it was too old and dried up to regenerate. (Hmmm, there might be a lesson there, but it's not one that I want to acknowledge!) So the orange peel that didn't come to life provided a little extra fiber, but no orange flavor. Therefore, a citrus factor is definitely optional.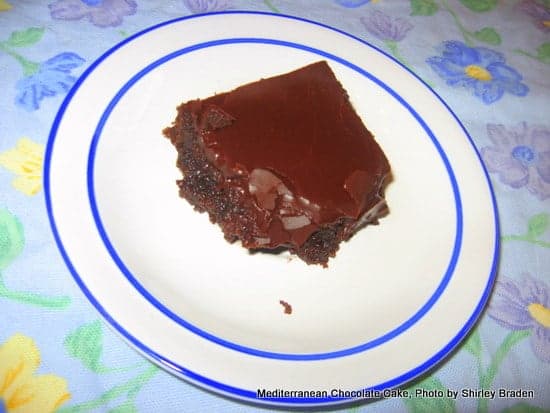 Last, per usual, I adapted the recipe slightly by using gluten-free flour and adding a small amount of xanthan gum. The result is a beautiful and delicious cake that looks a lot like my Flourless Chocolate Cake but is more of a classic chocolate cake without the "death by chocolate" intensity. Still, everyone loved it … I think you will, too!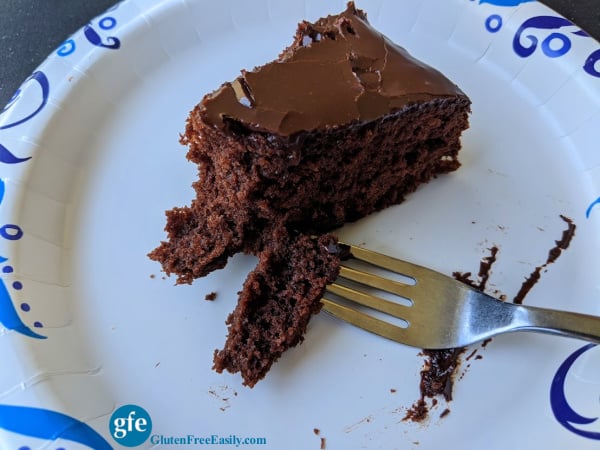 Oh, and it makes a perfect birthday cake, which you can see by this photo of my mom enjoying a slice on her birthday!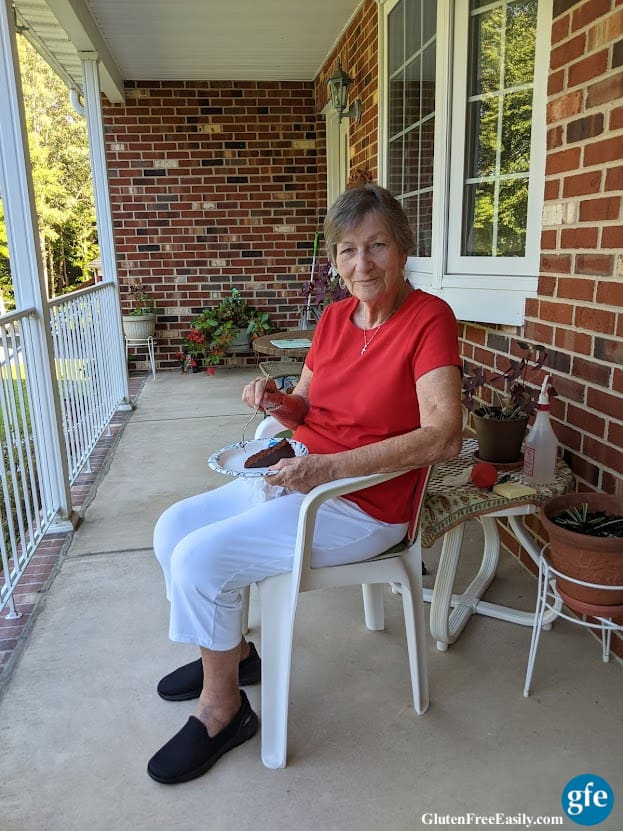 If you're feeding a crowd or want really impressive results, turn the recipe into a two-layer cake by doubling it.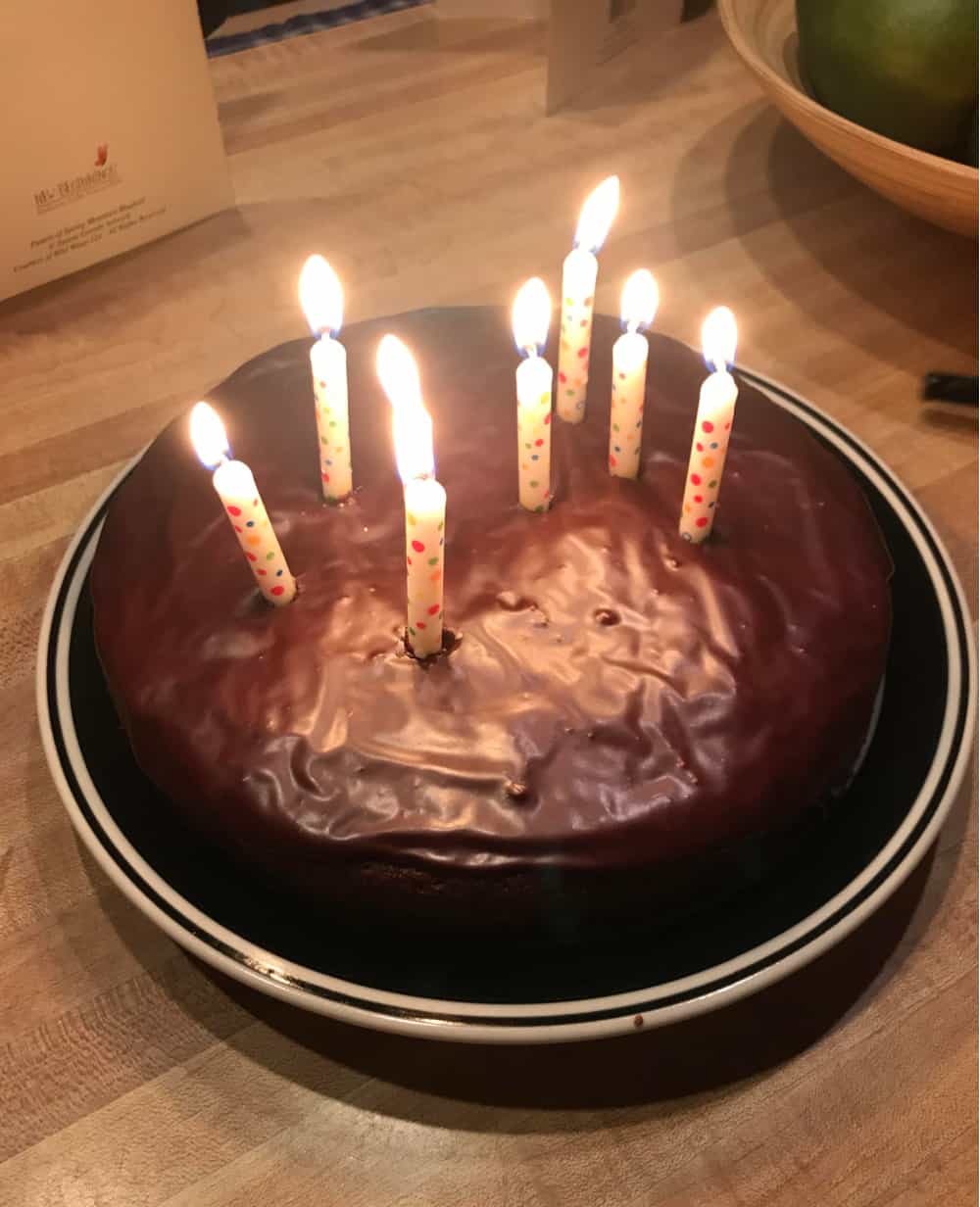 Gluten-Free Mediterranean Chocolate Cake (aka Chocolate Olive Oil Cake) Recipe
Yield: 8 slices
Gluten-Free Mediterranean Chocolate Cake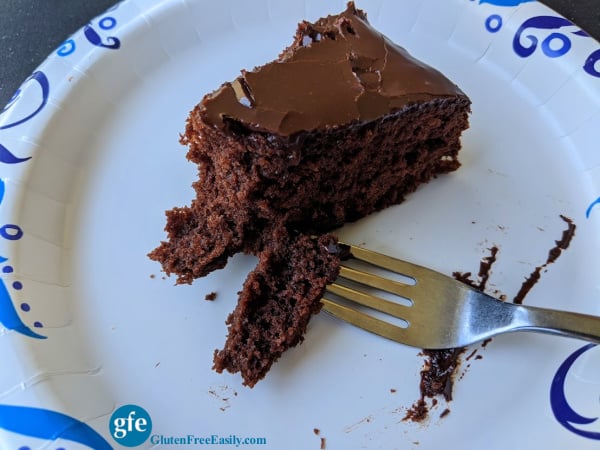 This simple one-layer chocolate cake is my "go to" cake recipe for friends' birthdays. Don't be disappointed by the single layer. This cake feeds quite a few people and has a lovely presentation. Of course, you can make two layers if you wish!

Prep Time 10 minutes

Cook Time 30 minutes

Inactive Time 10 minutes

Total Time 50 minutes
Ingredients
For the Cake
3/4 cup gluten-free flour mix (I use my Two-Ingredient Gluten-Free Flour Mix)
1/2 cup unsweetened cocoa powder
1/4 teaspoon baking soda
1/4 teaspoon xanthan gum
1/4 teaspoon ground cinnamon
4 large eggs
1/4 teaspoon salt
1 cup granulated sugar
2/3 cup extra virgin olive oil (or light olive oil; see notes)
For the Glaze
2 tablespoons water
1 cup powdered sugar
1/4 cup unsweetened cocoa powder
1 tablespoon olive oil
Pinch salt
Instructions
For the Cake
Preheat oven to 350°F. Grease 9-inch round cake pan or 9-inch springform pan with olive oil. Line bottom of pan with parchment paper. (I use a non-stick pan and have found that spraying it with olive spray is enough. I don't need parchment paper.)
In a small bowl, combine flour, cocoa, baking soda, xanthan gum, and cinnamon.
In a large bowl, whisk together eggs and salt until blended. Slowly whisk in granulated sugar until combined. Sift flour mixture over egg mixture; fold in with rubber spatula until blended. Fold in olive oil, 2 tablespoons at a time, until well blended. Pour into prepared pan.
Bake 30 minutes or until cake springs back when pressed lightly in the center. Cool on a wire rack 10 minutes.
Loosen cake from pan with knife or spatula. Invert onto wire rack; remove paper. Invert again; cool completely. Place cake on a serving plate.
For the Glaze
In small saucepan, combine water and powdered sugar until smooth.
Sift cocoa over sugar mixture; blend well.
Stir in olive oil and salt.
Warm glaze over low heat, stirring constantly, until just warm to the touch.
Drizzle glaze over top of cake.
Allow cake to set 10 minutes before serving.
Notes
Adapted from Filippo Berio.

Some folks seem to be very sensitive to the flavor of olive oil and dislike it. If that's you, I don't recommend this cake. If you love olive oil, you will most likely enjoy this cake. However, I still recommend using an extra virgin olive oil with a great taste or a light olive oil, NOT just regular olive oil.

You can also add 2 teaspoons finely grated lemon peel or orange peel to the batter if you like (adding it at the same time as the sugar). I prefer it without myself, but some folks love a citrus factor.

If you get sidetracked after making the glaze and it hardens, just add a little water and warm slowly until you get the desired consistency. 

Filippo Berio states that this cake may be prepared in advance and refrigerated or frozen. Thaw cake, loosely covered, at room temperature before adding the glaze.

One reader reported making this cake egg free:
"We did it and it was AMAZING!!! Eggs replaced with 2 oz. blended tofu, 2 oz. applesauce and two eggs worth of powdered egg replacer (do not mix with water). There is enough liquid between the applesauce and tofu to replace the liquid needed for the powdered egg replacer. Other than that we followed the recipe just like it is written."

Originally published April 4, 2009; updated September 6, 2021.