For affiliate links and as an Amazon Associate I earn from qualifying purchases.
This recipe for gluten-free Peach Upside Down Cake comes from my friend Steve Zeiden. Some of you might remember Steve from his previous sites, Gluten-Free Steve and Grateful Celiac. Clearly, he's still making delicious gluten-free treats!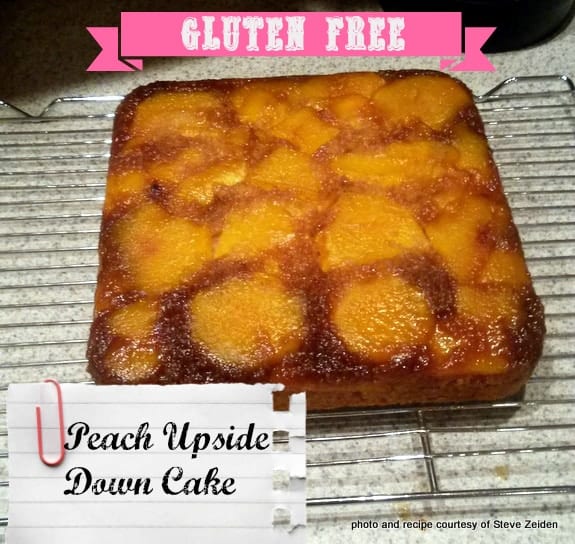 By the way, I shared another recipe of Steve's (with one simple substitution) earlier here on gfe—Gluten-Free Lemon Sponge Cake. It, too, is a terrific recipe. There's no flour needed for this cake—a fact which I love. (The cake is made using either potato starch or cornstarch.)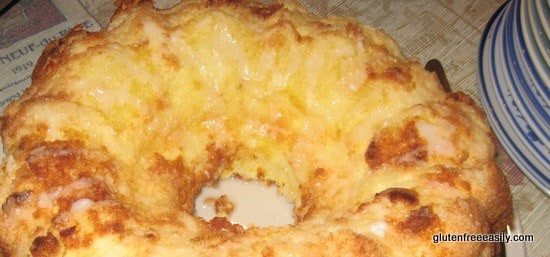 Now for that Peach Upside Down Cake. Steve saw a recipe in Real Simple that looked quite good, so he converted it to gluten free. That was a pretty simple task really. He made his cake in the morning and left it on the counter—without sampling it!—when he went to work, because he planned to serve it for dessert to guests that evening.
Can you imagine thinking about this cake all day and having to wait to try it? Oh, the anticipation! Steve sent me a photo of it that morning right after he made it. So I was anxiously awaiting the verdict. He made me wait until the next morning for his three-word review: "It was wonderful!" That's all we need to know, right?
Thanks to Steve for sharing his gluten-free Peach Upside Down Cake recipe with us! I've added a few notes on how I'd make this recipe. It's gluten free and vegetarian and easily made dairy free, as noted. I am pretty sure that making it refined sugar free would be easy as well. Last, I'm anxious to try a grain-free version, too.
Sometimes I prefer the look of a round cake so I gave this recipe a try using a 9-inch round pan. Worked perfectly! Perhaps my edges are a little over caramelized but I loved them that way and my mother—who was the recipient of this cake—wholeheartedly approved as well!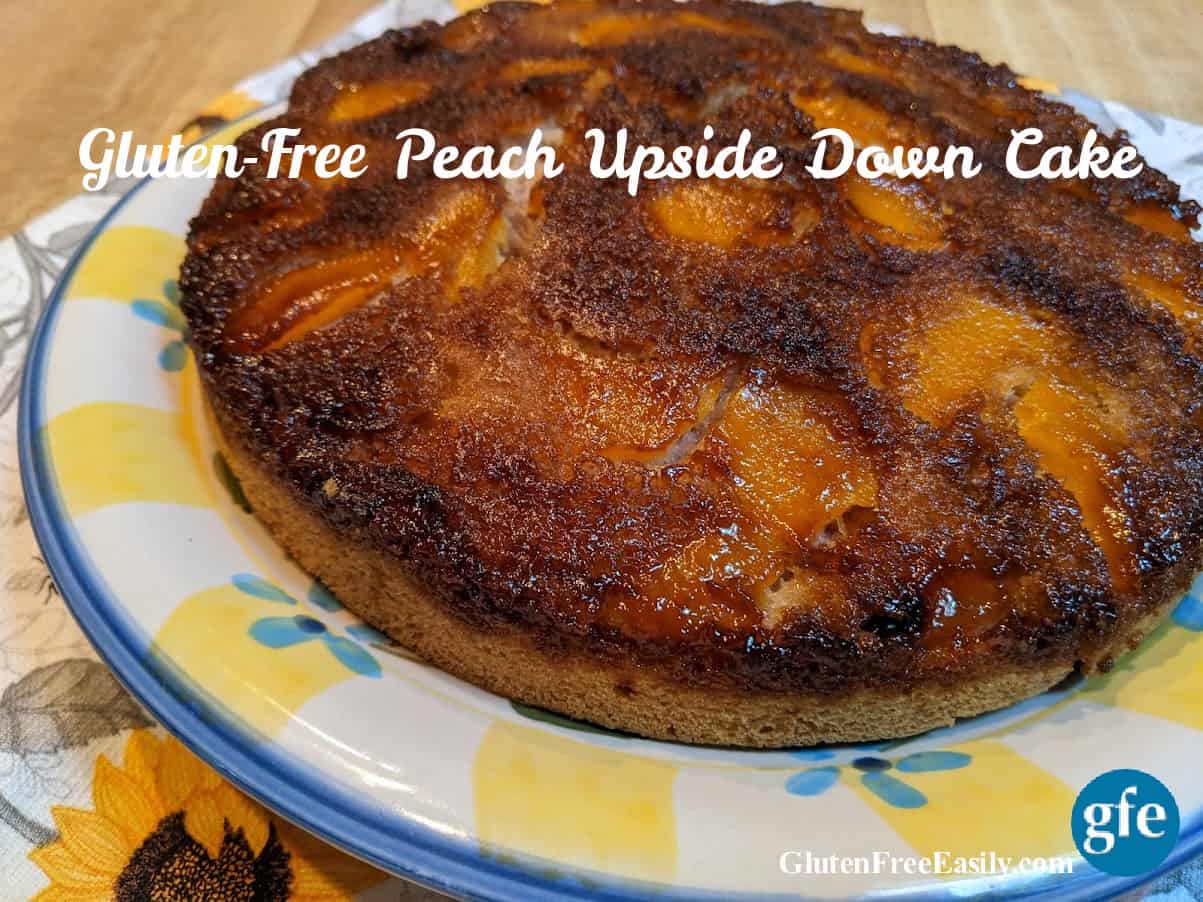 If you look at my cake closely, you'll see some cracks on top. That's exactly what happens if you rush the cooling process and invert your cake onto a plate that is concave versus flat. If you want a perfect presentation, don't do that. As my Mom said, the cracking on the surface let you know that it was a homemade cake and the taste was not the least bit affected. Thanks, Mom! And of course, she's not wrong.
More Gluten-Free Peach Recipes You'll Absolutely Want To Make
~ Crustless Peach Pie from gfe
~ Easy Peach Cobbler (just four main ingredients) from gfe
~ Eat A Peach: Over 60 Juicy Gluten-Free Peach Dessert Recipes featured on gfe
~ Peach Salsa from In Johnna's Kitchen
~ Peach Sorbet from gfe
Gluten-Free Peach Upside Down Cake Recipe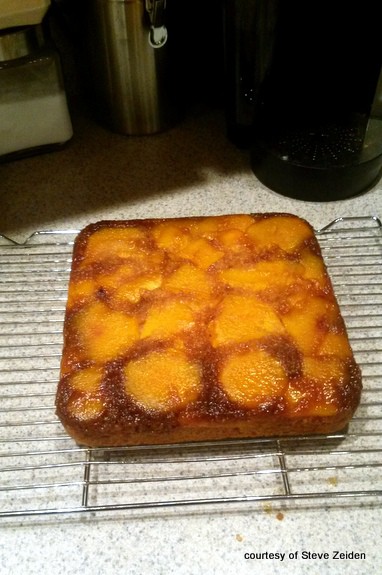 Yield: 9 to 12 servings
Gluten-Free Peach Upside Down Cake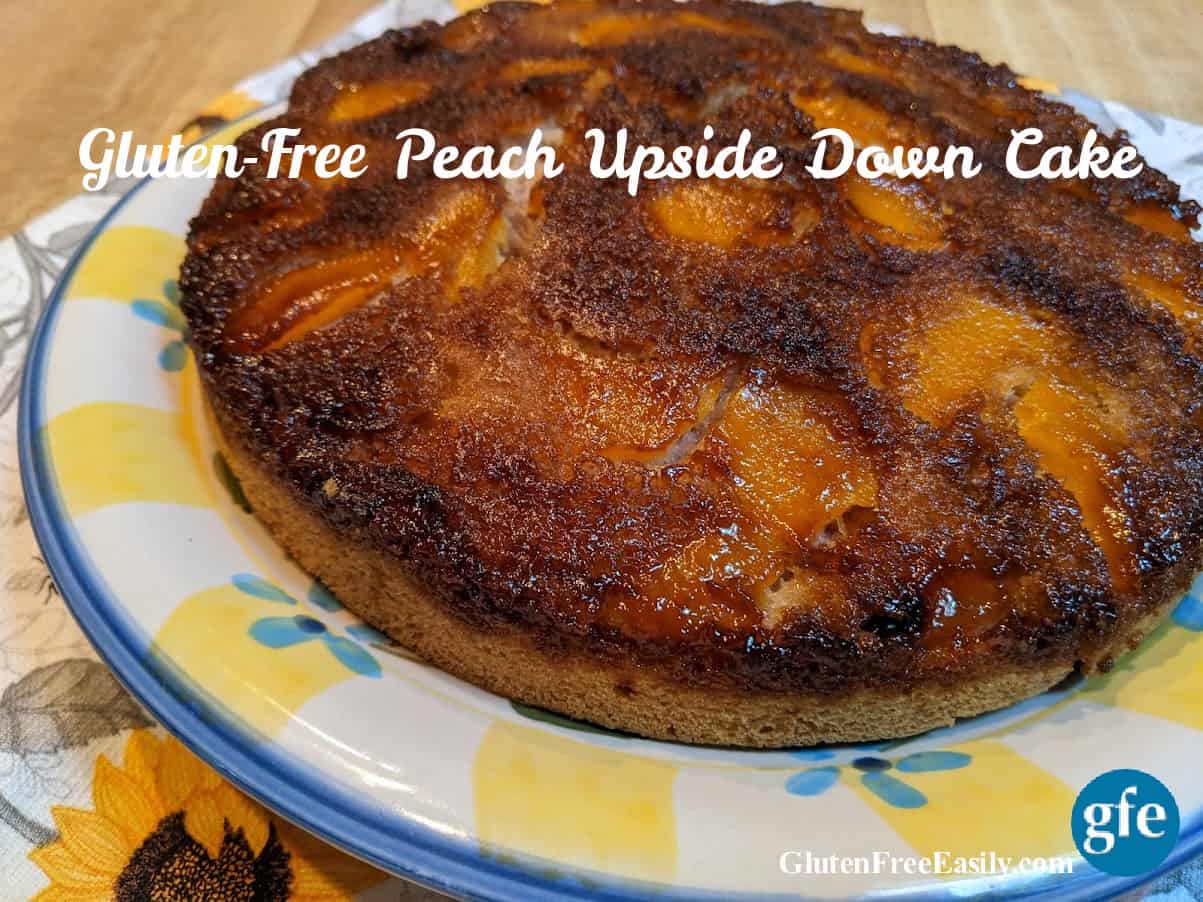 A good Upside Down Cake is a thing of beauty. Beautiful and juicy peaches make this gluten-free Peach Upside Down Cake both gorgeous and delicious.
Instructions
Using butter, grease an 8 x 8 square cake pan or 9-inch round cake pan thoroughly (bottom and sides).
Sprinkle brown sugar on the bottom of the pan and top with the peach slices.
In a large bowl, combine gluten-free flour mix, xanthan gum, granulated sugar, baking powder, cinnamon, baking soda, and salt.
Add the buttermilk, eggs, oil, and vanilla extract to your dry mixture. Whisk until combined.
Pour the cake batter over the peaches and brown sugar base.
Bake at 350 for about 35 minutes until a toothpick inserted into the center comes out clean.
Cool in the pan for 5 minutes. To loosen the cake, run a knife along the edges of the pan. Turn cake onto a wire rack to cool completely.
Notes
Steve used one variation of Bette Hagman's Featherlight Flour Blend as his gluten-free flour mix in this recipe. He mixes the following: 1 cup white rice flour, 1 cup cornstarch, 1 cup tapioca starch, and 1 cup potato FLOUR (NOT potato starch). He keeps this mix on hand and measures out whatever amount he needs at the time. I use my Two-Ingredient Gluten-Free Flour Mix, which works great.
I actually never use buttermilk. I make sour milk and use that instead. For ¾ cup sour milk, add 2 tsp vinegar or lemon juice to a glass measuring cup. Add milk of choice (dairy milk, almond milk, coconut milk, etc.) filling until you reach ¾ cup line. Stir mixture and let sit 5 minutes before using.
Steve adapted his cake recipe from a gluten-full recipe in Real Simple magazine.
Originally published August 3, 2014; updated July 9, 2023.