For affiliate links and as an Amazon Associate I earn from qualifying purchases.
These Gluten-Free Flatbread Rounds sort of look like big cookies, don't they? I should actually have a few photos showing them used for sandwiches—stuffed with something delicious, of course. One day. Until then, use your imagination. Or go ahead and make these Flatbread Rounds and see for yourself!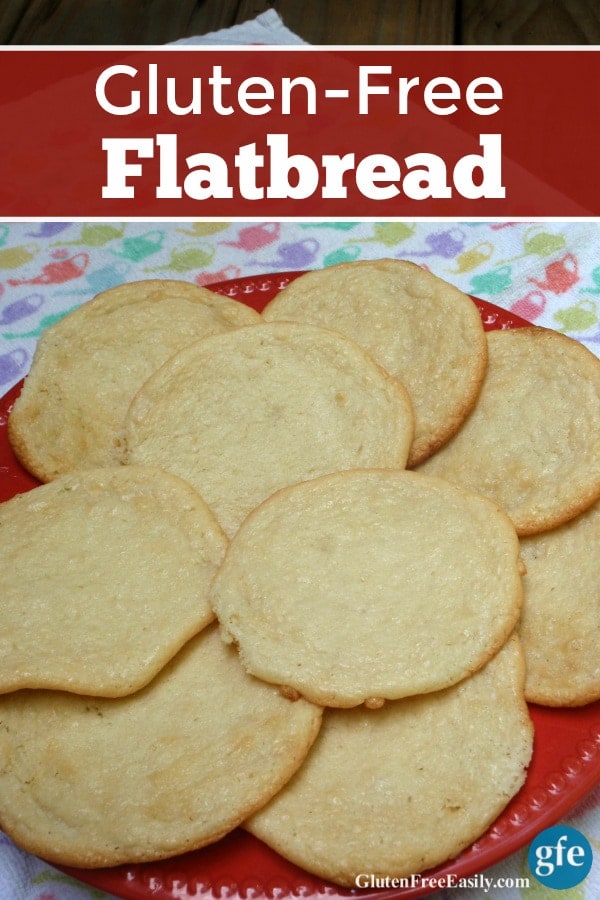 I was led to these Gluten-Free Flatbread Rounds recipe by way of a Strawberry Shortcake photo in a magazine ad for Duke's mayonnaise. The shortcake was made from drop biscuits. The shortcake sure looked appealing, but it was really the idea of the drop biscuits that interested me.
That's because the drop biscuits were made using mayonnaise. That was a type of biscuit that took me back some years. I'd actually made drop biscuits using mayonnaise before going gluten free. Making them had been super easy and the results had been quite good.
This time, however, I wanted to make my biscuits not only gluten free, but grain free, so I used almond flour and added grain-free baking powder (see notes in the recipe) and salt—the two ingredients that turn all-purpose flour into self-rising flour, although I used a lesser amount than is usually used.
My "biscuits" came out almost completely flat. Nobody would mistake them for a proper drop biscuit, would you agree?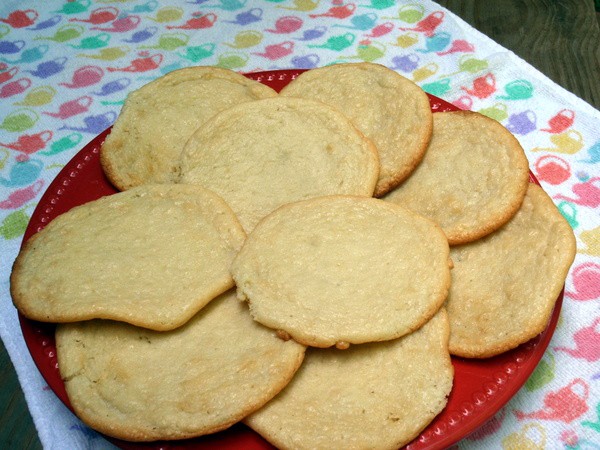 Was I disappointed? Heavens no!! I looked at the results and immediately saw Gluten-Free Flatbread Rounds, and wonderful sandwiches using those rounds in my future. That was before I'd even tasted them, but one taste confirmed my expectations.
These Flatbread Rounds have an outstanding texture and are simply wonderful for eating as bread to accompany one's meal or for using as sandwich bread. The recipe makes one dozen flatbread rounds. Son and I both love them! There's absolutely no need for sandwich bread or other ready-made rolls when you make a batch of these!
Because of the moisture content, I do refrigerate these flatbread rounds. I recycle the parchment paper (that I use when baking them) by cutting it apart and using it to separate the rounds in the storage container, but you can use wax paper for the same purpose if you prefer. (If you don't separate these rounds, they will stick together and you don't want that.)
I have been very happy to see that these flatbread rounds will keep well for an entire week. I think part of that is due to the mayonnaise content, so that said I would not recommend reducing the amount of mayo in this recipe (although admittedly I was tempted to do just that initially).
If you do not like mayonnaise, you should not make these flatbread rounds. The mayo factor not only makes the recipe work but it also imparts a slight mayo taste. Which is especially great when using these flatbread rounds for sandwiches. No need to add additional mayo to your sandwich as you normally would.
I hope you'll enjoy this new grain-free gfe bread recipe! Oh, and if you're craving Strawberry Shortcake after my mention of that dessert delight, simply make my Perfect Pound Cake and top a slice with strawberries and whipped cream. (Thanks so much to gfe reader Ginny for sharing that tip! In fact, you can see her shortcake version in the original Perfect Pound Cake post or in my roundup of strawberry shortcake recipes.)
If you'd like more gluten-free bread recipes, be sure to check out the Bountiful Bread Basket series. (Note that whenever you are looking for gluten-free bread recipes here on gfe, you can find the gluten-free bread recipes—and there are so many amazing ones—by using the RECIPES dropdown menu below the gfe header and clicking on Best GF Bread.
More Gluten-Free Flatbread Recipes
~ Edamame Flatbreads from Spabettie
~ Feta and Dill Flatbread from Gluten-Free Gobsmacked
~ Green Onion Frybread from Michelle's Gluten-Free Kitchen
~ Sweet Potato Flatbread from My Gluten-Free Cucina
~ Yeast-Free Flatbread from Allergy Free Alaska
Gluten-Free Flatbread Rounds Recipe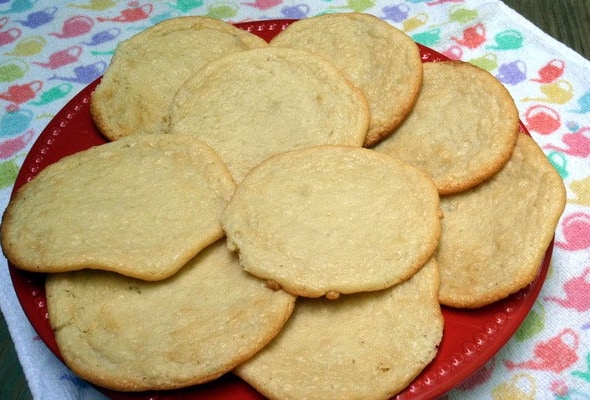 Yield: 12
Gluten-Free Flatbread Rounds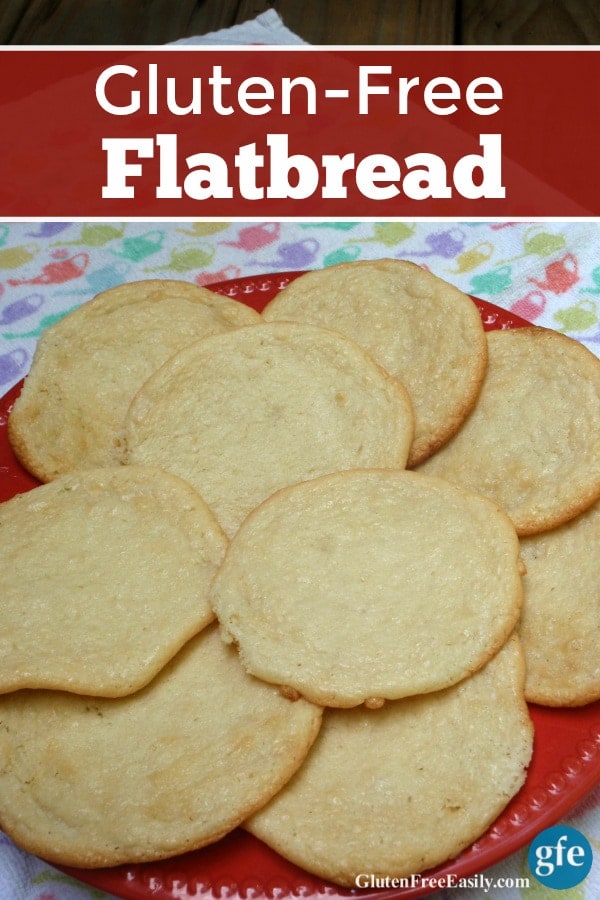 These gluten-free flatbread rounds don't look all that impressive, but, boy, do they make a great grain-free bread option. Especially for sandwiches!

Prep Time 5 minutes

Cook Time 12 minutes

Total Time 17 minutes
Ingredients
1/2 cup Duke's mayonnaise (see notes)
1 cup full-fat coconut milk (not light)
2 cups almond flour
1 1/2 tsp baking powder (see notes for grain-free options)
1/4 tsp sea salt
Instructions
Preheat oven to 400F. Line two baking sheets with parchment paper.
In a large bowl, whisk together mayonnaise and milk. Whisk in additional ingredients until mixed well. Let batter sit a minute or so to thicken.
Spoon batter onto the baking sheet in rounds, using the spoon to turn batter into rounds. Be sure to leave about 2 inches between rounds. (The batter will spread some while you're spooning it and also while it's baking.) I was able to fit six rounds on each baking sheet.
Bake rounds about 10 to 12 minutes. They'll look done on top, but you can test for doneness with a toothpick if you wish. Let the rounds cool on the baking sheets for a few minutes.
Makes one dozen rounds about 4 1/2 inches in diameter, or more rounds if you are using them as a 'biscuit" versus a sandwich roll and make them smaller in diameter.
Store in refrigerator, recycling the parchment paper (cut into individual pieces) to separate them in a storage container or placing wax paper between the rounds to keep them from sticking together.
Notes
Duke's brand mayonnaise consistently works for this recipe. I do not know which other brands may work. I do know that Whole Foods 365 brand does not work in this recipe.

At first, I thought I might be able to cut back on the mayonnaise in this recipe, but the mayonnaise really keeps these rounds in great shape and tasty even after several days in the fridge.

I scooped and then leveled off my almond flour in the measuring cup when measuring. You don't want your almond flour packed into the cup for this recipe.

Regular baking powder contains grains and if you eat paleo or avoid grains, you'll want to use a grain-free baking powder. One option is Hain's Featherweight Baking Powder.

Another far less expensive option is to make your own baking powder substitute. An easy naturally gluten-free and grain-free substitute for baking powder is: ½ teaspoon of cream of tartar and ¼ tsp of baking soda for every teaspoon of baking powder. That's right; it's not a one-for-one substitute. Less is needed of this substitute than of ready-made baking powder.

I have not tried making these Flatbread Rounds using another dairy-free milk. I highly recommend full-fat coconut milk in them because of the "body" it gives the recipe, but another dairy-free milk option might work just fine.

I have not tried this recipe using a vegan mayonnaise. I think that it probably needs an egg-based mayonnaise, but if you use a vegan mayonnaise, please let us know your results.

Adapted from Drop Biscuit portion of Duke's Strawberry Shortcake magazine ad.

Originally published July 8, 2016; updated July 31, 2022.