For affiliate links and as an Amazon Associate I earn from qualifying purchases.
These naturally gluten-free Forgotten Cookies are truly delightful cookies that my family has been making for many years. These are meringue-type cookies, which means they're primarily made from egg whites and white granulated sugar. These cookies are naturally gluten free as no gluten-free specialty ingredients are required to make them.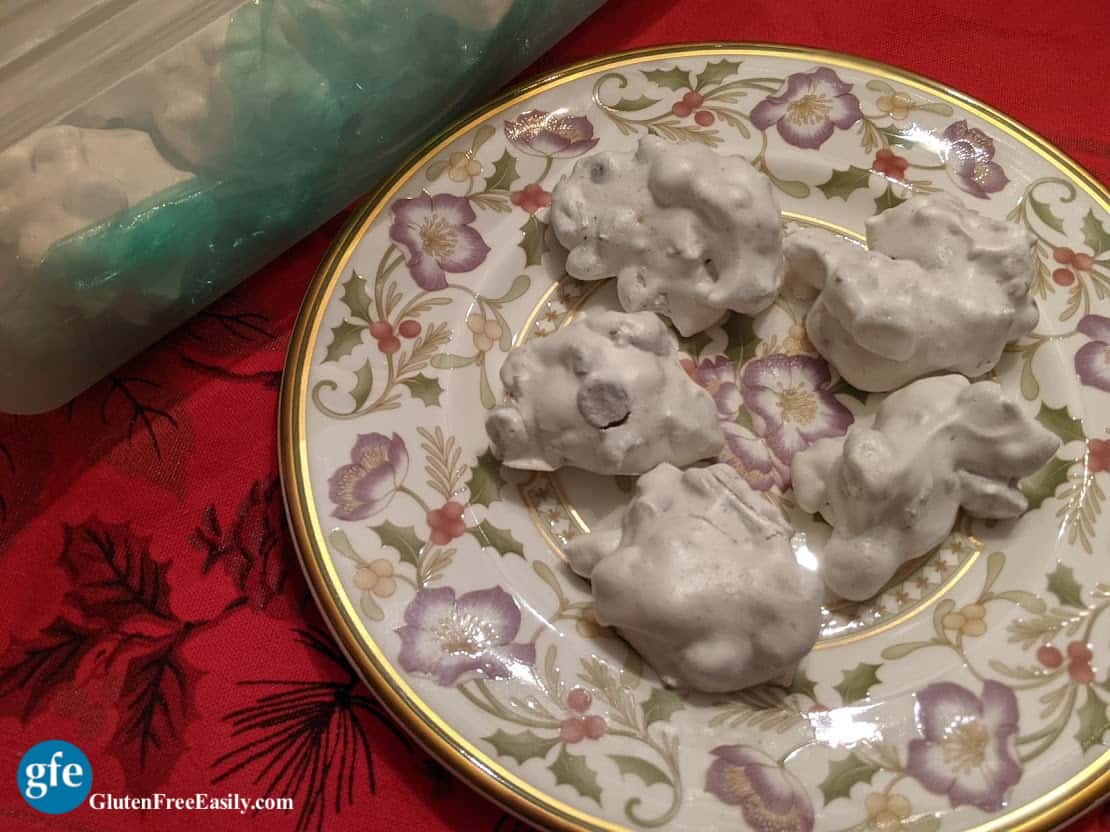 Simply a handful of everyday baking ingredients are needed to make these bite-sized cookies. Ingredients that most of you already have in your kitchen. In this case, the egg whites, granulated sugar, salt, and vanilla extract. The chopped nuts and chocolate chips are not required but adding them results in really delicious cookies so we always add them.
Eating Naturally Gluten Free
Here's my periodic reminder—a public service announcement, PSA, if you will—that making meals and recipes that are naturally gluten free is the main focus of gfe living. It's the easiest, healthiest, and most economical way to live gluten free in my opinion. Another major bonus of eating this way is that your dishes and recipes won't taste any different to either the gluten-free or gluten-full family members because they are actually not different.
Such recipes are the same recipes you've always made. Except that now you're ensuring that the ingredients are gluten free and stay gluten free (i.e., that no gluten is being introduced via cross-contact with gluten in your home—if you have a shared household).
You will find lots of naturally gluten-free recipes here on gfe. Dessert recipes like Classic Freezer Fudge, Flourless Peanut Butter Cookies, Coconut Meringues, Easy Crustless Pecan Pie, and main dish recipes like Easy Mexican Casserole, Pizza Dip, Crustless Spinach Quiche, and Flourless Pizza, to give you just a handful of examples.
Note the flourless recipes included in that list. Longtime readers know how much I love flourless recipes and Forgotten Cookies also happen to be flourless. Flourless recipes let the ingredients shine; no flour of any kind to get in their way.
Read more on the gfe approach at Stop the Madness and The Top 10 Reasons To Live gfe.
More About Forgotten Cookies
Forgotten Cookies make their appearance at most of our family get-togethers, not just at Christmas. These little white cookies are lovely on any table, they're easy to make, and they're really yummy.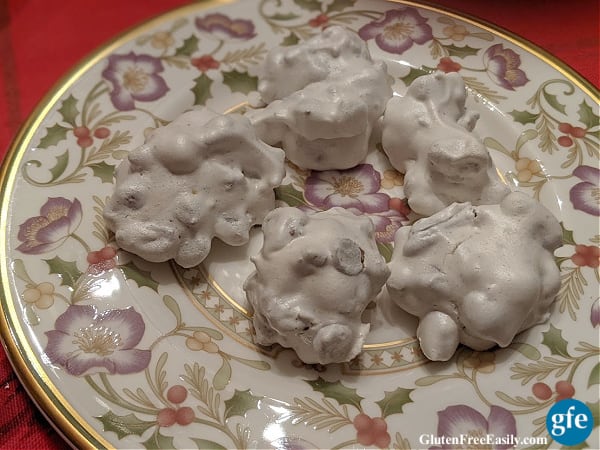 Cookies that you won't ever forget after you sample one, despite their name. Plus, the "forgotten" factor makes them so much fun to make.
That's because these cookies actually get their name from the fact that you stick them in your preheated oven and then turn off the oven and forget about them until the next morning. At least that's the way my family has always made them. I mean who doesn't want to wake up the next day and have cookies ready to go?
I don't often eat cookies for breakfast unless they're on the healthy side (a slice of pie the morning after a holiday is a different story but I digress). However, I always have to test one Forgotten Cookie when I open the oven first thing the next morning! Children love not only dropping the batter onto the foil-lined baking sheets; they also love discovering the ready-to-eat cookies when they arise.
I've heard some bakers say that you need to leave Forgotten Cookies in a closed oven for only 2 hours. In theory, that does make sense as after that amount of time, you would expect that all the heat would have dissipated and you'd have a cold oven but I've actually never removed Forgotten Cookies from the oven that soon. However, I have made these cookies first thing in the morning and left them in the oven until the afternoon. So, there's not really much difference between the two approaches.
I do recommend that you leave these cookies in the oven for 3 or more hours or ideally overnight while you're sleeping so you don't even have to count the hours. The sugar in these cookies will absorb moisture from the air, which will result in sticky Forgotten Cookies. To be clear, sticky Forgotten Cookies are not what you want.
Leaving the cookies undisturbed in the preheated, turned-off, and then closed oven ensures that you get perfect, non-sticky Forgotten Cookies. To keep them that way, you'll want to store them in an airtight container, as you can see my mom did when she gave us some for Christmas.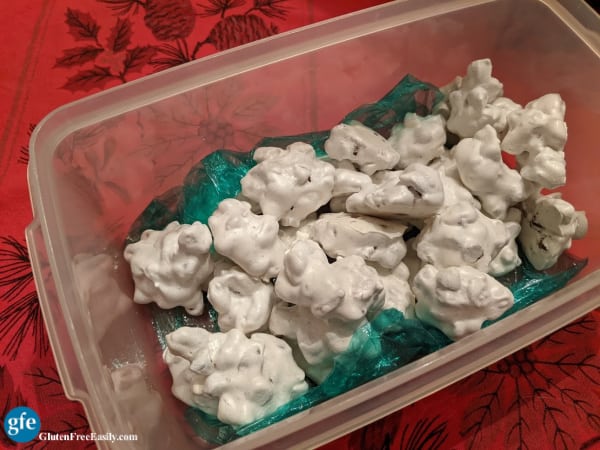 I started making these naturally gluten-free Forgotten Cookies long ago. Long before I went gluten free in 2003. I believe that I was given the recipe back in high school when I was participating in a cookie exchange with friends.
My mom ended up loving these cookies—and how they're made—so much that she mostly took over baking them for the whole family. And she has made them for holidays and special occasions ever since. She's made them for lots of families as part of a gifted meal and shared them with personal friends to show that she's thinking of them. The recipients are always so grateful and most marvel when they learn how these cookies are made.
Mom has even made Forgotten Cookies for me to take to tea events with my girlfriends. My friends have always been delighted to see these cookies included on the requisite beautiful tiered tray of treats! And none of those friends need to eat gluten free.
My sister and I also make these cookies for special occasions at our own homes and share them with our personal friends. So, it's really surprising that as the 12th anniversary of gfe approaches on New Year's Eve, this recipe isn't already on my site. But now that oversight is fixed. Yay! Enjoy and Happy New Year!
A Few More Gluten-Free Cookies That You Will Make Your Holidays Bright
~ 30 Gluten-Free Christmas Cookies That You'll Want To Make Right Now!
~ Bourbon Bacon Chocolate Chip Cookies
~ Chocolate Oatmeal Florentine Cookies (be sure to use rolled oats that are both certified gluten free and purity protocol oats)
Naturally Gluten-Free Forgotten Cookies Recipe
Yield: About 24 cookies
Forgotten Cookies (Naturally Gluten Free)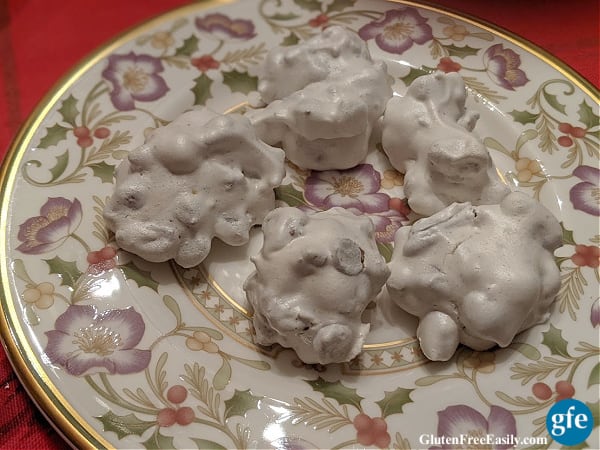 These naturally gluten-free Forgotten Cookies are pretty on the plate and delicious to eat. You'll love the novelty of how you're made. So will the little ones in your family!
Total Time
3 hours
10 minutes
Ingredients
2 egg whites
2/3 cup granulated sugar
1 pinch salt
1 tsp vanilla extract
1 cup chopped nuts (we prefer pecans); optional
1 cup gluten-free chocolate chips (I used chocolate chips that are also dairy free); optional
Instructions
Preheat oven to 350F degrees. Line two baking sheets with foil.
In a large mixing bowl, beat egg whites until frothy using a hand mixer (or stand mixer).
Add sugar gradually and beat the mixture until stiff peaks form.
Gently fold in salt, vanilla extract, nuts, and chocolate chips to prevent whipped mixture from deflating.
Drop mixture by the spoonful onto prepared baking sheets. (I use a spoon that is about tablespoon size.)
Place baking sheets on the middle rack (in the second rack slot from the bottom) and TURN OFF THE OVEN. Immediately CLOSE the oven and leave cookies in the closed oven overnight (or for several hours---three hours or more).
After removing cookies from the oven, store them in an airtight container.
Notes
One reader suggests that you leave a note on top of your stove telling others NOT to turn on the oven. She shared that her dad had accidentally burned her Forgotten Cookies as he'd turned on her oven to preheat before cooking something else, not knowing her Forgotten Cookies were already in there.
One baker shared that she makes these cookies whenever she has two egg whites left over after making a recipe that calls for egg yolks only. If she has four egg whites, she doubles the recipe. I love her way of getting two delicious recipes out of one!

I've accidentally left out the vanilla extract before and the cookies still turned out well.
Originally published December 29, 2020; updated April 15, 2023.