For affiliate links and as an Amazon Associate I earn from qualifying purchases.
I'm sharing a recipe today that totally fits in with my gluten free easily (gfe) approach—gluten-free Banana Coconut Breakfast Cookies. That means this recipe focuses on real food that's naturally gluten free, includes some mainstream ingredients that happen to be gluten free, and uses gluten-free specialty items only when necessary.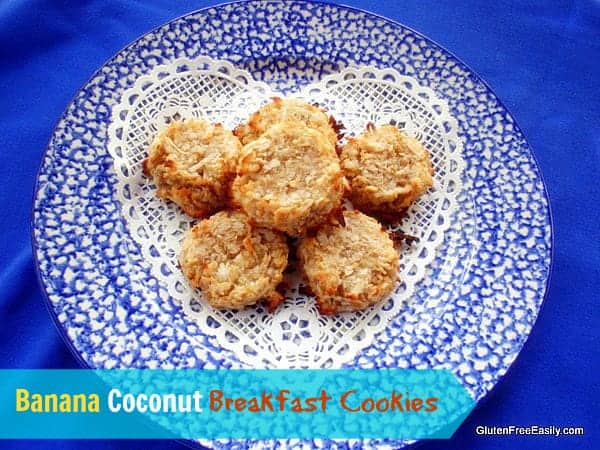 I have always had a thing for bananas and their natural sweetness and I also like their natural binding ability. That makes them great to use to create egg-free recipes, raw recipes, and more. They're very versatile and, of course, readily available and inexpensive, and offer an instant comfort food factor in my opinion. Plus as I've shared before, I always have an abundance of bananas. (Don't ask me how many bananas are in my freezer right now!) So you'll find lots of banana recipes here on gfe, from Banana Ice Cream to Banana Chocolate Chip Cookies to Banana Maple-Nut Muffins.
Gluten-Free Banana Coconut Breakfast Cookies Recipe
This recipe for gluten-free Banana Coconut Breakfast Cookies is super simple and easy to make, uses ingredients that are naturally gluten free, and produces results that are delicious, of course. These cookies are crusty on the outside and soft and slightly chewy on the inside. In other words, perfect!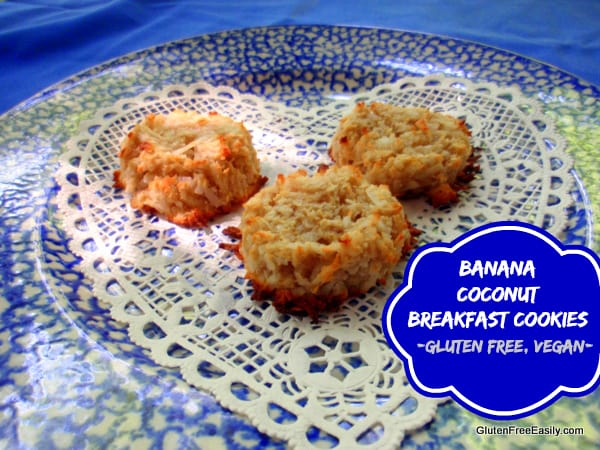 Gluten-Free Banana Coconut Breakfast Cookies Recipe
Yield: 6 cookies
Gluten-Free Banana Coconut Breakfast Cookies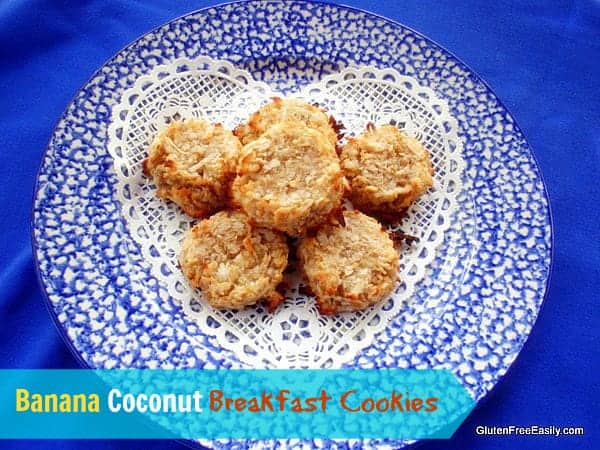 These simple and delicious treats are gluten free, dairy free, egg free, and vegan, and have a nut-free, and grain-free option. This recipe is a wonderful way to use a "just ripe enough" banana and--best of all!--you finally have some cookies that are healthy enough to eat for breakfast!

Prep Time 5 minutes

Cook Time 15 minutes

Inactive Time 5 minutes

Total Time 25 minutes
Ingredients
Optional add-ins:
Instructions
Preheat oven to 350F degrees. Line baking sheet with parchment paper.
In large bowl, mix ingredients. (I just used a wooden spoon to mix them.)
Scoop batter into 1/8 cup measuring cup. Invert and tap to empty the cookie batter onto the baking sheet.
Bake about 15 minutes, until outer edges are browned and bottoms of cookies are mostly browned. (You can lift up one cookie with your spatula to peek.)
Let cookies sit on baking sheet an additional 5 or 10 minutes.
Makes about six 2-inch cookies. Serve with a dollop of peanut butter, nut butter, seed butter, or jam, if you wish. Enjoy!
Notes
You can adjust the sweetness in this recipe by using sweetened or unsweetened shredded coconut. Sweetened shredded coconut is quite a bit sweeter and is also moister than unsweetened shredded coconut. It's readily available to me at my local grocery store while I can only get unsweetened shredded coconut online. A pinch of sifted coconut flour can be added if your cookie batter needs a little more binding and/or you want a little more chewiness in your cookies.

Adapted from Grok Grub

Originally published March 8, 2015; updated June 14, 2021.