For affiliate links and as an Amazon Associate I earn from qualifying purchases.
I'm partnering with Season Sardines today to bring you my newest recipe, Dig Deep 7-Layer Salad with Sardines, and to tell you a little about sardines.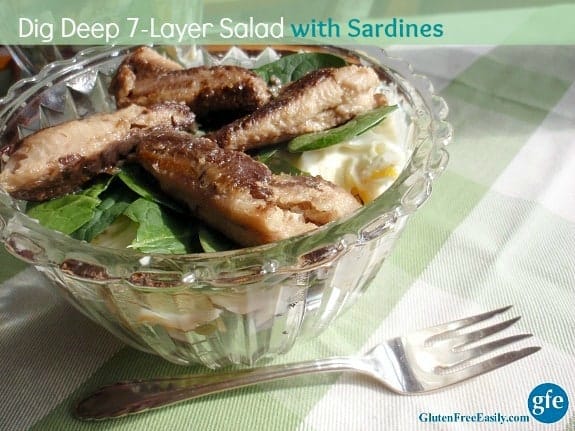 Admittedly I have not always eaten sardines, although Dad and Son were always fans. I have, however, been a lover of most kinds of fish since childhood. Fridays evenings throughout the summer meant family fish fry events because Dad, his brothers, and friends were all avid fishermen.
The rest of the year, we still managed to enjoy fish a couple of times a week—in all forms—but admittedly, sardines never had quite the same appeal as the other fish choices.
I did eventually start eating sardines though. It was only 12 years ago, right after I was diagnosed as gluten sensitive. It was actually the doctor who diagnosed me as gluten sensitive who told me to eat sardines. Yes, really.
She first told me to go gluten free and then a month later she had me go dairy free, soy free, refined sugar free, and "more free." She ordered a bone density scan for me and that showed that I had osteopenia—the precursor to osteoporosis.
If one has been diagnosed with celiac, it is usually recommended that one get a bone density scan as bone density issues sometimes go hand-in-hand with celiac. Although I was not tested for celiac via the "gold standard" celiac testing at that time, my doctor felt that my bone density should be checked.
The doctor who had conducted my bone density scan and reviewed the results with me had told me that the only way for my bone density to improve was to take medications like Fosamax and Actonel (which belong to a class of drugs called bisphosphonates and often bring their own risk factors). However, the doctor who diagnosed me with celiac disagreed with his guidance and said that although it would take time, I could rebuild my bones by lifestyle changes.
One of the lifestyle changes was a major change in diet, and that included eating sardines. I wasn't crazy about the ones available to me because they seemed stronger in taste than other fish and were, well, a bit smelly to be honest. But I ate them and my health benefitted from them.
Three years after going gluten free (and usually eating "more free") and changing my diet in other ways plus adding a daily bone-building supplement and walking to my daily routine, my bone density scan showed that my bones were once again "normal." And since that time, periodic bone density scans have continued to show that I have "normal" bone density. Woohoo!
Over time, I slacked off on my sardine eating because they were not one of my favorite fish. I was intrigued by reviews of Season Sardines because everyone said their sardines were mild tasting and flavorful. In fact, everyone seemed to like them. Plus their website reminded me of all the nutritional benefits of sardines—why my doctor had recommended them years ago.
Sardines are "an excellent source of omega-3 fatty acids, vitamin D, vitamin B12, calcium, iron, phosphorus and selenium. A serving of sardines contains 37 grams of protein, 101% of your daily value in vitamin D, and an incredible 222% of your daily value of vitamin B12."
You can read more about sardines and Season sardines on their site here, but those are exactly the reasons that my doctor directed me to start eating sardines on a regular basis.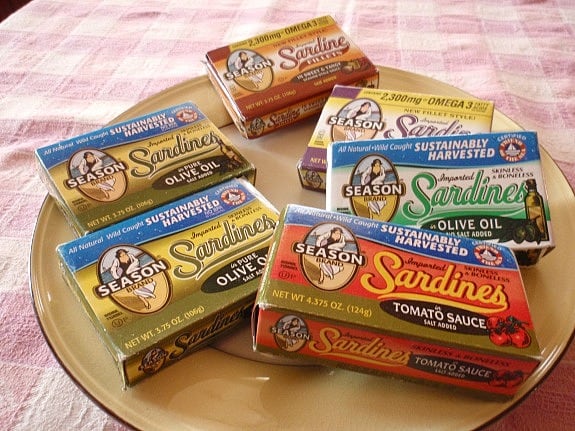 I gave Season Sardines a tentative try and the reviewers were right. These sardines don't even have a strong smell.
I was actually kind of amazed how much they were unlike the other sardines I'd eaten. Season Sardines taste very similar to tuna to me, they're naturally gluten free, and I'm just thrilled to have them as an option for a high-protein meal or snack.
Now let's get to that recipe …
Dig Deep 7-Layer Salad with Sardines
Today's recipe is a salad recipe because I believe that Salads Should Never Be Boring and a multi-layered salad with sardines is definitely not boring!  I was also looking for a recipe with ingredients that would not only complement the sardines, but would also make a complete meal.
This salad recipe does that. It's a very, very tasty protein- and vegetable-packed one-dish meal!
When the folks from Season asked me to sample their sardines and share a way to enjoy them, my Dig Deep Salad recipe was the one that immediately came to mind. The basic recipe goes by many names—including Seven-Layer Salad–and each variation has slightly different ingredients.
For example, my original recipe calls for green pepper, celery, two dairy cheeses, and bacon. I decided to omit those particular ingredients in this recipe because I wanted the recipe to be dairy free and I was going for ingredients that I thought would work best with the sardines. Obviously there's no need for bacon if you use sardines.
I also thought of the classic wilted spinach salad. You know the one, right?
You pour the hot dressing that's made of bacon drippings and more over a salad made of spinach, onions, and eggs. Then you top all with crumbled bacon.
My Dig Deep 7-Layer Salad with Sardines has elements of that recipe as well but, once again, my recipe capitalizes on delicious sardines and a dressing made from the sardines and olive oil instead of bacon and its drippings.
The recipe shown below is for a salad that will serve a family or large group (even as many as a dozen or more). As you can see from the photos, I made individual salads for us instead.
I didn't measure any of the ingredients for the individual salads; I simply added a thin layer of all the ingredients, eyeballing all as I went. You can easily do the same if you prefer single salads.
Note that although I say "individual" or "single" salads, the reality is that I could not eat this entire portion in one sitting. This salad is nutritionally dense and very filling.
It actually took me three sittings to eat all of my salad. That's why the recipe below can serve up to 14 people, which is great for a big family or potluck!
Dig Deep 7-Layer Salad with Sardines Recipe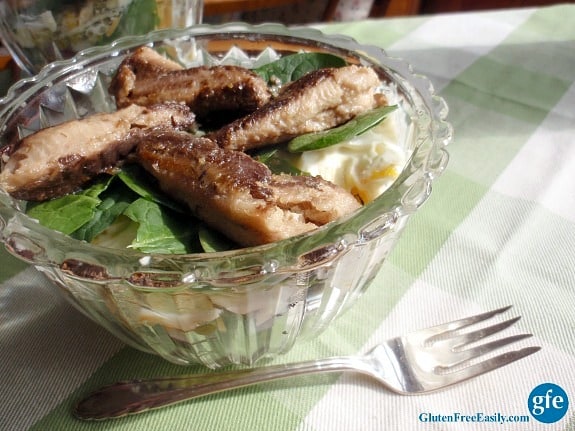 Yield:
Dig Deep 7-Layer Salad with Sardines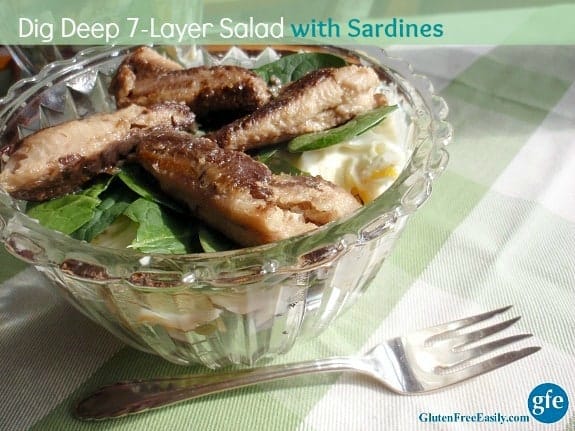 Ingredients
Iceberg lettuce, one head, torn into bite-sized pieces (or equivalent amount of Romaine lettuce)
About 1 cup of cole slaw mix (shredded cabbage, red cabbage, and carrots); simply shredded cabbage; or other crispy greens
1 red onion, thinly sliced
1 cup of frozen peas, thawed
1 1/2 to 2 cups mayonnaise (see notes)
3 eggs, hard boiled and sliced
About ½ cup baby spinach leaves, packed
3 cans of Season sardines packed in olive oil
Optional ingredients:
Dairy-free cheddar cheese
Sea salt or herbal salt
Instructions
As the name of this salad indicates, you will layer the ingredients.
Place lettuce in a large bowl and then top with cole slaw mix, red onion, and peas.
Spread mayonnaise over pea layer with a spatula, "sealing" the edges.
Cover and chill for at least one hour, but ideally overnight and even 24 hours before serving. (The salad should not get soggy. Read notes.)
Remove salad from refrigerator.
Add layer of baby spinach.
Open can of sardines, draining olive oil into a small skillet. Heat to medium or medium high. Add sardines to hot oil, turning after a minute or two. Cook another minute or two.
Remove sardines with a slotted spatula and add to the top of the salad.
At this point if you wish, you can pour part (or all if you prefer) of the hot sardine drippings/olive oil from the skillet on the spinach layer, evenly distributing all. Or you can skip this step if you'd like, as the hot sardines themselves will wilt the spinach some.
Let salad sit a minute and then take a bite or two.
Sprinkle salad with sea salt, if needed. I sprinkled a little Seasonello over mine.
Notes
Two cups of mayonnaise in this recipe definitely makes for a wonderful rich "dressing" base, but you can most likely get by with a lesser amount, especially if adding the olive oil from the sardines when you add the sardines.I love the mayonnaise recipe from Well Fed, which is made from olive oil, but I also enjoy the ready-made Just Mayo. It's gluten free, egg free, soy free, and vegan. The main ingredient is canola oil, but it's non-GMO canola oil.I used one can of sardines packed in olive oil with salt and one can packed in olive oil without salt.This salad does not get soggy if you use the ingredients listed (or substitute other crisp ingredients like green pepper, celery, sliced carrots, etc.). You don't have to cook your sardines. You can just add them as salad topping at the same time as the other ingredients and refrigerate all if you'd like. I would probably drain the sardines and not use the olive oil they're packed in if taking that route, but it's up to you. You can refrigerate leftovers. This salad will keep for a few days.Makes 12 to 14 servings.You can see all the flavors of Season sardines here.
Note:  This post is sponsored by Season Sardines but, as always, the opinions expressed here are my own.
Originally published March 22, 2015; updated September 5, 2018.