For affiliate links and as an Amazon Associate I earn from qualifying purchases.
Yes, Chicken and Rice Casserole made without canned soup. Uncondensed, if you will. Making this recipe uncondensed also makes it gluten free. Gluten-Free Chicken and Rice Casserole. The original version was not gluten free because of those condensed soups it included.
Truth be told, I've never liked condensed or abridged versions of books. It's always seemed like a type of blasphemy to me to alter original stories. Plus, I have always wondered what parts were left out, and if, in condensing, the story perhaps took on a slightly different meaning.
Certainly we see that type of thing in the media; one statement taken out of context has a completely different meaning. So it's ironic that for years I was content to make an array of recipes using condensed soups. In fact, I was the perfect consumer of the various condensed soups. At one point I even had a cookbook (a gift) that consisted completely of recipes using condensed soups.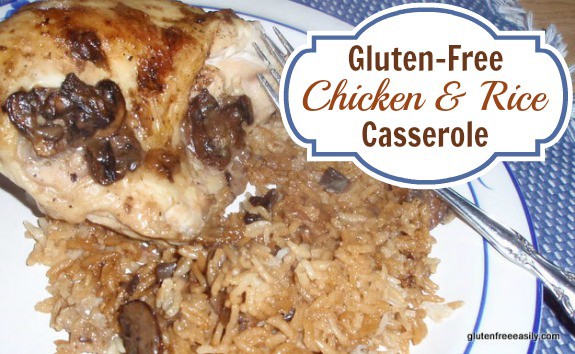 For some reason, I'd been thinking about one of those recipes lately—a chicken and rice casserole dish that I enjoyed many years ago. It called for not just one can of condensed soup, but two! It was a "go to" recipe back in my single days. I made it a few time in later years, but Mr. GFE never enjoyed it as much as I did.
I could still remember the great flavor that the chicken and the condensed soups imparted to the rice. French Onion was the one that was poured over the rice directly. The other soup called for in the recipe was a "cream of" soup of one's choice. (It was spooned over the chicken, but, of course, also helped flavor the rice as well.) Cream of mushroom, cream of celery, and cream of chicken were all options.
But fast forward to today. I'm gluten free and condensed soups are rarely gluten free (certainly, not the ones in my local store anyway). Even if you do find safe, gluten-free condensed soups, you might take a look at the ingredients and decide to pass.
I'm passing on more and more these days, particularly because I just watched the movie, Food, Inc. So, while I was remembering and craving the chicken and rice casserole, I decided I wanted to make it without any condensed soups—instead making the recipe from scratch like I do for other family favorites.
The easiest way to make many of such dishes is to focus on reduction methods. Now before you click and surf away, that's not a hard thing at all. It's easy. Truly.
Previously when I'd see the words "reduction sauce," I used to move on to another recipe myself. But making a reduction sauce just means that while you're washing dishes, wiping down the counters, talking on the phone, or sneaking peeks of your guilty pleasure television show, you're also making a fantastic sauce.
Yes, you have to stir occasionally or add an ingredient or two, but it's not a big deal, and the results are incredibly flavorful because you are using real ingredients, usually without additives/preservatives. Also, remember that reduction sauces are often gluten free in fine restaurants as well, with no flour or gluten ingredients added.
Sometimes cornstarch, arrowroot, tapioca, and even potato starch, are used. Of course, never assume that a reduction sauce is gluten free; always inquire. Some restaurant kitchen personnel still rely heavily on flour that contains gluten and even if they use gluten-free ingredients, there's the ever present concern of cross contact with gluten ingredients. We always have to inquire on kitchen procedures—in addition to ingredients—to stay truly safe.
Less the actual oven time, I was surprised how easily this old favorite came together without condensed soups. When I took my first bite of this Chicken and Rice Casserole made without canned soup, the taste was exactly what I remembered!
No, scratch that … it was actually much better. The onions, beef broth, and portabello mushrooms provided a rich, complex flavor, but yet it was not a heavy dish (which I remember from the condensed version).
In short, the uncondensed version is a winner. I predict you and your family will love it! As an added benefit, because it cooks in your oven for 90 minutes, during the cold weather days you're also helping warm the house a tad.
With the smells that will waft out, you'll also get lots of company and questions about what's cooking, so you'll have time to catch up with family members as it bakes—that's always nice!
Other Gluten-Free Comfort Food Recipes
~ Baked Sriracha Ginger Cumin Chicken (Naturally Gluten Free)
~ Gluten-Free Chicken A La King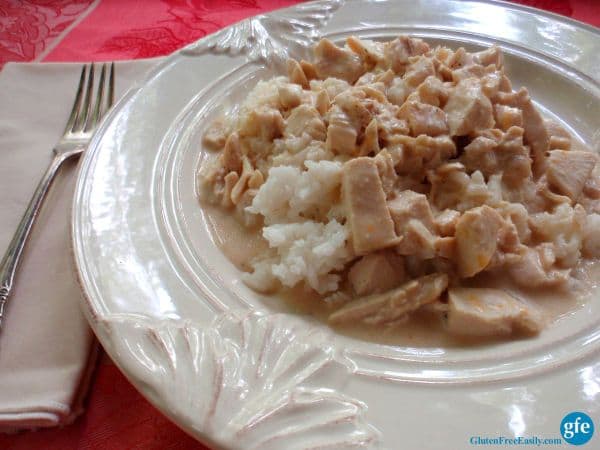 ~ Gluten-Free and Vegan Deep Dish Pizza Pot Pie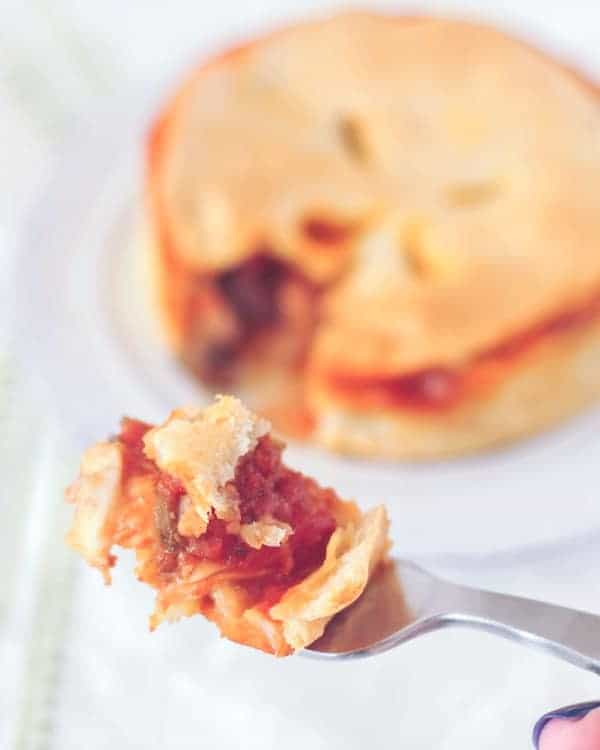 ~ Gluten-Free and Vegan Eggplant Lasagna
~ Heavenly Hash Browns (Naturally Gluten Free)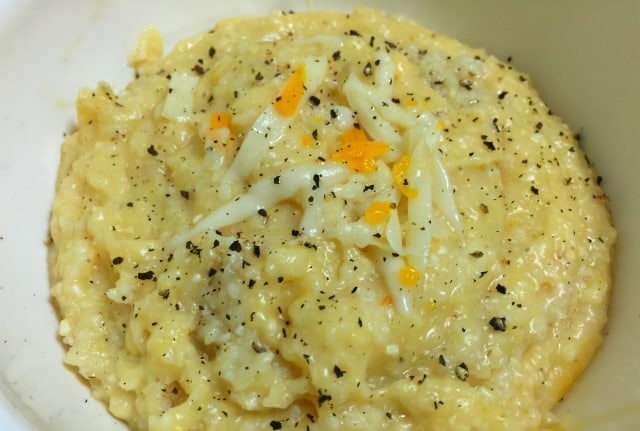 ~ Pot Pie (with Chicken or Turkey, or Vegan)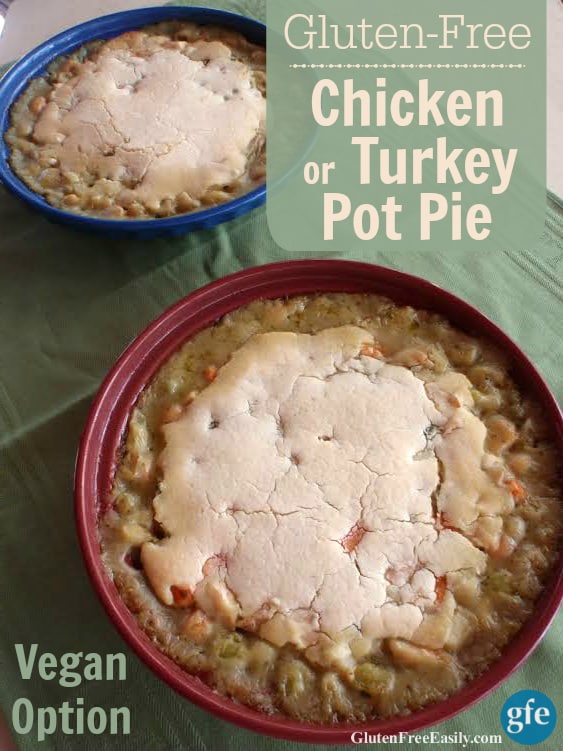 ~ Sweet Potato Breakfast Skillet with Bacon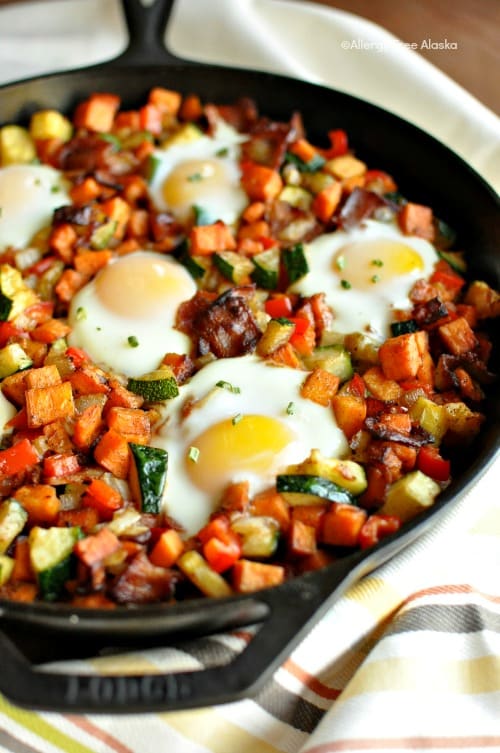 ~ Top 20 Gluten-Free Chicken and Chicken Noodle Soup Recipes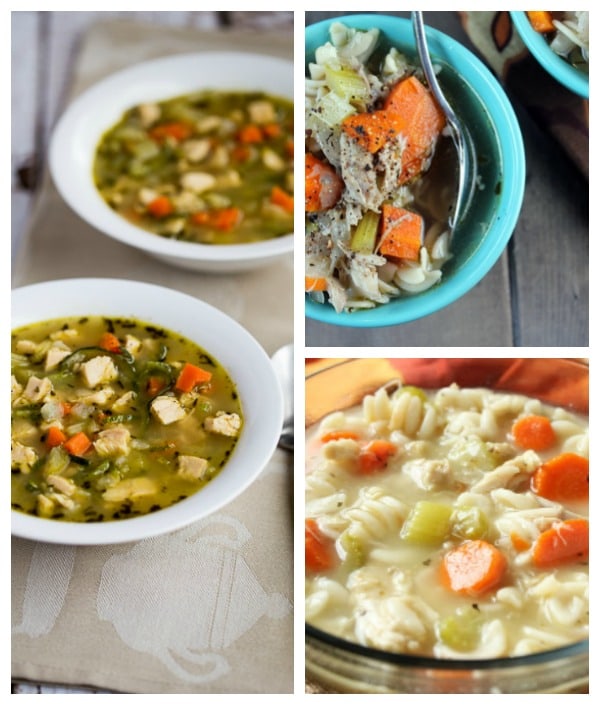 Gluten-Free Chicken and Rice Casserole Made Without Canned Soup–Here's How You Do It!
Shown are the step-by-step photos for making gluten-free Chicken and Rice Casserole.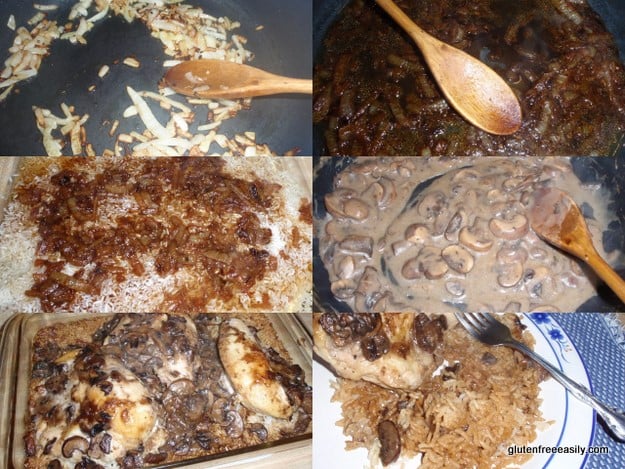 Gluten-Free Chicken and Rice Casserole Recipe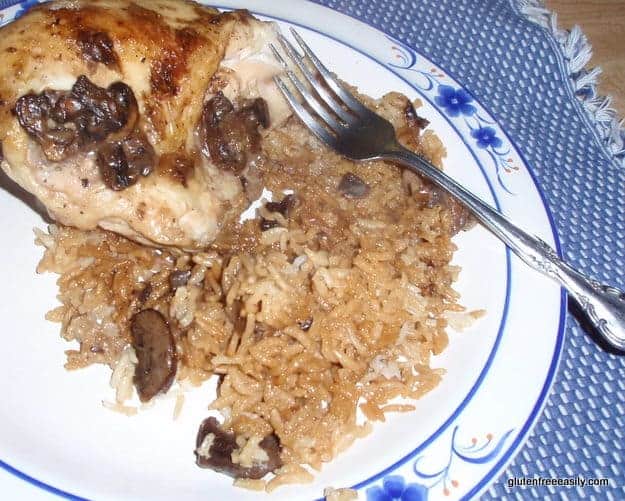 Yield: 6 servings
Gluten-Free Chicken and Rice Casserole (Now "Uncondensed")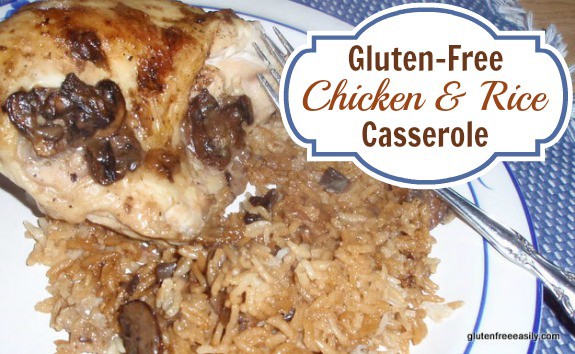 No need for canned soup in this gluten-free Chicken and Rice Casserole recipe. It's naturally gluten free and dairy free, and you won't believe how good it is!

Prep Time 20 minutes

Cook Time 1 hour 30 minutes

Total Time 1 hour 50 minutes
Instructions
Grease 9 x 13 glass baking dish.
Pour one cup of rice into baking dish, evenly distributing the rice.
In large deep skillet, heat 2 tbsp of olive oil over medium to medium-high heat. Add onion. Stir and continue cooking until onions are darkened and caramelized, about 5 minutes. Add garlic. Remove pan from heat momentarily and slowly and carefully stir in beef broth to prevent splattering (and injury). Return to heat and continue cooking, stirring occasionally until mixture is thickened and dark—this will take another 5 minutes or so. Once the mixture looks like that rich, delightful concoction that is French onion soup, pour it over the rice in the baking dish. Slowly add water to the rice mixture. (You can do this in one corner of the dish so as not to disturb the onion mixture you've already evenly distributed over the rice.)
At this point, preheat your oven to 350 degree Fahrenheit.
Using the same skillet (you don't need to clean or wipe it), add another tablespoon of oil (or butter) and heat up a bit. Slowly stir in flour until smooth. Remove from heat momentarily and slowly and carefully stir in beef broth to prevent splattering (and injury). Return to heat and gradually add milk. Stir in mushrooms. Bring to a gentle boil. Stir until thickened.
Place chicken pieces over rice mixture. Sprinkle pepper over chicken breasts to taste.
Spoon mushroom mixture over chicken pieces.
Bake at 350F degrees for an hour and a half if using large chicken breasts, or less if using smaller pieces of chicken. I checked every half hour to see if additional water was needed and did add some. I also covered the dish with aluminum foil for the last hour of cooking.
Notes
For pepper, I used a peppercorn medley that I've been enjoying. It included several varieties of peppercorns as well as coriander. I added maybe 1/2 teaspoon.

No additional salt was needed in this recipe because of sodium in beef broth.

Jasmine or basmati rice can be easily used in this recipe. However, I don't recommend brown rice because it can require a longer cooking time.

Originally published November 9, 2011; updated September 8, 2021.