For affiliate links and as an Amazon Associate I earn from qualifying purchases.
Today I'm sharing my Heavenly Hash Browns recipe with you. Although it's really not much of a recipe. It's more of a concept and it's super easy, folks. Super good, too.
Honestly, Hash Browns are one of my very favorite comfort food dishes. Because super satisfying, "comfort food-central" potatoes are, of course, the star in this dish.
A short blurb from The Associated Press the other day said that the head of the Washington State Potato Commission, Chris Voigt, is tired of potatoes being linked to junk food. He says potatoes are rich in potassium, fiber and Vitamin C, and have a lot of protein.
To spread awareness and potato love, he's eating 20 plain potatoes a day. For 60 days. Hmmm.
Well, he's right that potatoes often get a bad rap unnecessarily. Other than in the form of French Fries and potato chips, some folks never eat a potato.
That's too bad because they can be the basis of healthy and usually very frugal meals. But, 20 potatoes a day and that's it? I'll look forward to seeing how he fares on his spud-nik mission. (Update: You can read about Voigt's results here; they are interesting to say the least.)
Most of us can incorporate much fewer potatoes in our diet and reap the benefits from a health standpoint and a frugality one. Potato contains vitamins and minerals, as well as an assortment of phytochemicals, such as carotenoids and polyphenols.
Per Wikipedia, "a medium-size 150 g (5.3 oz) potato with the skin provides 27 mg of vitamin C (45% of the Daily Value (DV)), 620 mg of potassium (18% of DV), 0.2 mg vitamin B6 (10% of DV) and trace amounts of thiamin, riboflavin, folate, niacin, magnesium, phosphorus, iron, and zinc. The fiber content of a potato with skin (2 g) is equivalent to that of many whole grain breads, pastas, and cereals."
Potatoes are well known as complex carbohydrates, but they also contain protein as the commissioner stated. To be honest, that was news to me. Again, per Wikipedia, most of the protein in a potato is contained in a thin layer just under its skin.
There are many varieties of potatoes. (GMO potatoes even exist, too, and were in the market for a while. Monsanto's New Leaf potatoes were used for McDonald's French Fries for a while until consumer backlash resulted in them being pulled.
Research with GMO potatoes continues, but I found no information via online source to indicate that GMO potatoes are being used commercially in the U.S. at the present time.) Of course, there are more expensive potatoes like Fingerling and Yukon Gold, both of which I do love, but your basic russet or white potato can yield satisfying and healthy results at a much lower cost.
Russet potatoes were actually in the news as being surprisingly high in antioxidants a while back. And you know what, you can buy a 10-lb bag—or often even a 20-lb bag—of potatoes for the same cost as one bag of potato chips!
You can grow your own, too. Even city dwellers can get in on the fun. A 50-gallon garbage can with holes drilled in its bottom and filled with soil makes a great self-contained way to grow a supply of potatoes. You can also grow potatoes in a bag.
Whether you use a traditional in-ground garden or a container, "digging" potatoes is one of the most fun gardening chores ever. It's very exciting to find out how many of those gems are hiding under the soil and exactly what they look like.
Is there one potato that has such a unique shape or looks like that face of a celebrity that it's worthy of posting on eBay for a big payoff? LOL Probably not, but even when there are no super unique potatoes, the shapes and sizes always fascinate. I'm a sucker for the ones that somehow end up shaped like hearts. A veritable gardening treasure hunt, for sure, and frankly potatoes just have so many uses.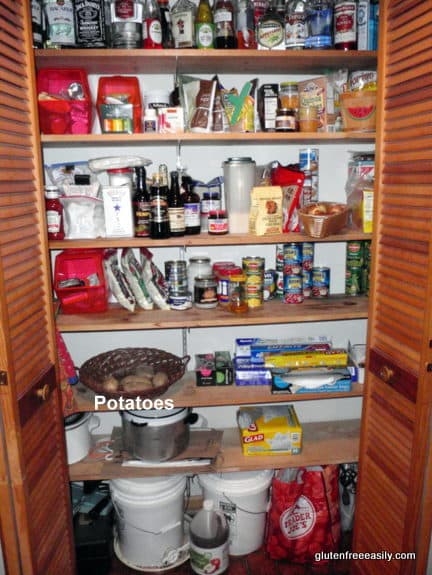 That's why I try to always have potatoes in my pantry. Sometimes a baked potato is just right to round out what I have planned for dinner.
When we're camping, potatoes baked in the coals of our campfire are pretty much a given for part of our evening meal. That cooking method produces the best baked potato. Ever. Period.
At home, potatoes often go in the microwave just as they are or get dressed up a bit for Quick and Easy Pan-Baked Potatoes. Other times, a few potatoes get chopped and thrown into my Everything Soup.
Potatoes also make wonderful creamy soup with the help of either evaporated milk (or coconut milk) as in this Baked Potato Soup, or just blended with broth for non-dairy creaminess as in this Slow Cooker Potato-Zucchini Soup.
Incidentally, an old rule of thumb for potato soup is to use one potato per person (or double that if you want leftovers). For more of a stew effect, Bombay Potatoes Meet Chickpeas (Garbanzo Beans) Tomato Curry might be your choice.
But by far, the most frequent way I use potatoes is to make hash browns. This dish is a particular favorite when camping because we usually throw a couple of extra potatoes in the coals when I bake potatoes to go with meals.
Even after years of campfire cooking, sometimes a few get burned and sometimes unexpected guests show up (like our neighbor in the mountains), so it pays to have reserve potatoes. However, more often than not, none get burned and we don't have guests.
Then I use the extra potatoes to make hash browns or hash. Okay, I say hash browns, but the chunky potato dish that results is called home fries by some instead of hash browns. However, if you add meat to potatoes made like that, then one calls the dish hash.
Confusing, huh? Sometimes the English language defies logic.
We call this dish Heavenly Hash Browns no matter how small the potatoes are cut and any time we add other ingredients to the potatoes, well, then we call the dish "hash" without the "browns" … ham hash, steak hash, etc.
Small bits of meat and/or veggies plus a few spices added to the hash browns create a frugal and healthy meal that is never exactly the same, but always comforting and tasty. Think of it the way you think of fried rice or a stir fry; just throw in whatever sounds good.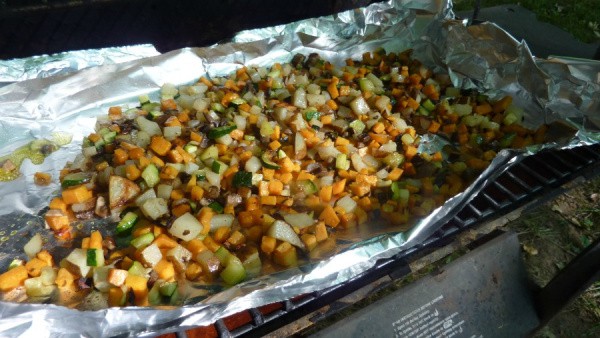 Again, it doesn't take much. Some leftover ham and green onions, a few shrimp with roasted sweet pepper bits, leftover barbecued chicken with grilled corn cut from the cob, zucchini slices/chunks … or maybe all of the above if you're cleaning out the refrigerator and feeding a large family or a group of friends who dropped by unexpectedly.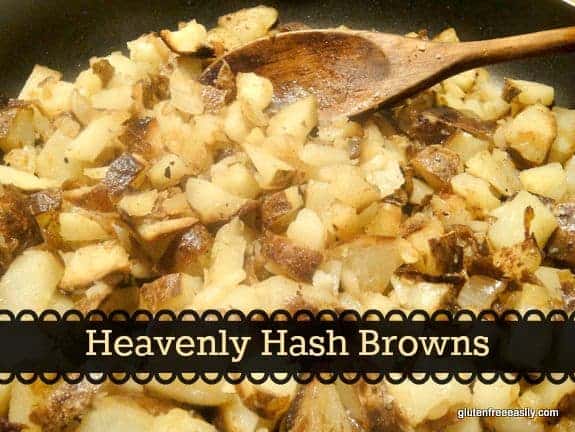 There are lots of other wonderful potato dishes in the gluten-free blogosphere:
~ Ali's Halibut and Potato Chowder
~ Alisa's Easy Cajun Potato Skillet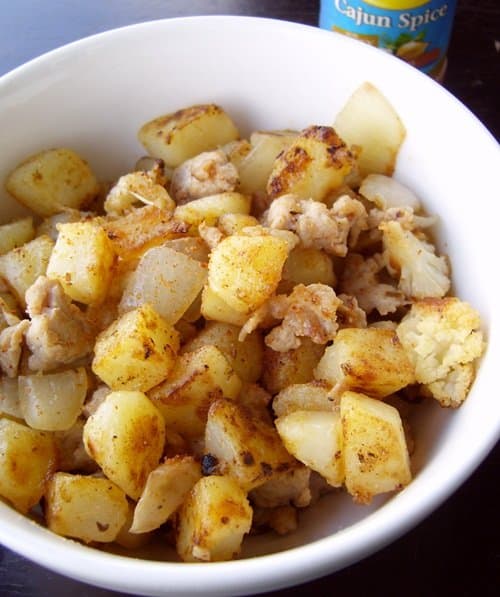 ~ Alta's Scalloped Potatoes (Gluten Free and Vegan)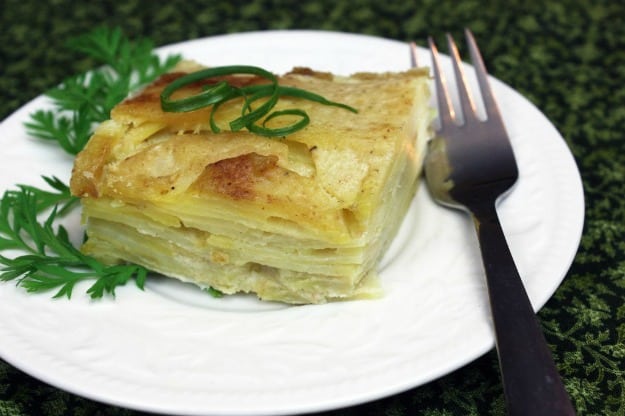 ~ Diane's Potatoes Au Gratin
~ Kim's Fingerling Surprise (that surprise is an ingredient that many absolutely love!)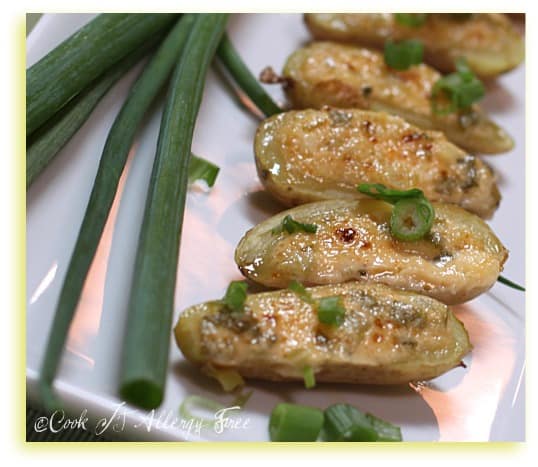 ~ My Baked Potato Soup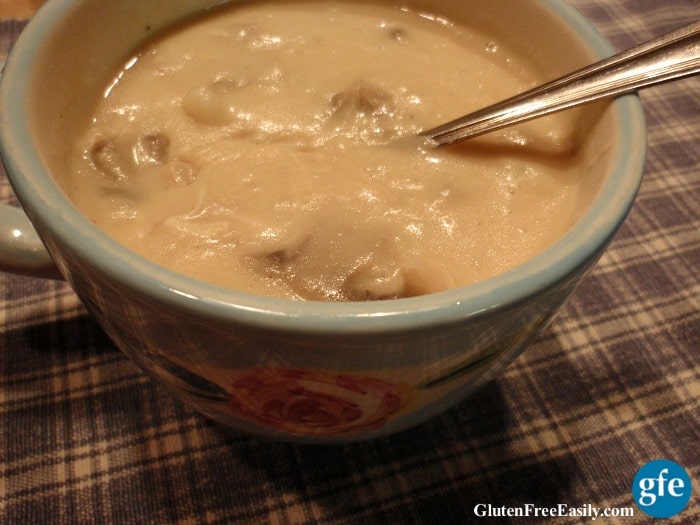 And now for the Heavenly Hash Browns recipe.
Heavenly Hash Browns Recipe
Yield:
Heavenly Hash Browns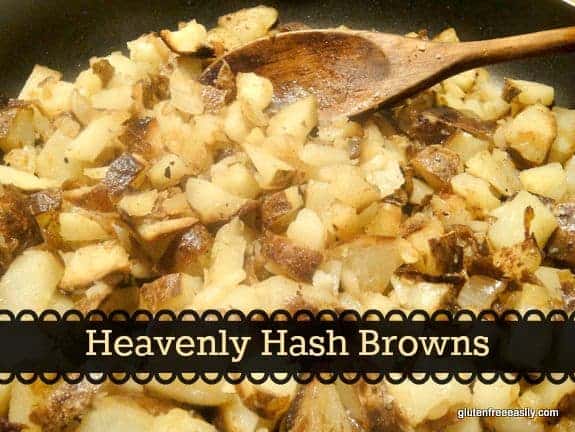 Honestly, Hash Browns are one of my very favorite comfort food dishes. Because super satisfying, "comfort food-central" potatoes are, of course, the star in this dish.

Prep Time 5 minutes

Cook Time 20 minutes

Total Time 5 minutes
Ingredients
About 2 tbsp vegetable oil (I use extra virgin olive oil, coconut oil, or a mix of the two)
1 lb potatoes, cut into ½ chunks or slices (about 3 cups)
½ cup chopped onion
½ tsp salt
½ tsp paprika
¼ tsp black pepper
dash cayenne pepper, to taste (optional)
Instructions
Heat oil in a large, deep skillet.
Add raw potatoes. (If using already cooked potatoes, add them at the point in the instructions below where you uncover your skillet and continue cooking.) Sprinkle with onions, salt, paprika, black pepper, and cayenne pepper.
Cover. Cook on medium low to medium about 10 minutes or so. Stir once or twice during cooking time.
Uncover and up heat to medium high. Cook another 5 minutes or so. Potatoes should be golden with a crispy outside and a tender inside. Onions should be crispy.
During the last 5 minutes of cooking your hash browns, add your pre-cooked meat, seafood, veggies, etc. If adding any uncooked items, add them earlier (maybe even at the beginning) to ensure that all gets cooked well. Additional oil and seasonings may need to be added as well, depending upon how much and what you add.
Notes
I've also used butter (dairy or non-dairy) before when making hash browns when camping, and sometimes leftover butter from dipping our artichoke leaves/hearts. Talk about heavenly hash with that variation!

If you have non-onion lovers in the family (usually those are our dear children), try using just a little onion powder instead of an onion. You can gradually increase the amount of onion powder to get your non-onion lovers' taste buds adapted. Son likes the flavor of onions, but not the texture so this was a good option for him when he was growing up.

If starting with raw potatoes, try to cut pieces uniformly to ensure even cooking. When I make hash while camping and cooking on a grill, I tend to cut the potatoes into slices rather than cubes for easy flipping and removal from the grill.

Originally published April 18, 2012; updated April 20, 2023.