For affiliate links and as an Amazon Associate I earn from qualifying purchases.
The gfe 25 Days of Christmas event continues on with these always delicious Quick and Easy Pan-Baked Potatoes.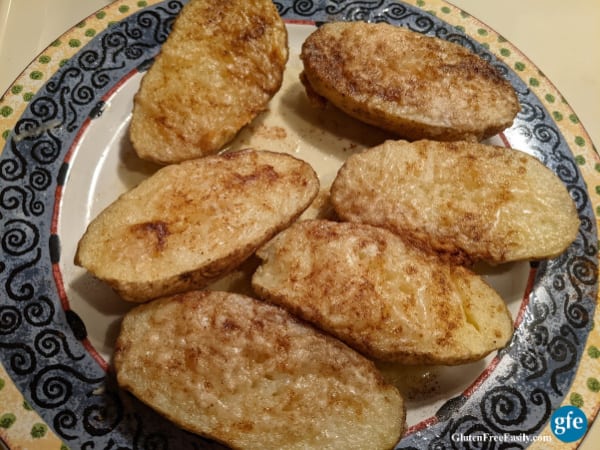 If you celebrate Christmas, the big days are almost here. I say days because, for most families, it's more than just the actual day when we're celebrating and sharing meals with family and friends.
Those days are Christmas Eve and Christmas day in our family. So, you have selected your main dish for your dinner or special meal—perhaps this slow-cooked POM'd Pork—and now you want a lovely side dish to accompany it. Why not make your side dish both attractive and delicious, but as fuss free as a slow cooker meal? Quick and Easy Pan-Baked Potatoes is a simple side dish that fits the bill.
This recipe comes straight out of the manual/cookbook that came with my Kenmore (Sears) microwave, which proves once again that you can still rely on your old "mainstream" cookbooks to cook gluten free. Recipes that are gluten free naturally or easily made gluten free—gfe—abound. One just has to recognize them as gluten-free, even though they don't have a gluten-free label. That's another advantage of focusing primarily on real foods and understanding ingredients.
The original pan-baked potatoes recipe contains dairy, but I've made it dairy free when needed just by using almond flour in place of the Parmesan cheese and olive oil (or soy-free Earth Balance, in pink container) in place of the butter. That modification works very nicely. Dairy-free "butter" used with the almond flour will also work.
The almond flour and olive oil combination doesn't brown quite as well as the Parmesan/butter combo, but a quick minute under the oven broiler can solve that problem if you're going for that visual appeal. Seasoned gluten-free bread crumbs or a similar topping, like gluten-free cornflake crumbs, will also work in lieu of cheese.
This recipe is one I often make to accompany a "gift meal," too. The potatoes go great with a meat/fish entrée or can be an easy vegetarian/vegan meal when paired with a salad. This recipe is always very well received.
Folks have even referred to these potatoes as twice-baked potatoes before. While I don't think they taste like twice-baked potatoes, they are a much easier, healthier alternative and do taste delicious.
Sometimes I just make these potatoes for us as part of a weeknight meal because they are so quick, easy, and tasty. They can also work well as a breakfast potato dish to accompany egg dishes and such.
Quick and Easy Pan-Baked Potatoes
Reader reviews: "I made a version of your "pan-baked potatoes" tonight. It brought back memories of Mom going whole-hog embracing microwave cooking in the 70s. They were DELICIOUS."
Yield: 8 servings
Quick and Easy Pan-Baked Potatoes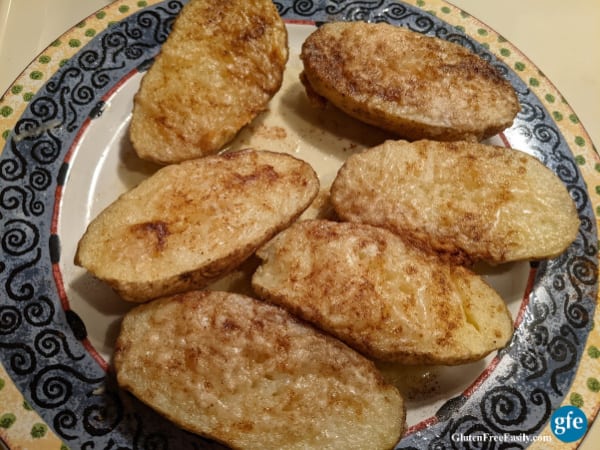 This recipe is one I've relied on time and time again. It helps you get a delicious potato side dish on the table quickly. These potatoes are so good that some folks think they taste like Twice-Baked Potatoes!

Prep Time 10 minutes

Cook Time 12 minutes

Inactive Time 5 minutes

Total Time 27 minutes
Ingredients
2 tbsp butter (or margarine, dairy-free "butter," or oil)
¼ cup grated Parmesan cheese (or almond flour, gluten-free bread crumbs, gluten-free cornflake crumbs)
½ tsp salt
¼ tsp white pepper
4 medium potatoes (or larger potatoes cooked longer or cut to equivalent sized pieces)
paprika, to taste
Instructions
Melt butter in microwave-safe bowl (about 30 – 45 seconds on High). Set aside.
Stir together Parmesan, salt, and pepper in a separate bowl (one that is big enough so you can place your potatoes face down in it).
Cut potatoes in half lengthwise. Dip cut side of potato in butter, then in cheese mixture.
Place potatoes, cut-side up, in shallow microwave-safe baking dish or plate. Sprinkle with paprika, as desired. Pour any remaining butter over the potatoes.
Cook on High 10 to 12 minutes, or until tender.
Let stand 5 minutes before serving.
Notes
Potato halves make the loveliest presentation, but if making this recipe for your family, you can cut larger potatoes into smaller pieces for faster cooking and additional "crispy" edges.

I like to poke my potatoes with a fork after I've cut them to ensure faster baking.

You can easily adjust the recipe up and down for the number of servings.

Adapted from Kenmore Microwave Cooking.

Enjoy! Merry Christmas and Happy Holidays once again to all!
Originally published December 22, 2009; updated October 23, 2022.