For affiliate links and as an Amazon Associate I earn from qualifying purchases.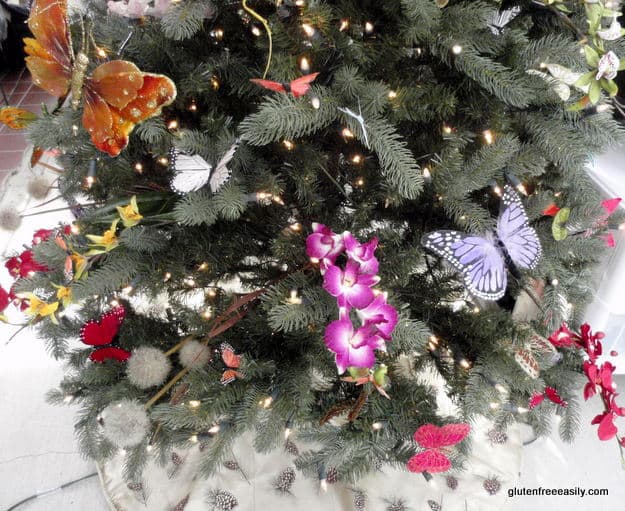 This past Tuesday I was privileged to attend a friend's Christmas open house. Oh, it wasn't any typical open house. This one was held in her wonderful greenhouse—a haven for her and her husband's orchid collection, as well, as many other fabulous horticultural examples. It seemed like a great escape from the 20 inches of snow on the ground and, also, somewhat of a prelude to our Key West vacation. Warm. Lush. Green. Tropical. Colorful. Festive and whimsical holiday decorations (like a Christmas tree decorated with butterflies and orchids). Warm, friendly faces. It was a perfect prelude, in fact. Oh, and the food. There was a terrific tomato-based cabbage and beef soup that my friend had cooked in her slow cooker. I could safely enjoy this soup and it was just right for the cold winter day. There was also a double-chocolate peppermint bark that was both delicious and gluten free. (Lucky for you, my friend, Cathy of Noble Pig, has a recipe for Double-Chocolate Peppermint Bark at her blog. Ensure ingredients that you use are gluten free and you're good to go!) My contribution to the open house was Nigella Lawson's Chocolate Clementine Cake. It came out very well. I'll be back with that recipe (and photos) soon, and hopefully, lots of photos from here in Key West. Keep your fingers crossed … a bottle of water came open in my tote bag and doused its entire contents—that included my camera (now drying … I'm hoping for a full recovery).
Hope you enjoy the photos! More importantly, I sincerely hope everyone is enjoying lovely holidays with family and friends. Thanks so much for all the warm holiday wishes you've sent my way, too—they are working!
Shirley
Not just gf, but gfe!