For affiliate links and as an Amazon Associate I earn from qualifying purchases.
Desserts for the holidays in our family tend to be pies and cookies. Cookies are a great way to have a sweet bite after a big meal without overindulging. I've shared a lot of my pie recipes and some of my cookie recipes, but not one that's "recently" become a family favorite—naturally gluten-free Coconut Meringues.
As most of you know, flourless, naturally gluten-free dessert recipes are some of my very, very favorite recipes because they make living gluten free so much easier and such recipes are super delicious, too (no flour to get in the way of the flavors and texture). That's what living
gfe
is all about—easy and good—of course!
I only started making these naturally gluten-free Coconut Meringues two years ago. So I've been trying to make up for lost time ever since!
Mom and I went to one of our local church bazaars in mid-November. It's an impressive bazaar.
There's always a beautiful assortment of handmade items from baby blankets to fun and colorful knit scarves. I purchase many gift items to hold me over for baby showers, birthdays, etc.
It's hard to call it quits because there are so many lovely well-made items. The church is dedicated to providing such an array of wares that they only hold the bazaar every 2 years, to allow their members to make enough quality items to sell.
The bazaar's most popular feature by far is their cookie walk. Buyers choose whatever size container they would like to fill (from about 2-cup size to gallon-size) and then walk along two tables of very appealing cookies—about 30 different kinds.
The choices aren't gluten free or if they are made of gluten-free ingredients, there is no guarantee they are free of cross contamination, so I never partake. However, Mom always enjoys making her selections and filling her container.
One of the cookie varieties she chose two years ago was coconut meringues. She and Dad ended up really enjoying these cookies and she wondered about the recipe.
I searched online and found several versions. We chose the one with the simplest ingredients and we've been making it ever since.
It's naturally gluten free—which means gluten free easily … gfe! And, bonus—these cookies are also naturally dairy free!
They are not as sweet as macaroons (which, frankly, I often find too sweet) and they are just a bit more substantial than true meringue cookies (or meringue-"siblings" like another gfe family favorite—forgotten cookies).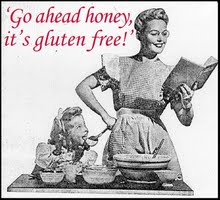 I realized when I shared these cookies at our support group's anniversary open house that the recipe wasn't here on gfe yet … although I had included it in my guest post on celiac over at my friend's, Anali's, blog. This post solves that problem, plus it's also my entry for this month's Go Ahead Honey, It's Gluten Free! carnival.
The theme is Holiday Cookies and the lovely Stephanie of Gluten Free by Nature (sorry, this blog is no longer active) is hosting. Stephanie has a very down-to-earth approach to cooking gluten free. She believes in cooking seasonally, and is, also, dairy free and mostly sugar free. But, as many of our fellow bloggers who cook gluten free and "other-free" have shown, there doesn't have to be deprivation or less taste with any of those labels. Of course, Naomi Devlin is the delightful originator of this popular gluten-free blog carnival—thanks from all of us, Naomi!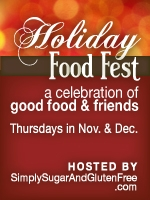 This week is also the last week of the Holiday Food Fest. The theme is Holiday Desserts, the perfect ending to our six-week event, and Jessica, also known as Fish Mama, who blogs at Life As Mom, is our host.
Today's Coconut Meringues are my holiday dessert entry. Be sure to head over to add your favorite holiday recipe and enter the terrific giveaway (there's a Desperate Housewives connection!) at Jessica's blog.
The Holiday Food Fest has been an event filled with fun and friendship between bloggers and, you, our beloved readers, but most of all, it's featured many fabulous recipes that you'll want to check out if you haven't already. No time now? Then you might check back after the holidays when things tend to settle down a bit.
Okay, here's the recipe for naturally gluten-free Coconut Meringues … a little miniature of my beloved Crustless Coconut Pie, if you will: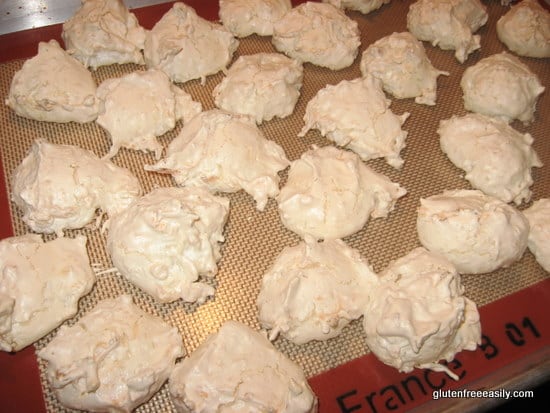 Naturally Gluten-Free Coconut Meringues Recipe
Yield: 20 cookies
Coconut Meringues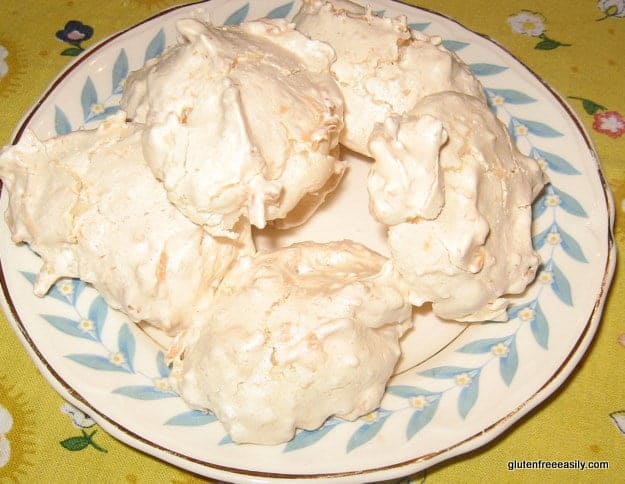 These naturally gluten-free coconut meringues are like individual coconut pies. So good! And easy to make, too!

Prep Time 20 minutes

Cook Time 15 minutes

Inactive Time 10 minutes

Total Time 45 minutes
Ingredients
2 egg whites
dash of salt
2/3 cup granulated sugar
1 1/2 cups sweetened shredded coconut
1/4 tsp vanilla extract
Instructions
Beat egg whites and dash of salt until soft peaks form. Gradually add in sugar while beating until peaks are stiff and glossy. Fold in coconut and vanilla. Drop by rounded teaspoon onto greased baking sheet.
Bake at 325F degrees about 15 - 18 minutes until set and very slightly browned. Center will still be soft. Let cool. Makes about 20 cookies.
Notes
A Silpat liner (as shown) can be used instead of a greased baking sheet, but I actually think I prefer using a greased baking sheet for this particular recipe. The cookies seem a little easier to remove using a greased baking sheet.

If cookies harden while removing (when using the greased baking sheet) and are difficult to remove, just pop back in the oven for a few seconds and try again.

Originally published December 17, 2009; updated July 13, 2018.