For affiliate links and as an Amazon Associate I earn from qualifying purchases.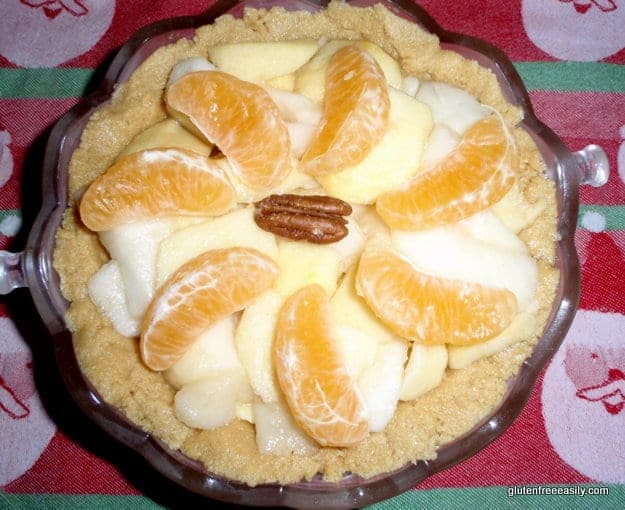 An article in a special holiday supplement caught my eye recently. It was titled, "Be Aware of Dietary Restrictions." And, right under the title (with a colored background for emphasis) was a recipe—No-Bake Gluten-Free Pie. It wasn't called raw, but perhaps that's because it contained agave, which I understand can go through some processing. (You raw foodies will know the finer points on this subject … please feel free to enlighten us!) Or, perhaps they called it "No-Bake" to appeal to all the harried holiday bakers. Whatever label is appropriate, the recipe intrigued me. A number of gfe readers and friends of mine like to include raw foods and dishes in their diet. Of course, I'm a big fan of nuts, fruit, salads, and more recently green smoothies, but that's been largely the raw part of my diet to date. One of my support group members, Susan, spoke to our group a few months back on her time at the Living Light Culinary Arts Institute in California. The Living Light Institute bills itself as "The #1 raw food diet (non) cooking school." Susan gave an excellent presentation, and the benefits of including raw foods in one's diet that she shared with us were very compelling. Here's the high-level summary of what she shared via words from Living Light's website on part of the reasoning for eating raw: "Organically grown raw and living foods provide high-quality nutrition while naturally supporting both proper digestion and a well-functioning immune system.  Eating these life-giving foods helps to alkalize the body, a key factor in building excellent health.  When the body is in an alkaline state, it is better able both to absorb nutrients and to expel toxins more efficiently. The SAD (Standard American Diet) of meat, bread, dairy products, processed/cooked foods, caffeine, and alcohol creates an acidic state in the body, which contributes to a variety of health problems." You can read more here.
Now back to the pie … I skimmed the ingredients of the basic recipe and they sounded quite good. There were only a few ingredients and nothing strange listed at all: agave nectar, almonds, and seasonal fruit. Well, I should say, that was after I figured out the basic recipe. When I read the recipe to try to follow the instructions, it was very confusing. I had to re-read it about six times before I figured out (sort of) that they were sharing three recipes in one. I'm still not 100% sure; it was that poorly done. In the end, I finally deciphered two versions that I wanted to try. The first one that I am sharing here I'd call a beginner "raw" or no-bake pie. I used agave nectar in the crust and our bees' raw honey in the filling, but agave nectar in both (which the recipe called for) would work just fine.
Yield: 6 servings
Simple Fruit-Nut Pie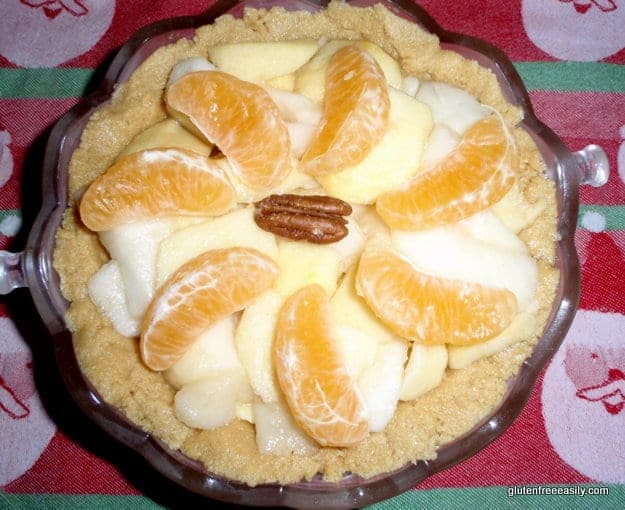 Adapted from a recipe included in newspaper article attributed to Beth Wood, Creators.com
Ingredients
Crust
2 cups finely ground raw almonds (or finely ground ready-made almond flour)
1/3 cup honey (or agave nectar)
Filling
1 ½ to 2 cups seasonal fruit, peeled and cut if necessary (I used 2 pears and one apple)
2 tbsp to ¼ cup honey, to taste (or agave nectar)
Instructions
Combine 2 cups finely ground raw almonds and 1/3 cup honey in mixing bowl.
Press into 5-inch pie dish. (I lightly greased a deep 5-inch holiday-themed bowl with coconut oil, just for ease of removing pieces.)
Mix up to ¼ cup honey and seasonal fruit in a bowl; fill crust. (I used 1 ½ cups of cut, ripe pears and apples.) Garnish, as desired with more fresh fruit and/or raw nuts.
Notes
I enjoyed eating this pie at room temperature, but I recommend chilling after eating due to the fruit content. After chilling overnight (I liked it cold, as well), the pie seemed sweeter to me. So if you are using sweeter fruits like the ripe pears I used, you may want to use less of the honey (or agave) with the fruit. The pears also created a fair amount of their own juice, so if you experience that, you may want to drain some of that juice off and save for another purpose, say a green smoothie or for naturally sweetening your cereal. You could also use more apples and less pears in this particular combination. As you can see in the last photo, I "ungarnished" my pie before I ate it, because I wanted to eat the orange slices separately, but that's just me being odd.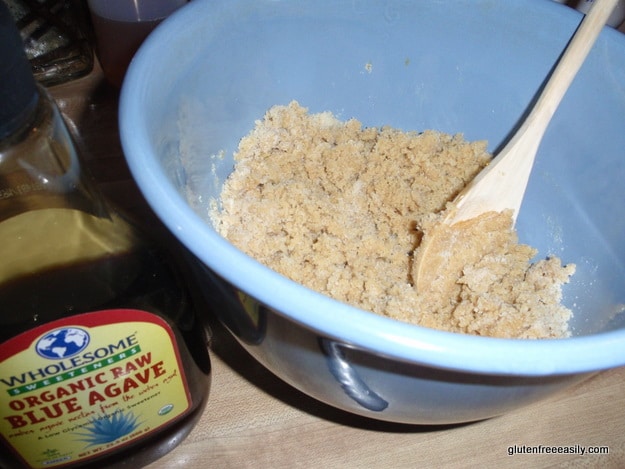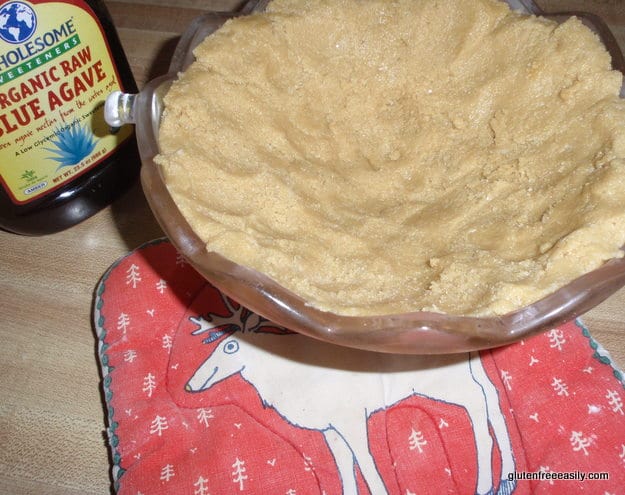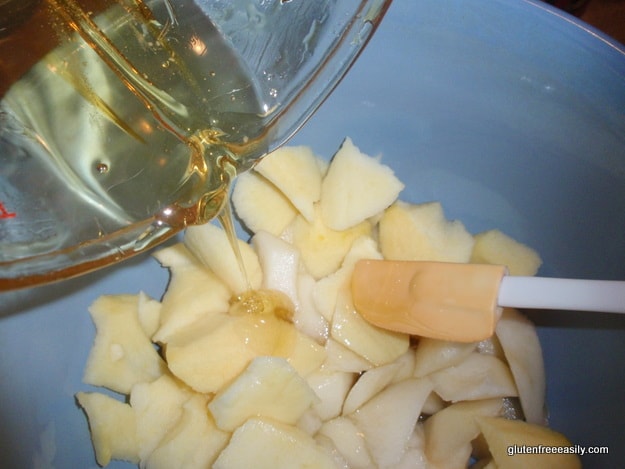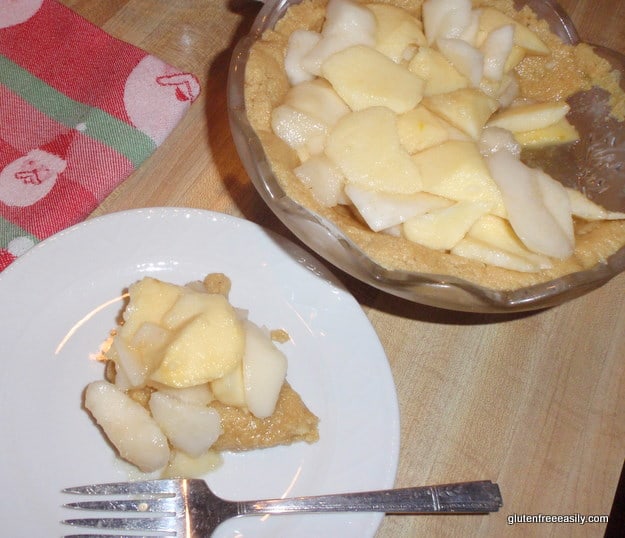 Conclusion:  What a great and easy way to turn some fruit and nuts into a lovely little dessert or a special gift for a friend who eats raw or even a company-worthy pie. Granted, this recipe doesn't make a large pie, but one could easily adapt the measurements to make larger pies for guests. I can't wait to share this one with my group tonight, especially Susan. A small piece is missing from mine (okay, two now … I just had one for breakfast!), but the pie is filling and flavorful, so only a small piece is needed. And, while this 5-inch pie won't serve my entire support group, it could easily be a dessert for a few guests. This pie does actually hold up as a pie, too. The almonds and agave nectar make a wonderful crust. As I said in the directions, I did grease my bowl with some coconut oil and I also used a spatula to remove my pieces, but they are like pie and don't fall apart.
Enjoy your day off from baking! Oh, and the next version I will be making will be raw pecan pie, but that might not happen until after the holidays. I don't even want to tell you how far behind I am on holiday preparations and Key West is calling … I did manage to put out my Christmas tins and Santas though. Most of them are shown in this photo. I'll share my two favorites Santas in my next post. Gotta run … support group meeting tonight!