For affiliate links and as an Amazon Associate I earn from qualifying purchases.
No, this post is not an endorsement of a processed gluten-free cereal. I do not plan to have such reviews at gfe. As I've said before, there are very few gluten-free specialty items that I personally purchase. I like to keep my diet and my buying simple … for a variety of reasons (some of which I've already shared and more that I will be sure to talk about at a later date).
When I got up this morning, it was sleeting. Then it started snowing. I knew I would take my time heading into work … waiting to see if the weather would get better or worse, and perhaps ultimately deciding not to go in at all. I had just gotten a large bag of pecans on my latest visit to the grocery store. (Pecans, walnuts, almonds, cashews, and sunflower seeds are staples in our house.)
A banana that had turned brown overnight sat on the counter looking sad. (I think it was "pleading" not to be thrown in with the two dozen other "baking bananas" still held in semi-solitary, frozen confinement. If you missed that story, read here.)
Little voices inside my head were speaking to me and my stomach was making those hungry sounds, not yet a full-out growl, but close. The fact that I had just done an exercise video (for the first time in months) also had me feeling a bit ravenous.
Some type of healthy breakfast was needed. (I didn't want to cancel out the effects of the cardio, you know?) The answer was obvious and simple … I'd make my own version of nut cereal—a gfe solution!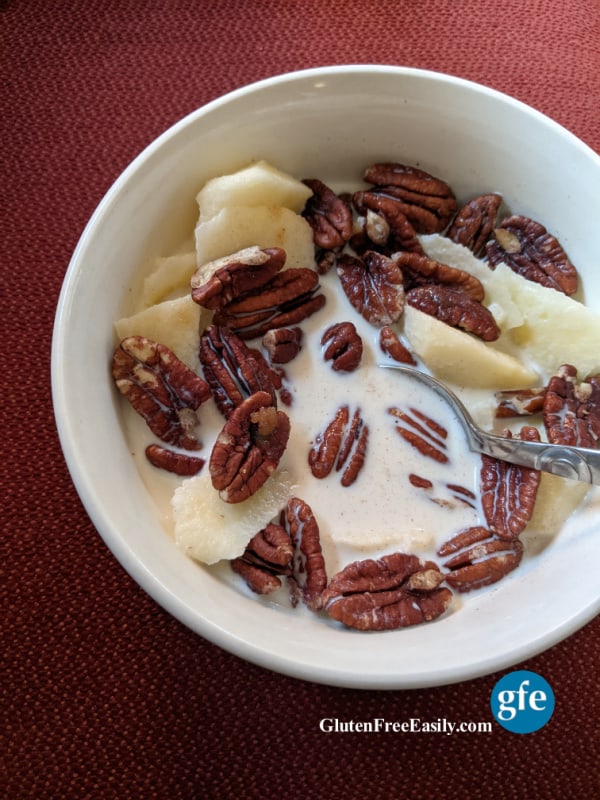 All you need for nut cereal is a small amount of nuts (or seeds) and some milk (dairy or non-dairy) to pour over them. That's right, there is no omission—flakes, oats, and any other grains are just not needed I do like to add some fruit and/or a small amount of sweetener, but they are not necessary.
Today I started with pecan halves, added the banana that I had sliced, and topped it all with just a little bit of brown sugar. Yes, it looks like I added a lot of brown sugar (LOL) in this (now old) photo below, but that's just because I had to darken the photo to make it presentable. It's not one of my best photos. I could have kept taking photos trying to get a better shot, but I really wanted to eat the cereal!! (By the way, the bowl looks very large, too, in the shot, but it's a small bowl. LOL)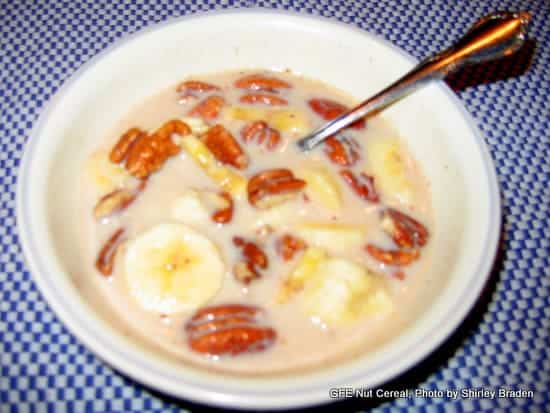 Could that be any simpler? If you've always been a fan of boxed nut cereals (gluten free or not), give this a try. I promise you that you really won't miss the grains. It's very satisfying. And, this method for breakfast adapts so well when staying at a friend's house, camping, or the like. What do you think? Will you try this version of nut cereal? Do you do anything equally simple for breakfast that you'd like to share? Sometimes we dismiss simple ideas as not worthy of sharing, but usually those are the best ones to tell others about!
FYI—By the time I finished eating my breakfast, weather conditions had worsened and the road that I use to travel to work was actually closed. Can you say SNOW DAY!!! Life is good. It's still snowing … I love snow.
Homemade Gluten-Free Nut and Fruit Cereal (or Seed and Fruit Cereal) Recipe
Yield: 1 bowl
Grain-Free Nut (and/or Seed) and Fruit Cereal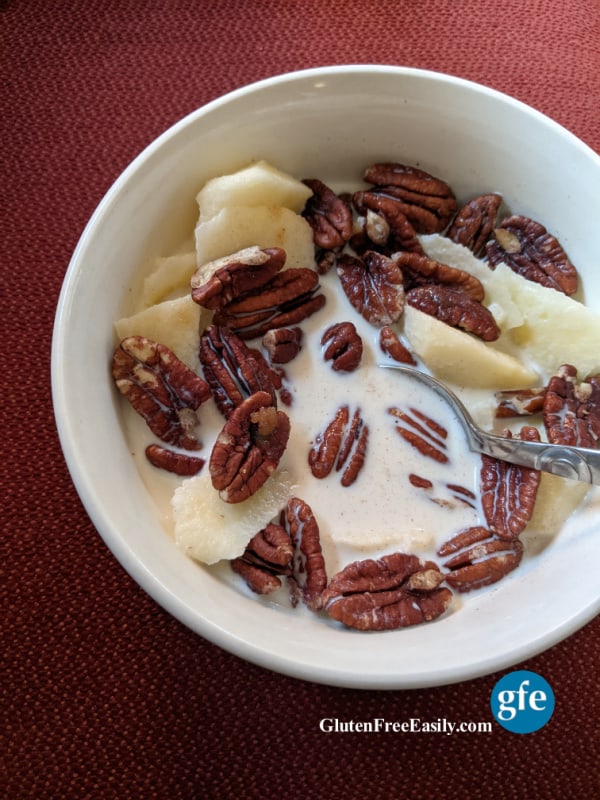 You won't miss the grains--or packaged cereal of any kind--when you make your own Nut and Fruit Cereal! Or Seed and Fruit Cereal. Or Nut, Seed, and Fruit Cereal.

Prep Time 5 minutes

Total Time 5 minutes
Ingredients
small amount of chopped or halved nuts and/or seeds of your choice
sliced or chopped fruit (optional)
sweetener (optional; e.g., agave syrup, brown sugar, honey)
milk (dairy or non-dairy)
Instructions
Place nuts and/or seeds in bowl.
Top with fruit and sweetener.
Pour milk over all.
Enjoy.
Full disclosure: This idea is brilliant (IMHO), but it is not my own. It was posted in a summary of breakfast ideas on the celiac listserv quite some time ago so, unfortunately, I can't give proper credit to the originator. Of course, you know how good ideas are. That person probably learned of it somewhere else.
Shirley
Not just gf, but gfe!
Originally published January 27, 2009 ; updated March 8, 2022.