For affiliate links and as an Amazon Associate I earn from qualifying purchases.
This Classic Cucumber Salad is actually delicious all year long but it's one of those recipes that you'd most likely associate with summer. And there's nothing wrong with that. In fact, you'd be right. It's so cooling and refreshing during the summer!
However, I'm in my usual mood for this time of year—mid-September to even late September—looking forward to all things fall but still trying to hold onto the best parts of summer. You know … steamed crabs, watermelon, fresh peach desserts, daylight. And today's cucumber salad. This cucumber salad is definitely one of those best parts.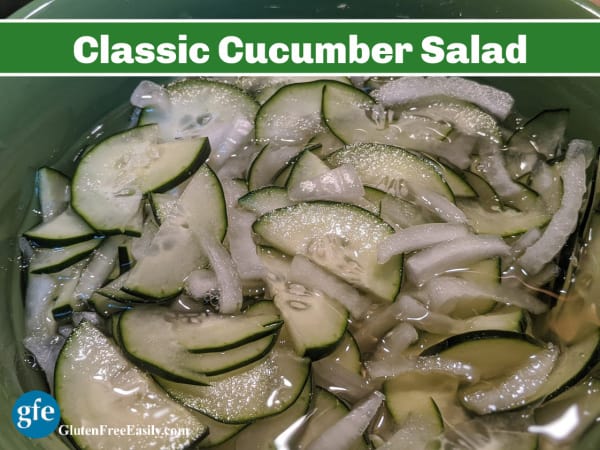 Classic Cucumber Salad is "old school" but it's relatively new to me. With a few notable exceptions, I have not usually been big on vinegar-y recipes, pickled recipes, and the like. I know, I know. I have friends who are like, "What the heck is wrong with you, girl?!"
A few years ago, Mr. GFE and I visited a waterfront restaurant that we liked to frequent. One of the side dish choices for the day (recited, not on the menu) was cucumber salad. I asked our favorite server to describe it and when she finished, I said, "I want to try it!"
It was simply sliced cucumbers and onion crescents in a vinegary but sweetish marinade. Everything was crisp and tangy. It had a sweet and sour vibe, in fact, and I loved it!
Every time we returned to this restaurant, I asked for the cucumber salad. Sadly, it was never an option ever again and I've not returned to that restaurant this season.
From time to time, I would think about that amazing cucumber salad and consider how I could make my own version but then I'd forget about it. When we started getting cucumbers aplenty in our produce boxes, I decided I should get back on the trail of the best recipe for this cucumber salad. (FYI: Use affiliate code COOKWME-XD6MDE to get a discount on your first box if you want to try our favorite produce vendor, Misfits Market. I love that they use what they call "ugly" produce—which usually simply means produce that's too small or too large to be accepted by grocery stores—and their prices are great in my opinion, especially for home delivery.)
It turns out that the classic recipe is one of those recipes that goes back decades, nobody knows who originally created it (all of our grandmas?), and it is simply one of "parts." As in, one part x, one part y, and one part z. I love recipes like that because you can easily scale them up or down depending on how many you have to feed, future needs, etc.
There are many variations of cucumber salad but after some experimenting, I decided that's the ratio that I liked. Specifically, one part water, one part granulated sugar, and one part vinegar. I've seen other recipes that use coconut sugar instead of white sugar and white vinegar instead of apple cider vinegar.
Personally, I prefer good old granulated white sugar in this recipe and apple cider vinegar. Most of that white sugar gets left behind in the "marinade" but it adds so much flavor in combination with the apple cider vinegar. By the way, I use Bragg's Organic Apple Cider Vinegar. The one with the "mother."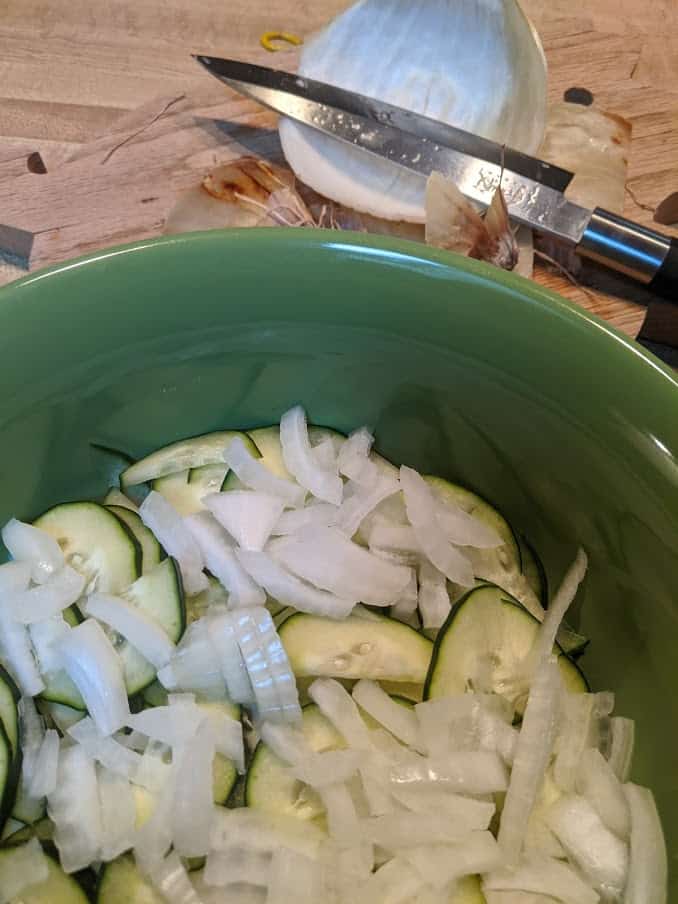 Feel free to do some experimenting and decide which variation you like best. However, I recommend you start with this version and then try other variations.
What did that old commercial say? Start with the best; stay with the best. I don't remember what product that slogan was advertising but I definitely followed that advice with this recipe.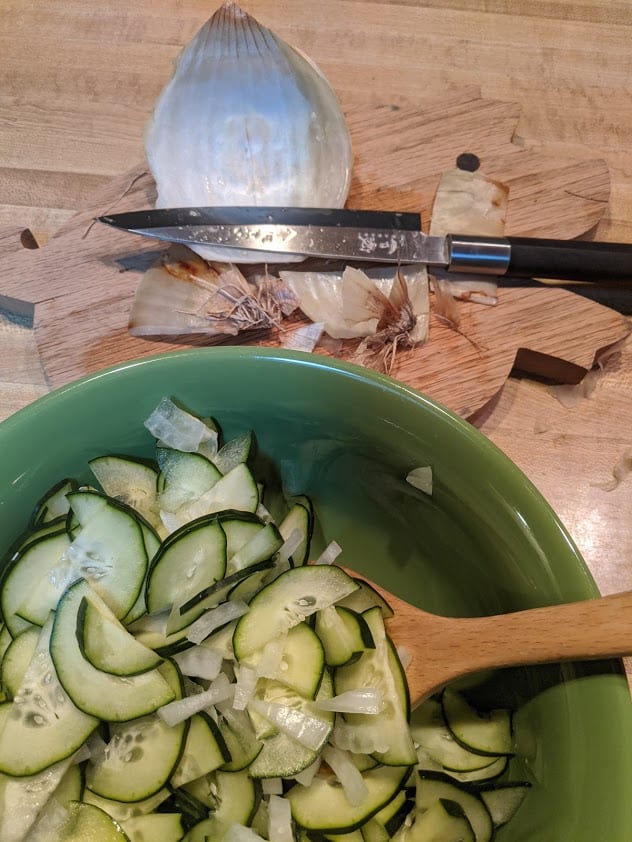 Note that this recipe is naturally gluten free. No special ingredients needed. Yes, distilled vinegar is gluten free (as is distilled alcohol).
Remember that focusing on naturally gluten-free ingredients, foods, and recipes is the focus of the gfe approach. It's the easiest, least expensive, and healthiest way to live gluten free. Bonus … everything tastes the way it always did—not only to you but also to your family and friends.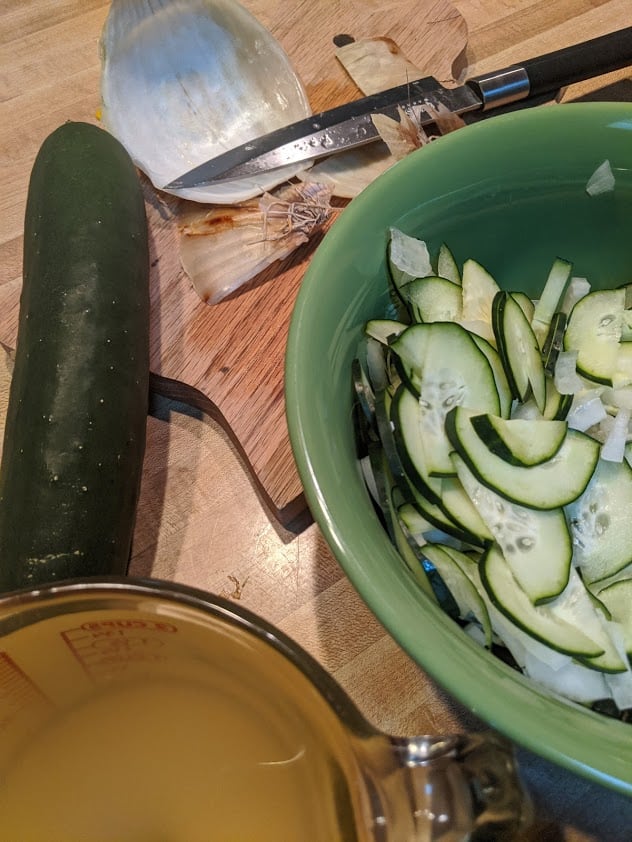 We've eaten this Classic Cucumber Salad as a side dish on its own almost every week since early summer. We also like using a "scoop" of this salad as topping on our green salads instead of dressing. Absolutely delicious!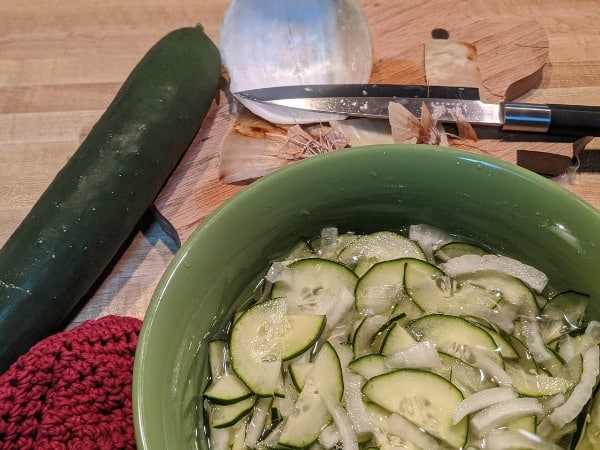 More Cucumber Salad Recipes and Other Surprising Recipes Made Using Vinegar
~ Cucumber Chickpea "Bruschetta"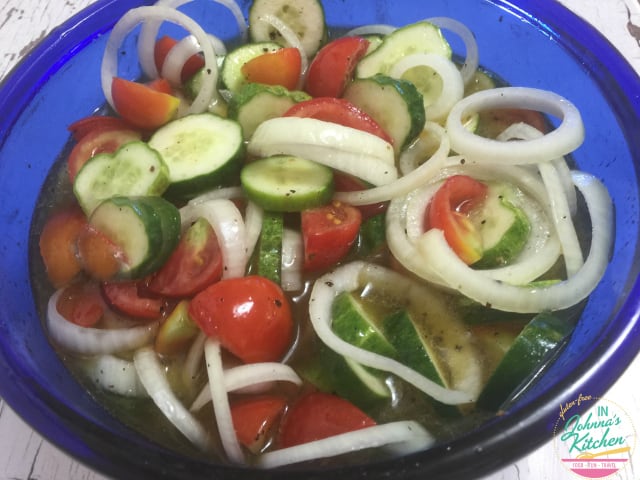 ~ Maple-Glazed Pork Tenderloin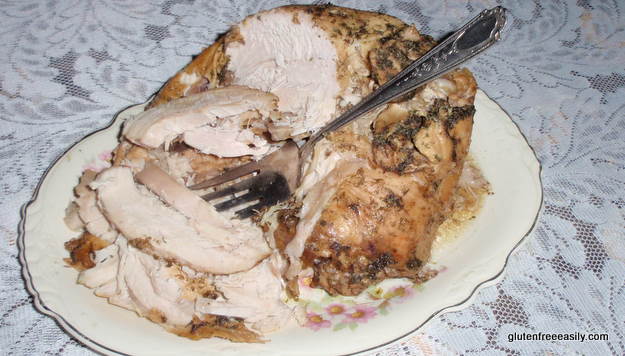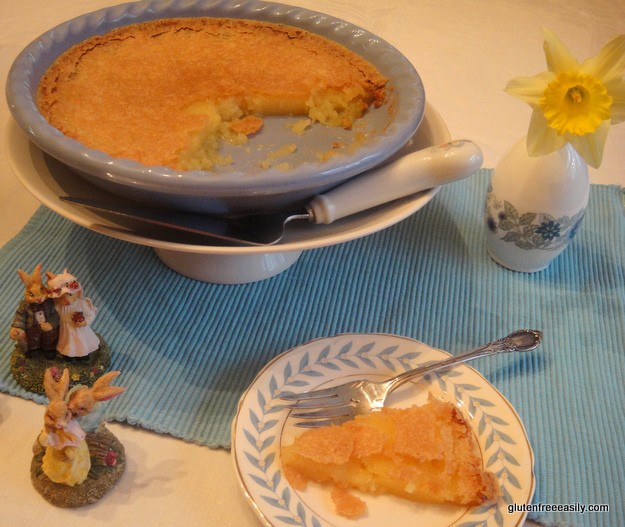 I'll be back with more recipes, ones that you all would consider "fall-appropriate"; I promise!
Classic Cucumber Salad Recipe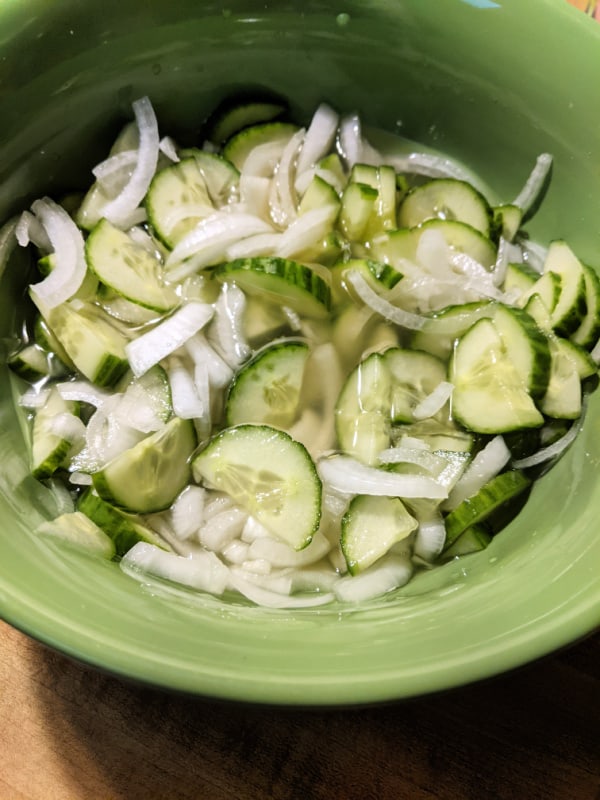 Yield: 12 servings
Classic Cucumber Salad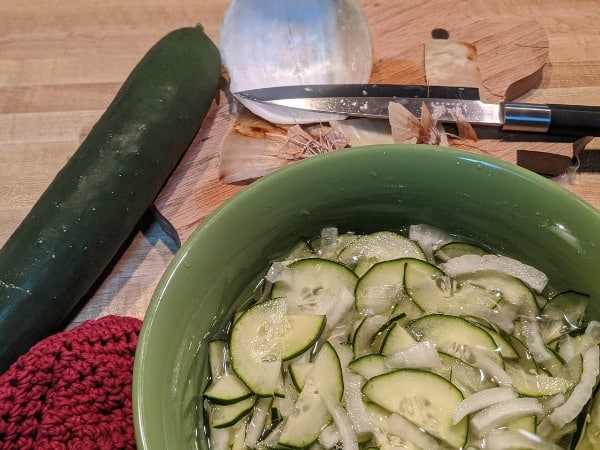 This Classic Cucumber Salad is an old school recipe that can be enjoyed all year long but it's especially delightful during the summer. It's cooling, crispy, and wonderfully sweet and sour.
Total Time
1 hour
15 minutes
Ingredients
1 cup filtered or spring water
1 cup granulated sugar
1 cup apple cider vinegar
4 to 5 cucumbers, sliced thin (peeled, if desired; see notes)
1 small onion, sliced about 1/4-inch thick (any kind of onion works; red onions really make this salad pretty and tasty)
Instructions
Add water, sugar, and vinegar to large bowl. Mix well.
Add cucumber slices and onion slices.
Cover and chill in refrigerator at least one hour before serving.
Notes
If you only have one or two cucumbers, simply scale the recipe down. It's one part water, one part sugar, and one part apple cider vinegar. For example, if using one cucumber, you would use 1/3 cup water, 1/3 cup sugar, and 1/3 cup apple cider vinegar. Likewise, you can adjust the recipe up when you wish to make this recipe for say, a potluck.

I don't usually peel my cucumbers because I like the little bit of crunch that the peel usually offers but if I get a tough-skinned cucumber, I will peel them or I will remove half the peel in strips using my vegetable peeler. Taking that additional step not only makes eating the slices more enjoyable; it also creates very appealing "striped" slices.

This salad lasts for up to a week. It stays surprisingly crisp even when it doesn't look quite as fresh and crisp.
Originally published September 21, 2020; updated October 18, 2021.