For affiliate links and as an Amazon Associate I earn from qualifying purchases.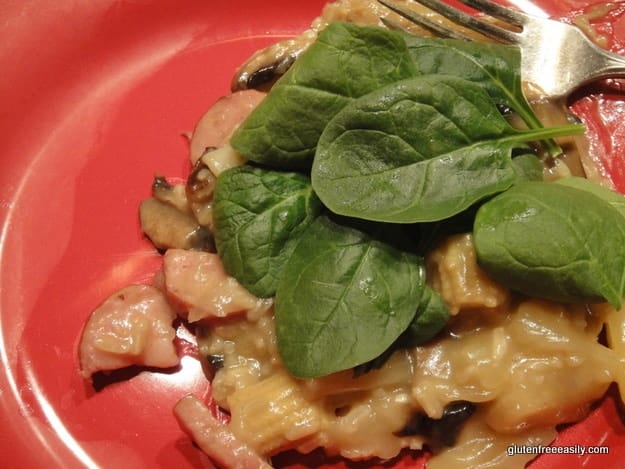 I've been participating in the Go Ahead Honey, It's Gluten Free! (GAHIGF) carnival since February of last year. Sweet and super creative Kelly from The Spunky Coconut hosted my "inaugural" month. GAHIGF is the clever creation of the wonderful Naomi of Straight Into Bed Cakefree and Dried. Each month it's hosted by a different blogger who gets to choose the theme. It's a fun event with amazing recipes. I always like to imagine all of us who participate getting together in person to sample each other's dishes, as I did when I hosted last July with the "Make Me A Happy Camper" theme. Laura of Mouthgasmic is this month's host. She selected "Stews from Around the World."
I wanted to make something different than your typical beef stew or, say, my Crockpot Jambalaya. So I took a look in the pantry and refrigerator to see what I had on hand. (I find that doing that often makes me more creative than if I looked at a recipe and then purchased all the ingredients to make it.) Smoked sausage, coconut milk, pineapple, stir-fry "baby" corn, water chestnuts, bamboo shoots, and mushrooms all made me think Polynesian. Hmmm. A chilly, thick pina colada also came to mind. We used to have a Polynesian restaurant in our area (before I was gluten free). Oh, it was a chain restaurant and the food was not much different than Chinese food really, but for many years, it was a very enjoyable place to eat equally enjoyable food. Plus, the service was always excellent; the décor was a bit over the top with gold statues, fountains, and such (in a way that was not tacky, but made you feel oddly special); the plush deep-set booths made for a great date setting (or fun tête a tête with a girlfriend); and their pina coladas were "to die for" (they weren't even made in a blender; they were just shaken, but they were truly fabulous). However, I digress.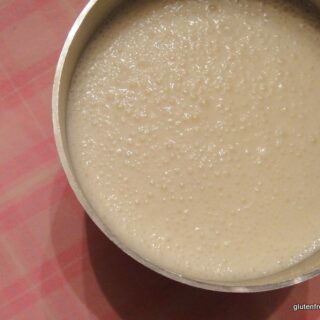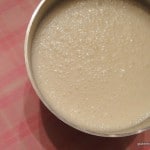 I looked online to see if my ingredients came close to those in traditional Polynesian stews. Well, the meat ingredient in several recipes I found ranged from beef, to pork, to chicken. My smoked sausage was close enough, I thought. It would provide more depth for flavor and because it was precooked, it would also allow my stew to be ready more quickly. (Quick is important when you haven't had the foresight to pull out your slow cooker before heading to work.)
One appealing idea I saw when reviewing Polynesian recipes online was adding spinach to the stew at the end of cooking. That recipe was called Polynesian Chicken Fafa. It called for both spinach and shredded coconut. I didn't opt for the shredded coconut in the stew (although I did use it in my pina colada!), but I did add spinach to my own plate of stew. I used fresh baby spinach leaves instead of frozen spinach as was suggested in that recipe, so it was easy to add just as much as I wanted. I was hoping for a wilted spinach effect, but as you can see from the photo, I didn't quite achieve that. I think I let my dish cool too much before I added the spinach. Having the spinach at room temperature beforehand would have helped as well. I could have stirred the spinach into my stew, but I liked the look of it on top and really it made the stew much better. (I added even more spinach after I took the photo.)
This stew was a very good dish. I would recommend a few changes, which I've noted in the recipe. I added a small amount of brown rice to the mixture while it was cooking and, frankly, it was still a bit crunchy when we ate. We both agreed that serving the stew over cooked rice next time would work better. (Rice can be cooked separately at the same time you make the stew. White rice will be finished in 20 minutes; brown rice about 30 minutes.) The flavor is a classic "sweet and sour" one, which is often a little strong for us. I thought the coconut milk would lessen that effect, but it didn't actually. Next time, I'll most likely reduce both the vinegar and honey amounts to suit our taste buds. However, Mr. GFE had seconds and if you're going for a classic sweet and sour taste, this recipe will serve you well.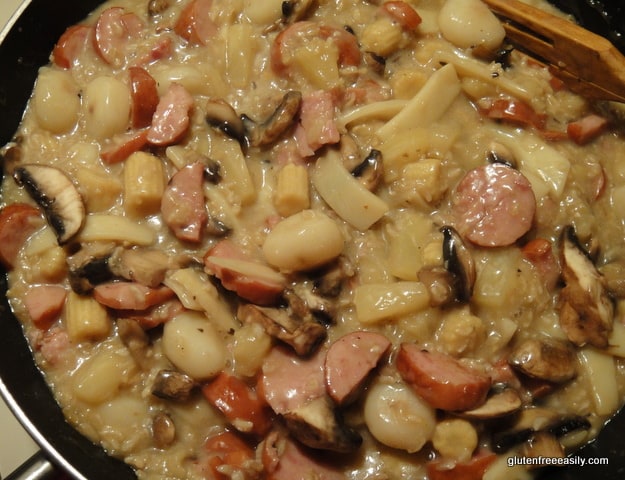 Yield: 10 servings
Polynesian Sweet and Sour Sausage Stew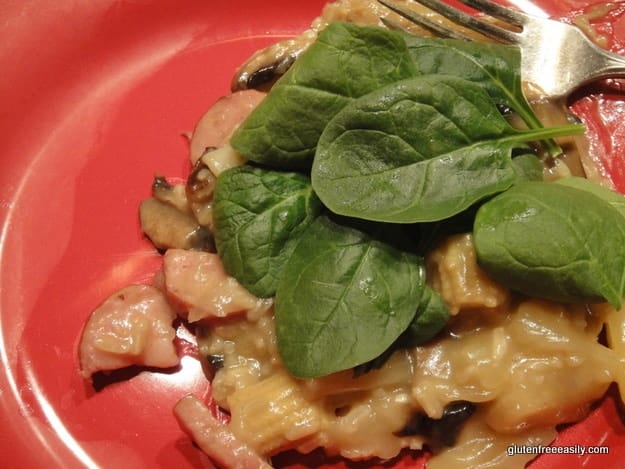 Ingredients
½ to 1 lb smoked sausage, sliced or diced (as desired; I sliced and then halved mine---I don't like big chunks of meat; more sausage can be added if you wish)
1 tbsp grapeseed oil (or other oil, if needed)
½ cup chopped onion
2 cloves garlic
1 cup coconut milk
1 20-ounce can pineapple tidbits, packed in its own juice (drained, with juice reserved)
1/3 cup apple cider vinegar
1/3 cup honey (or brown sugar, or similar; I actually ended up using part honey and part dark brown sugar---both to equal 1/3 cup)
3 tbsp cornstarch
1 tsp Soul Seasoning (or your favorite seasoning—even sea salt---for adding a little zing to your dishes; optional)
1 can stir fry "baby" corn, drained
1 can water chestnuts, drained
1 ½ cups sliced mushrooms (I used baby bellas)
2 handfuls of raw spinach or one 10-ounce package of frozen chopped spinach, thawed and drained
Instructions
Saute sausage slices/chunks in deep dish skillet over medium-low to medium heat until slightly browned---about 5 minutes. Add onions and sauté in very small amount of sausage drippings (add oil if needed) until translucent---about 2 to 3 minutes. Add garlic cloves and cook another 30 seconds.
Add coconut milk and pineapple tidbits to sausage mixture.
Stir in vinegar and honey. Whisk cornstarch into reserved pineapple juice. Stir into stew. Mix well and add seasoning.
Bring to a boil. Stir in remaining vegetables. Reduce heat and simmer covered for about 15 minutes, stirring occasionally.
Stir the spinach into the skillet (or individual bowls). Stir and let steam cook spinach through before eating—about 2 minutes.
Serve over cooked white or brown rice. Add gluten-free soy sauce to taste, if needed.
Notes
The smoked sausage may be omitted and more vegetables (carrots, bok choy, green pepper, red pepper, more greens, etc.) may be added for a vegan version of this stew. Of course, you can use your remaining cup of coconut milk to make pina coladas. I promise to share that recipe with you soon.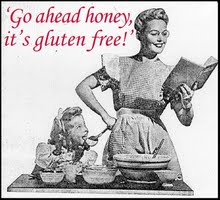 Remember to check back over at Laura's at Mouthgasmic for the final GAHIGF roundup next week.
Gotta run … that remaining half pitcher of pina coladas is calling my name!