For affiliate links and as an Amazon Associate I earn from qualifying purchases.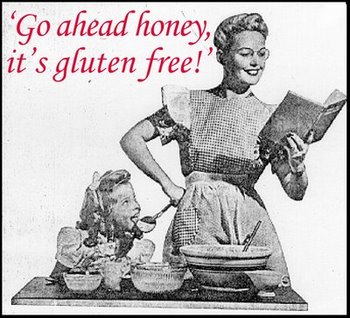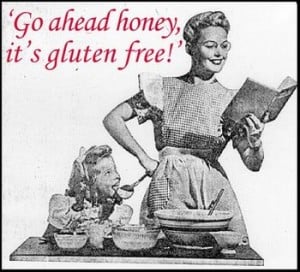 Naomi Devlin is the originator of the Go Ahead Honey, It's Gluten Free! blog carnival. Triumph Dining selected Naomi as its blogger of the month for June for making the gluten-free blogging community "a little cozier, a little healthier, and a lot more fun." 🙂
Naomi started this blog carnival in February 2008. Each month, a different blogger hosts and selects the theme.
I've been participating by submitting recipes since February of this year when Kelly from The Spunky Coconut hosted. Her theme was Sweets for Your Sweetheart—very appropriate considering Valentine's Day and Kelly's own sweet nature.
Naomi, herself, hosted for March/April and went a bit "upscale" on us all with her selection of canapés. She wrote a delightful summary of our girls' evening enjoying them all. (I only wish it could have been a real evening versus virtual!)
May was hosted by lovely Emilia of A Gluten-Free Day, who chose fruit desserts. A simple enough theme you might think, but, once again everyone outdid themselves. The photos were stunning. You wanted to reach through the computer screen and have a bite of those desserts!
Carol of Simply … Gluten Free just hosted for June and she selected Manly Food as the theme. Carol's a self-confessed competitive gal and I think she achieved a new record for entries—-woohoo, Carol! Not only is Carol a winner, but we all win with so many great recipes available to us. Go check them out here.
Suddenly it's July, and I have the distinct honor and pleasure of hosting this month! Now, how many times have you heard about our weekend camping excursions to our riverside mountain property? With that in mind, my theme is Make Me a Happy Camper. Maybe you're already thinking that you don't camp, so you can't participate. Au contraire, mon frère! There's no reason we can't all participate and still meet the intent and spirit of this theme. We are using "happy camper" in a broad sense. Have you ever been on a picnic and taken a gluten-free dish? Then you can submit that recipe. (Mr. GFE says that's what we actually do anyway … "we just go on a picnic and spend the night!") Do you have a special treat that you make to take on hikes? That treat recipe would qualify! And, of course, we're looking for "die-hard" camping recipes, too. For example, if you make dishes using a Dutch oven right in the campfire or on one of those backpacking/expedition campstoves (think high-tech Bunsen burner!), I want to hear from you. Personally, we have a single burner camping stove, gas grill, and campfire at our disposal when camping. If you can make a dish on one of those—a dish that you could easily make if actually camping—you can join in!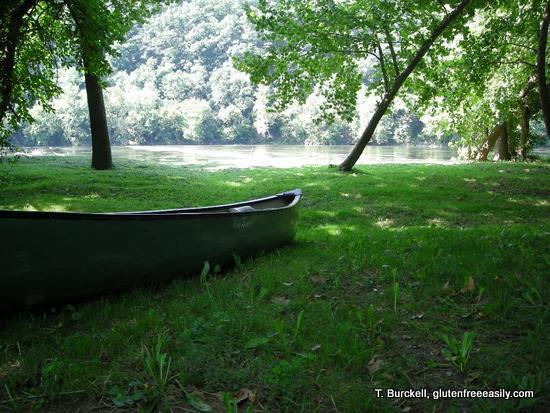 Entries are due by Tuesday, July 28, at midnight EST. I plan to have the roundup posted by Friday, July 31. If you're a blogger, please submit the link to your post and a photo to me via email at [email protected]. But, you do not have to have a blog to participate. (Hey, not everybody is blogging … we have to have some folks who are only reading and commenting!) If you fit into the latter category, you can submit your recipe via email at [email protected] including a photo, and I'll include your entry in the post. As Carol noted, you do not have to be a "designated" gluten-free blogger to participate. That's my whole gluten free easily concept anyway … focusing on food that's naturally gf or can easily be made gf—i.e., food that everyone wants to eat!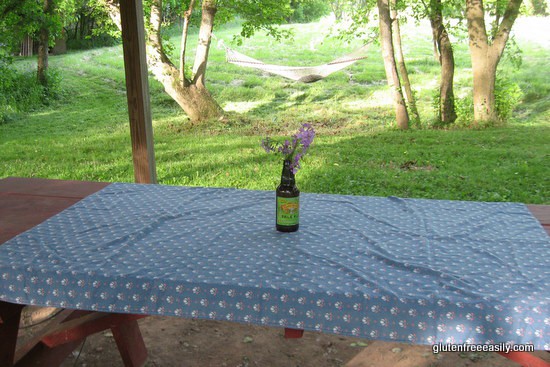 What can you place on the table for us to share together? We'll have a pleasant feast—the kind that is best savored outdoors—and then later we'll wander off and take a snooze in one of our hammocks.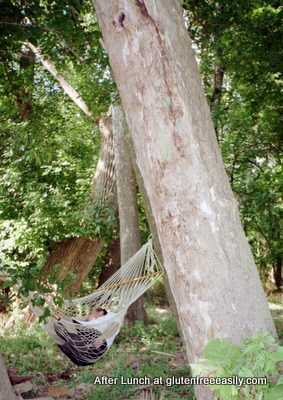 FYI—For gluten-free recipes in general, I like simple and I also like ones that are a bit "outside the box" (yes, even outside the gluten-free box!). Case in point, I'll be making S'mores when camping this weekend, but I won't be making gf graham crackers or purchasing them. Intrigued? More on those later.
Of course, you know I have a vested interest in these submissions—I'll end up with new fantastic gluten-free recipes for our future camping outings! Gotta love that! Oh, one more thing … Naomi is looking for future hosts for this fun monthly blog carnival. Read more here.
Shirley
Not just gf, but gfe!