For affiliate links and as an Amazon Associate I earn from qualifying purchases.
Today I'm sharing a recipe for gluten-free Keto Pancakes, with a simple variation that allows you to make gluten-free Keto Waffles, if you prefer. This recipe comes from Cassidy Stauffer's new Keto Breads cookbook.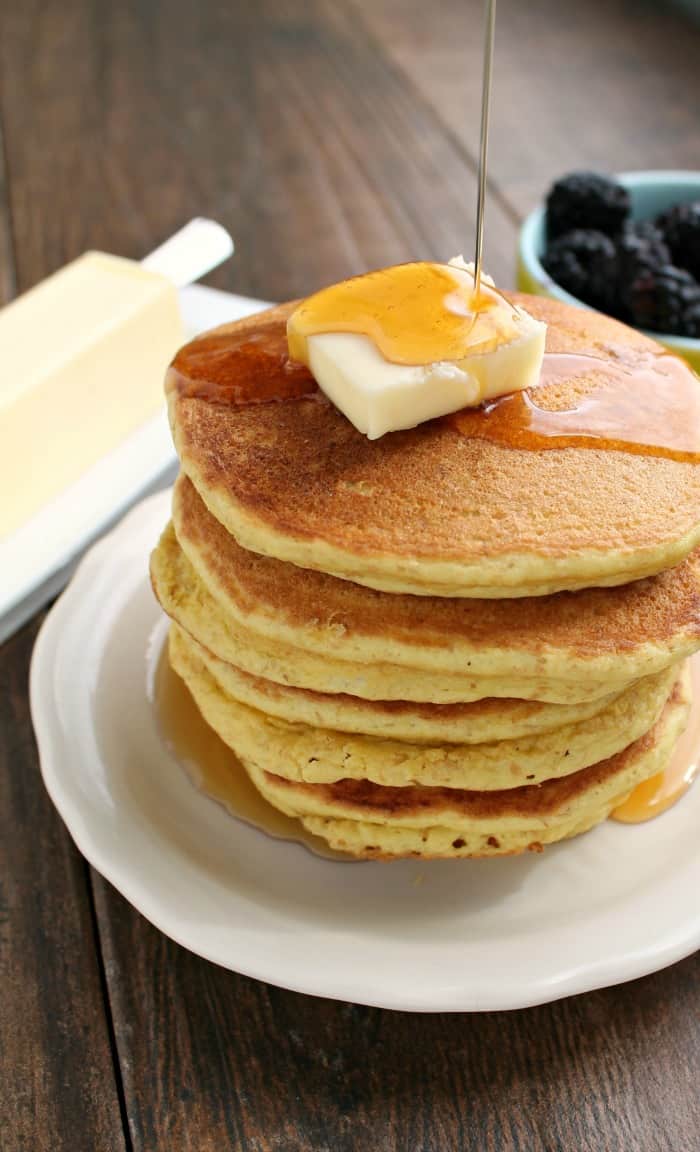 You probably know Cassidy from her gluten-free site, Cassidy's Craveable Creations. If not, you definitely need to check out her site. She has so many excellent recipes!
Cassidy's cookbook is subtitled "Making Keto Delicious." Her cookbook earns that description and I'll tell you why.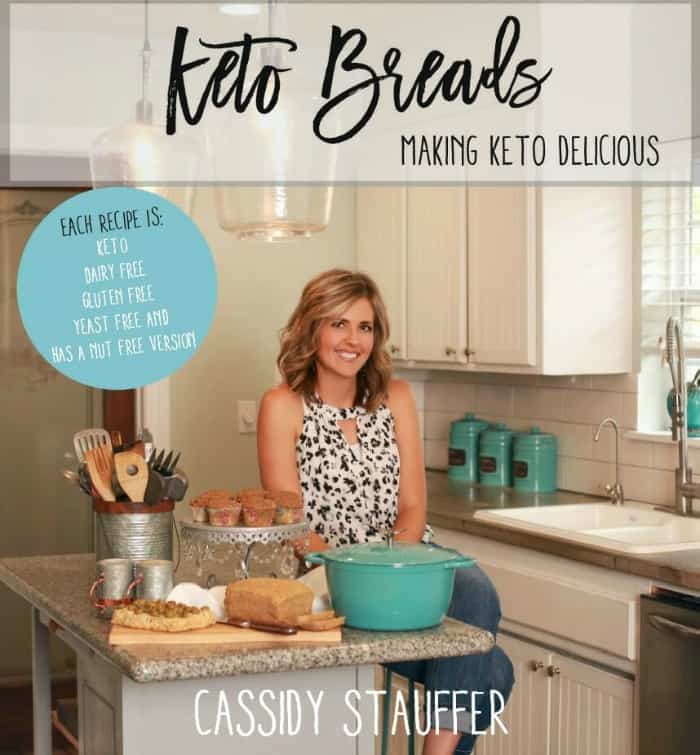 But first, I want to talk about keto eating again for a moment. As I discussed before when I shared this Keto Blueberry Mug Muffin recipe (from Suzanne of Keto Karma), I like to share all sorts of recipes here on gfe because I know I have readers who follow a variety of gluten-free diets.
I also have readers who—like me—appreciate all kinds of recipes, even if they're "just gluten free." These recipes could be dairy free, egg free, vegetarian, vegan, paleo, primal, low-carb, keto, Specific Carbohydrate Diet, GAPS, etc.
Some in the gluten-free community have recently been disparaging those who share keto recipes or advise keto diets. Let's address that issue for a moment.
First, most of us who share and/or use keto recipes are not following a keto diet. We're simply looking for recipes that we like or that "work" for us. Perhaps because of dietary restrictions, perhaps because of dietary preferences. Or perhaps we're looking for more with specific kinds of recipes.
Cassidy began making keto recipes for her family to help her son with autism and epilepsy. However, in addition to seeing improvements in her son's health, she also saw improvements in her own health in regard to both her hormone issues and Hashimoto's. That was an unexpected, but a welcome benefit for sure!
As my gfe disclaimer states, I am not a medical professional and nothing I share is intended to be medical advice. Always consult with your own medical professional, ideally one who knows you and your situation very well.
I'd be remiss if I didn't point out many of us who have been down the gluten-free road know how hard it can be at times to get much-needed help from our physicians. If you think the keto diet could be helpful to you, do your own research first and talk to your doctor about whether it's right for you.
I think that's especially advisable if you have diabetes or other concerns regarding your glucose levels. Cassidy emphasizes that point in her book as well.
The bottom line is that there is no one diet that is suitable for everyone. We learned that with "one size fits all" clothes long ago, right?
I know folks who have thrived on a keto diet, others who did not do well on it at all, and others like me who enjoy using keto recipes on occasion. Even when I do make keto recipes as I did in my review of Keto Breads, I usually have to use another sweetener (such as coconut sugar or honey as I don't tolerate erythritol) so when I make such recipes they're not truly keto.
The same is true for me regarding the oil that's usually called for in keto recipes. Avocado oil is usually the preferred oil but I usually use extra virgin olive oil as I don't digest some fats well.
That latter fact is thanks to celiac and having my gall bladder removed pre diagnosis. Olive oil or coconut oil has always worked just fine for me in keto recipes.
As written, the recipes in Cassidy's Keto Breads cookbook are all gluten free, dairy free, keto, and have a nut-free option. Many of the recipes are also low-carb and paleo.
There are 19 recipes but most of the recipes have two variations (simple variations—yay!). When those variations are taken into consideration, this cookbook includes 30 recipes in all.
I love that most of the recipes give me a choice of using almond flour or coconut flour because sometimes I'm in the mood for a recipe made using almond flour and sometimes I'm in the mood to use coconut flour. Having options is always good!
Keto Breads is divided into four sections: Breakfast, Muffins & Breads, Dinners & Extras, and Nutrition Facts. The last section provides the nutritional breakdown for each recipe, including every variation.
Part of the driver for Cassidy creating these keto recipes and subsequently, this cookbook, was a need for food that would interest and fill up her 13-year old son. For his never-ending hunger and teenage tastes, she said, "We needed hamburger buns, tortillas, pancakes, and real pizza crust!" Not just eggs, taco salads, lettuce-wrapped burgers, and the like.
Recipes I Made from the Keto Breads Cookbook
First, I wanted to try muffins. That should come as no surprise to all of you who have followed my March Muffin Madness events over the years, right?
I adore muffins! We were having chili for dinner so I settled on the (No) Cornbread Muffins.
Cassidy had shared a recipe for Paleo Sweet "Cornbread" Muffins as part of one of my earlier March Muffin Madness events. Those grain-free muffins of hers were delicious so I had high expectations for her keto version.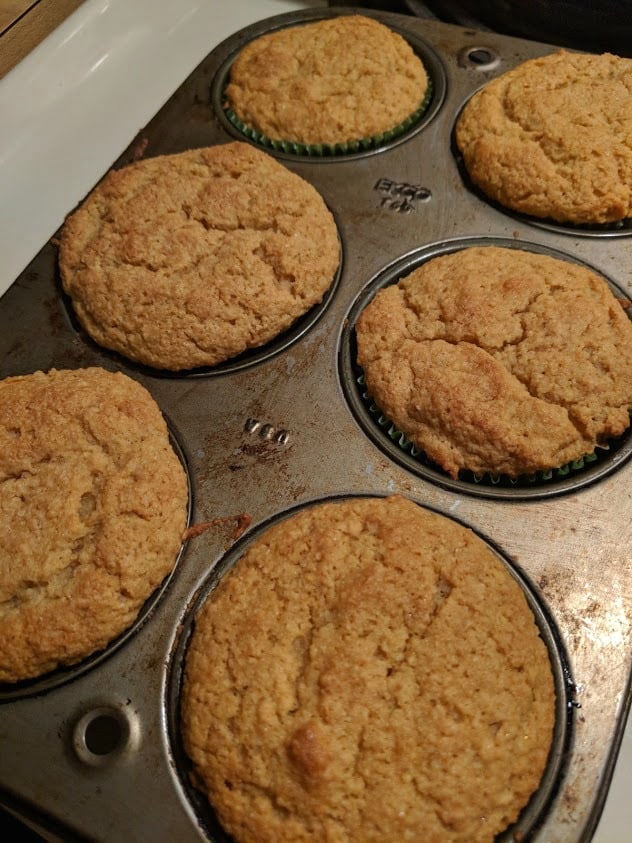 That version did not disappoint either me or Mr. GFE because these muffins really do taste like corn muffins—both in flavor and texture. Particularly so, when topped with butter or a non-dairy equivalent like Earth Balance.
I actually tried the "Cornbread" Muffins with both toppings. Delish.
They even look like traditional cornbread muffins, right? Cassidy's recipe makes seven muffins. I used a six-cup muffin tin and a single canning jar ring to bake my seven muffins.
As shown below, if you place a canning jar ring on a baking sheet, place a cupcake/muffin liner inside it, and then add your muffin (or cupcake) batter, you'll get the same results as when using a muffin pan. Cool, right?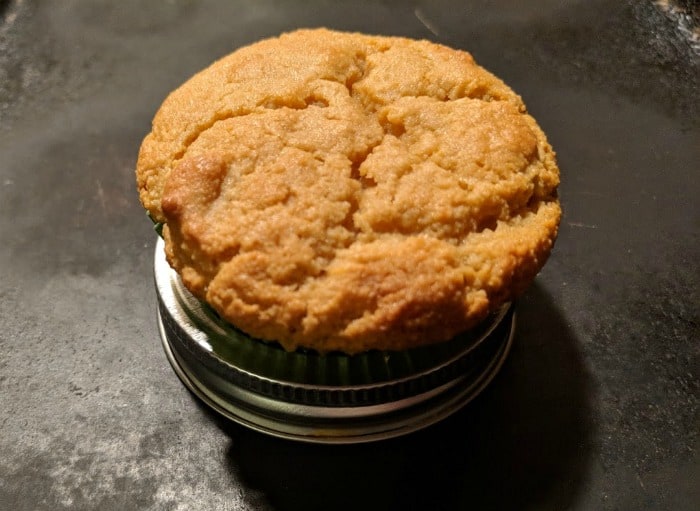 Exactly how much did we like these muffins? Well, we didn't share the seven muffins that the recipe makes—with anyone. That should tell you something!
Having another grain-free, corn-free version of corn muffins—yes, I know that "corn-free" part sounds strange but it's accurate—is very much appreciated as I personally adore corn muffins but my body does not always like corn.
Next up were the Chocolate Chip Zucchini Muffins (this recipe also has a bread option, which means you can make a dozen muffins or a single loaf of bread). Son and his girlfriend were visiting at the time and we all really enjoyed these muffins in the mornings.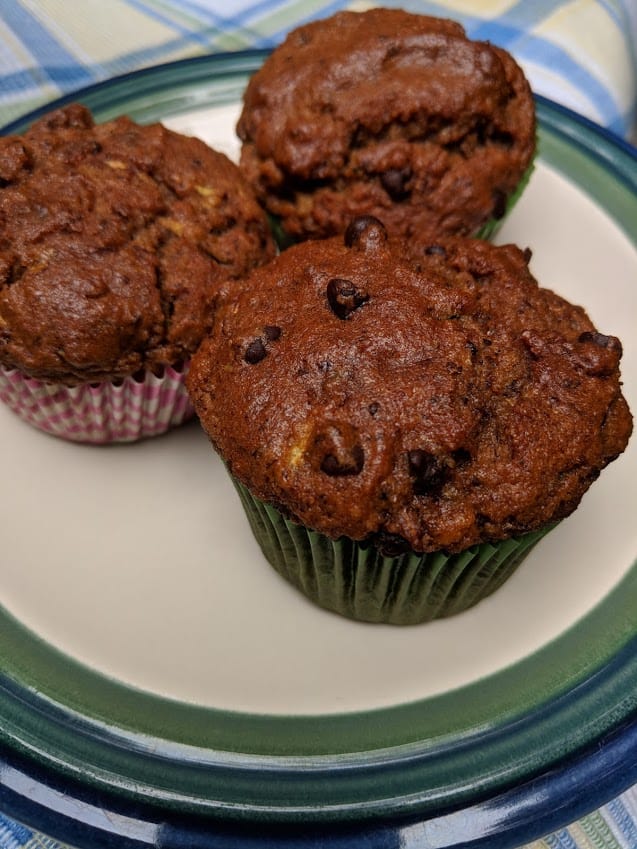 I mean zucchini and chocolate chips in a grain-free muffin. What's not to love?
Son and his girlfriend each grabbed one as they were heading out the door to their favorite coffee spot in town. I enjoyed one with my cup of hot tea while I read my morning newspaper.
Because the recipe makes a dozen muffins, there were four muffins left when Son and his girlfriend were packing up to return home. They quickly designated them as road trip food. Smart!
Cassidy's Pumpkin Bread was next on my baking agenda. This was our first time sampling a grain-free version of pumpkin bread, much less a keto version. It's usually my gluten-free, grain-full Classic Gluten-Free Pumpkin Bread that graces our table.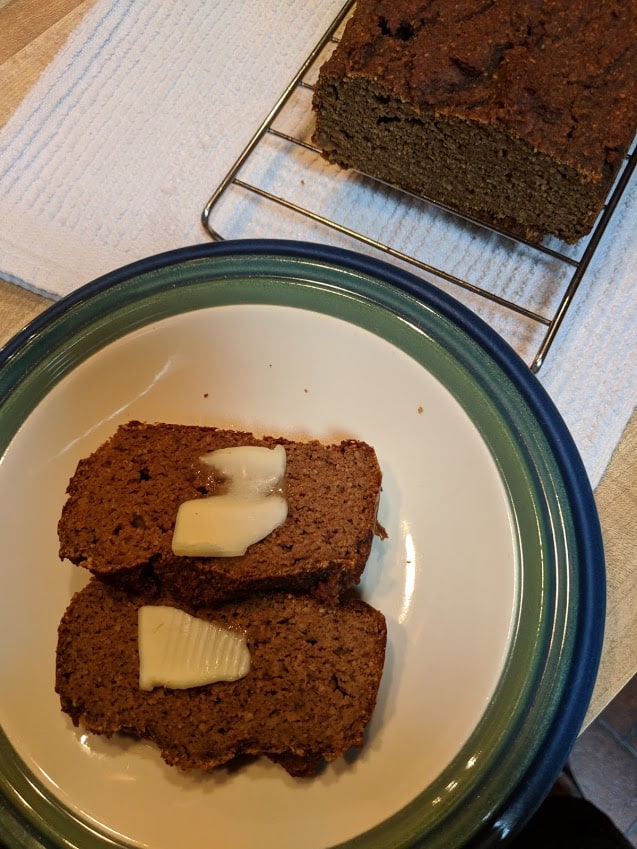 One of the surprising things about Cassidy's pumpkin bread is that the eggs are the only source of fat. There's no oil or butter in her recipe. Her pumpkin bread does not disappoint though.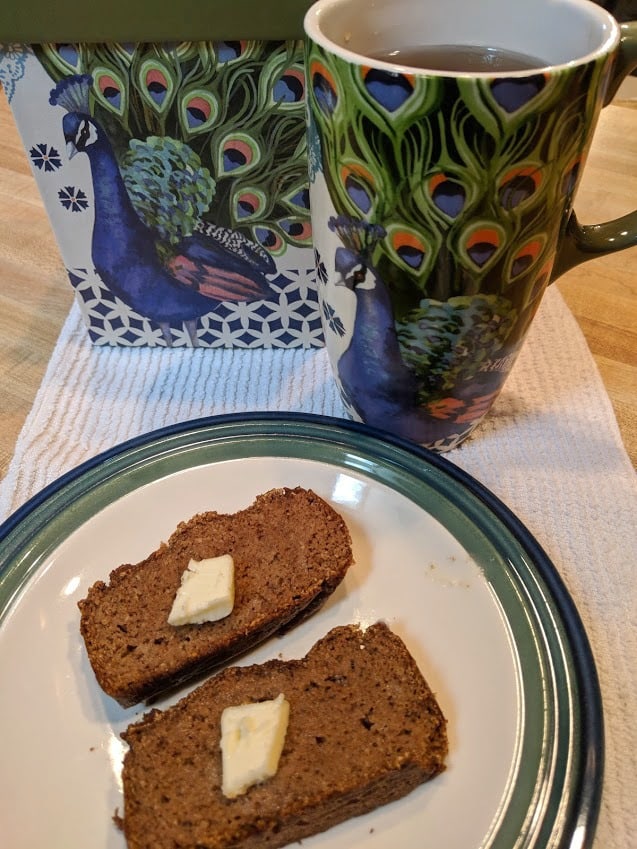 We enjoyed it hot out of the oven and then at room temperature later. It is wonderful either way.
I loved having it for breakfast but we each had a slice when the craving for a mid-afternoon snack hit. Until it was gone.
For dinner, we enjoyed Cassidy's Fat Head Pizza Crust. The crust is made of mozzarella cheese (dairy free—or dairy full, if you tolerate dairy), coconut cream, egg, and almond flour (or coconut flour—in a different amount than almond flour).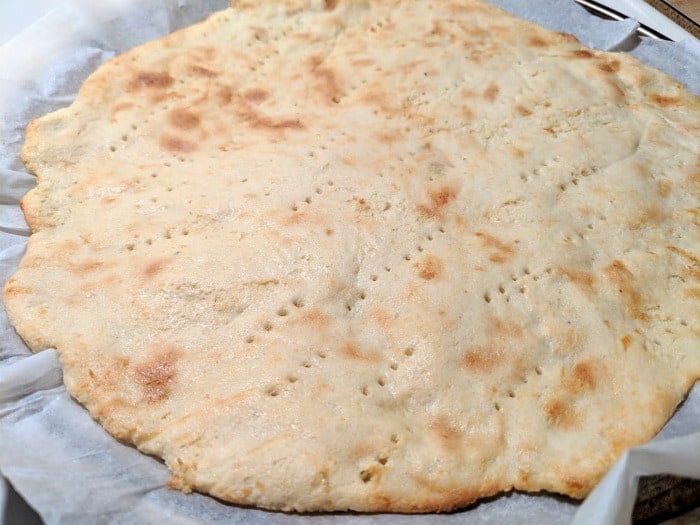 These ingredients create a kind of magical, thin, and cheesy crust. So quick and simple to make, too. Who doesn't like simple?
Especially when it comes to gluten-free pizza. You can get this gluten-free pizza on the table faster than pizza could be delivered. Seriously.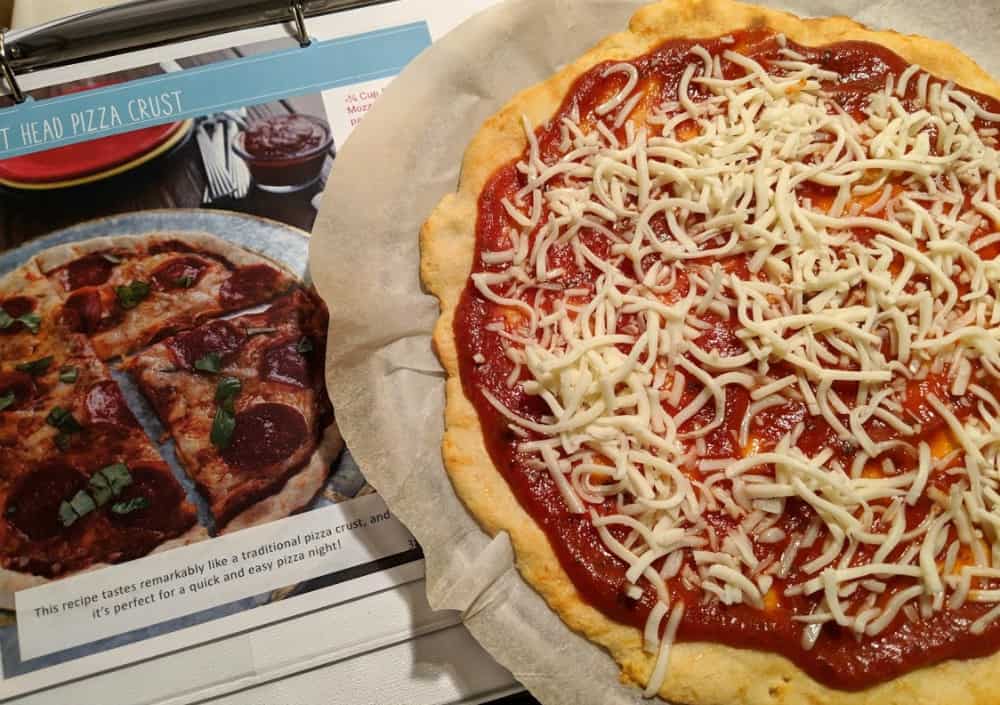 We had this pizza for dinner and I enjoyed leftovers for lunch the next day. Perfect!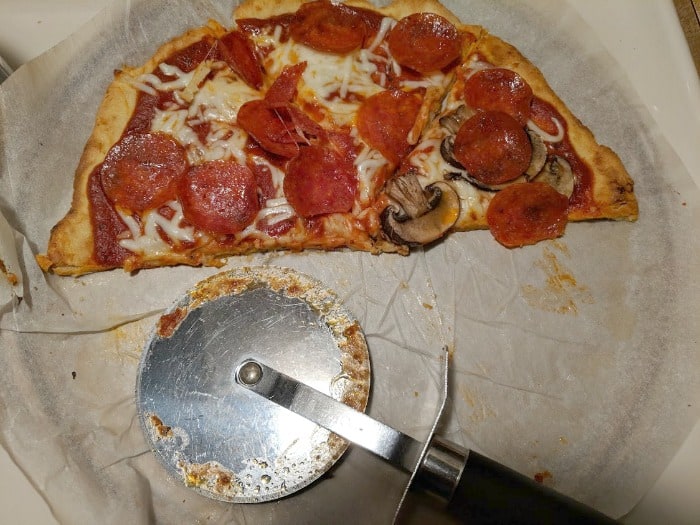 For breakfast, it was today's featured recipe: Gluten-free and Keto Diner-Style Pancakes. The primary ingredients in these pancakes are coconut flour, flaxseed meal, and eggs. They're absolutely as good as they look in the photo below.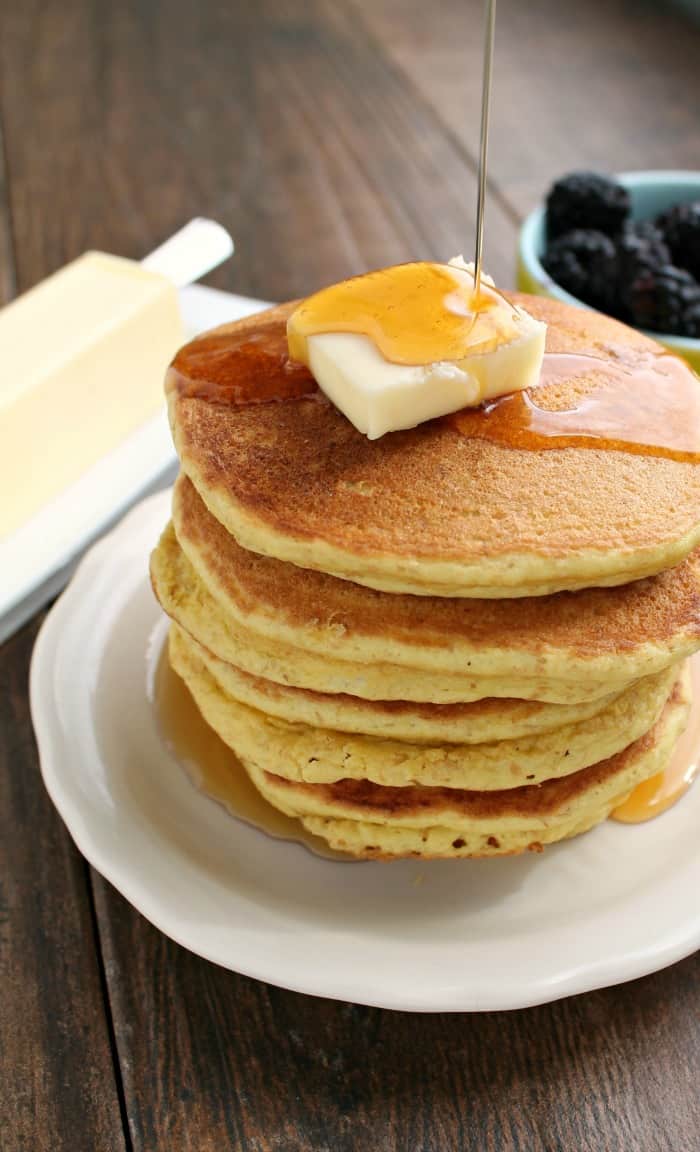 I like pancakes made with coconut flour because they start out with that sweet base that coconut flour offers. So, you don't have to use as much maple syrup (or another sweetener) for topping. The flaxseed meal adds just the right amount of heft and texture to these gluten-free keto pancakes.
Mr. GFE is a waffle man so he loved that I could use the pancake recipe and add a small amount of another ingredient—an ingredient that I use often in making Flourless Magical Muffins and Sneaky Chocolate Peanut Butter Muffins—to create waffles. (Scroll down to the recipe to learn what that ingredient is!)
We both enjoyed these waffles as a special breakfast or "brinner." But my very favorite way to use any waffle is as sandwich bread!
I talked about the concept of using savory waffles for sandwiches here and have even shared a recipe from my friend Iris, whose original waffle recipe was the one that got me going with savory waffles, Her Paleo Zucchini Coconut Waffle Wraps can be filled with sweet or savory "sandwich" fillings.
I'm happy to report that Cassidy's waffles can be eaten the same way. They are wonderful as traditional waffles topped with your favorite maple sweetener (Cassidy recommends this one for keto) or fresh fruit, or they work great as sandwich bread!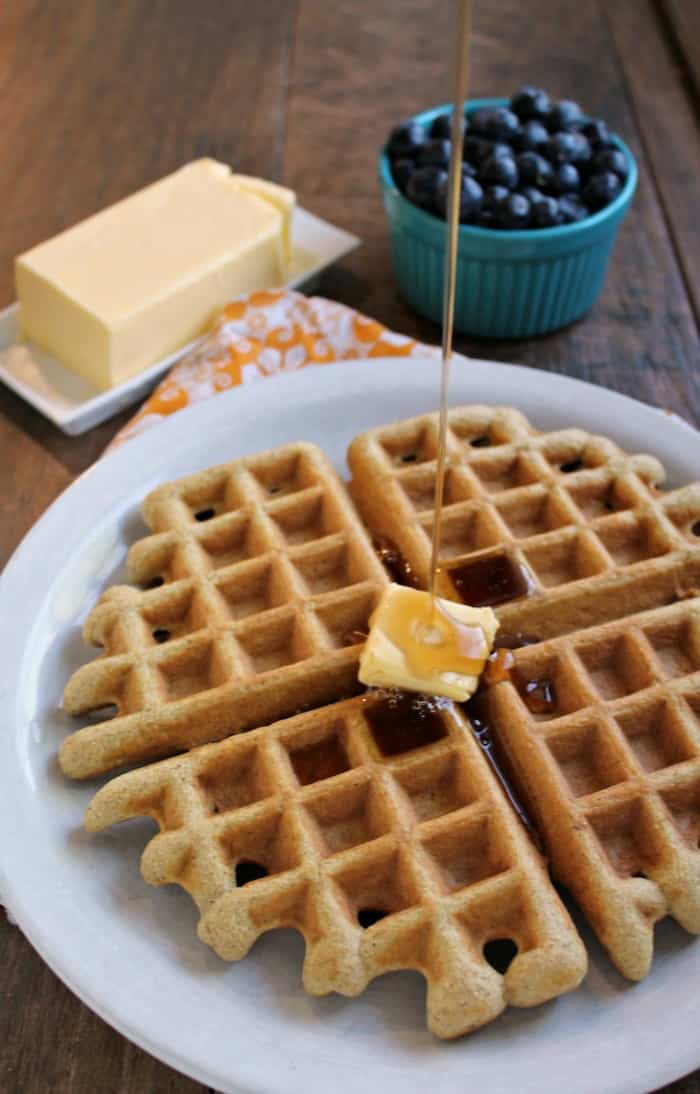 What will I make from the Keto Breads cookbook next? Fat Head Garlic Bread, Everything Bagels, 3-Minute English Muffin for One … and the list goes on.
Well, that last one I just crossed out because I just made the 3-Minute English Muffin this morning. What a nice little treat for breakfast or a snack!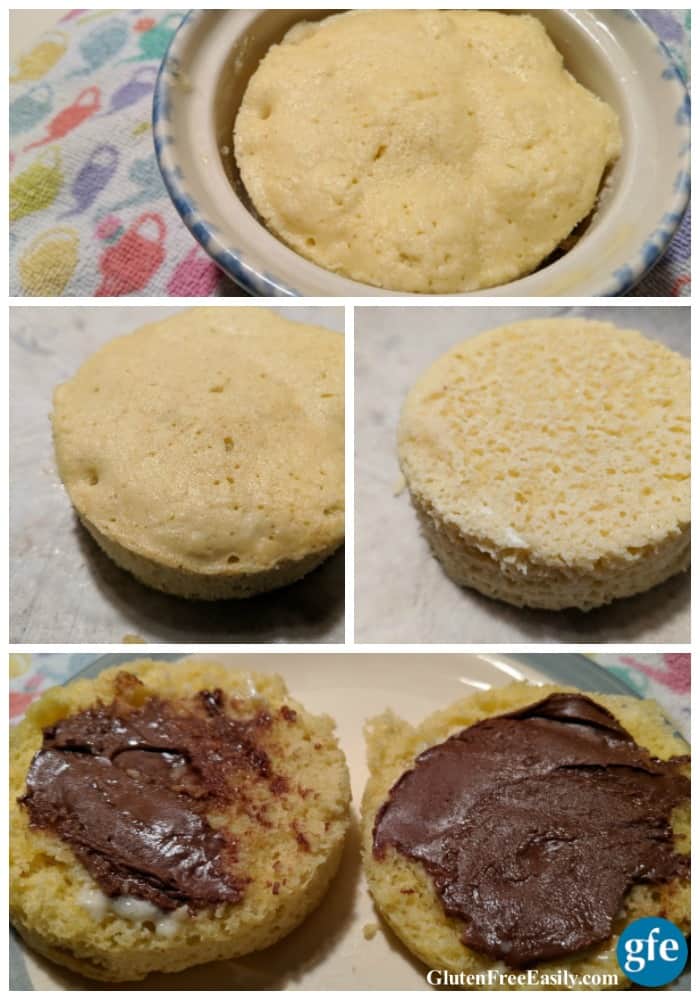 I spread a bit of butter on mine and then added a schmear of Justin's Chocolate Hazelnut Butter (which is not keto, but is definitely on my pantry list from time to time!). Yum.
The bottom line is that Cassidy's cookbook is really terrific. I see myself making fantastic recipes from it over and over again.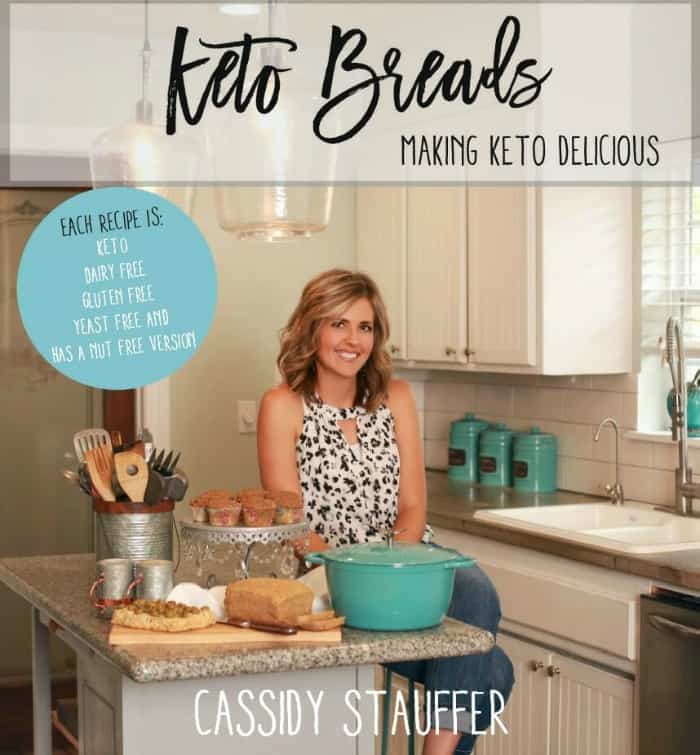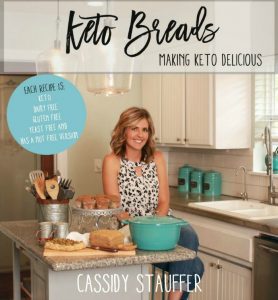 I recommend that you click over to her site and get your own copy.
Gluten-Free Pancakes Recipe (or Waffles Recipe) (Keto)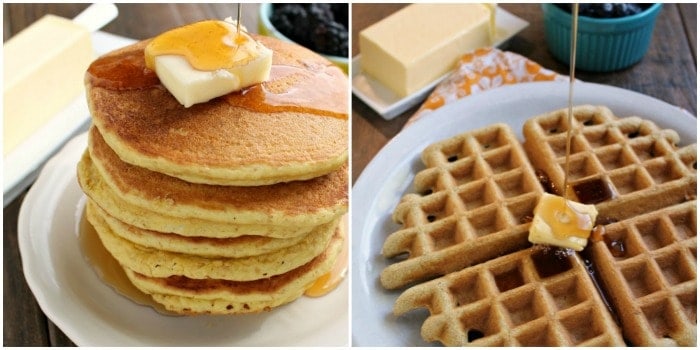 Yield:
Gluten-Free Diner-Style Pancakes (or Waffles)(Keto)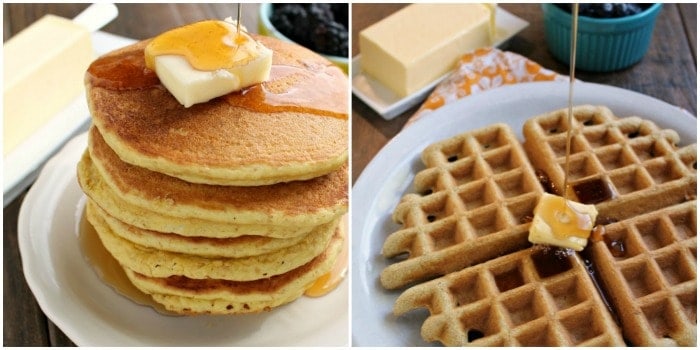 Cassidy says: "Other pancakes dream they could be like these! And if you're in the mood for waffles, just add some nut butter for added texture and you'll have nice, thick, fluffy waffles with a crispy exterior." 

Prep Time 10 minutes

Cook Time 8 minutes

Total Time 18 minutes
Ingredients
Dry Ingredients
1/3 cup + 1 tbsp coconut flour
¼ cup flaxseed meal
¼ tsp sea salt
¼ tsp baking soda
½ tsp baking powder
½ tsp ground cinnamon, optional
Wet Ingredients
avocado or coconut oil for greasing skillet or griddle
10 drops liquid vanilla stevia OR 2 tbsp erythritol
¼ cup unsweetened non-dairy milk
1 tsp apple cider vinegar
1 tsp gluten-free vanilla extract
3 tbsp avocado oil
5 large eggs
2 tbsp almond butter or Sunbutter (use either ONLY if making waffles)
Instructions
Preheat griddle or skillet over medium-low heat (300F degrees).
In a large mixing bowl, whisk together the dry ingredients breaking up any clumps with your fingers.
In a separate medium-sized mixing bowl, combine the wet ingredients.
Stir the wet ingredients (excluding oil used for greasing skillet or griddle) into the dry ingredients and mix well.
Grease griddle or skillet with a small amount of coconut oil or avocado oil and scoop out ¼ cup of batter for each pancake. Lightly spread with the back of a spoon, if needed.
Cook a few minutes, until edges start to dry out and the bottom is nicely browned (they won't bubble like traditional pancakes). Flip and cook an additional 2-3 minutes.
Serve with butter (non-dairy if needed), sugar-free maple syrup, or any toppings you prefer.
See notes on how to easily make waffles by simply adding a single ingredient to this recipe.
Notes
Only add almond butter or Sunbutter (for a nut-free version) if you're making waffles instead of pancakes.

Originally published September 25, 2018; updated September 27, 2022.