For affiliate links and as an Amazon Associate I earn from qualifying purchases.
Today I have the pleasure of sharing another recipe from my multi-talented friend Iris Higgins—Paleo Zucchini Coconut Flour Waffle Wraps. (Read more about Iris at the bottom of this post and grab the free ebook of her best recipes here.) I think wraps are terrific year-round and waffle wraps are even better!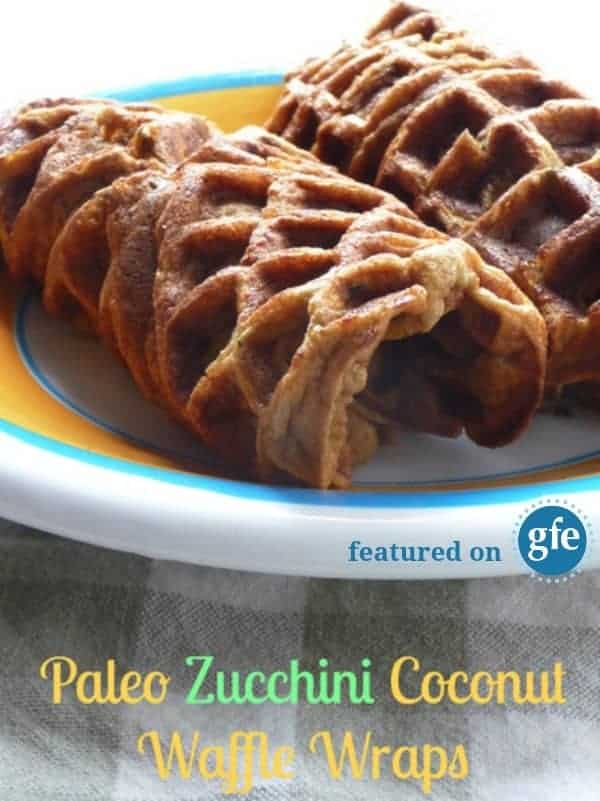 Everybody loves waffles and they make a really wonderful "bready" option. I have personally used waffles in place of bread for some truly amazing sandwiches from time to time. One of my favorite waffles for sandwich "bread" is actually my version of another recipe that Iris created.
However, I love these Paleo Zucchini Coconut Flour Waffle Wraps even more than that recipe because they're grain free and are a great way to use zucchini. Hey, we're always looking for better ways to include veggies in our meals, right? Plus, even after refrigeration, these wraps are perfectly pliable and delicious.
You can fill these waffle wraps with savory or sweet options. Iris supplies some tasty filling suggestions in this recipe. Personally, I'm always happy to simply enjoy these wraps with my favorite traditional sandwich fillings, like shrimp salad, chicken salad, ham salad, tuna salad, ham and cheese, and the like.
By the way, Iris takes an extra step in this recipe—but it's a very worthwhile one. She separates the eggs for this recipe. Separating the eggs and beating the egg whites before folding them into the batter always yields a far superior waffle. Make this recipe and you'll see!
For many more excellent wrap and tortilla recipes, check out the Top 30 Best Gluten-Free Tortilla and Wrap Recipes from my Bountiful Bread Basket series.
Paleo Zucchini Coconut Flour Waffle Wraps Recipe
Yield: 8 waffles
Paleo Zucchini Coconut Flour Waffle Wraps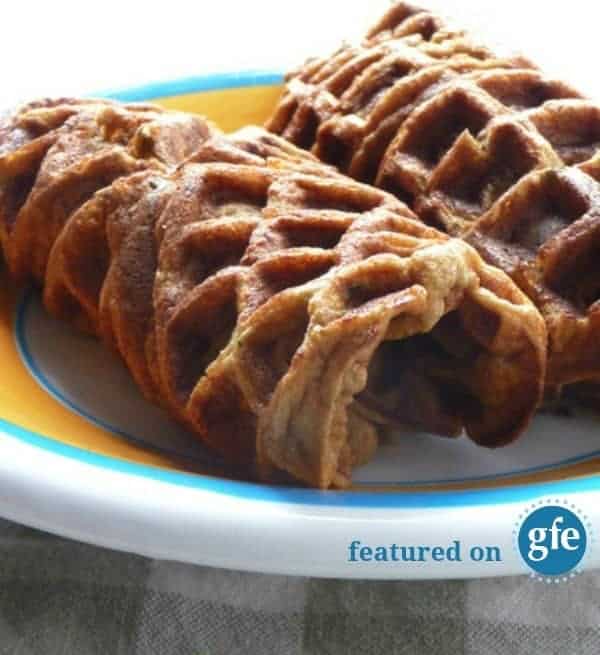 Simple and pliable, these gluten-free and paleo waffle wraps work great with savory or sweet fillings. They're also a great way to put zucchini to use.

Prep Time 15 minutes

Cook Time 15 minutes

Total Time 30 minutes
Ingredients
Filling Suggestions:
coconut cream/whipped cream and diced fruit
cream cheese/cashew cream cheese and strawberries
diced sausage and sauteed veggies.
Instructions
In a large mixing bowl, whisk together the coconut flour, cinnamon, baking soda, and sea salt.
Stir the egg yolk into the dry ingredients, separating the egg whites for later. Stir the coconut oil, maple syrup, and zucchini into the dry ingredients as well.
With a hand mixer, whip the egg whites until stiff peaks form. Stir gently into the batter until completely mixed (no lumps).
Make waffles as directed with your waffle maker. The waffles will be soft and pliable. Fill however you like and roll up to eat. Can be refrigerated and eaten cold. They will remain pliable after being in the fridge.
Iris Higgins, MA, is a certified hypnotherapist with a passion for delicious gluten-free food. You can download 11 of her favorite gluten-free recipes (like her waffle and pancake guide that works with any gluten-free flour!) HERE. She also loves teaching women how to trust their intuition and create the life that's just right for them. You can join in on her free challenges, meditations, and e-courses at IrisHiggins.com.
Originally published August 14, 2016; updated August 8, 2022.