For affiliate links and as an Amazon Associate I earn from qualifying purchases.
Sometimes recipes that you really enjoy get filed away and forgotten. Such was the case with this Easy Bean Salad that was created by my friend Jennifer Richardson. She made it for one of our support group meetings long ago and everyone in attendance loved it. For our meetings, members made a habit of listing the ingredients in their dishes on accompanying index cards. Those served as our homemade ingredient labels, so that those with additional food intolerances (which was most of us in attendance) would know what could be eaten safely.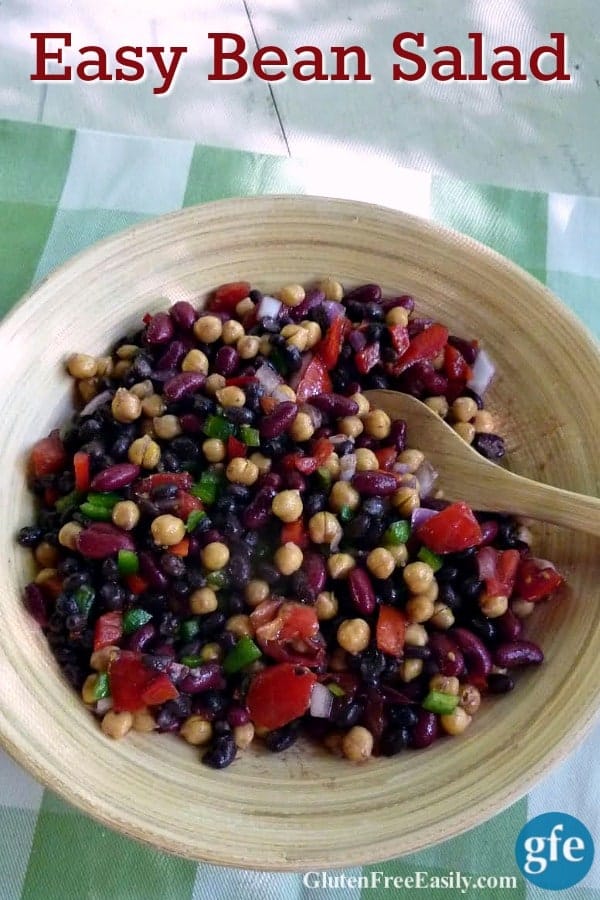 Another member asked Jennifer if she could keep the index card for her bean salad so that she would be able to re-create this salad on her own later. Jennifer happily obliged, which meant that when I asked her for this recipe, she had to call up the ingredients from memory. She had made this bean salad on the spur of the moment with ingredients on hand. Those are always my very favorite kinds of recipes because they don't require special ingredients and it's very satisfying to create a meal from one's pantry. Jennifer must have remembered well because this bean salad tasted just as wonderful as I remembered!
Bean salad is an old-school recipe. Folks have been bringing bean salads to potlucks for decades. For good reason. They're ideal for taking to a social event (like an upcoming Labor Day picnic) and are very much worth adding to one's own menu plan. I know I did not fully appreciate bean salads when I was growing up, but now I totally do! Bean salad recipes come together quickly, they easily feed a crowd, they provide a healthy dish (full of protein, veggies, and even some good fat), and they can safely feed just about everyone in attendance—those who are gluten free or gluten full, and vegetarians or vegans. (Only the die-hard paleo folks usually skip bean salad.)
As you can see this Easy Bean Salad makes a very attractive dish. It's one of those recipes that exemplify that real food is beautiful. Everyone will be drawn to this salad by its appealing colorful appearance alone, but they'll love the mix of flavors and textures as well. I shared my last bean salad with my mom and my aunt and they both really enjoyed it.
By the way, I was channeling my mom in the photo below. My mom is loved by everyone for so many things, but she's always been loved by her children and her grandchildren for placing their vegetables and salads in their own individual bowls. Her special attention ensures that there's no unappealing "mixing" of foods on their plates. When you're a kid, that is a true act of love!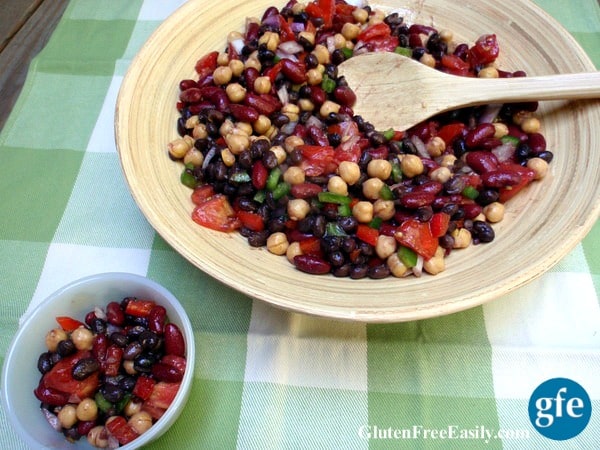 I ate a little of this Bean Salad each day for about 5 days and it was still delicious and fresh on Day 5, so I know that it will keep at least that long. But you won't have to worry about how long it will last if you take it to an event because it's likely to disappear very quickly!
More Recipes Like This Easy Bean Salad
~ Thanksgiving Green Bean Salad (with Blue Cheese, Dried Cranberries, and Pecans)
Easy Bean Salad Recipe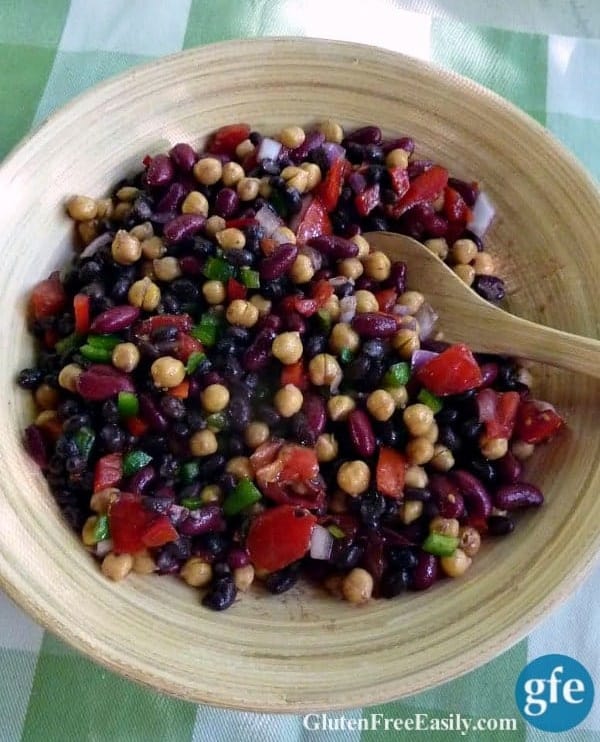 Yield: 8 to 10 servings
Easy Bean Salad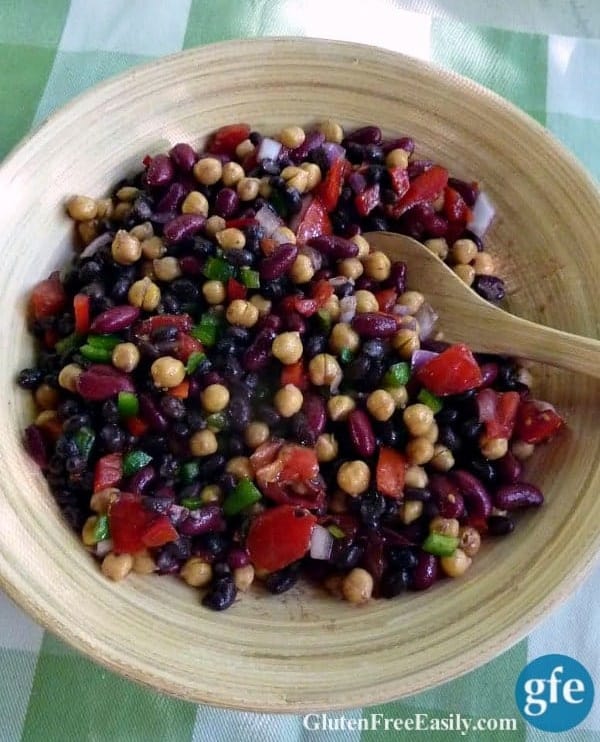 This colorful Easy Bean Salad is full of flavor and works for most everyone! Folks might be unimpressed, UNTIL they try it.

Prep Time 10 minutes

Total Time 10 minutes
Ingredients
one can of black beans (rinsed and drained)
one can of kidney beans (rinsed and drained
one can of chickpeas (also known as garbanzo beans, rinsed and drained)
one bell pepper, diced (red, green, yellow, your choice--or a mixture)
2 to 3 tomatoes, diced
¼ cup red onion, finely chopped
Dressing Ingredients
Instructions
In large bowl, mix all ingredients except the dressing ingredients. Set aside.
Add olive oil to large glass measuring cup to ¼ cup mark. Add lemon juice, seasoning of choice, and sea salt. Mix well.
Pour dressing over remaining ingredients in large bowl. Mix well.
Serve at room temperature or chill before serving.
Originally posted August 29, 2016; updated December 4, 2021.