For affiliate links and as an Amazon Associate I earn from qualifying purchases.
Quick and Easy Gluten-Free Blueberry Cobbler. That's the recipe for today.
If you've been reading gfe for a while, you know how I like to keep recipes super simple. That's always been my way of living—long before I started eating gluten free. I didn't see any reason to change that once I went gluten free, so I didn't just go GF, I went gluten free easily—gfe.
Today's gluten-free Blueberry Cobbler fits the gfe approach. I promised to share this recipe a while ago and thought I better get to it before everyone's attention has completely turned to pumpkin "everything," right?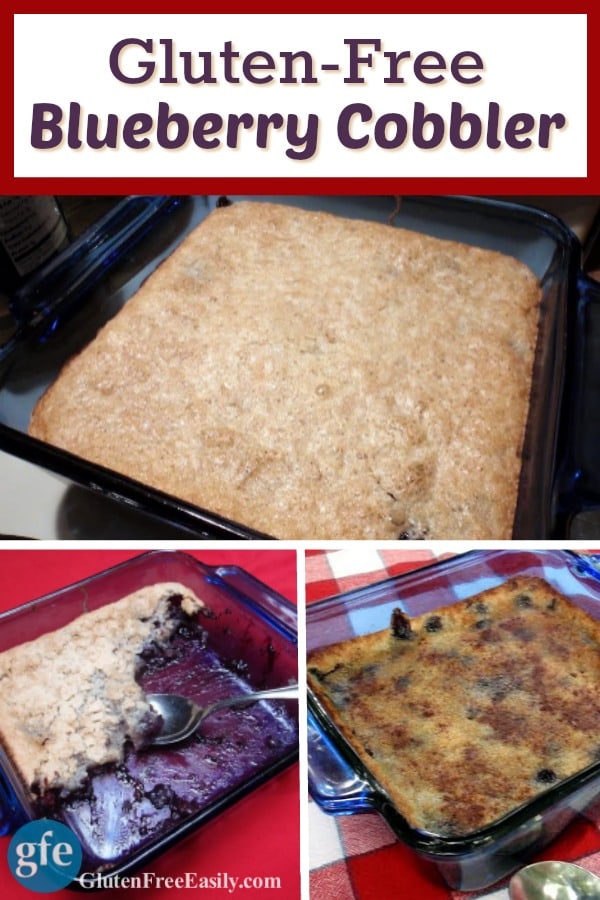 A long time ago, in a non-food column in our local newspaper, I read about a super-easy way to make a gluten-full berry cobbler. The local columnist was sharing his undying love for berries once again and telling readers how many quarts of blueberries, blackberries, strawberries, and raspberries that he'd picked for the year (some of which he also froze for later).
He didn't really share a recipe per se, but his cobbler method was pretty simple. He mixed a cup each of self-rising flour, sugar, and milk into a batter and poured it over a quart of berries, and then baked all for an hour. Presto … berry cobbler!
The concept seemed simple enough and I was sure that it would probably work with a gluten-free flour mix, or even with grain-free flours. In addition, I thought that it would work without xanthan gum and that any dairy-free milk could be substituted successfully for those who are dairy free.
So I set out to try a bunch of variations with blueberries as my berries of choice. Because there are just two of us, I also made my cobbler with a pint of blueberries versus a quart and I baked my cobbler in an 8 x 8 pan.
That change also reduced the baking time—which means you can be enjoying delicious homemade gluten-free Blueberry Cobbler sooner than later. Gotta love that!
More Gluten-Free Blueberry Recipes
You might also want to check out these other delicious gluten-free blueberry recipes:
~ Knee Slappin' Good Blueberry Muffins
~ No-Bake Blueberry Pie with Honey Whipped Cream
Gluten-Free Blueberry Cobbler Recipe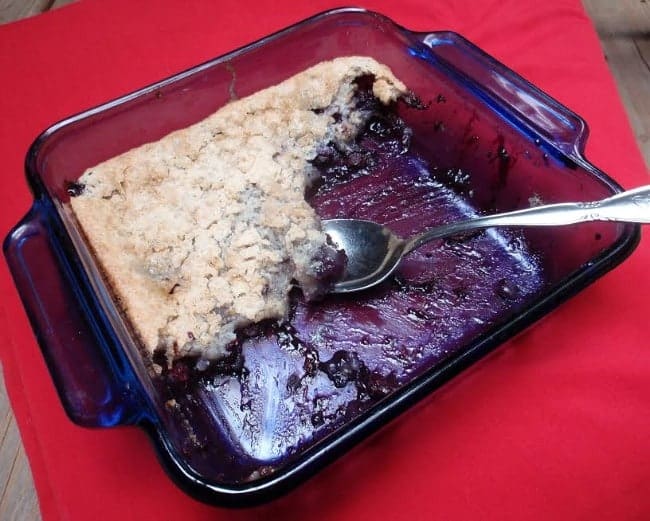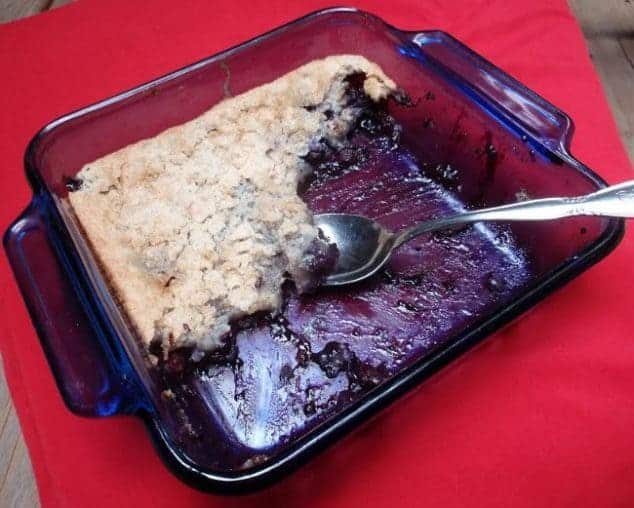 Yield: 9 servings
Gluten-Free Blueberry Cobbler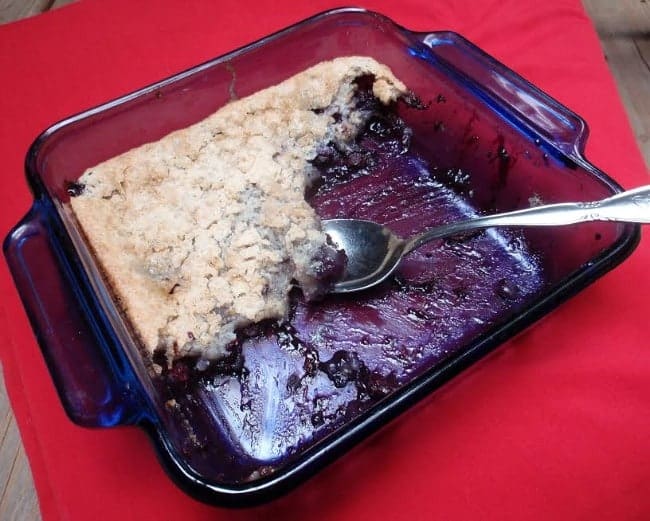 Gluten-free blueberry cobbler just got a whole lot easier--but totally delicious--with this recipe that's basically just gluten-free flour mix, milk, sugar, and blueberries.

Prep Time 5 minutes

Cook Time 40 minutes

Total Time 45 minutes
Ingredients
1 pint (2 cups) fresh blueberries
1 cup gluten-free flour mix (such as my Two-Ingredient Gluten-Free Flour Mix; see additional options in notes)
1 ½ tsp baking powder
¼ tsp salt (I use sea salt)
3/4 cup granulated sugar (more or less per your personal preference and/or depending on the sweetness of the blueberries)
1 cup of milk (dairy or non-dairy; I prefer full-fat coconut milk)
About ½ tsp ground cinnamon
Instructions
Preheat oven to 350F degrees.
Lightly grease 8 x 8 baking dish.
Pour blueberries into baking dish.
In medium bowl, whisk flour, sugar, and milk together until well blended. Pour batter over the blueberries.
Sprinkle cinnamon evenly over batter.
Bake for about 40 to 45 minutes, until the top of the cobbler is golden brown. You can also test your cobbler with a toothpick to ensure that it is baked through if you wish.
Notes
A gluten-free flour mix works perfectly in this recipe. I also made versions using almond flour by itself and almond flour with a little sweet rice flour mixed in. There are probably several other single gluten-free flours that can be used successfully as the flour in this recipe. I'm thinking sorghum flour, buckwheat flour, oat flour (use oat flour made from certified gluten-free purity protocol oats), and the like.

I used all sweet rice flour in one version and the results were super chewy. We liked it, but the next day it was even chewier---and very difficult to cut or spoon out a serving---so I don't recommend using sweet rice flour by itself or using a mix with a lot of sweet rice flour. If you are making your cobbler grain free, you can use this grain-free baking powder.

Originally published September 10, 2016; updated June 7, 2022.