For affiliate links and as an Amazon Associate I earn from qualifying purchases.
Yes, that's Homemade Blueberry Ice Cream! And look at its color! How fun is this? It's even more of a vibrant purple in real life. This shade of purple doesn't seem possible for a recipe made without food coloring. But it is and it's delightful. This ice cream is also delicious. Lusciously so. And so easy to make as well.
Son said I should take a page from Ben and Jerry's book and call this flavor Purple People Eater. Haha.
I'm simply going to call it Blueberry Ice Cream and aptly describe it as wonderful and yet another fine way to use fresh blueberries. The typical ways that I use blueberries require cooking and I don't want to cook much during the summer months, even when the cooking is done on the stovetop and no baking is required either. Plus, hello, ice cream. We always need ice cream but especially during the summer! It's great to be able to add yet another recipe—and such a simple one—to our ice cream repertoire!
I made the dairy-free version, which is also naturally egg-free and vegan, of this ice cream. It's so easy to do that by using sweetened condensed coconut milk instead of regular dairy-full sweetened condensed coconut milk.
This recipe is also naturally egg free and vegetarian/vegan. Again, there's no cooking required either. I am repeating that because a lot of folks like to cook their blueberries and create a type of blueberry compote or syrup to use as one of the ingredients in their ice cream.
I find that step completely unnecessary. We all want simple, right? Plus, the few other ingredients that I use in this recipe make such ingredients unnecessary.
Although I used fresh blueberries, frozen blueberries should also work. However, I'm not sure if their water content will change the texture of the ice cream significantly. If you give frozen berries a try, please come back and share your feedback in the comments.
I'm hoping you all will enjoy this easy yummy recipe! We've used our ice cream maker more during the last year than ever before. It's a good thing. A really good thing! I hope you'll agree—at least when it comes to this homemade Blueberry Ice Cream.
Other Tasty Gluten-Free Recipes That Use Fresh Blueberries
~ Coconut Blueberry Pound Cupcakes
~ No-Bake Blueberry Pie with Honey Whipped Cream
Homemade Blueberry Ice Cream Recipe (with Dairy-Free Option)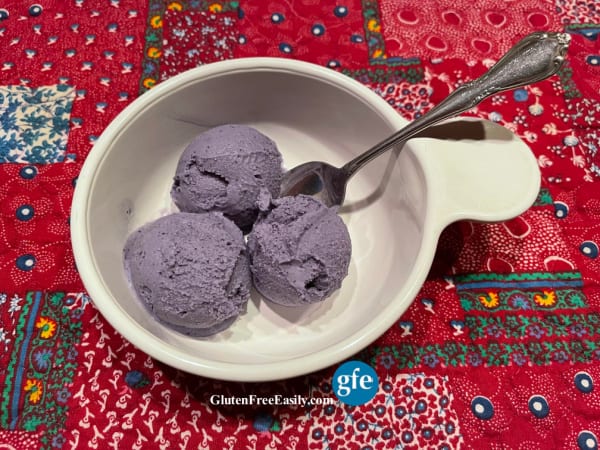 Yield: 1 1/2 quarts
Homemade Blueberry Ice Cream (with Dairy-Free, Vegan Option)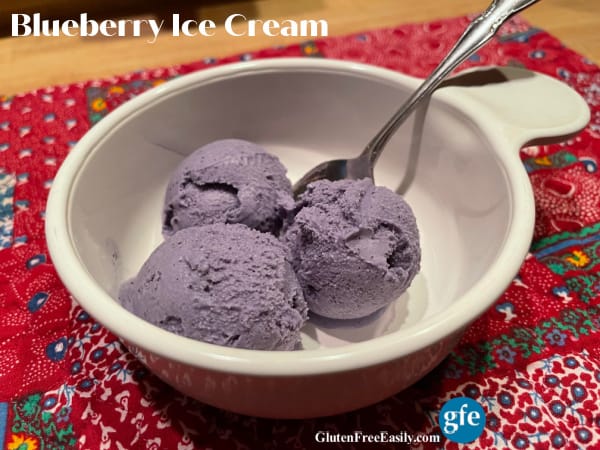 Luscious, perfectly purple blueberry ice cream! With the switch out of one ingredient, you can make this ice cream dairy free and vegan. Love that!

Prep Time 5 minutes

Cook Time 30 minutes

Total Time 35 minutes
Ingredients
1 can full-fat coconut milk
1 can (14 ounces) sweetened condensed milk (I used sweetened condensed coconut milk—it's a game changer for dairy-free treats!)
1 ½ cup fresh blueberries (you can use up to 2 cups if you like)
1 tsp vanilla extract (I use my homemade vanilla)
1 tbsp honey (optional)
½ tsp xanthan gum (optional)
Instructions
1. Add ingredients to blender (or food processor) and blend until smooth.

2. Add the mixture to the pre-frozen ice cream tub of your ice cream maker and churn for about 30 minutes until the ice cream reaches soft-serve consistency.

3. Serve immediately or freeze a few hours or overnight until mixture is firmer. We like to "taste test" right away and then eat the rest over several days.










Notes
I wanted a very smooth ice cream without chunks of blueberries. If you would like chunks of blueberries in your ice cream, you should blend all the ingredients until smooth BEFORE adding the blueberries. Then add the blueberries, only blending or processing enough so that blueberries are distributed throughout the mixture.

I like the flavor of honey in ice cream made using coconut milk so I've added a small amount to this recipe but it can be left out if you think the mixture is sweet enough without it. How can you determine that? You can blend the ingredients without it and taste before you decide whether you wish to add it.

The small amount of xanthan gum is added to keep the ice cream soft and prevent the formation of ice crystals and it works beautifully. But if you can't tolerate xanthan gum or want to skip it you may. The vanilla extract---due to the tiny bit of alcohol it contains---also works to prevent the formation of ice crystals so be sure to include that.





Originally published July 4, 2021; updated July 12, 2021.