For affiliate links and as an Amazon Associate I earn from qualifying purchases.
I'm so happy to share these scrumptious gluten-free Coconut Blueberry Pound Cupcakes with you today! Let me tell you how this recipe came to be.
My friend Iris Higgins posted her Second Annual Birthday Cake Challenge earlier this month. She said that entries of cakes, cupcakes, or pies were all welcome. Originally, I was sure I was going to make a pie, but then I saw Tiffany's (The Coconut Mama) Simple Coconut Flour Muffins recipe.
Plus I had some organic blueberries left over from the gfe retreat and I'd been thinking about making Pound Cupcakes due to the success that several gfe readers had reported when turning my Perfect Pound Cake into cupcakes. Well, the next thing you know, these Coconut Blueberry Pound Cupcakes were coming out of the oven!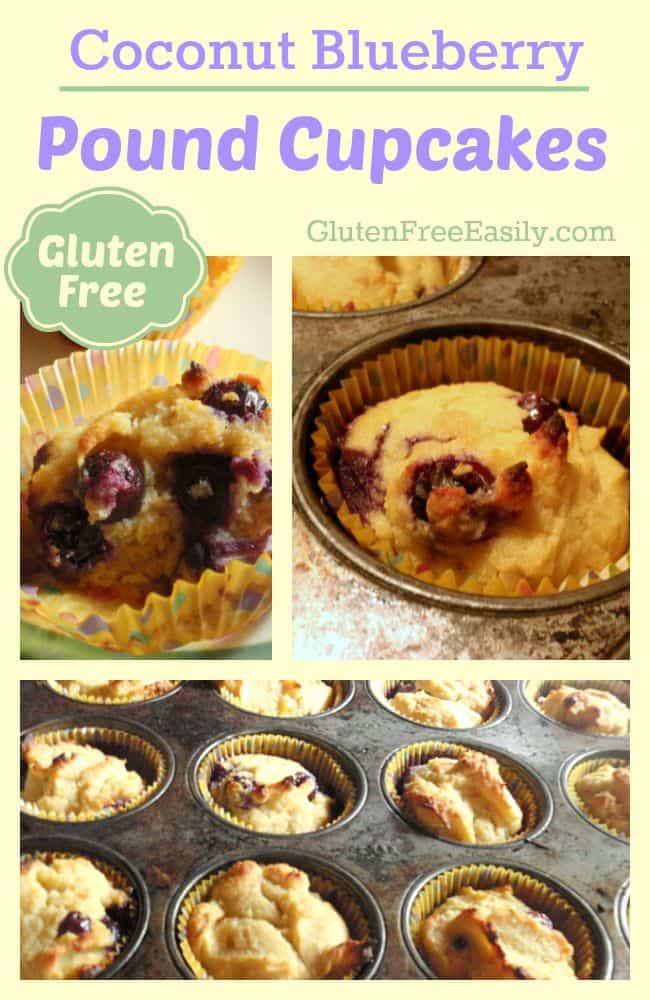 I suppose you could argue that they might be more properly called muffins, but when you use pretty wrappers, you base your recipe on pound cake, and the results taste like coconut pound cake, I think these treats definitely qualify as cupcakes.
Coconut Blueberry Pound Cupcakes. Just the name sounds yummy, doesn't it?
These are cupcakes that have the little bit of extra heft characteristic of pound cakes. And as I share in my recipe notes, these cupcakes get better over time.
Most of them disappeared on Day 2 and all were gone by Day 3. I hope that Iris thinks these are worthy of her 30th!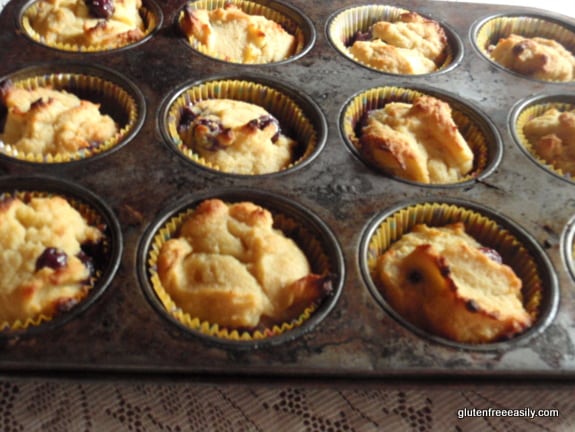 Gluten-Free Coconut Blueberry Pound Cupcakes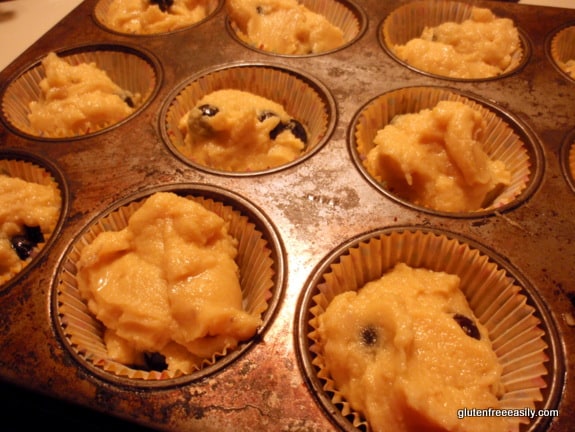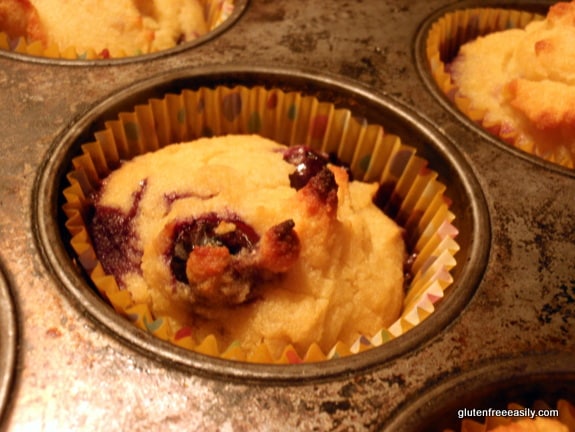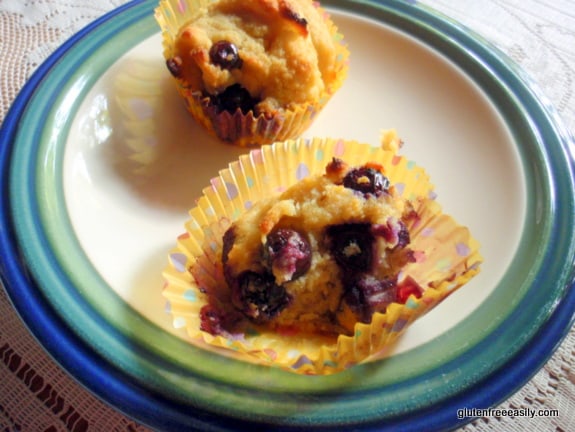 Yield:
Gluten-Free Coconut Blueberry Pound Cupcakes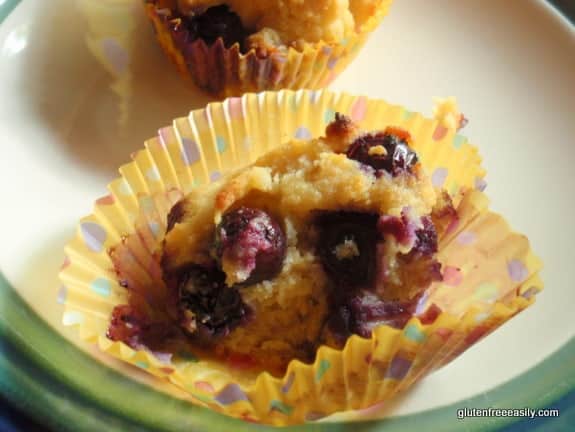 These gluten-free Coconut Blueberry Pound Cupcakes are absolutely as good as they sound. Think portable pound cake with coconut blueberry yumminess! 
Instructions
Preheat oven to 350 degrees Fahrenheit.
Add eggs to large mixing bowl. Slightly beat.
Add honey, maple syrup, banana, coconut milk, orange juice, vanilla extract, and sea salt. Mix with wooden spoon.
Stir in coconut flour and mix. Then stir in oil. (If using coconut oil, this ordering is important so that oil doesn't immediately "harden" when added.) Add blueberries, stirring just enough to mix them in.
Let sit for about 3 minutes or so until the coconut flour has absorbed the liquid.
Pour batter into 12 cupcake liners until each is about ¾ full.
Bake for about 25 to 30 minutes. (I use the toothpick test for doneness.) Cool for 30 minutes or longer. The flavor and texture of these cupcakes improve with time.
Notes
Oil - I like these cupcakes best when made with a combination of coconut oil and extra virgin olive oil. Coconut oil is light in both taste and weight; that's why I like using some olive oil with it to increase the weight and richness of flavor. I've used both extra virgin olive oil and light (in taste) olive oil.
Coconut Flour - I always sift my coconut flour because it tends to form tiny clumps after being in my refrigerator. I use either Nutive brand coconut flour or Tropical Traditions brand.
Banana - I like banana in combination with blueberries (as in my Banana Blueberry Buckle); only a small amount of mashed banana gives a very nice texture to these cupcakes.
Baking Powder - I did not use any baking powder in this recipe as was called for in the original pound cake recipe as I didn't feel that it was needed with the coconut flour.
The ingredients listing seems long, but they're all ones I always have on hand and they work together very well.
Originally published June 25, 2012; updated June 13, 2021.