For affiliate links and as an Amazon Associate I earn from qualifying purchases.
It's time for self care and a recipe, Antioxidant Aperatif. Or as I call it Antioxidant A-Pear-Atif. That name should give you a clue about the ingredients.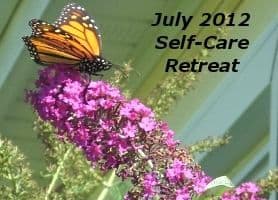 Along with our host, Cheryl Harris (Gluten-Free Goodness and Harris Whole Health), I am really excited to announce The 2nd Annual July Self-Care Retreat!
Here are some words from Cheryl:
"We've got a great line-up of wonderful bloggers committed to making an extra effort to practicing self-care this month, and we're hoping that you join us, too!

To me, self-care is like learning a second language as an adult. I certainly wasn't born knowing how to do it, it wasn't a natural impulse for me, and it's something that I to make a conscious effort to weave into my daily life. The other two self-care retreats were helpful by keeping my goals and commitments on my radar, and I'm hoping it had the same effect on others as well.

Self-care is about compassion and kindness. At the essence, it comes down to intention. Movement, dietary changes and even commitments with others, are all about context. We've all seen how, say, exercise can be incredibly invigorating and enriching, and how it can also be another measuring stick, another "should" or way to judge ourselves. Or how we can bake a cake for the joy of it, or for the celebration of friends and family and the pleasure of having a chocolaty-smelling kitchen. Yet how easily this can be distorted into over committing to doing something out of obligation.

So my intention here for myself and for everyone who joins us to is to encourage you incorporate or even try out different self-care practices because you want to feel and live well, not because of some additional arbitrary standard to live up to.

Our fantastic group of bloggers:

June 30th:  Cheryl of Gluten-Free Goodness ~ Food

July 7th:  Valerie of City|Life|Eats ~ Support and Connection

July 14th:  Shirley of gluten free easily (gfe) (that's me!) ~ Movement

July 21st:  Carrie of Ginger Lemon Girl ~ Creativity

July 28th:  Iris of The Daily Dietribe ~ Inward Reflection

These posts are to inspire you all to make July a month of reflecting on self-care and the many ways to nourish ourselves. We encourage everyone to participate in this event in a way that feels appropriate to them, whether through personal reflection, journal or other self-care.

If you would like to share your experience with self-care, we would love to include you in the experience, whether you join us for one week or every week. You can write generally about self-care and how you include it in your life, or "try on" one of the practices we're blogging about over the course of the next week (movement, food, family/friends/pets, creativity and inward reflection).

We ask that you link back to this post so that more people can learn about this retreat, and leave a comment for the weekly theme host, too! If you would like to be included in our roundup and the drawing, please email a link to your post, along with your name and blog name, to us at selfcareretreat at gmail dot com by July 30.

As a little added incentive, for each post on your goals and your progress you link back here or one of the other co-hosts, you'll be entered to receive a $50 gift certificate to Nuts.com (they are not sponsoring, I just wanted something with healthy gluten-free, vegan, sugar-free, etc. options)

Valerie of City|Life|Eats designed our badge; feel free to use the badge in your posts. Non-bloggers who would like to contribute, please email the full text to the same address and it will be included in the roundup.

For a "flavor" of previous retreats, here's a link to the July Self-Care Retreat and the December Sanity Retreat."
I'm so looking forward to this event and I couldn't agree more with what Cheryl has said. July is my birthday and every birthday brings more of a reminder how important it is to take care of myself.
Taking care of ourselves is the thing that so many of us—to put it frankly—totally stink at. Let's all take some baby steps this July to get better at that. Each week, you'll want to check out the posts of those participating and look for my post on Self Care Through Movement on July 14—right before my birthday.
UPDATE: Cheryl has created a Facebook group for those who are participating in the July Self-Care Retreat. Individuals who wish to participate are welcome to join us there. Anyone can read or follow the July Self-Care Retreat just by visiting the page. If you want to share your own progress, you may request to join the group. Check out the July Self-Care Retreat here on Facebook!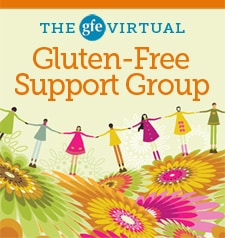 For the June GFE June Virtual Support Group, which focused on Healing the Gut, there was a giveaway with four winners. Two folks won a copy of the new book by Sandor Katz, The Art of Fermentation, and two won a quart of Tropical Traditions Gold Label Organic Coconut Oil. Here are the lucky gfe readers!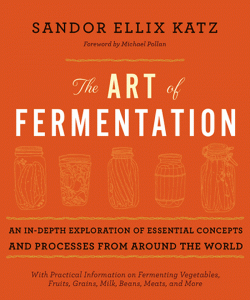 Debi (Hunter's Lyonesse) won The Art of Fermentation. ~ "I'm so tickled seeing familiar faces in the pictures. It made my heart smile. And now having been to one of your groups, I really get the format and how you present the information now. You're so good at making sure we have all the information, even when you have to stop and correct some of it.
I'm surprised to see raw eggs yolks, too. Not that I will go out and consume a lot of raw yolks, but it makes me feel better about loving runny egg yolks on my food. I do love a good bone broth and while I don't think I would consume a jar of it daily, I absolutely love to use it when I make soups, stews, and other dishes. I love the idea of fermenting, and I'm sure Chaz would LOVE if I made kim chee (he still can't believe I had some at the support group)."
Dori also won The Art of Fermentation. ~ Her comment on the post: "Wonderful post! I would LOVE to win the fermentation book! Kefir water has changed my life and I am trying to get up the nerve to try fermenting cabbage, as I have read that it is a healing food too.
Thanks!"

Kate won a quart of the Tropical Traditions Coconut Oil. ~ Her comment on the post: "Now that is a masterpiece of information that resonates with my unhealthy gut. I would love to win either of the products. Does Ms Hetrick do house calls?!!!!" (Shirley's Note: Donna Hetrick of Lifestyle Fitness and Nutrition actually does do long-distance consultations via Skype.)
Finally, Carolyn also won a quart of Tropical Traditions Coconut Oil. ~ Her comment on the post:  "Shirley – I am loving your VSG. You have me hooked on coconut oil and now I am purchasing it by the gallon! BTW, the gluten free food at LCBR was great. The chefs are making more of it every day because so many people ask for it!"
Congrats to all! I'll be contacting you via email for your mailing addresses! Be sure to join us next month (which starts tomorrow—wow!) for the next GFE Virtual Gluten-Free Support Group.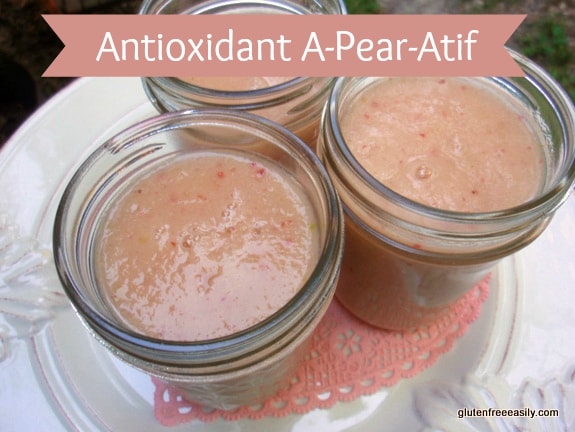 Last, I made one of my clean-out-the-fridge/freezer cooling concoctions for Son and I earlier this week. Pears, lemons, limes, bananas, and cranberries (or cherries), with a little water … all blended together. Even with the optional almond milk and sweetener added, this beverage is a tart creation, but I was in the mood for a tart, "crisp," and chilly concoction and this Antioxidant A-Pear-Atif fit the bill.
Merriam-Webster defines aperitif as "an alcoholic drink taken before a meal as an appetizer." I skipped the alcohol as we were enjoying ours before breakfast and the emphasis was on the antioxidant value of the ingredients. This beverage also made for a pretty drink … even suitable for Valentine's Day perhaps with its cranberry flecks and when served on a pink heart doily.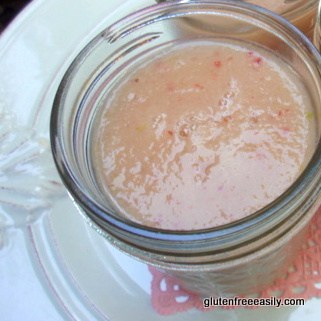 Yield:
Antioxidant A-Pear-Atif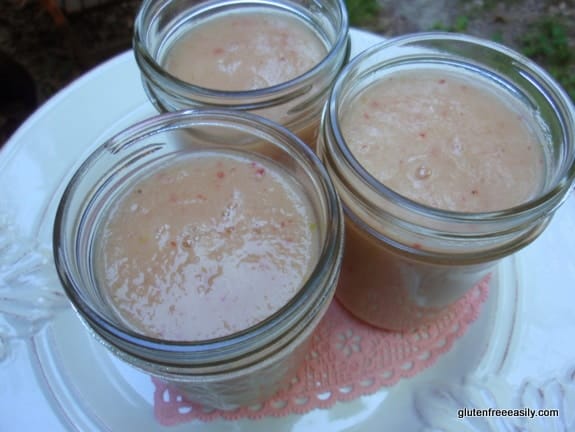 Ingredients
Juice from 2 small lemons
Juice from 1 small lime
2 to 3 pears, cored and diced (can leave peel on if desired)
2 bananas (frozen whole bananas or frozen banana slices works great)
1/4 cup fresh cherries (for raw version) (OR 1/4 fresh cranberries OR 1/8 cup (or more) dried cranberries plus ½ cup boiling water, if using dried cranberries for a non-raw version; see notes)
sweetener of choice, in amount desired (honey, maple syrup, coconut sugar, etc.---I used one tbsp honey, but also added one tbsp coconut sugar to Son's)
1 cup unsweetened almond milk (optional)
Instructions
Juice lemons and limes over strainer/bowl. Discard peels and seeds.
Peel and or chop pears over a strainer/bowl. You don't want to miss out on any of that wonderful juice!
If using dried cranberries for a non-raw version of this recipe, soak them in boiling water to soften. Let cool a few minutes.
Add all ingredients to regular or high-speed blender. Blend a few minutes until all ingredients are fully incorporated.
Notes
If not using frozen bananas, you may wish to add some ice before blending. Add additional almond milk or water as needed for desired thickness.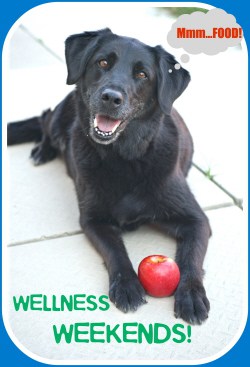 This recipe is the perfect kind of recipe for Ricki's (Ricki Heller) Wellness Weekend event, which features a wide assortment of healthy, vegan recipes each week. (Note that not all are gluten free.) Head on over and take a look at this week's entries, plus read all the news that Ricki shares, too. Enjoy!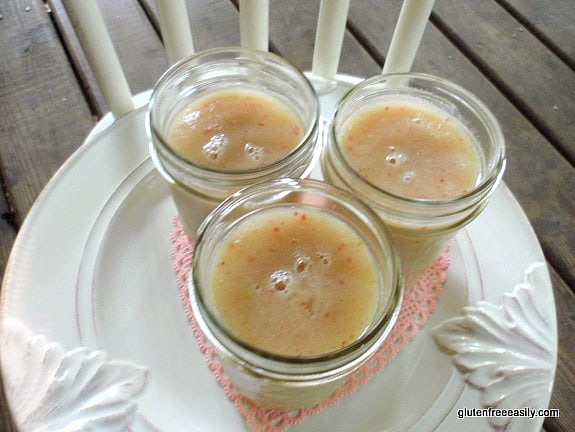 Originally published June 30, 2012; updated September 6, 2018.