For affiliate links and as an Amazon Associate I earn from qualifying purchases.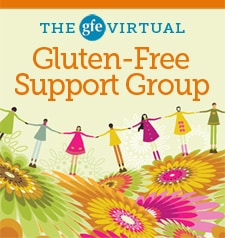 This post is linked to Allergy-Free Wednesdays and Gluten-Free Wednesdays.
Welcome to the June GFE Virtual Gluten-Free Support Group (VSG) meeting! Finally, right? If you're new to GFE VSG, it's the online event where I share information from my actual support group meetings with all of you. That includes information on the presentations, the food shared, tips from my members … anything that comes out of the meeting that I think you will find helpful. As part of your participation in our VSG, I ask that you interact with all of us joining in to the GFE VSG by commenting on the presentations, gluten-free recipes, and any of the shared info and offering your own input. I had issues with the linky previously, but am going to give it a go again before I abandon it. If you have a recent gluten-free, "real food" recipe that you'd like to "bring" to our VSG, just tell us about it in your comment or leave a link to your post. (See further guidelines below, right before the linky.) Last, there is also a giveaway each month! Giveaways always tie into the topic of the meeting and/or the food theme. Anyone who leaves a comment will be entered. Only one comment is required (and only one will be counted), but folks are welcomed and encouraged to have discussions with each other in comments. This month's giveaway is a good one!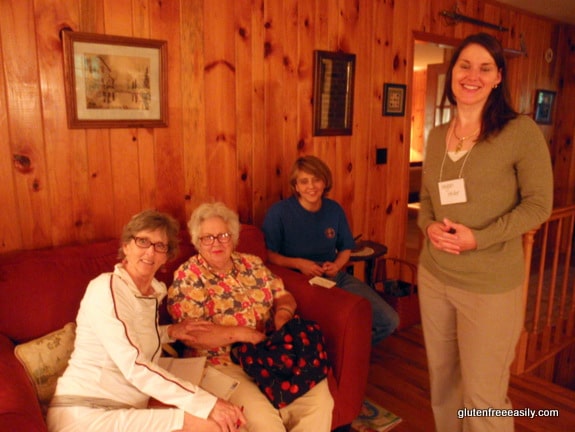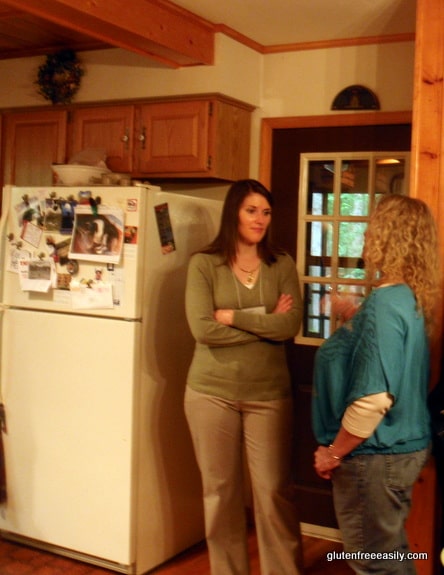 Our meetings always start with our shared meal. Sometimes we have a food theme; sometimes it's a true potluck. Sometimes it's a little of both. This month's theme was Healing Foods as our presentation was on Healing the Gut. Not all the recipes/food items shared at our meeting would be considered healing, but almost all were real food/whole food recipes and all were delicious!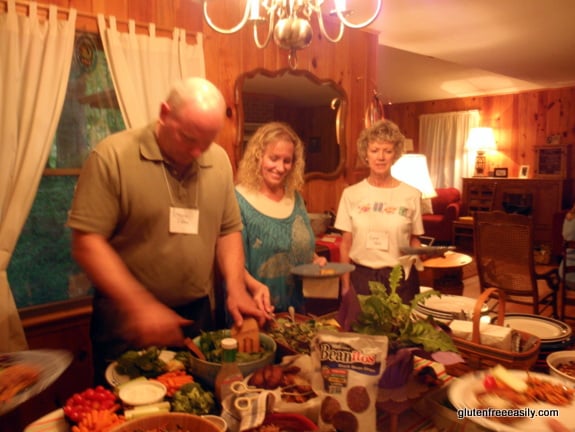 The Food ~ We enjoyed Salmon Cakes with Quinoa and Kale—brought by our speaker—and the following: our usual Great Salad; Carrot Hijiki Salad with Sweet Miso Dressing (from The Whole Life Nutrition Cookbook, page 190); Spinach Salad with Mushrooms and Homemade Dressing (onion, olive oil, apple cider vinegar, prepared mustard, salt, pepper, celery salt, and organic sugar); Spinach Salad with Blueberries, Walnuts, and Feta; Beanito Black Bean Chips with Roasted Red Pepper Hummus; Savory Pasta Dish (Bionaturae Organic Gluten Free Fusilli, onions, green peppers, organic grass-fed beef, etc.); Taco Popover; Slow-Cooked Butter Beans (with carrots, onion, celery, and chicken stock); Veggies and Dip (see members Megan and Jennifer checking out the gluten-free status of the dip using an iPhone app); Garlic Toast (made from slicing Rudi's Multigrain Hamburger Buns vertically and then sprinkling with olive oil and garlic powder before toasting—genius idea of one of my members, Cris!); Crustless Sweet Potato/Pumpkin Pie (I ran short of sweet potato, so added some canned pumpkin to meet the measurement for the recipe); Apple Cranberry Crunch; Wildtree Brownie Bites; several kinds of iced tea; wine; and water.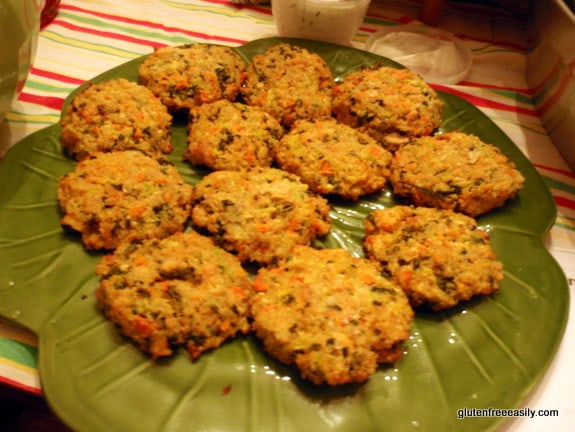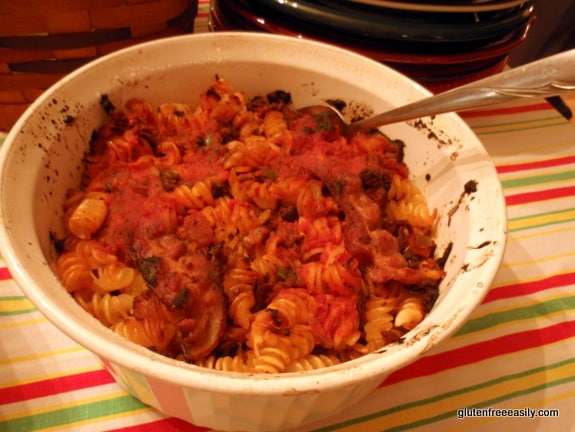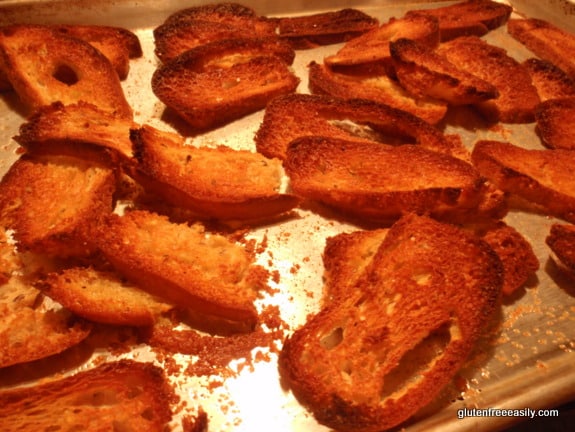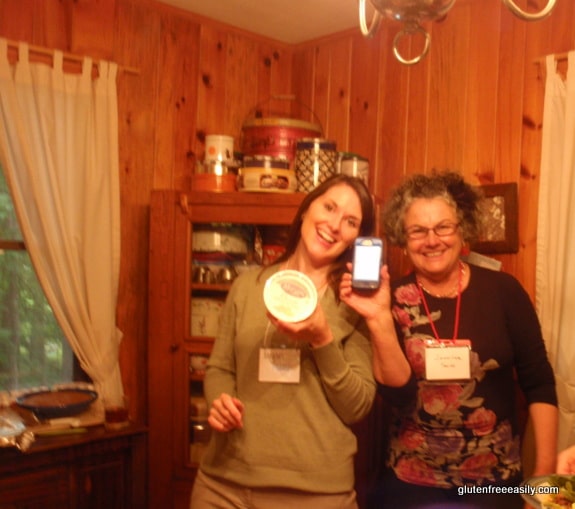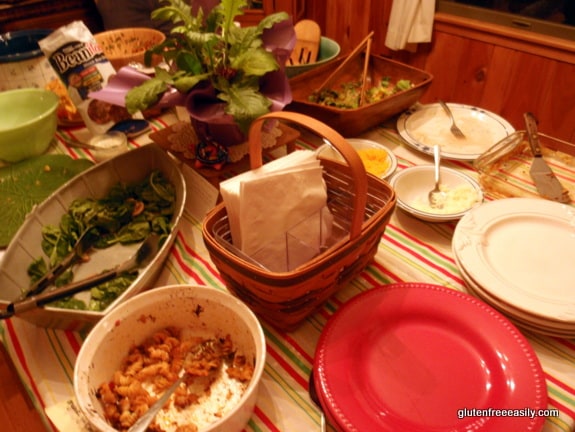 The Presentation ~ Our speaker was Donna Hetrick of Lifestyle Fitness and Nutrition in Fredericksburg, Virginia. Donna is a clinical nutritionist, blood chemistry analyst, and fitness trainer. I'd been hearing about Donna and her practice for years and we'd even spoken briefly before by email, but it was a discussion on healing the gut that brought her name to the forefront once again. One of my support group members, Lynne, who was very familiar with Donna and her practice stated that Donna had advised her on how to make bone broth and to use it daily for healing the gut. A missed meeting in real life at the Women's Forum (where I present two educational sessions each year) and a couple email exchanges and Donna was at my house ready to present to our group!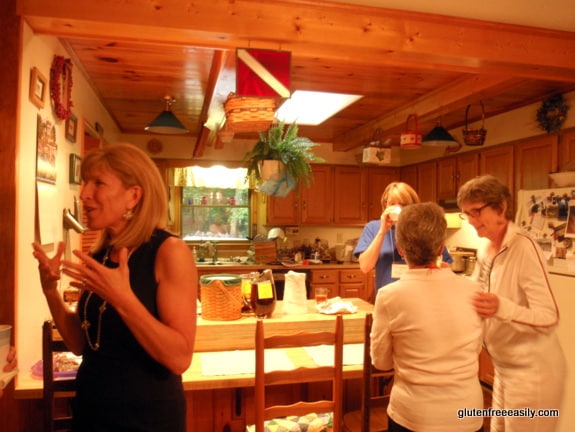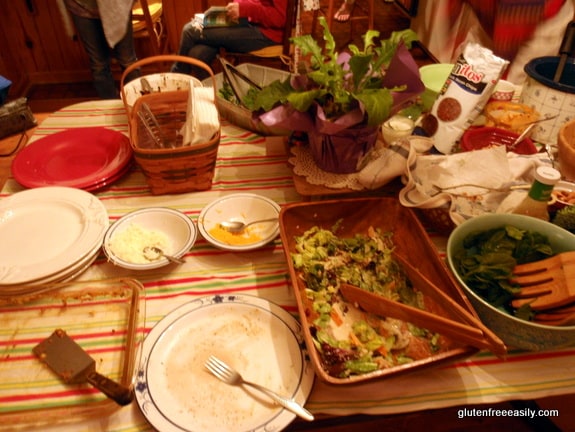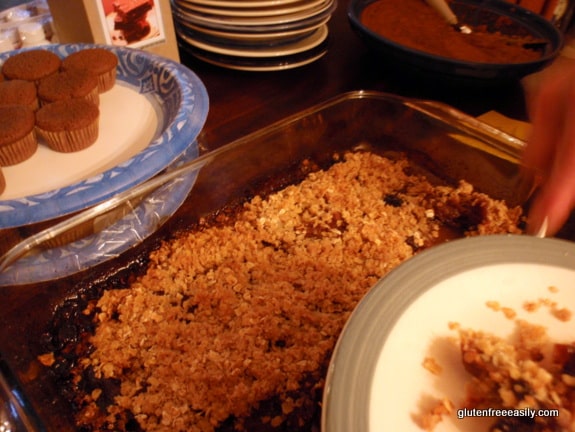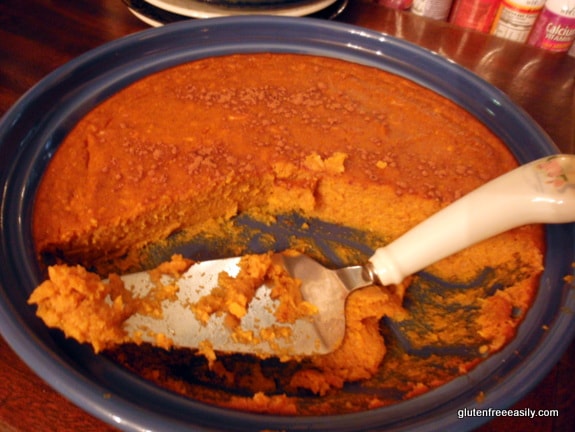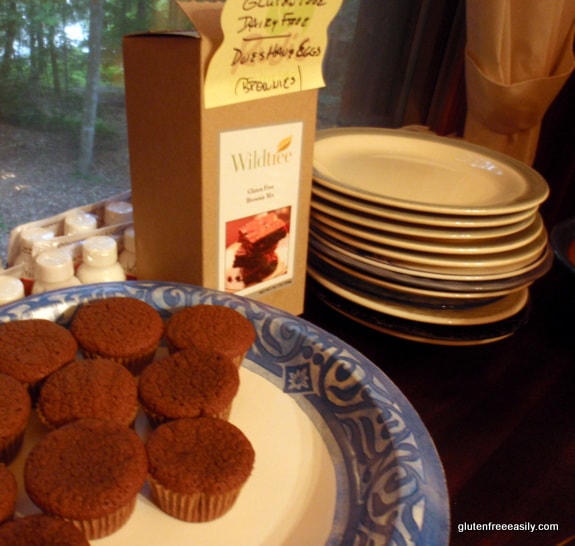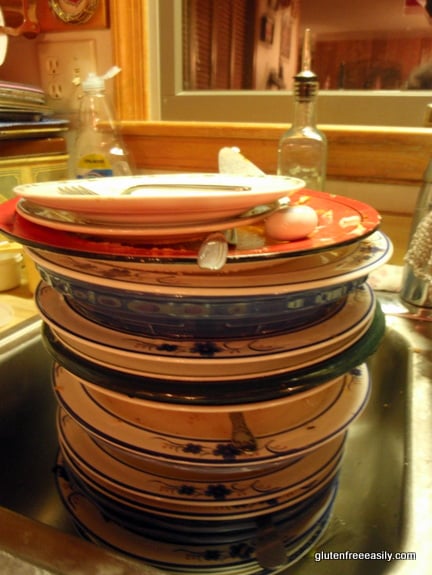 Well, after she chatted individually with quite a few folks and after we ate that amazing meal, of course. Donna was the one who brought Wendy's Salmon Cakes with Quinoa and Kale as her contribution to our group meal. She had followed a link to Wendy's recipe from my post on Chipotle Salmon Corn Cakes. I love it when folks actually follow the links I share, and I love it even more when they make them and I get to sample! As our guest speaker, I didn't expect Donna to bring a thing, but I was really happy that she did because Wendy's Salmon Cakes were simply delicious and went very quickly! Donna had planned to bring her homemade Kimchi as well (a tie-in to her presentation on healing foods), but unfortunately she had forgotten it at home.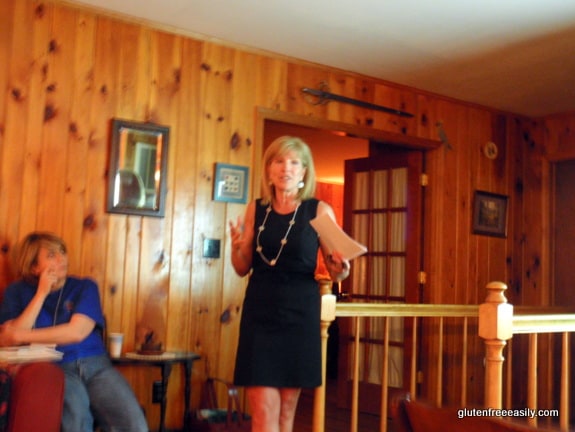 Donna started out her talk by sharing a little of her personal history. She talked about being physically fit all her life and then suddenly having to go to "heroic efforts" to feel good. She knew that something was keeping her from feeling well. After going through the process of removing the mercury amalgams from her teeth, she also removed gluten from her diet. As in, she went 100% gluten free. Before then, she stated that she had been "trying" to be gluten free. She said that during that time of "trying," she didn't worry about consuming gluten-full items like soy sauce and she still indulged in the occasional doughnut. She indicated that going gluten free was not only a huge turning point for her, but also for her clients because she finally "totally got" what those who were gluten free or would need to go gluten free were experiencing. She said to us, "I know where you are coming from; I know what you are dealing with." More importantly, she eventually learned that removing gluten was not enough for complete recovery; she learned how to heal her gut and how to help her clients heal theirs.
Donna stated that our gut is a combination of our stomach and small intestine, and essentially the whole gastrointestinal (GI) tract. That is where the healing has to take place. She added that wherever there's a mucosal lining there, that's the gut. When her clients come to her they don't feel well. When she takes away gluten or other foods, they get angry. She stated that the gut produces more of the "feel good" serotonin than the brain. Having a balance of good and bad gut flora is the key to optimum health. We have to have a good wall to keep out too much of the bad.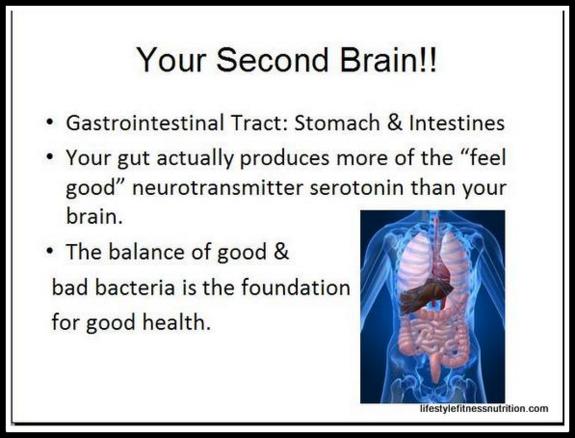 She spoke about Dr. Natasha Campbell-McBride, the Russian-trained neurologist, who ended up developing the Gut and Psychology Syndrome (GAPS) diet to heal her daughter who had been diagnosed with autism. She stated that Dr. Joseph Mercola had done a whole series on Dr. Campbell-McBride. (You can see some of that information here.) Donna stated that there's a book, an app, and numerous blogs/websites that share how folks are using GAPS. A few of us in attendance added that there are sites that even offer paid meal planning for GAPS.
Shirley here with a very, very important note on GAPS (before I proceed sharing Donna's presentation):  One of my reader friends pointed out that the official position of the GAPS Diet creator/site is that celiacs can go back to eating gluten after a few years on GAPs because their gut has "healed." I was shocked to hear this information even though some time ago I had seen where some individual bloggers/health advocates were promoting a return to gluten consumption after healing via GAPS and other means. I unsubscribed from their sites immediately and completely stopped sharing their information. My friend pointed out—to my horror—that this same inaccurate, totally wrong information is stated right on the GAPS FAQs page:  "The beauty of GAPS Programme is that it heals the gut, so you do not have to avoid any real food for the rest of your life, including gluten-containing foods. People, who used to be diagnosed as celiac, after following the diet for a few years, can eat ordinary bread and pasta and any other gluten-containing foods."  This statement is WRONG, WRONG, WRONG … a million times over wrong. Anyone who is eating gluten free for medical reasons—celiac/non-celiac gluten intolerance/non-celiac gluten sensitivity—should never return to eating gluten. NEVER. EVER. The GAPS protocol that Donna shared with us may be very useful for healing the gut, but a healed gut does not mean that one can safely eat gluten. AT ANY POINT. Again, NEVER. I want to be clear on that point!
Donna stated that one of the key components of GAPS and healing the gut is meat stock and meat broth or bone broth—i.e., meat stock that includes bones. She stated that we need the gelatinous component to get the protein from bones. This bone broth ingredient effectively lines the gut and aids its healing because those of us with gut issues have had our mucosal lining destroyed. She urged everyone to go for organic chicken and free-range grass-fed beef when making bone broth. Roast a chicken and use its carcass with a cup of vinegar or lemon juice (or a combination in that amount). The vinegar/lemon juice pulls out the calcium proteins in the bones. As the bone broth cools, you will see the gelatin. She suggested that you freeze the bone broth in jars (e.g., same size as salsa jars) and then consume one a day.
Everyone was surprised to see raw egg yolks as one of the GAPS staple foods in Donna's presentation. She explained that the yolks are almost predigested and have been compared to mother's breast milk in their benefits. When someone has impaired digestion and one wants to heal them, Donna advised adding raw egg yolk to the broth before consumption. She did emphasize that one wants to know where these eggs are coming from to ensure their safety. She said that smoothies with raw egg yolks added kind of taste like egg nog. If one is not grossed out by egg nog, Donna said, then one should be able to enjoy and benefit from safely-sourced raw eggs this way.
Donna spoke about how nutrition training has changed dramatically over the years. She stated that patients/clients used to be put in a bubble and kept away from all possible offending foods, but now the focus is to try to heal the patients so they can add more and more foods back into their diet.
With fermented veggies and raw egg yolk, one is getting good probiotic cultures into one's system. She said that it's good to get these probiotic cultures in all different ways. She cited kombucha and fermented apple juice as good, readily available sources. Donna reminded folks that they can make their own kombucha, as long as they have the "mother," also known as the scoby.
She emphasized the importance of healing the gut after going gluten free. She talked about clients of hers who had gone gluten free, but did not heal the gut. They did not feel dramatically better, so they went back to eating gluten. It was hard to convince them that living gluten free was the right path when they didn't heal fully and feel at their very best. She said that's human nature, so she does everything she can to work with patients to heal their guts. Donna stated that the damage is done to the gut whether one has celiac disease or non-celiac gluten sensitivity.
Donna plays detective in her blood chemistry analysis. She looks at vitamin/mineral levels. What are your calcium levels? Magnesium levels? What does your thyroid function look like? The parameters she uses are very narrow compared to traditional lab parameters that constitute "within normal limits" (WNL). She indicated that a client can be in very bad shape and still get WNL readings per standard guidelines.
She reiterated that eliminating the antagonist (gluten, etc.) is not enough to get one well. The junctions between the epithelial cells must be tightened to form a selective permeable barrier (i.e., let in the good and keep out the bad). Donna gave the example of the white slime that can form on a cut. It's a protective barrier. We need that same slimy/mucosal barrier with the gut. Otherwise, the gut is very "angry," very irritated. A healing diet is the answer.
Donna went on to share her Mucosa Rebuilding Butter recipe with those of us in attendance. Unfortunately, I don't have permission to share that exact recipe with you. It's a unique formulation that includes organic butter (or coconut oil, vegetable shortening), olive oil, probiotics, l-glutamine, and more. She shares that recipe exclusively with her clients. The Mucosa Rebuilding Butter acts as a healer, creating a chemical reaction in the gut. Donna received some of her nutritionist training, including her blood chemistry analysis training, from Sam Queen, a medical researcher/"biochemist and genius" (per Donna's words) who founded and heads The Institute of Health Realities. (Donna talks more about her experience with Sam Queen here on her website.) She shared that Queen had been a lab student in a group of students who had all been poisoned by mercury. Interestingly enough, and sadly, he was the only student in the group of his peers who survived mercury poisoning.
She shared Dr. Fasano's statements on the value of probiotics from previous article from several sources. Donna said, "we can't take a shot or a pill, or snort" a single medication that will achieve the same effect as healing the gut with all the means already mentioned.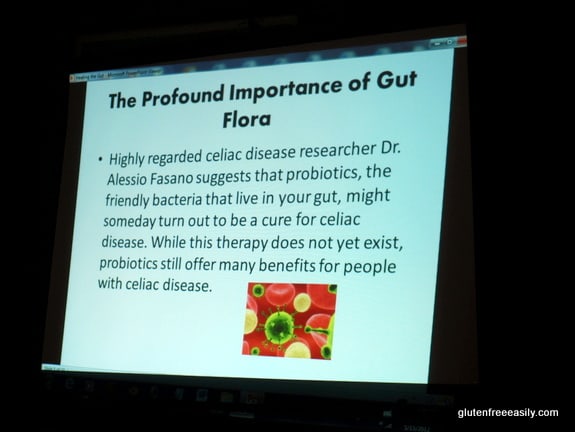 Another interesting thing that Donna pointed out was that if our bodies are unable to absorb protein, they simply can't heal. She also talked about the need to drink a lot of water when taking l-glutamine, an amino acid that helps in the restoration of muscle tissue and healing gut (decreasing intestinal permeability) and cells. She added that sometimes we have difficulty getting water into cells and other times we have water in cells we can't get out. Donna mentioned that whey is actually a great healing protein powder for those who can tolerate dairy. Chia seeds were also cited as a powerful healing food, but note that some individuals (like me) may have a sensitivity to chia (as demonstrated by gastrointestinal symptoms).
Finally, Donna talked about the book Wild Fermentation by Sandor Katz and its value as a resource in teaching us how to heal with fermented foods. I mentioned that Katz has a new book out—The Art of Fermentation:  An In-Depth Exploration of Essential Concepts and Processes from Around the World. (Note:  Although this book was only released a month ago, this book is getting excellent reviews. With the Foreword written by Michael Pollan, and a recommendation by Sally Fallon Morell, President of The Weston A. Price Foundation and author of Nourishing Traditions, that is not that surprising. At over 500 pages, it's a tome!)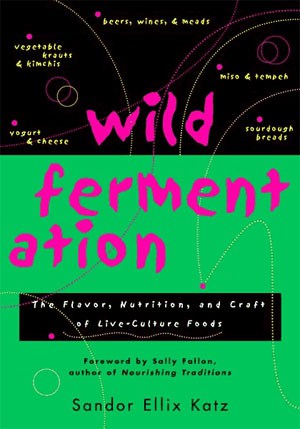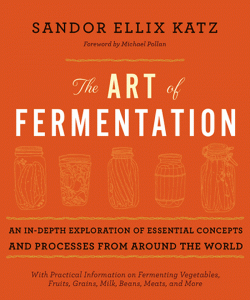 My support group members and I were all very impressed with Donna Hetrick's presentation. She actually gave us specifics on healing the gut, information that we'd been seeking for quite some time—information that is critical for those of us who have experienced damage due to celiac and non-celiac gluten intolerance/gluten sensitivity. Dr. Peter Green, a recognized celiac expert who is the Director of the Celiac Disease Center at Columbia University, has said that many celiacs who are diagnosed as adults never fully heal. (His statement has been echoed by others familiar with the study that showed the lack of healing in adults after diagnosis.) Donna's protocol, parts of which have been shared by others in the gluten-free community and holistic health care community, may finally help us do just that. Check out her site, Lifestyle Fitness and Nutrition, for additional information, including her availability for consultations. Be sure to consult your own valued health care professionals as well to determine how this information may apply to your own situation.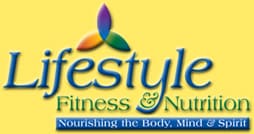 The Linky ~ At the bottom of this post, link up your favorite healing foods, "real food" recipe or tell us what you'd bring to our support group meeting that fits that category in a comment. If you're linking up a recipe, be sure to include a link to this post for The GFE Virtual Gluten-Free Support Group June 2012. The linky will close on Wednesday, June 27.
The Giveaway ~
UPDATE:  This giveaway is now closed. See the list of winners here.
The Art of Fermentation book by Sandor Katz–A key point that Donna talked about was the importance of fermented foods in our diet. As I already mentioned, a resource that Donna recommended for fermenting foods was the book Wild Fermentation by Sandor Katz. I told her that we often enjoyed fermented foods in our meetings, and we'd actually had one meeting where group member, Steve, did a book review of Wild Fermentation and shared a number of fermented foods with us. Since Katz has a new book on fermentation out, The Art of Fermentation, which is considered to be much more comprehensive than his previous book on fermentation, two winners will each win a copy of this book that's billed as the comprehensive guide on this topic.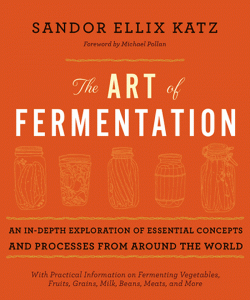 2 winners, 1 copy each
Tropical Traditions Organic Coconut Oil–As coconut oil is part of the healing protocol (the dairy-free version) that Donna advises, two winners will each receive one quart (32 ounces) of Tropical Traditions Organic Gold Label Coconut Oil.

2 winners, 1 quart each
To enter either giveaway, in addition to sharing any comments and/or info on the dish you're bringing to our VSG, simply tell me in your comment which item you'd like to win and why. The giveaway will end Wednesday, June 27, at midnight Eastern.
***As always, please read my disclaimer. The gist is that I am not a medical professional and that some links shared on gfe are affiliate links (which may send a small amount of money my way).