For affiliate links and as an Amazon Associate I earn from qualifying purchases.
Yes, today I'm sharing gluten-free Sweet Potato Biscuits.
I confess. For the last day of my Suite of Sweets for Sweethearts event, I simply couldn't share something chocolate like those yummy truffles that I make for our Valentine's Day parties or the flourless chocolate cake made using my favorite beans (chickpeas), or even the non-chocolate—and decidedly wonderful—Lemon Poppy Seed Scones that I "totally figured out" on the third version.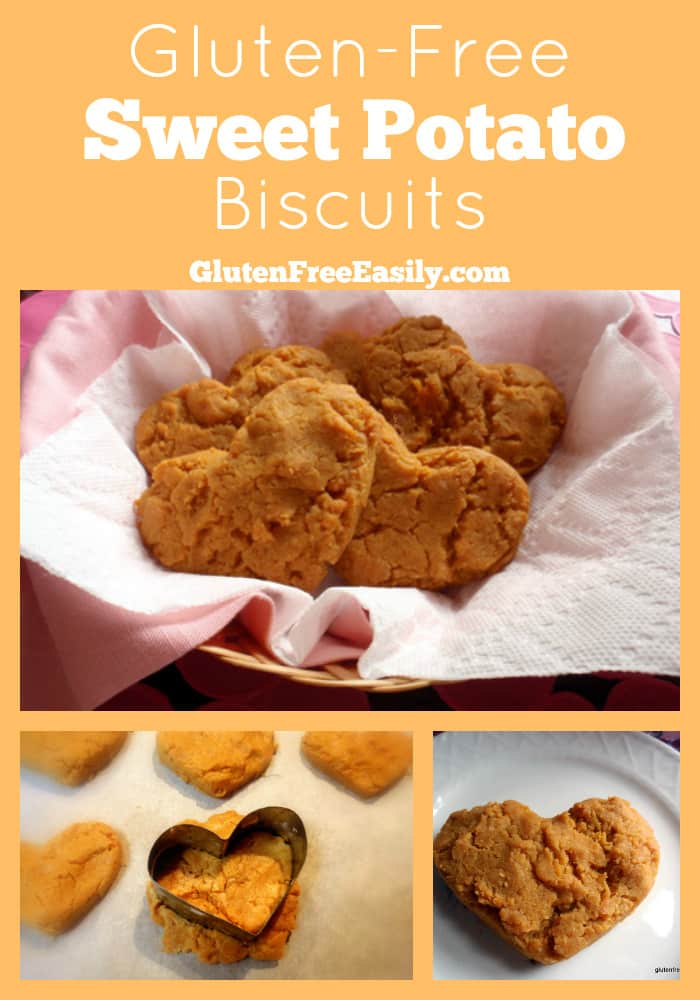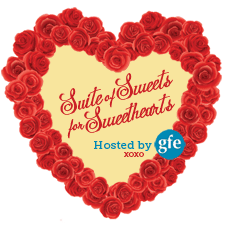 However, I have personally overdone it on desserts and treats the last week, even with all my sharing with my parents and co-workers.
But I'm still giving your something sweet and totally delightful in these gluten-free Sweet Potato Biscuits.
The original recipe came from my dear friend and support group member, DeLaura. She's also the driving force behind/manager of our award-winning local Farmers Market.
DeLaura makes her Sweet Potato Biscuits for our support group meetings several times a year. They disappear faster than if she were handing out $100 bills. I'm not kidding.
She makes a double batch and they disappear so quickly that often I don't even get one because I'm usually finishing up things in the kitchen as everyone starts filling their plates for our superb group meal.
So, it became clear that for me to enjoy these Sweet Potato Biscuits (without fighting support group members for them, which wouldn't be very hospitable of me), I'd have to start making the recipe for us at home.
I'm so glad I did, as they could not be easier or more welcome at our house. I almost never serve any type of bread at our own meals, so now any time I have some sweet potatoes that I need to use right away I know that I can make Mr. GFE very happy by making some of these Sweet Potato Biscuits.
I'll be serving these with a new pasta dish topped with my gluten-free Fried Calamari tonight. These gluten-free Sweet Potato Biscuits will easily serve as both our bread and our dessert!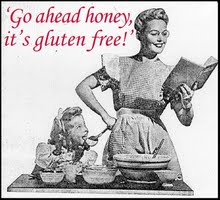 I am entering these Sweet Potato Biscuits for this month's Go Ahead Honey, It's Gluten Free event. Created by our lovely Naomi (Straight Into Bed Cakefree and Dried) across the pond, this wonderful longstanding gluten-free event is hosted by a different blogger each month. (Unfortunately, this event is no longer happening.)
Each blogger gets to choose his/her theme. I was lucky enough to host three times—Make Me A Happy Camper; Dishes So Simple, No Recipe Required; and When You're Grain Free and Feeling Like A Nut, But Don't Eat Tree Nuts or Peanuts.
Your recipe only needs to have one of those characteristics, but you get "extra points" if it's all three! Therefore, in my notes, you'll find directions on making these Sweet Potato Biscuits Spicy (super easy, super good).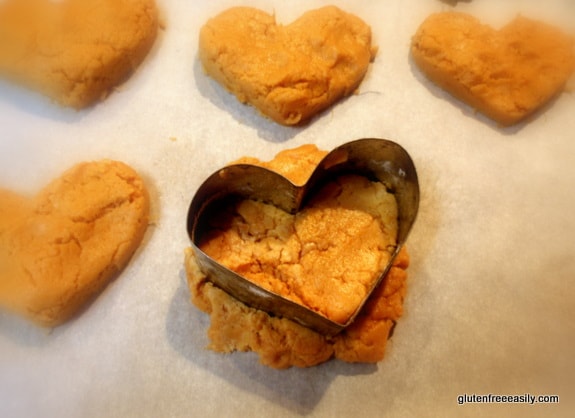 These Sweet Potato Biscuits are already Heart Shaped, and do I need to tell you that Hot out of the oven they are amazing? Seriously.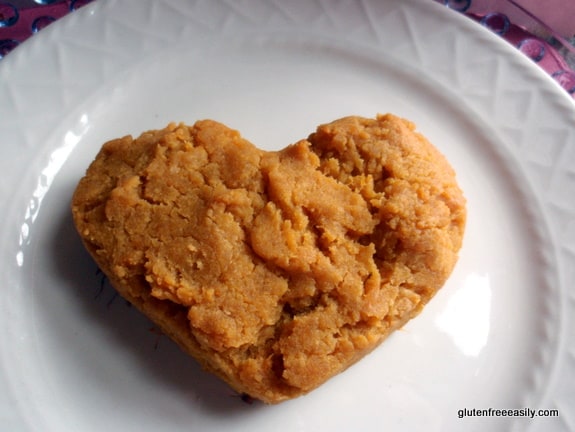 Some Final Notes About These Gluten-Free Sweet Potato Biscuits
When you are making the recipe, you will think that the batter is too moist with the amounts of sweet potato and oil, that you need to add more flour … DON'T do it. The mixture is just right.
These biscuits come out moist with the always-desired "tender crumb." Don't you want to be tender to your loved ones on Valentine's Day?
Also, due to the fact that you are dealing with biscuit dough and not say cookie dough, your hearts will be somewhat imperfect—just like true love.
Yes, I am completely corny and sappy today!
I love Valentine's Day. It's known primarily for romantic love, and the truth is you might just be "done" (wink, wink) after eating a meal with these heavenly Sweet Potato Biscuits.
If you want to feel the love in your home, make these biscuits! Happy Valentine's Day!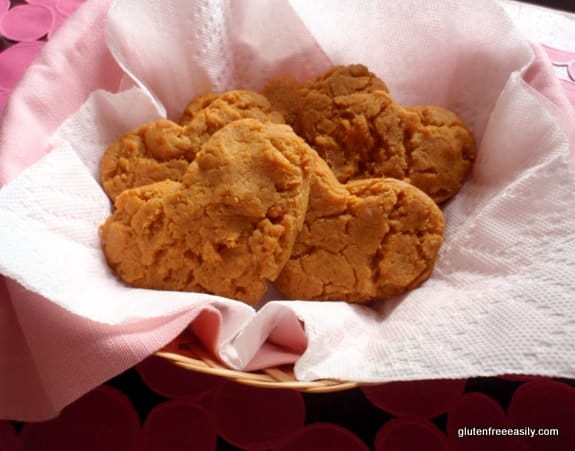 Other Gluten-Free Rolls and Biscuits That Are Irresistible Hot Out of the Oven
~ Brazilian Un-Cheese Rolls (aka vegan Chebe Rolls)
~ Cinnamon-Sugar Crusted Popovers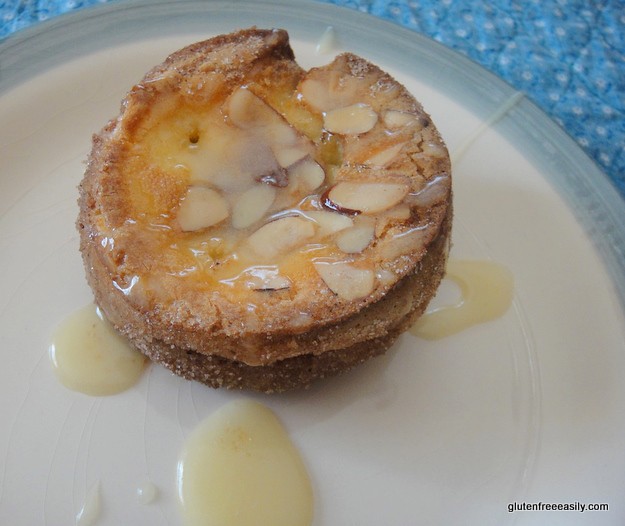 ~ Homemade Red Lobster Garlic Cheese Biscuits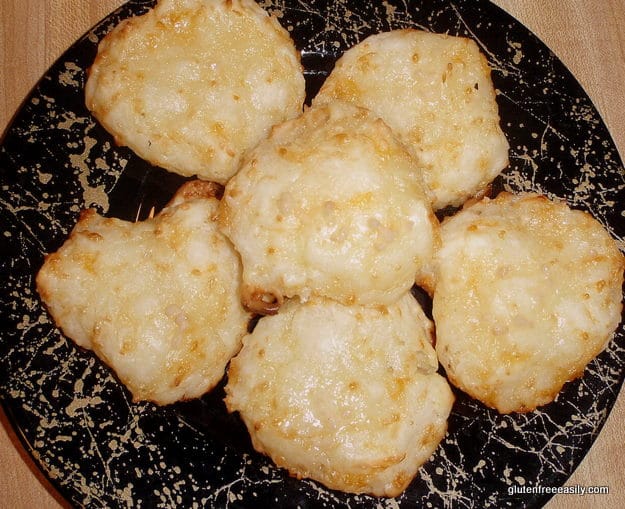 ~ Popovers (aka Yorkshire Pudding to some)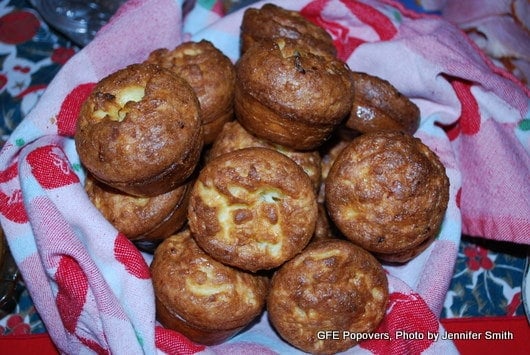 ~ The Best Gluten-Free Biscuits (Over 25 Recipes)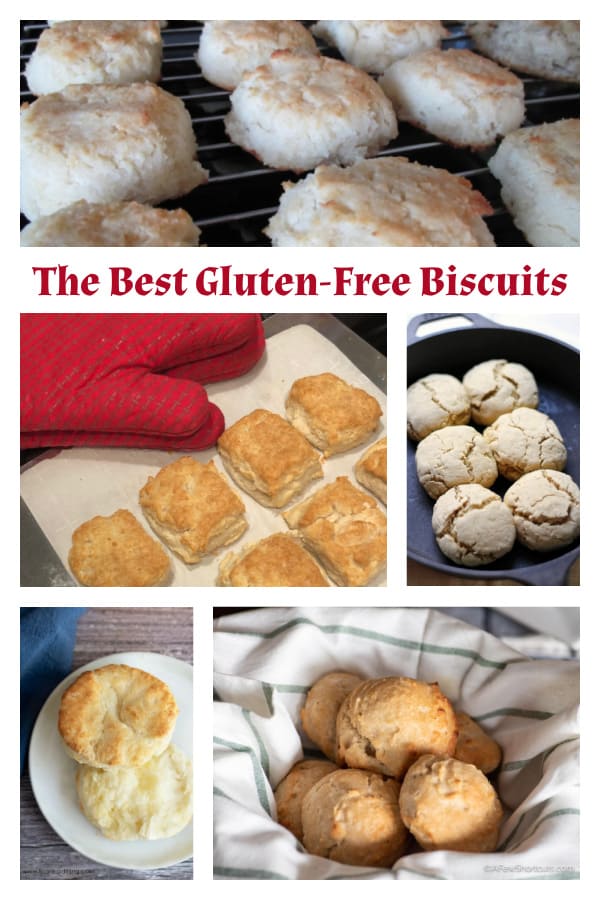 Gluten-Free Sweet Potato Biscuits Recipe
Yield: Makes about 16 heart-shaped 3 1/2 -inch biscuits or about 2 dozen 2-inch biscuits.
Gluten-Free Sweet Potato Biscuits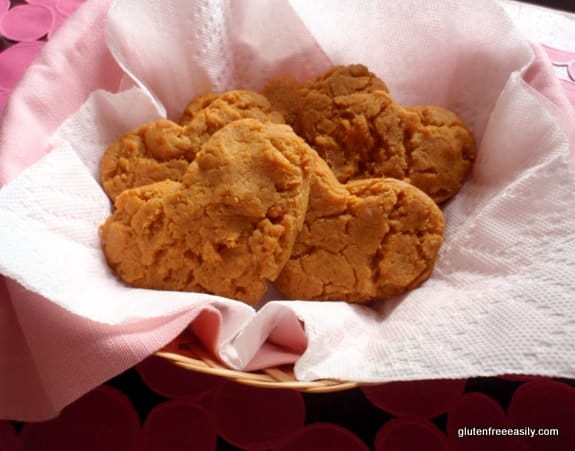 These gluten-free sweet potato biscuits are sweet enough that Mr. GFE calls them little cakes. Because of the sweetness factor, I like serving them with something savory or spicy like a hearty stew or spicy chili.

Prep Time 10 minutes

Cook Time 10 minutes

Total Time 10 minutes
Ingredients
2 cups sweet potato, cooked and mashed (see notes)
1 cup coconut sugar, or less to taste (palm sugar], [date sugar, granulated sugar, or brown sugar; most of the time I use palm/coconut sugar and DeLaura uses date sugar---see notes)
½ cup oil (I use coconut oil)
2 tbsp baking powder
1 scant tsp salt
Instructions
Preheat oven to 375 degrees Fahrenheit. Grease two baking sheets (or line them with parchment paper).
Blend wet ingredients in large bowl.
Sift dry ingredients into bowl with wet.
Mix all well with wooden spoon. Roll dough into large round balls. Place on baking sheet and flatten slightly. If you would like to make shaped biscuits (hearts for Valentine's Day, stars for Christmas, etc.), after flattening, press cookie cutter into dough and then remove excess dough and return it to the bowl. Repeat. Separate biscuits by about an inch.
Bake for about 10 to 12 minutes, until slightly firm to touch and golden brown on the bottoms. Enjoy plain, with butter, with almond butter, with jam, with a meal, soup, or as tea biscuits.
Notes
I bake my sweet potatoes in the microwave and then as soon as they're cool enough to handle, I empty the sweet potato (less the skin, of course) into the mixing bowl. The sweet potatoes are so soft, that I don't even mash them. Just stirring all the ingredients with the wooden spoon while the sweet potatoes are still hot mashes them enough. Admittedly, a few readers have had issues with getting the biscuits to hold together while the sweet potatoes are still warm. If that has been the case for you, you'll want to chill your baked sweet potatoes first.

If you are starting with cold sweet potatoes, you may need to mash them first to ensure they will mix well with the other ingredients. 

If you reduce the sugar, you will most likely need to add some flour to offset the volume lost, and texture will change slightly.

Because the dough is vegan, you can taste it until you get the sweetness desired. For a spicy, less sweet version, add a little cayenne or chipotle powder—maybe ½ tsp—to the recipe.

Adapted from my friend DeLaura's recipe.

Originally published February 14, 2012; updated February 12, 2023.