For affiliate links and as an Amazon Associate I earn from qualifying purchases.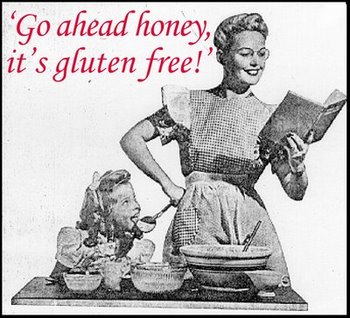 I'm pleased to announce that this month I'm hosting the Go Ahead Honey It's Gluten Free event. This event was created by my friend Naomi Devlin (Straight Into Bed Cakefree and Dried). It's been going on for several years now and is always fun as well as a great way to share wonderful gluten-free recipes.
Each month the blogger who is hosting selects the theme. I've had the pleasure of hosting Go Ahead Honey twice previously. Most recently, I hosted a roundup with the theme Food So Simple, No Recipe Required (24 entries—woohoo!) and before that I shared my make-believe camping trip for almost 20 gluten-free blogger friends in Make Me a Happy Camper (19 entries—still, none too shabby).
This time the theme is: "When You're Grain Free and Feeling Like A Nut, But Can't Eat Tree Nuts or Peanuts!" Read that again. Okay, just in case that wording is confusing, here's the gist of it. Some folks can't eat nuts, but they love the flavor of nuts or the crunch, or maybe it's chewiness that nuts adds to recipes. Maybe they even have a beloved recipe that uses nuts, nut butter, or nut flour, but it's now off limits due to an allergy or intolerance to tree nuts or they're following a nut-free protocol (e.g., paleo autoimmune protocol) for a while.
And let's think about those who can't eat peanuts either. Peanuts are a legume, not a nut of course, but many of us think of them as nuts  because they are often combined with tree nuts for snacking and offer a similar flavor, crunch, and, again, chewiness. Peanut butter, like nut butter, can add a thickening quality to recipes and often allow one to do flourless baking. But for these recipes, we're not going to include peanuts as an ingredient either.
For the grain-free requirement, in addition to being gluten free, I specifically mean NO rice, corn, sorghum, oats, or millet. Note that amaranth, flaxseed, quinoa, and buckwheat are considered to be pseudo grains and are allowed in the recipes submitted if they supply the characteristics of the missing tree nuts and peanuts.
Here are some examples of grain-free, tree nut-free, peanut-free recipes that would work for this roundup:
Apple Pie Balls from Paleo Parents (hint: coconut flakes are the key here)
Photo shared with permission from Stacy Toth and Matt McCarry
Baked Quinoa-Crusted Chicken Nuggets from Oatmeal with a Fork (hint: quinoa is the magical ingredient!)
Best Ever Salmon Cakes from Gluten Free Easily (hint: hemp seeds provide the "nutty" and crunchy taste in this recipe)
Flax Foccacia with Rosemary Parsley Topping from Elana's Pantry (hint: flaxmeal is the wonder ingredient in this bread)
Photo shared with permission from Elana Amsterdam
Strawberry Chia Fluff from Diet, Dessert and Dogs (hint: chia seeds thicken and offer chewiness in this mousse-like dessert)
Photo shared with permission from Ricki Heller
Can you create a recipe that does not include tree nuts or peanuts but is also grain free and feeds the need for that flavor, crunch, chewiness, etc. that those ingredients typically add? Of course, you can! Let's beat that earlier  Go Ahead Honey gfe personal record of 24 entries. I know that so many of you reading excel at creating grain-free recipes that happily satisfy the need for tree nuts or peanuts without using either. Hit us with your best stuff!
Submit your entry via email to me (with Go Ahead Honey in the subject line) at [email protected] by Thursday, May 30. If you're a blogger, please email me both your post URL and your photo. If you're a non-blogger, please send your entry via email (with your recipe in an attachment or within your email) with your photo attached. You do not have to be a gluten-free blogger or a gluten-free non-blogger individual to submit an entry, but your entry does have to be gluten free. Please send your entry along as soon as it's posted/complete; you do not have to wait until the end of the month to share it. Feel free to use the badge in your post as well.  (Here's a smaller version below.)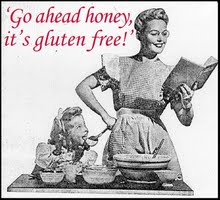 Oh, and before I forget, last month's GAHIGF event was hosted by Michelle Doll/Bakeshop 360 (Mash, Coulis, and Puree). Next month, Sunny of And Love It, Too! is hosting with the theme Primal Travel Food, which is perfect for summer travel! See all the hosts and themes for 2013 here. (FYI:  December is still open if you are a gluten-free blogger and wish to volunteer.)
This post is linked to Gluten-Free Wednesdays and Allergy-Free Wednesdays.