For affiliate links and as an Amazon Associate I earn from qualifying purchases.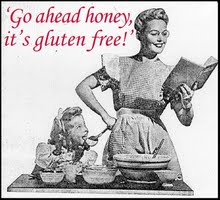 This month's Go Ahead Honey It's Gluten Free carnival—with the theme "Dishes So Simple, No Recipe Required"—has brought out a lot of great bloggers. There are welcome new faces as well as many valued "regulars" … that's the best combo of participants! The "non-recipe" submissions include classic family favorites as well as innovative creations that everyone will want to try … in some cases just to see how well the ideas or the flavors work.
The first recipe that came in was from Sherron of Simply Gourmet. Sherron said, "My family and I eat a lot of this in the summer time. I don't follow a recipe, I just add the ingredients until the flavor is where we like it." Sherron does have a bit of a recipe for her Guacamole for her readers, but I'm betting more folks make guacamole without a recipe than make it with one. Guacamole is a simple pleasure for many … including me.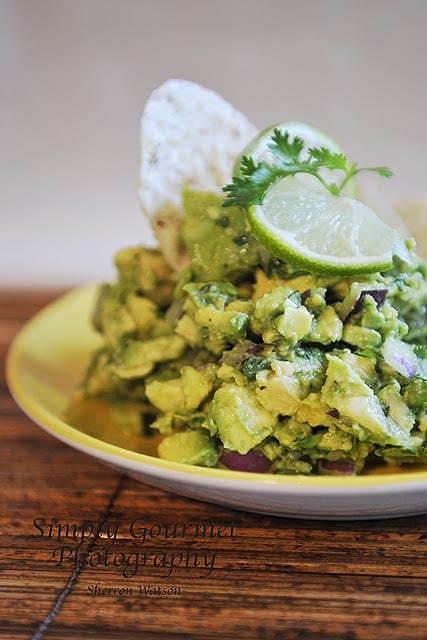 Next up was another veggie entry, and an ingenious one at that—Roasted Red Pepper Leather. This recipe comes from Megh of Yolks, Kefir, and Gristle. (Note: This site is no longer operating.) She says that these dehydrated red peppers work amazingly well as crackers. What a great concept for those who want to eat grain free, want an easy egg-free "cracker," and/or want to add more veggies into their diet at every opportunity!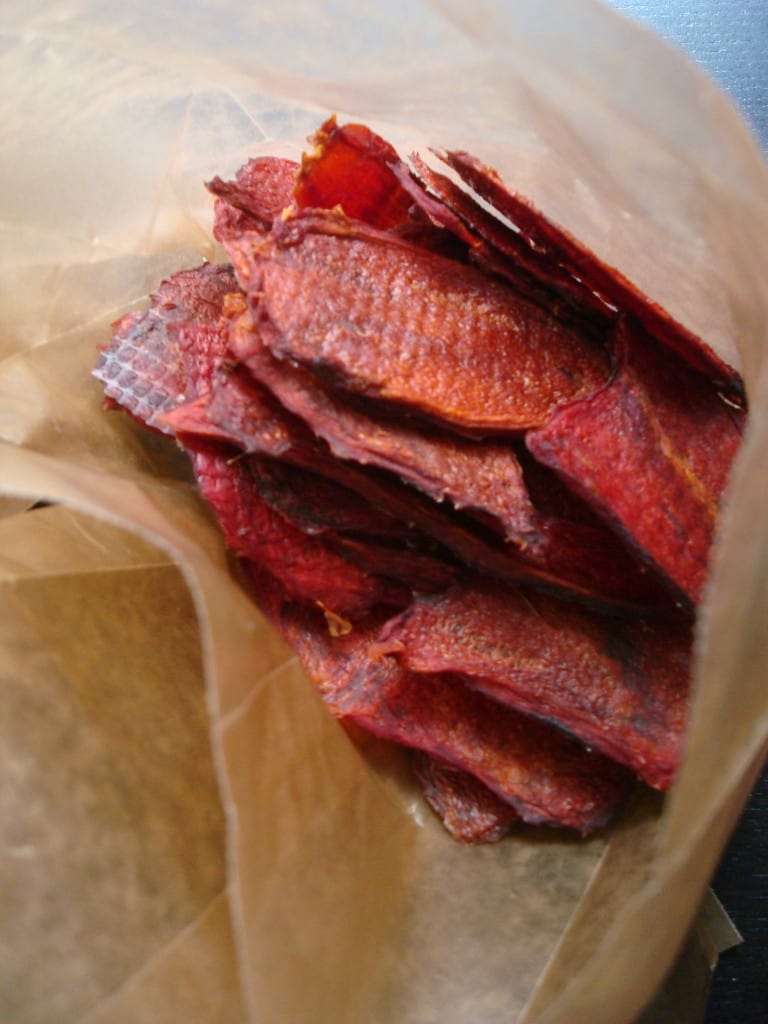 Continuing on with the veggie love, Tina of Madame GF Vegetarian (note: this site is no longer operating) offered The Best and Easiest Roasted Potatoes. In my opinion, good potatoes can elevate just about any meal. Tina's look so delicious and comforting. I'd be eager to pull up to the table for breakfast, lunch, or dinner with these on the menu.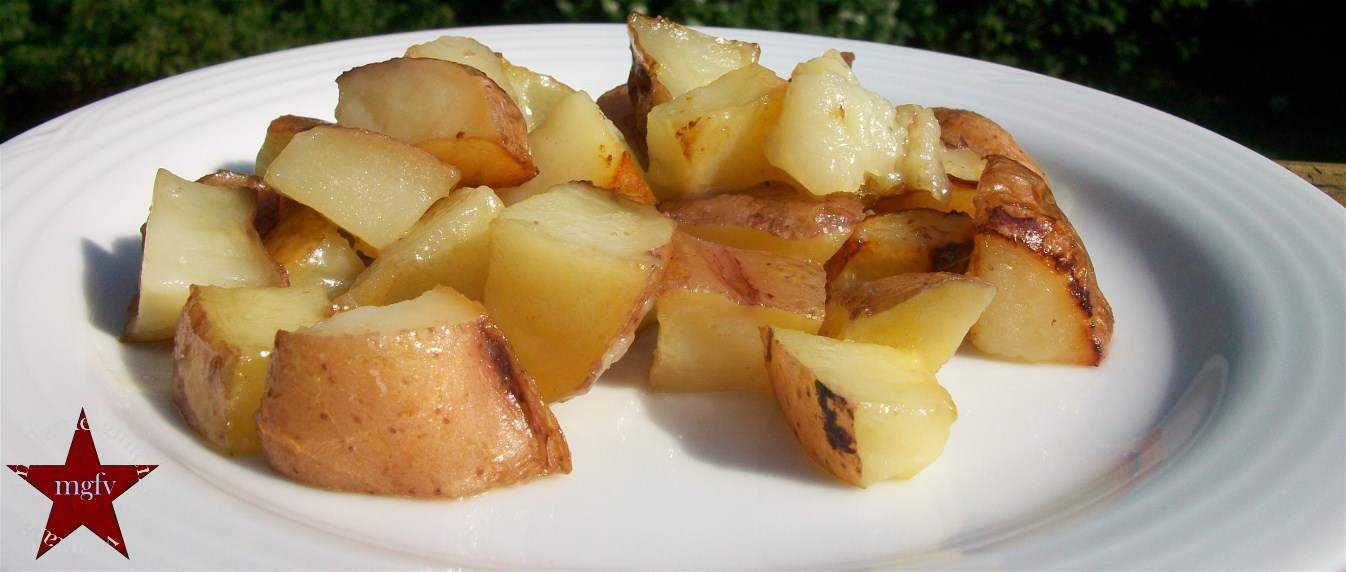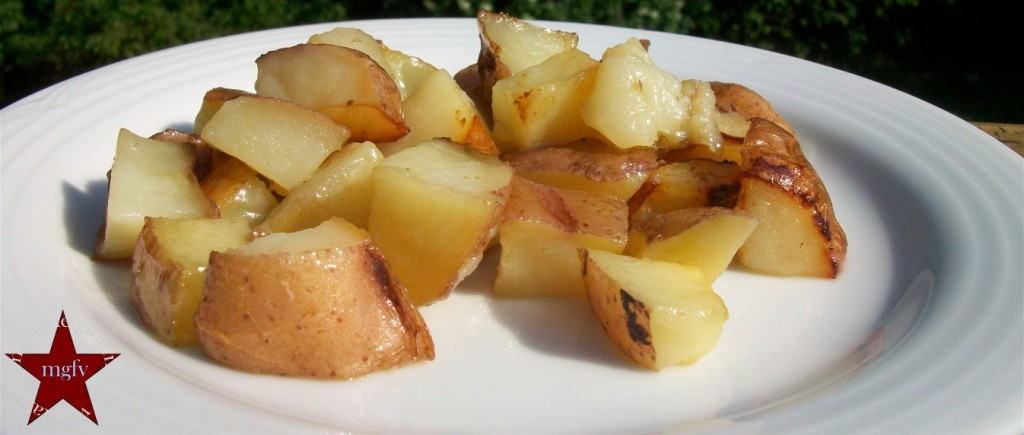 Jennifer (The RA Vegan) sent in the next recipe, Super Easy Slaw. Starting out with a ready-made cole slaw mix (often a lifesaver for those whose hands don't do well with lots of chopping and prep work), Jennifer added "a little bit of this" and "a little bit of that" (some surprise ingredients!) to create a lovely, colorful slaw in just a few minutes.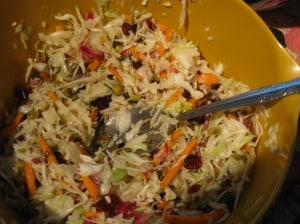 Maggie (She Let Them Eat Cake) shares the key ingredient in some of her super quick salad meals of late—Creamy Carrot Salad Dressing. As Maggie says, "Salad dressings are so easy to whip up. It would take you longer to drive to the store to buy one!" Maggie's dressing is beautiful and so are her salad creations. Bonus … the dressing is thick enough to use as a dip or a spread on wraps!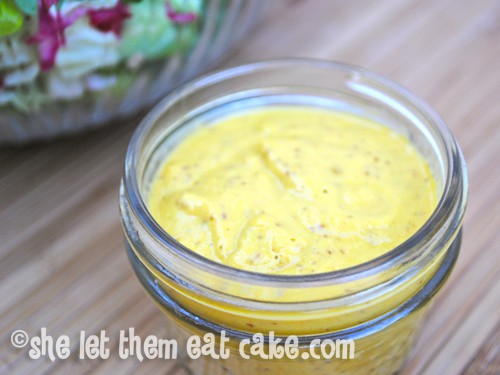 Iris (The Daily Dietribe) offered up something new for breakfast—Baked Buckwheat Pancakes. (This recipe is no longer available via The Daily Dietribe.) A thick, baked skillet pancake made from buckwheat groats that Iris says is just right for back-to-school breakfasts. Delicious looking, don't you think?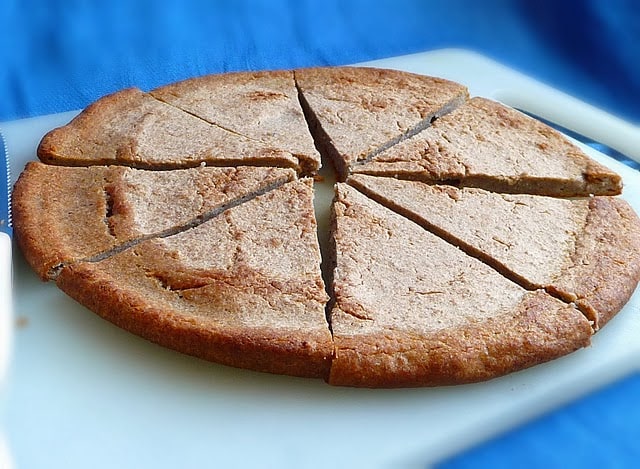 Jeanette (Jeanette's Healthy Living) shared Easy Tomato Paste Pasta. This meal looks so simple and yet amazing. It reminds me of the basic spaghetti dish that I've enjoyed since childhood, but even a snooty adult wouldn't turn away from this one with Jeanette's easy "upscale" touches.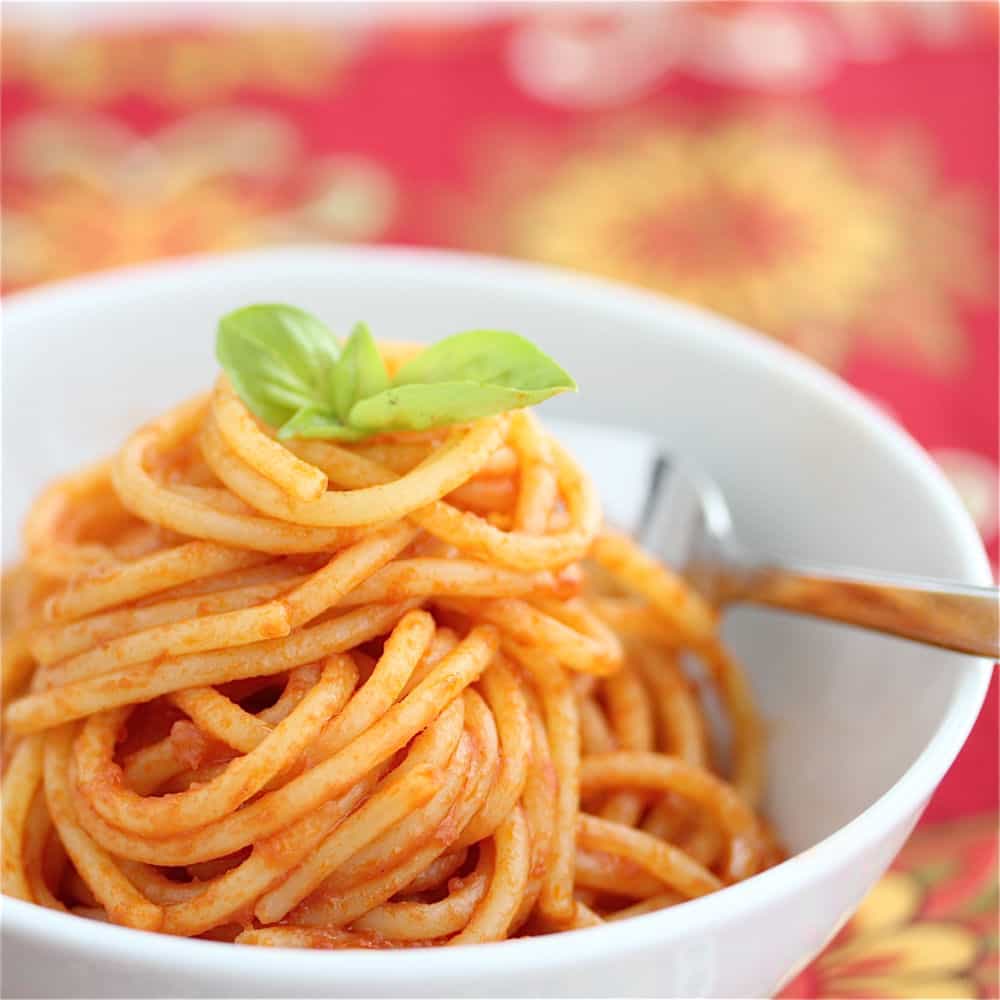 Valerie (City|Life|Eats) offered a healthy, but totally satisfying dessert recipe—Flaky Chocolate Snack. The satisfying part comes from the dark chocolate that comes into play and the flaky factor adds to the satisfaction, too. Only with food (and it's usually with desserts), is flakiness considered a good thing. And a very good thing at that! (UPDATE: If you follow the link, you will see that Foods for Life Brown Rice Tortillas are cited in this recipe. Please note that several samples of these products tested ABOVE 20 ppm gluten when testing was done by Gluten-Free Watchdog in December 2011. Yes, that means they were NOT gluten free.)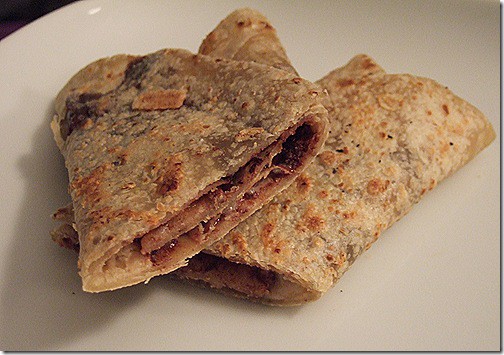 Zoe (Z's Cup of Tea) also had something in the dessert department and her recipe also included chocolate. Chocolate Sandwiches. I've never been a big sandwich eater, but honestly I have never considered sandwiches like the ones that Zoe created. A sandwich that works in place of a chocolate croissant? I'm all in!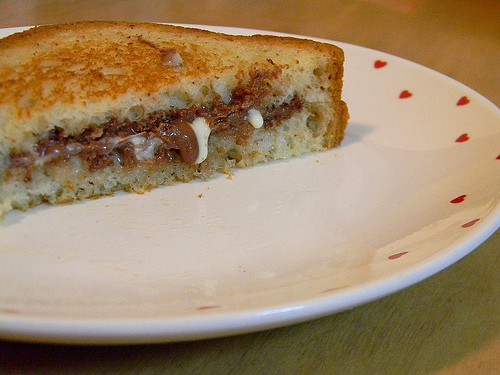 Linda (Gluten-Free Homemaker) shared Slow Cooker Beef and Vegetables. Exactly what it says. So simple, yet so good. As Linda says, "The slow cooker is one of those appliances that makes no-recipe dishes a cinch."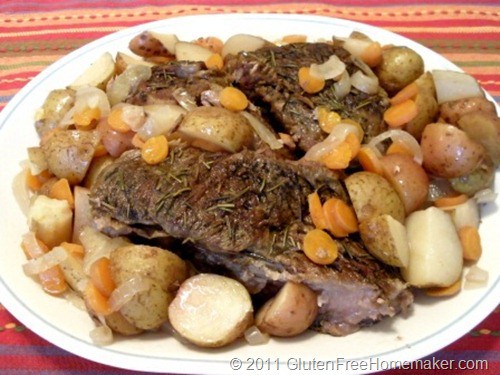 Colette (SillyYak Wife) made Quick and Easy Black Bean Dip. Black Bean Dip is always a treat, but I think it's especially welcome when there's a party atmosphere. With football season already in progress, I can definitely see Colette's black bean dip making all the fans happy.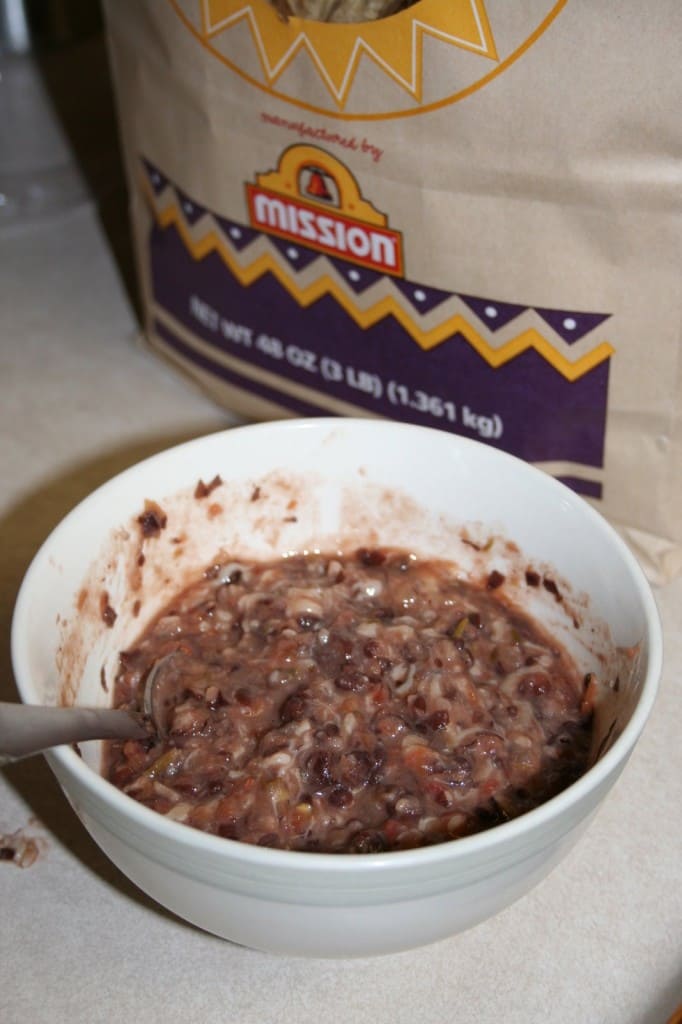 Kalinda (Wheat Free Meat Free) made Asian Soup for her unrecipe. Oh my, does this concept tickle my taste buds! This one will definitely be going on my menu when I'm back home. I'm always looking for new ways to use rice stick noodles from my Asian market.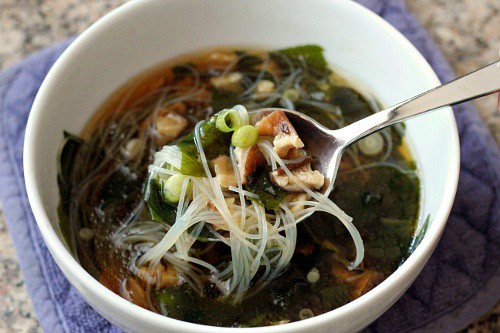 Faith (Me Sew Crafty) brought a main (or side) dish—Brown Rice Salad—and a Frozen Strawberry Dessert, too. She's definitely my kind of dinner guest!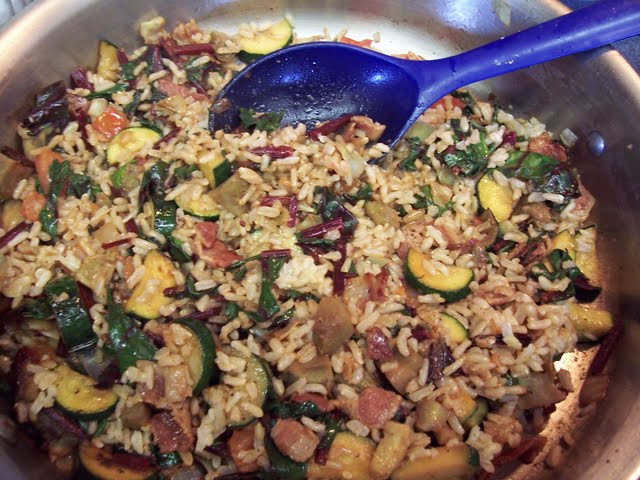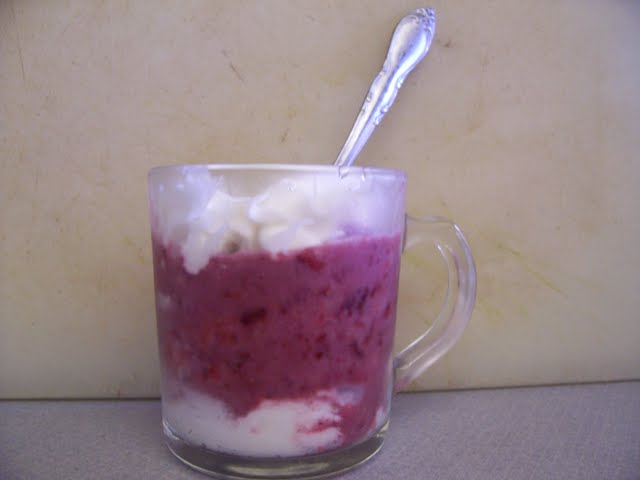 I, Shirley (gfe–gluten free easily), shared my Saucy Cheesy Chicken Veggie Pasta Skillet Supper dish. This particular variation is perfectly described by my post title, but if you read my post, you'll see that the "saucy" can come from various ingredients; the "cheesy" can be dairy, non-dairy, or can be omitted depending upon the other flavors, the "chicken" may be omitted or replaced by another protein source like chickpeas; and the "veggie" factor can be seasonal veggies and/or what's in your freezer. Per usual, I take a lot of words to explain what is a very easy throw together type dish; don't be intimidated!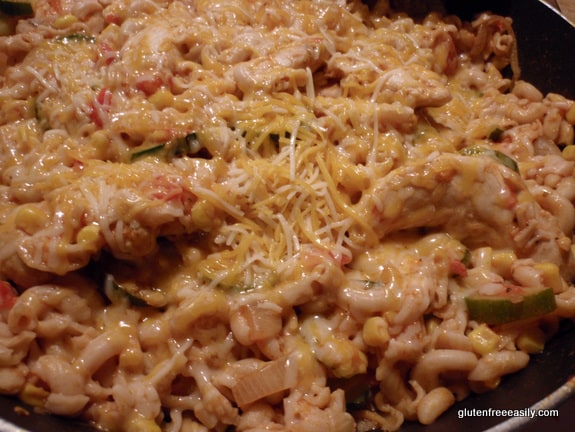 Adrienne (Whole New Mom) also went the pasta route. Her words: "My family thanks you for asking for this. They LOVED what I made! It turned out great!" Her Super Fast Pasta "Your Way" was clearly a winner with them and I'm sure it will be one with you!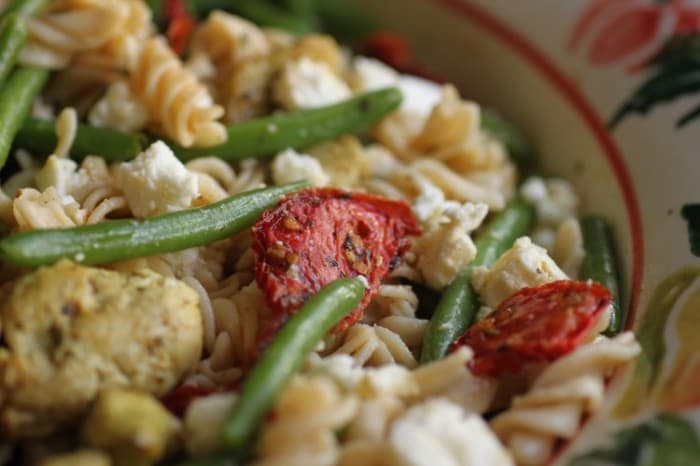 Diane (The Whole Gang) shared her "I-don't-want-to-cook-dinner" Mexican Casserole. Diane didn't post on this non-recipe and her family ate it too quickly for her to remember to take a photo, but she is sharing her non-recipe directions with us all. "I take my small round crock which I think is a 2-qt one, but I don't even know. Just something that will go into the oven or microwave. Salsa, refried beans, corn tortilla or chips, cooked meat, some type of cheese (I use Daiya), and that's it. Oh, and veggies if you have them cooked. I usually have some peppers and onions around. I put some salsa on the bottom, then a tortilla or some chips, then layer whatever way I feel like at the time. Some beans and cheese, tortilla, some veggies and beans, tortilla, some meat and cheese. You get the idea. The key is a little cheese and salsa each layer and separate the layers with tortillas. I top it off with cheese and a tortilla. I can either microwave or bake at 375 degrees until warmed through. Dinner!!!"
Georgianna (Celtic Celiac) submitted two entries. First was her Grown-up Grilled Cheese. Next up was her Tex Mex Polenta Rounds. I wouldn't turn either of these down. In fact, I'd be at the front of the line!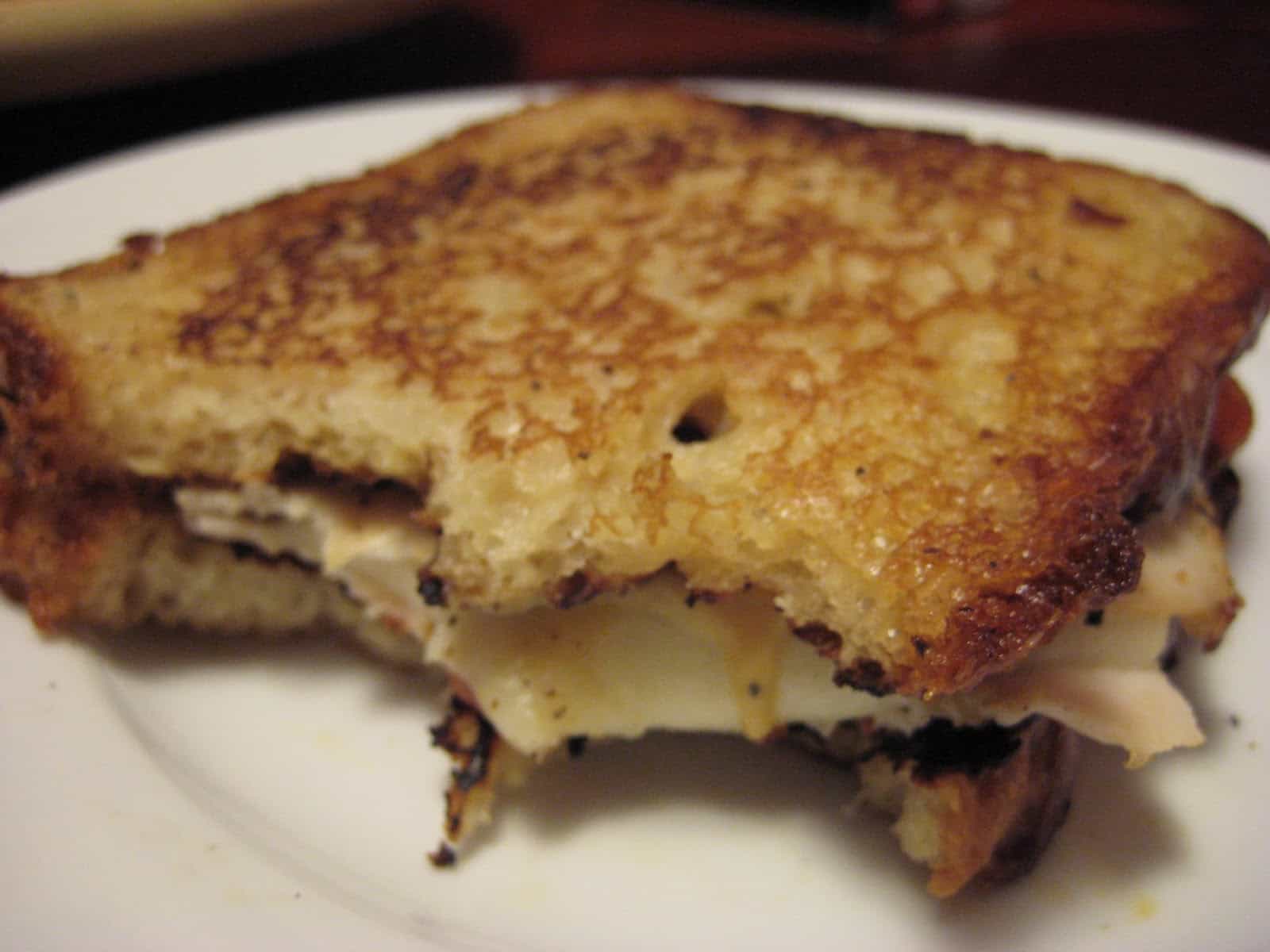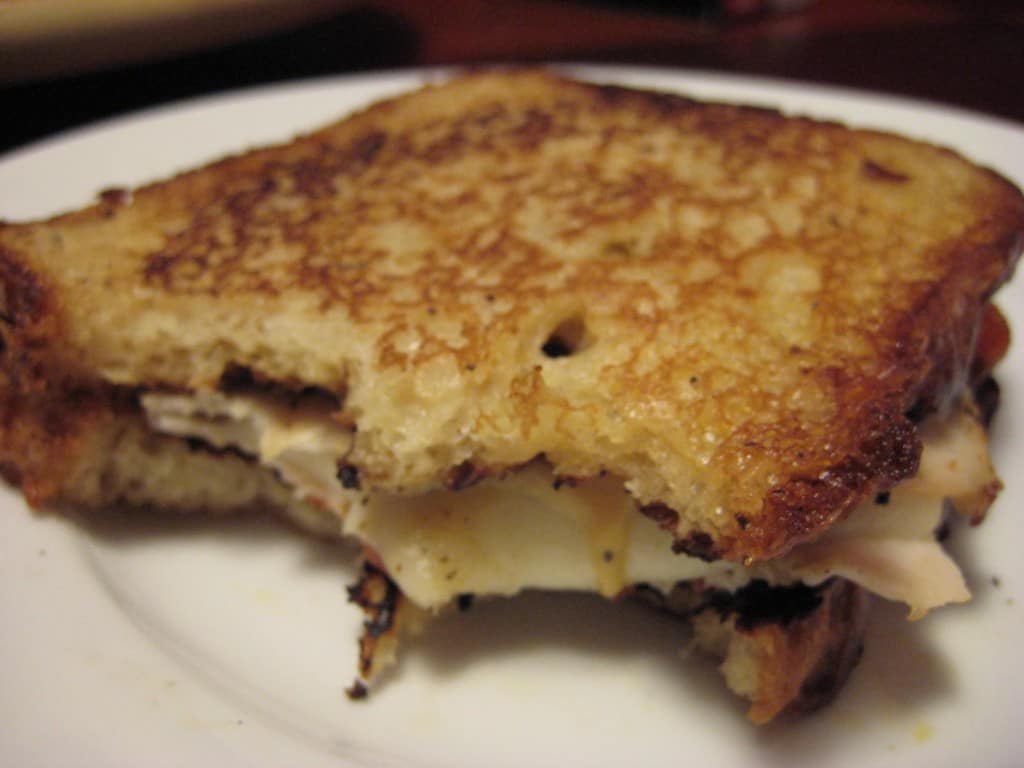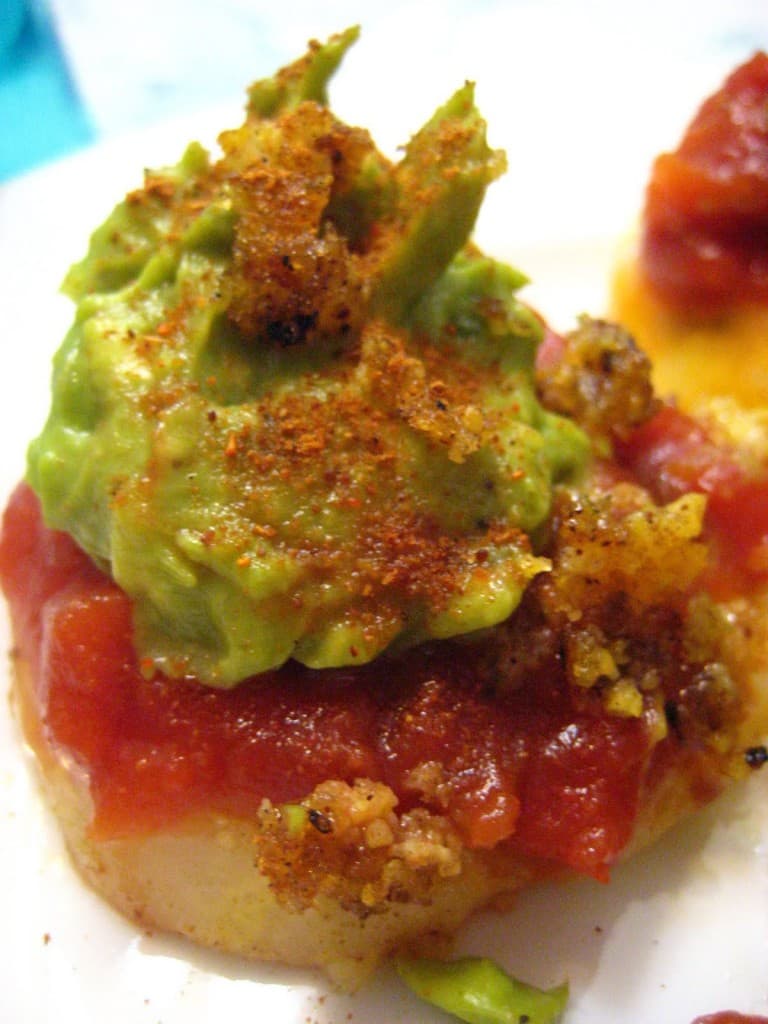 Tia (Glugle Gluten Free) (this site is no longer active) is ladling Everything But the Kitchen Sink, Make You Feel Better NOW Soup into soup mugs for all. Hers is a slow cooker recipe that apparently will cure all that ails you. I'm ready for Tia's tasty "cure-all" soup … how about you?
Stephanie (Gluten Free By Nature) shares a dessert made in the slow cooker—Gluten-Free, Sugar-Free Applesauce. (This blog is no longer in operation.) Applesauce is a classic, old-fashioned favorite, sure to please the young and the old. Plus, remember that applesauce can sometimes be used as an egg substitute in some baking recipes.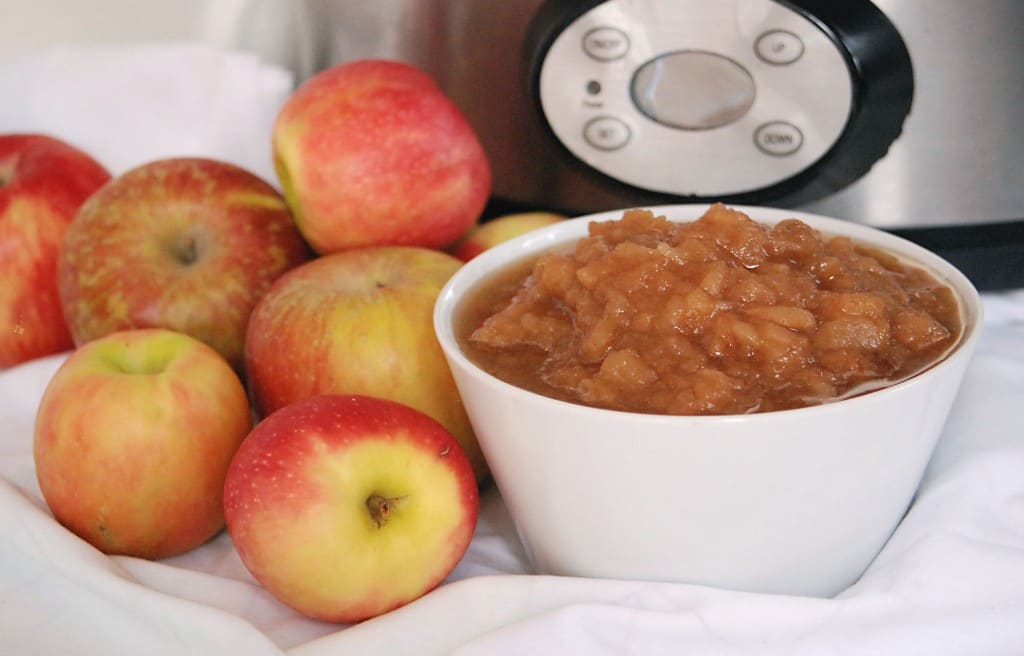 Alta (Tasty Eats At Home) said, "I'm sharing my Perfect Lamb Chops, which is such an unrecipe. I list three ingredients, but it's really more of a technique than anything." Alta tells us in her post that she had to keep delaying sharing her post because her family kept eating her lamb chops before she could get a photo. Now I can't think of a better recommendation than that!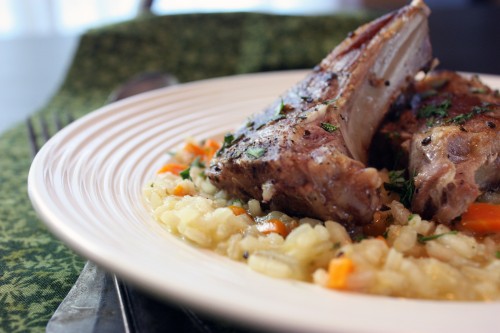 Ricki (Ricki Heller) linked up a non-recipe from her "Flash in the Pan" series—Pink Breakfast Bowl. Who can pass up a healthy breakfast that's Pretty in Pink? Surprisingly this dish is served cold; read Ricki's post to find out why and to see what gives it that lovely pink color.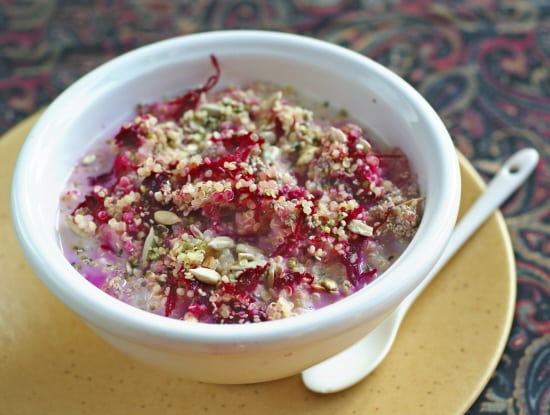 Finally, Naomi (Straight Into Bed Cakefree and Dried) (this site is only available via invitation now), the well-loved creator of this long-standing and very enjoyable Go Ahead Honey, It's Gluten Free! carnival, shared her Breakfast to Go to Work On. She also shared information on the merits of eating breakfast and tips on what breakfasts ideally should include. Naomi encourages people to eat a proper meal at breakfast, lunch, and supper so they don't need to be snacking constantly… One look at her photo and I was sold!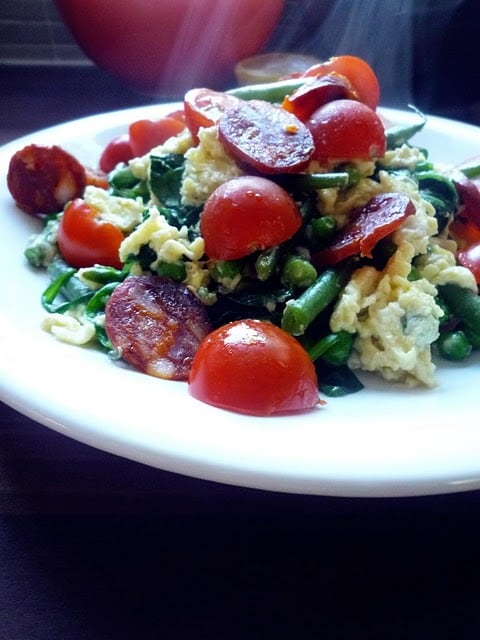 Please check out all the entries and spread the comment love, too. It's so nice for participating bloggers to get feedback!
Originally published September 2, 2011; updated September 13, 2020.