For affiliate links and as an Amazon Associate I earn from qualifying purchases.
When I came up with the theme of Dishes So Simple, No Recipe Required for this month's Go Ahead Honey, It's Gluten Free carnival, I did so because that's really how I cook most of the time. Many times I have to concentrate on actually recording real recipes to share here at gfe. I do so because the major focus of my blog is sharing recipes, and a lot of my gfe readers will only cook using a recipe. However, my hope is that this month's Go Ahead Honey will inspire folks to just get in the kitchen and have fun cooking using the concepts shared in the roundup rather than having a recipe in hand. Meals like this Saucy Cheesy Chicken Veggie Pasta Skillet Supper are often the result of me creating a main dish without a recipe.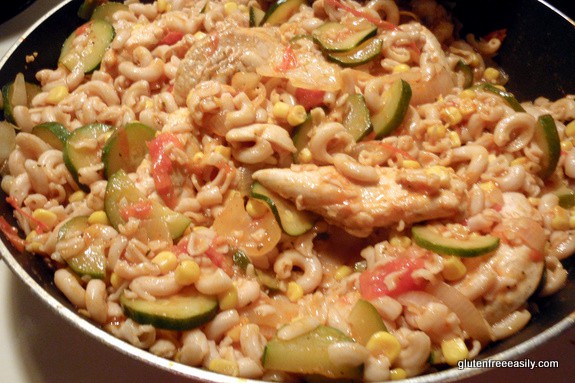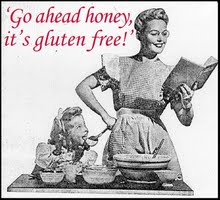 One of Mr. GFE's favorite meals is any kind of pasta dish. So I'll pick up a package of gluten-free pasta from time to time, just so I see that ebullient look on his face when he asks what we're having for dinner and I answer "Pasta!" (Usually I buy Tinkyada brand because that's my preference of what's available locally, but I also like Bionaturae brand, and some friends rave about BiAglut pasta while others love this grain-free pasta or this pricey paleo brand.)
Unless I'm making lasagna, my pasta dishes are usually skillet dishes. They're easy and quick and various types of gluten-free pasta will work equally well in them. Most recently, I made what I called Saucy Cheesy Chicken Veggie Pasta Skillet Supper. I almost never use a recipe for these type of dishes and while I'm pleasing Mr. GFE with the pasta factor, I'm also cleaning out the refrigerator and pulling from my "pantry."
Here's the basic concept for my pasta skillet suppers, with notes in parentheses on what I consider options and how I made the pasta skillet supper that's pictured.
Saucy Cheesy Chicken Veggie Pasta Skillet Supper Recipe
Yield:
Saucy Cheesy Chicken Veggie Pasta Skillet Supper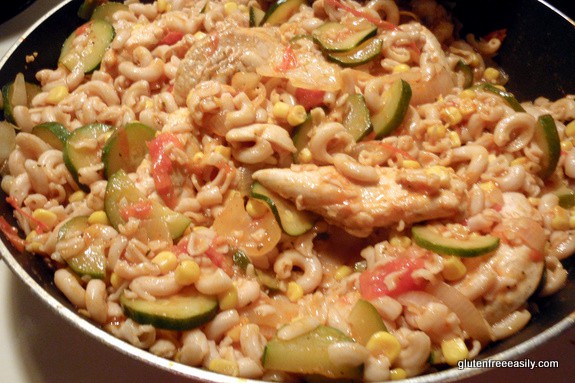 Although I gave this "non-recipe" a name based on my latest concoction, the only real name should be Pasta Skillet Supper because the rest of the ingredients will vary based on what your personal preferences are and what you have on hand. Use this framework, but get as creative (or not) as you wish!
Ingredients
Oil, butter or other liquid (like water or broth)
Uncooked or already cooked meat or seafood
Fresh vegetables of choice
Sauce, salsa, broth, or milk
Cooked pasta
Cheese (dairy or non-dairy--optional, depending upon other ingredients) or nuttrional yeast
Instructions
Add a couple of tablespoons of oil, butter, or liquid to your skillet. (Sometimes water or broth is what I use.) Heat skillet to medium.
Add any uncooked meat or seafood that you wish to cook. (I added some uncooked chicken tenderloins for the recipe shown. If using already cooked meat or seafood, wait and add it with the cooked pasta.) Cook for a few minutes on either side. If meat or seafood is done, remove and set aside. Otherwise, you may continue to cook meat or seafood with the other ingredients you will be adding.
Add uncooked veggies that you wish to sauté. (I added onions, garlic, zucchini, and tomatoes at this point.)
Saute until veggies begin to soften, stirring frequently.
Add in any liquids at this point and reduce heat some. (I added in some pizza sauce and tomato sauce, both left over from previous meals. Sometimes I add in coconut milk. Sometimes I add in vegetable or chicken broth. Salsa and leftover soup are also good options. You're going to be cooking long enough to reduce the liquid some and pasta needs more liquid than other skillet dishes. Still, start with less than you think you need, and add additional liquid ingredients as needed.)
Immediately add in cooked pasta. If you had already cooked meat or seafood for your dish, as well as any other already cooked veggies you think would work well, add them at this time, too. (I added in some leftover corn and broccoli.) Stir until all is coated with sauce. Increase heat and cook until all is heated through and any liquid is reduced to make a sauce to your liking. Stir as needed while cooking.
Turn off heat. Sprinkle with cheese (dairy or non-dairy, or nutritional yeast, if desired)---either while in the skillet or once served on plates. I generally prefer the latter because it's easy for me to serve Mr. GFE a dairy version while serving myself a non-dairy version if I so choose.
Notes
Sometimes cheese is not the right ingredient to add to skillet dishes. I made a skillet pasta dish when camping this summer that used brown rice ziti with grilled shrimp, olive oil, garlic, onions, and coconut milk plus some salt, pepper, and chipotle powder. It was just perfect as it was; no cheese of any kind was needed.Work with what you have and play with flavor combinations that have worked in other dishes. For example, if you love lasagna, then some ground beef (and/or ground sausage), tomato-based ingredients, cheese(s), and complementary veggies (e.g., zucchini, spinach) might be a good idea. If your family loves cheeseburgers, a cheeseburger macaroni dish would probably be welcomed. If you're vegetarian and love chickpeas, some combination of roasted chickpeas and seasonal veggies cooked with the pasta in a veggie broth might turn out to be your favorite non-recipe pasta dish. You get the idea. Honestly, I find these non-recipes to be some of the most satisfying dishes that I make because I exercise creativity and "carefreeness," but yet always end up with a delicious one-dish dinner. Plus I totally fill my skillet when making these dishes, so we always have leftovers for lunches or dinner the next evening.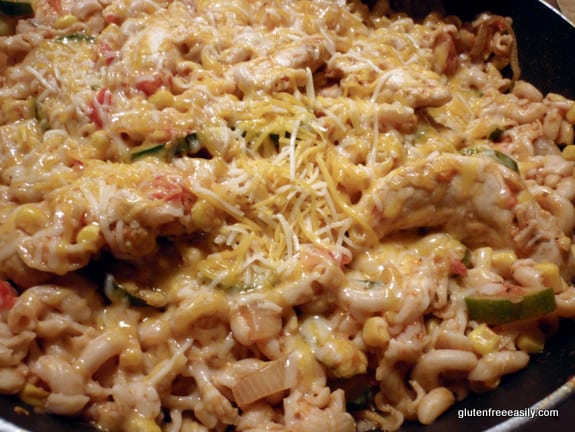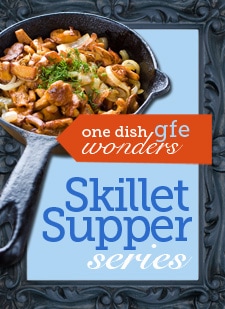 See all the non-recipe entries in my Go Ahead Honey, It's Gluten Free roundup post here—so many great ideas! Don't forget that Iris (The Daily Dietribe) is hosting this not-to-be-missed monthly event for September. Also, look for a five-day series here at gfe in September—September Skillet Suppers—where I'll share some of my favorite one-dish dinners with an appropriate giveaway at the end for all who have commented during the week.
This post is linked to Hearth and Soul Blog Hop.