For affiliate links and as an Amazon Associate I earn from qualifying purchases.
Today's post is about my gluten-free extreme (gfe) cookbook giveaway. Extreme because I'm sharing so many amazing gluten-free cookbooks with you at once, as well as this Gluten-Free Individual Cornmeal Pizza Crust recipe (which comes from one of these terrific gluten-free cookbooks). Extreme (for me) because I'm sharing somewhat short and sweet reviews, but altogether the shorter posts still make for an extreme-ly long post.
Remember … I lost all my photos except for recent ones and ones I'd already saved to my blog, so I had to look elsewhere to fill in a few gaps. Extreme because each cookbook below is being given away. There are eight cookbooks so, when the giveaway ends there will be eight lucky and happy gfe readers!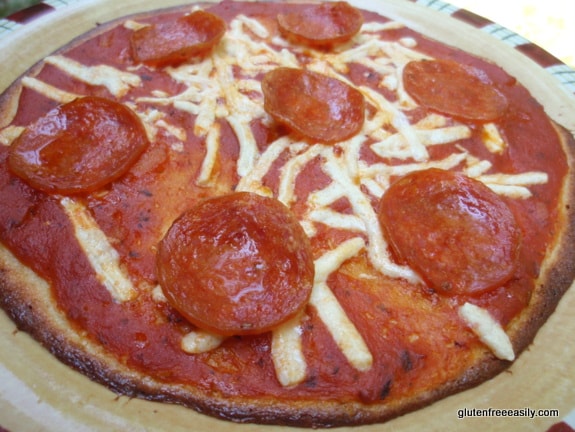 UPDATE: All giveaways are now closed.
~Gluten Free in Five Minutes by Roben Ryberg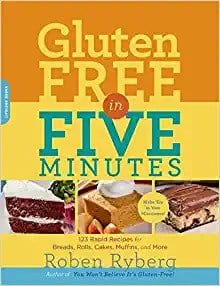 An enthusiastic gfe reader, Deb, sent me an email raving over this cookbook. Serendipitously, a week later I received an email asking if I'd like to review the cookbook. I enthusiastically said yes … as long as I could do a giveaway.
As you may have surmised from the title, this is a cookbook with recipes made in the microwave. Unlike some other microwave cookbooks, which use specialty yogurts and baby foods, Roben's cookbook uses almost all "regular" ingredients and not that many of them at once. Of course, as the title indicates, each recipe is made in 5 minutes. (Sometimes they do require additional cooking after the microwave time though.)
Such is the case with the pizza recipe, which you'll find at the end of this post. I substituted coconut oil in place of the canola oil and topped my pizza with Daiya mozzarella-style "cheese" to make a 6-inch, dairy-free pizza just for me—delicious! FYI: I also made a version subbing almond flour for the cornmeal–which also turned out great!
And here's reader Deb's very helpful review of Gluten Free in Five Minutes:
"My son (18) will be child #3 heading off to college (sadly he is freaked out by the eggs and cheese pizza crust, but will eat it if we don't mention what crust it is–haha). He and I are testing recipes from Roben Ryberg's new book, Gluten Free in Five Minutes. Amazing … so fun and great-tasting results. Roben uses mostly single flours (white or brown rice flour, cornstarch, cornmeal or sorghum)."
~ The Allergen-Free Baker's Handbook by Cybele Pascal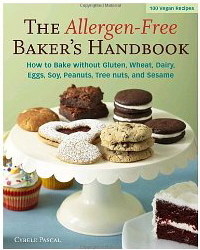 I met Cybele (Cybele Pascal Allergen-Free) for the first time recently. We didn't get to chat much (it was quite a busy event!), but she always had a smile for me and everyone else visiting her at the author's table.
Cybele exudes confidence when it comes to baking allergen free, so it's not really surprising that her very popular baking cookbook garners 5 stars on Amazon. Lucky for you and me, she had a few copies of her Baker's Handbook left as the event came to a close. I offered to take two off her hands—one for a giveaway for my gfe readers and another one for my support group's library—and she generously agreed!
The subtitle of her book is "How to Bake without Gluten, Wheat, Dairy, Eggs, Soy, Peanuts, Tree nuts, and Sesame." There are 100 gluten-free and vegan recipes.
Sadly, I didn't get to make any of Cybele's recipes, but two that I still really want to make are Chocolate Chunk Blondie Bars and Orange Chiffon Cake with Orange Rum Sauce. Note that this giveaway copy is signed by Cybele!
~ The Ice Dream Cookbook by Chef Rachel Albert
This book by Chef Rachel is absolutely wonderful. There are 280 pages of 80 gluten-free, dairy-free recipes … ice cream, sauces, and other desserts, and each with several variations. I'd heard about this cookbook since it came out a few years ago—before Chef Rachel sent me a copy to review and offered to sponsor a giveaway.
I've made one recipe from this cookbook so far … Roasted Banana Rum Ice Dream. When I tasted the results right out of the ice cream maker I couldn't believe how incredibly good it was. Ice dream indeed, I thought. But I handed Mr. GFE a bowl to get his opinion.
I wish I could show you a video of his reaction, but his words and my description of his reaction will have to do. "Woooow," he responded after his first bite. Then he took another bite. He looked at me with raised eyebrows and quietly, but firmly repeated, "Wow" again. A few minutes later, he said "This stuff is grrreat." And he was so right!
If you're new to gluten-free, dairy-free, and healthier eating, you'll especially appreciate that Chef Rachel devotes the first 75 pages to "What You Need to Know to Get Started" … Essential Ingredients & Shopping Tips, Equipment, and Essential Techniques.
~ The Garden of Eating by Chef Rachel Albert
This cookbook by Chef Rachel is subtitled A Produce-Dominated Diet & Cookbook. It's a weighty tome—almost 600 pages! There are three parts: Principles & Practice (history and "preparatory" info to the recipes and meals), The Recipes (divided by category—250 naturally grain-free and dairy-free), and Appendix (more resources, menu ideas, etc.).
This is quite an impressive book. I went for the Practically Paleo Cobb Salad and loved it! This cookbook will definitely have you eating more produce and eating healthier in general, and that's something most of us are striving for daily.
~ Good Morning! Breakfasts Without Gluten, Sugar, Eggs, or Dairy by Ricki Heller
I've never been shy about my extreme fondness for Ricki (Ricki Heller) and her amazing recipes. Now she's come through with the cookbook that everyone is looking for when it comes to breakfasts. Those of us who know Ricki were not surprised to hear that Ellen Degeneres even recommends Ricki's earlier book, Sweet Freedom.
Back to Ricki's current book, Good Morning! Breakfasts … so far I've only made Sweet Potatoes with Sweet Almond Sauce, but oh my, are they good … and good for you—my favorite combo! Most recipes in this cookbook are unique to the book, but here's one you can also find on Ricki's blog—Giant Upside Down Apple Pancake.
~ Artisanal Gluten-Free Cupcakes by Pete and Kelli Bronski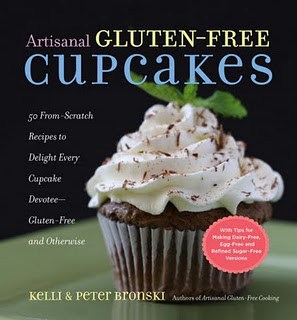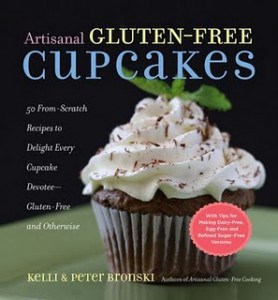 I'm a longtime fan of Pete and Kelli's (No Gluten, No Problem). Their blog was one of the very first I followed when I started reading gluten-free blogs. Just like their debut cookbook, Artisanal Gluten-Free Cooking (which I highly recommend for folks getting started living gluten free, and anyone else who's gluten free), the second book in their "Artisanal" series does not disappoint.
I was lucky enough to be offered a pre-release review and you can actually read my review comment on the back cover of their delightful and appropriately diminutive cupcake cookbook. I'll share it with you now: "The Bronskis cover all the classic cupcake flavors and then move on to cupcakes that actually make one a bit 'weak in the knees.' I mean who can resist cupcakes called Poached Pearfection, French Toast, Hot Fudge Sundae, Orange Dreamsicle, and Dulce de Leche? So put on your apron, grab your muffin tin, and get baking, you're in for some divine cupcakes!" And I stand behind that. These are definitely some divine cupcakes … and there are color photos of every single recipe.
Pete and Kelly use their signature flour mix and other mainstream ingredients like eggs, granulated sugar, butter, sour cream, buttermilk, and cream cheese. But don't despair if you can't eat any of those ingredients, because they also include a section in the book titled, "a guide to refined sugar-free, dairy-free, and egg-free baking." As you would expect, in this section they give the substitutions necessary to make all of their recipes fit any one or all of those requirements—that's a very nice bonus for those with additional intolerances or preferences!
I made their Sweet Potato Walnut Cupcakes most recently. It was easy to make these cupcakes dairy free and refined sugar free using coconut oil, coconut sugar, and coconut yogurt. I'm not sure how their taste compared to the muffins in the original version, but there was nary any complaining in our house … especially with the "buttery," sweet, and crunchy topping of walnuts, coconut oil, coconut sugar, and cinnamon. Finally, the giveaway copy of Artisanal Gluten-Free Cupcakes will be signed by both Pete and Kelli!
~ The Gluten-Free Asian Kitchen by Laura B. Russell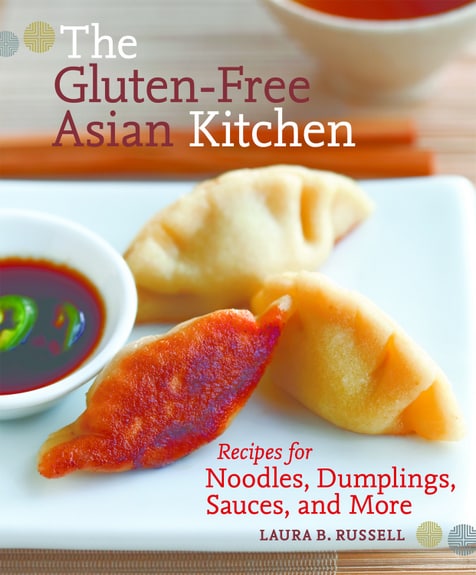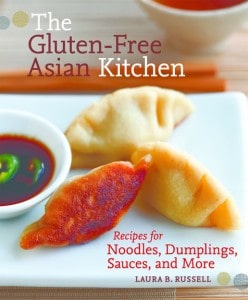 This soon-to-be-released cookbook from the Portland food columnist and gluten-free food blogger, Laura Russell—is generating LOTS of excitement, and understandably so. After all, Asian food is one category that requires lots of caution from gluten-free diners. Wheat-based soy sauce is the main culprit in Asian dishes, but personally, I've also found that gluten-full flour is also added for thickening sauces more and more in Asian dining establishments.
Laura gives us the info and the recipes we need to make Asian dishes at home that are gorgeous and delicious, but not difficult to make. Everyone I've chatted with about the book has been initially smitten by the cover photo of Gingery Pork Pot Stickers, also known as Asian dumplings. The rest of the photos in the book are just as tantalizing.
Now I must confess that my schedule has not allowed me to make a single recipe … yet. When I make one of Laura's recipes in the near future; I'll share (with permission). I'm thinking of these Roasted Pork Meatballs.
Individual Gluten-Free Cornmeal Pizza Crust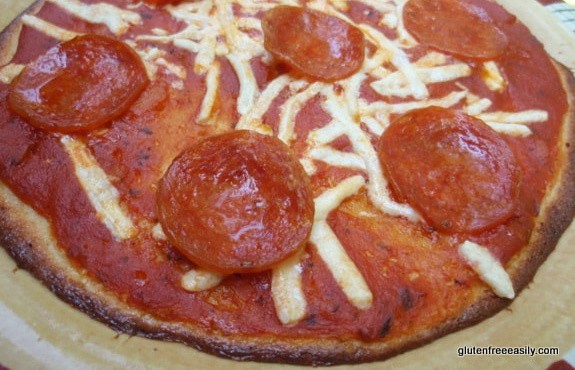 Yield: 1 single-serve pizza
Individual Gluten-Free Cornmeal Pizza Crust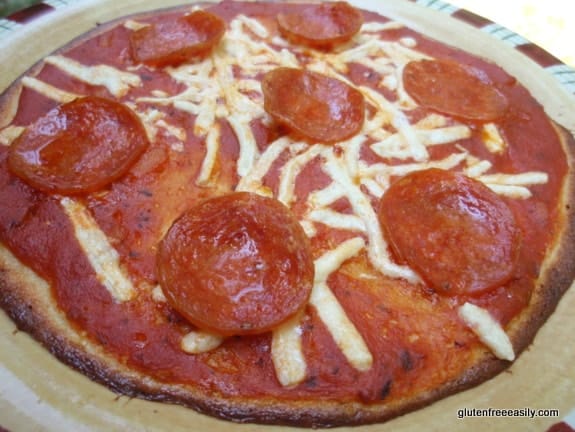 This cornmeal pizza crust makes this thin crust pizza a little unconventional. The crust is somewhat gritty in texture (in an understated way) due to the texture of the cornmeal and mild in flavor. I think you will enjoy it!

Prep Time 5 minutes

Cook Time 10 minutes

Inactive Time 5 minutes

Total Time 20 minutes
Ingredients
1 egg
2 teaspoons canola oil
1 tablespooon applesauce
1/16 teaspoon salt
3 ½ tablespoons gluten-free cornmeal (Shirley's note: Almond flour also works fine.)
½ teaspoon baking powder
Instructions
In small bowl or cup, briefly beat egg until nearly uniform in color.
Add remaining ingredients and mix well to combine. The dough will look like a creamy paste.
Spray microwave-safe plate with non-stick cooking spray (or use parchment paper).
Spread batter into a 6-inch circle.
Microwave on high for 1 minute and 30 seconds.
Remove from plate and cool.
Place crust on metal tray or foil, top with your favorite toppings.
Finish baking in toaster oven (or conventional oven) at 400 degrees Fahrenheit until cheese is melted and crust is crisp. (If you used parchment paper for microwaving, remove it before baking.) Baking time will be approximately 8 to 10 minutes.
Notes
From the book Gluten-Free in Five Minutes by Roben Ryberg. Excerpted by arrangement with Da Capo Lifelong, a member of the Perseus Books Group. Copyright (c) 2011.

Full disclosure: All copies were complimentary from authors/publishers except for the giveaway copy of Ricki Heller's Good Morning! Breakfasts. This is an uncompensated post and the opinions expressed within are strictly my own.
Originally published August 20, 2011; updated March 26, 2022.