For affiliate links and as an Amazon Associate I earn from qualifying purchases.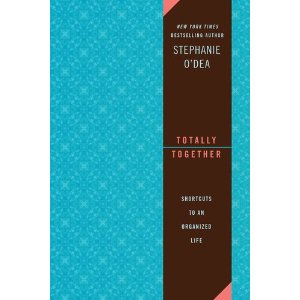 ~ The winners of Steph O'Dea's new book, Totally Together: Shortcuts to an Organized Life—"the indispensable guide to organizing a busy household so anyone can have a tidy and tranquil home in just minutes a day"—are as follows:
Nikki L'Hommedieu, Shannon Lewis, Brittany, marina, and Candace S.
Congrats to all! I will contact you via email. Your books will be mailed out this week along with the five copies for the individuals (Debbie Ross, Vicky Patton, Dawn Hogan, Sarah Macdonald, Aileen Markowsky) who won the earlier Facebook giveaway of Stephanie's Totally Together Journal.
~ The winner of the Genius Bread (two loaves of multigrain bread and two loaves of white bread) is Helga Jones. Congrats, Helga! Look for my email, dear.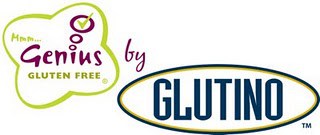 ~ What's a girl to do when she finds out that's she's somehow deleted ALL her photos on her computer, including the photos that she had for several cookbook reviews (well, except for a few already uploaded to her blog gallery)? Well, when it happens to this girl, gfe becomes gluten free extreme … as in the gluten free extreme cookbook giveaway. Look for that gfe cookbook giveaway coming up where a LOT of cookbooks will be given away. But just so you know, there won't be a lot of photos or words from me … however, I don't think you'll mind as there will be some recipes and photos from the cookbook authors! (And yes, this will be the wrap-up of my birthday giveaways.)
~ Well, one set of photos that somehow got deleted is the set of the weekend of four gluten-free blogger buddies hanging out together. I was going to show you most of what we ate when we got together. Instead, I'll show you all of us—Jules (Jules Speaks Gluten Free and Jules Gluten Free), Nancy (The Sensitive Pantry), and Stephanie (Gluten Free By Nature), and moi—after Thomas (the kind fellow sent by AAA) replaced my car's flat tire with the "may-pop" spare. The beverage photo is of the agave wine "margaritas" that we drank during a break of our mini-tour of Fredericksburg. This agave wine was a lovely light wine that tasted enough like a margarita to please all of us. Our agave wine margaritas were very light and refreshing on the hot day. (FYI:  Both photos are courtesy of Jules.)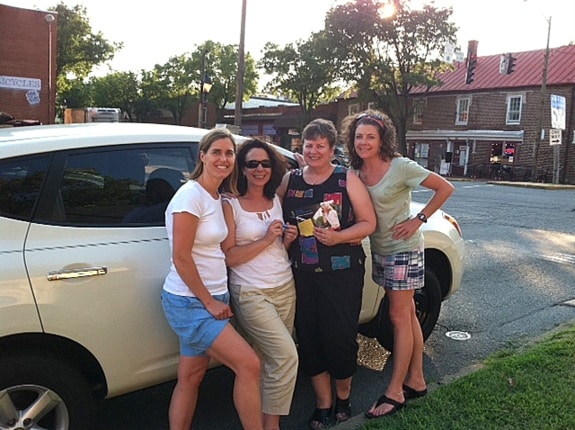 Stephanie, Nancy, Shirley, and Jules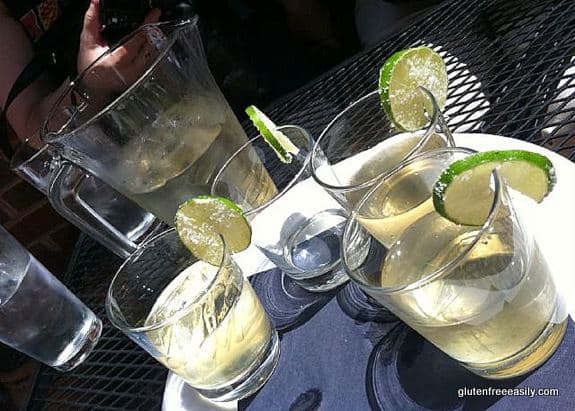 Agave Wine Margaritas
Speaking of Jules … for a limited time, she is giving away her Back-to-School book, a $9.95 version. Follow the link, enter the code 2011BTSebook (case sensitive, so a "cut and paste" may work best), and then click on Apply. Price will then drop to $0.00. 🙂 Tips, hints, recipes, and more apply from pre-school to college–enjoy!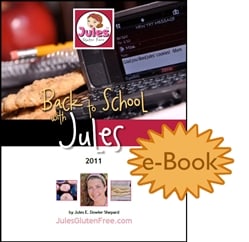 Nancy just made her first pie since going gluten free—Fresh Blueberry Pie with Lemon Thyme Crust. You must go check out Nancy's Blueberry Pie right now. Can that really be her first gluten-free pie? Isn't it stunning? Oh, and did you notice that it's not only gluten free, it's also dairy free, egg free, and vegan.
I've been slacking on sharing what's new in the gluten-free community of late, but luckily Tia has come to the rescue! She's got a new weekly roundup, Gluten-Free News You Can Use. Check out her first weekly link listing here.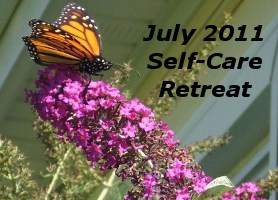 Cheryl (Gluten Free Goodness) posted the roundup of the Self-Care Retreat that she and Valerie (City | Life | Eats) co-hosted. Wendy (Celiacs in the House), Iris (The Daily Dietribe), and I also joined in. Cheryl's summary has all the posts here. There's really worthwhile reading in this series. I know that you will find the posts inspiring and the ideas "implementable."
And at some point this week, I'll share one of my gfe recipes. I'd share another beverage recipe (Frozen Watermelon Margarita, anyone?), but I don't want you guys to think I'm a lush. But the truth is when steamed crab season is over, my higher octane liquid refreshment phase pretty much comes to an end. So enjoy the great beverages while you can, and I do promise to post that one soon. I don't normally go for frozen margaritas, but with this flavor, frozen works!