For affiliate links and as an Amazon Associate I earn from qualifying purchases.
Today I'm sharing the gluten-free version of another beloved classic Christmas cookie recipe. Gluten-Free Swedish Pecan Ball Cookies.
PIN for later—when you're ready to do some cookie baking!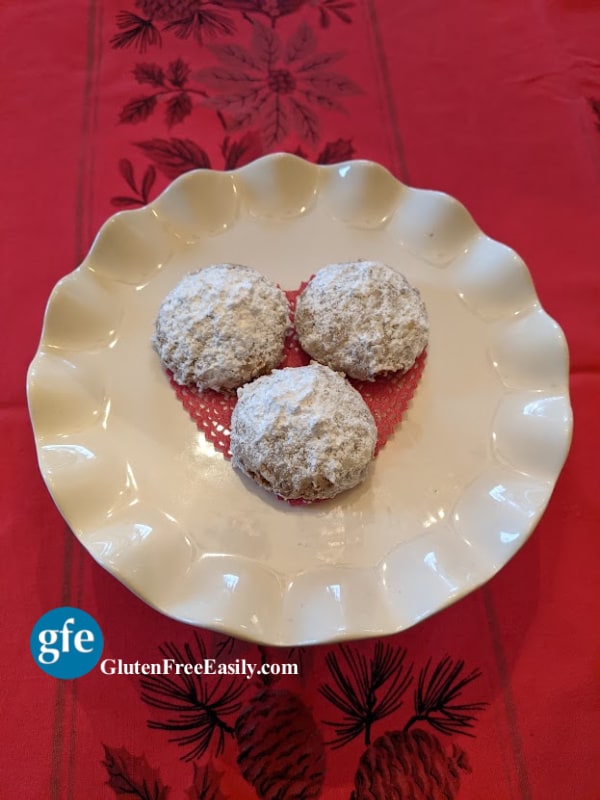 Do you know and love these holiday treats? It's possible that you may know these melt-in-your-mouth cookies by another name. Perhaps Russian Tea Cakes, Mexican Wedding Cakes, Swedish Nut Balls, Pecan Meltaways, Snowballs, or Pecan Balls.
All such recipes that you'll find online and in cookbooks are very similar to this one. Some may have the same ingredients in different amounts. Some may have slightly different ingredients but the basic concept is always the same.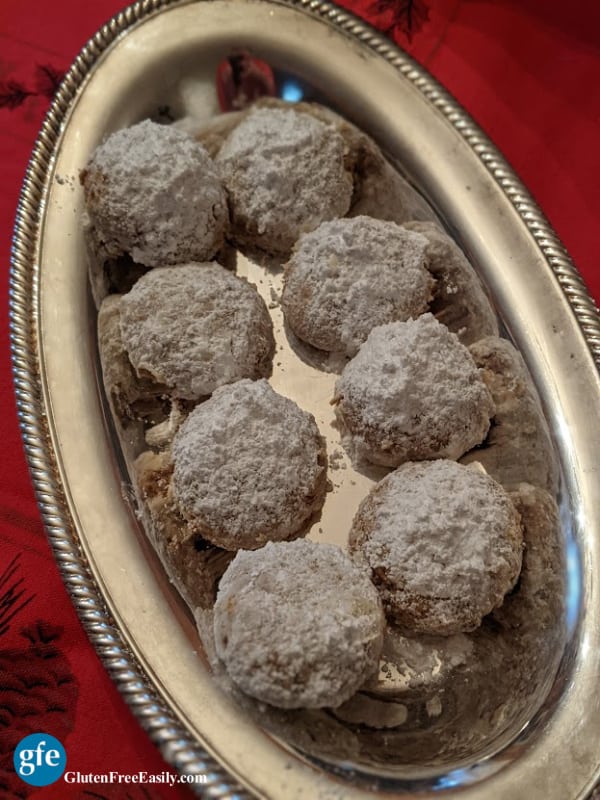 I've been making these cookies since I was a teenager but this is the first time that I've made them since going gluten free. Here's the original recipe from way back when.
One year for Christmas long ago, I made a recipe box for my Mom. I created all the recipe cards and illustrated them with fruits and vegetables before adding the recipes. Hence, the apple on this recipe card!
Then I completed the cards with all our family's favorite recipes leaving a few blank ones for future additions. Mom is not really baking these days so she gave the recipe box back to me.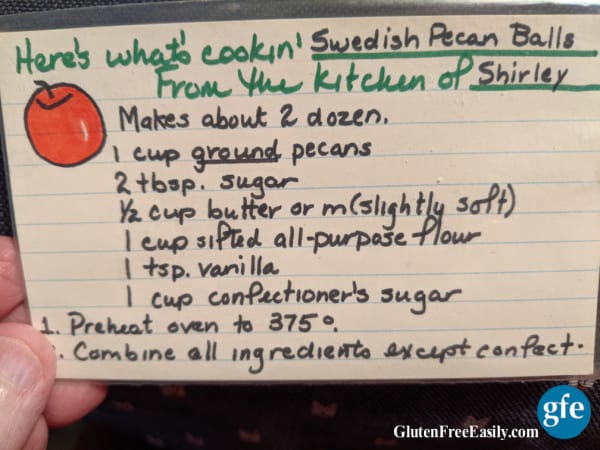 She also gave me the small elevated dessert stand shown below because she thought it would be a lovely prop for my recipe photos. You may have also seen it in my last post when I shared my Gluten-Free Flourless Peanut Butter Blossom Cookies. So cute, right? I see some decadent brownies or other types of bars in the future!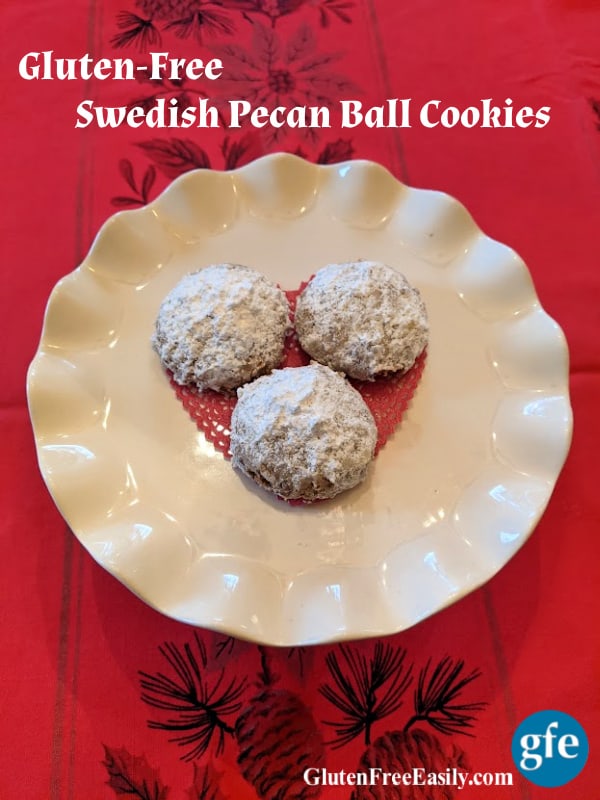 Back To The Gluten-Free Swedish Pecan Ball Cookies Recipe
When I recently converted the recipe to gluten free, all I had to do was substitute gluten-free flour mix for the gluten-full flour. I used my Two-Ingredient Gluten-Free Mix.
I did not have to add xanthan gum because the ground pecans provided enough binding (similar to when you don't have to add xanthan gum to recipes made with almond flour). Note that most gluten-free flour mixes already contain xanthan gum. Such flour mixes will still work fine in this recipe.
These cookies are rich and delicious. They're fabulous with a cup of tea—and perfect tea party fare as well—or coffee. They're even terrific with a glass of milk of your choice.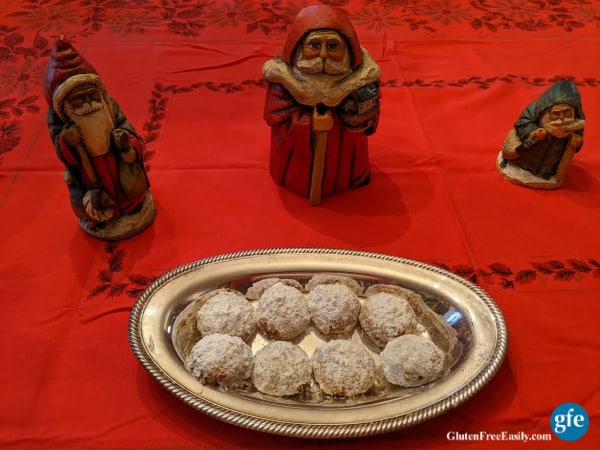 The recipe makes a dozen cookies—despite the fact that the original recipe shown above indicated that it made 24 cookies. In most cases, a dozen of these cookies is all you need because they are so very satisfying and only one or two will do nicely. However, sometimes they do disappear rapidly—especially if they're the only cookie on the table!
It's very easy to double the recipe if you know your family absolutely loves these treats and twelve simply won't be enough. Or if you are serving a larger group of folks.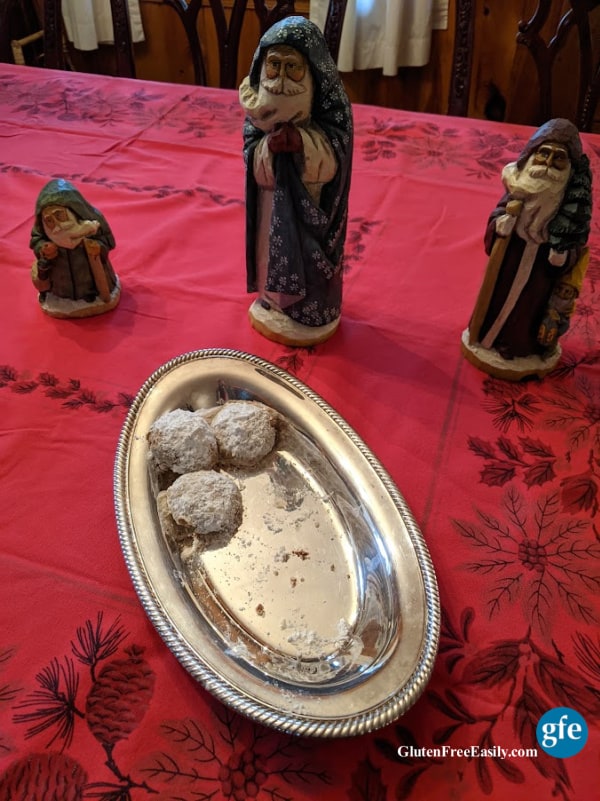 You may notice that my Swedish Pecan Ball Cookies are not totally covered with powdered sugar. As much flak as I get for the amount of sugar that is in many of my recipes (usually on Facebook from folks who don't even necessarily read gfe), I can never ever use as much powdered sugar as is typically used to make a treat snow white in appearance.
Sometimes I simply sprinkle on a small amount of powdered sugar right before serving a treat. I use my sifter to prevent clumping of the sugar and make the results pretty.
You can also use far less powdered sugar using this method and I don't think the end results are any less delicious.
You'll see that overall approach with these Swedish Pecan Ball Cookies and other recipes here on gfe, such as my Powdered Sugar Donut Muffins and Apple Cinnamon Cake.
More Gluten-Free Christmas Cookie Recipes and Also Recipes with Pecans That You'll Want To Try
~ 30 Christmas Cookies You'll Want To Make Right Now
~ Grain-Free Nut-Free Cut-Out Christmas Cookies
~ Keto Sugar Cookies with Icing
~ Pressed Butter (aka Spritz) Cookies
Gluten-Free Swedish Pecan Ball Cookies Recipe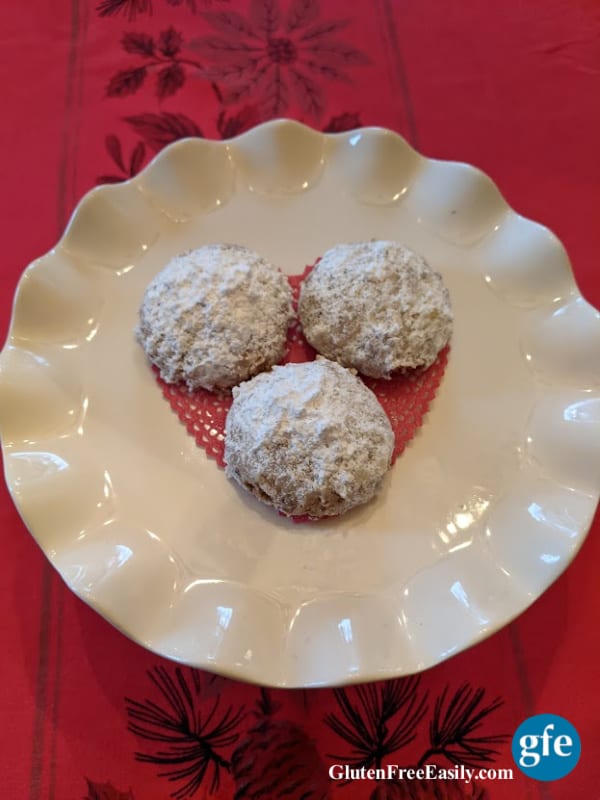 Yield: 12 cookies
Gluten-Free Swedish Pecan Ball Cookies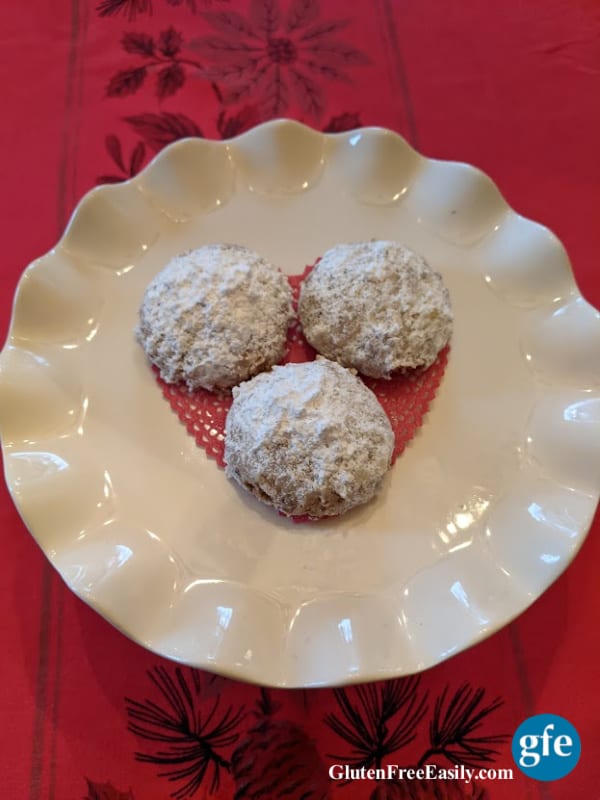 These beloved classic Christmas cookies, gluten-free Swedish Pecan Ball Cookies, make a pretty plate and are melt-in-your-mouth delicious!
Ingredients
1 cup ground pecans (not chopped or finely chopped, must be ground; I measured before grinding and used my mini chopper for this task)
2 T granulated sugar
½ cup butter (or dairy-free equivalent, such as soy-free Earth Balance); slightly soft
1 cup sifted gluten-free flour mix (I used my Two-Ingredient Gluten-Free Flour Mix)
1 tsp gluten-free vanilla extract (see notes)
1 cup powdered sugar
Instructions
Preheat oven to 375F degrees.
Line the baking sheet with parchment paper.
In a large mixing bowl, combine all the ingredients except powdered sugar.
Mix by hand until well blended. (I use a wooden spoon.)
Shape the mixture into balls about the size of walnuts and place them evenly apart on the baking sheet.
Bake 25 minutes. (Check at 20 minutes to ensure the cookies aren't overcooking.) The cookies will be light brown in the center and a little darker on the edges.
Roll the cookies in powdered sugar while hot and again after they have cooled (see notes for an alternate way to coat more fragile cookies with powdered sugar and use less powdered sugar).


Notes
Do not skip using parchment paper. These cookies will easily burn on the bottom otherwise. Yes, even if the baking sheet is well-greased. Use parchment paper.
The edges of these cookies can be a little fragile and a little crumbly, especially when hot out of the oven so you'll want to roll them in powdered sugar very carefully. Or, instead of rolling them in powdered sugar, you can sift powdered sugar onto them to avoid handling them if you want to keep them pretty with no crumbles. This method also uses less powdered sugar.

Commercially available vanilla extract in the U.S. is gluten free because it is made from distilled alcohol, which is gluten free. I note "gluten free" for the vanilla extract in this recipe in case you're getting your vanilla extract from another country and are unsure of its gluten-free status or if you're using homemade vanilla extract and you're not sure if the alcohol used in it was gluten free or if gluten was added via flavoring, etc. Always be sure to use commercially available vanilla extract brands such as McCormick's, Simply Organic, and even generic store brands.
Originally published December 13, 2022; updated May 26, 2023.