For affiliate links and as an Amazon Associate I earn from qualifying purchases.
Sometimes my gfe readers offer the very best ideas. Like today's Gluten-Free Flourless Peanut Butter Blossom Cookies!
PIN for later–when you're ready to bake some delicious cookies!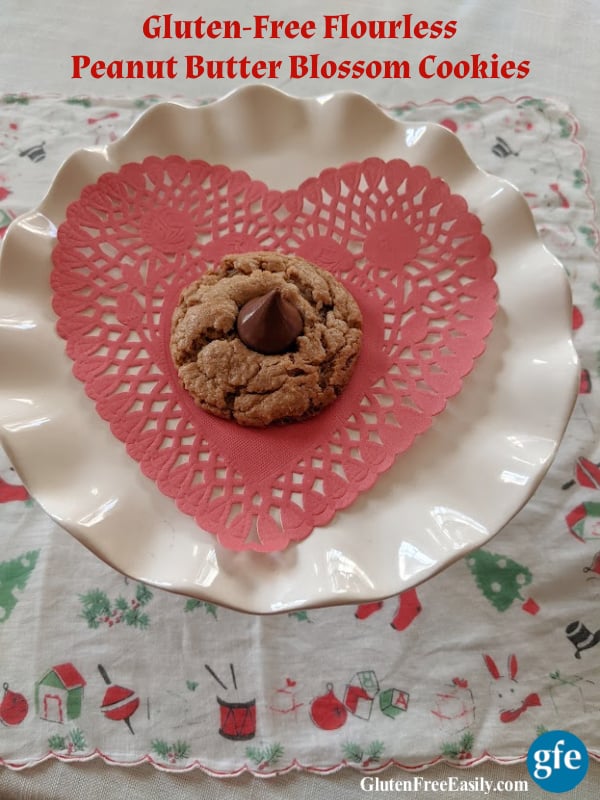 Recently when I shared my Flourless Peanut Butter Cookies on my gfe Facebook page, a reader shared that she'd been making and enjoying those cookies for years, even making them as Peanut Butter Blossom Cookies on occasion. Brilliant! And why didn't I think of that, right?!! As always, it takes a village!
You all know Peanut Butter Blossom Cookies, right? The beloved peanut butter cookies with Hershey's Kisses on top? They're sometimes called Peanut Butter Blossoms or simply Blossoms. I know that a lot of you and so many of my personal friends just love these classic cookies!
So, when I started thinking about holiday cookies for this season, I just knew I had to make the gluten-free Flourless Peanut Butter Blossom Cookies and share them here on gfe.
These Flourless Peanut Butter Blossom Cookies could not be easier to make and they're delicious! You get that magical combination of peanut butter and chocolate. And the Hershey's Kisses become delightfully soft and "melty" (without actually melting) when placed on the cookies hot out of the oven.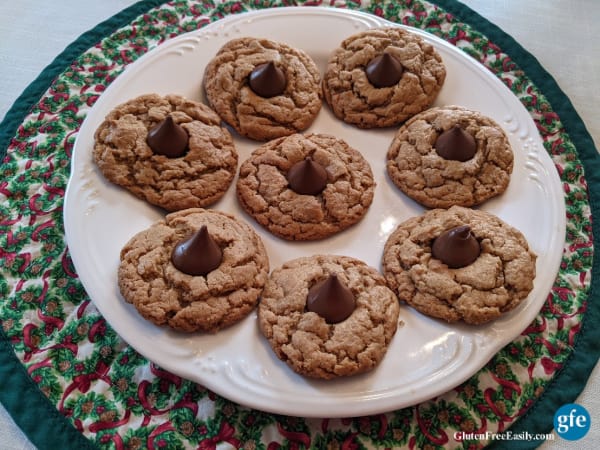 Typically, the dough for Peanut Butter Blossoms is rolled in granulated sugar before baking but I did not think additional sugar was needed as I like my original Flourless Peanut Butter Cookies just the way they are. I simply wanted to top them with Hershey's Kisses.
And I was right about leaving out the granulated sugar. It's not needed at all and leaving it out doesn't affect the cookies' appearance either but if you're a purist you can add it if you like.
As these cookies cool on the baking sheet, they firm up just as they did in my original version, including around the Kisses.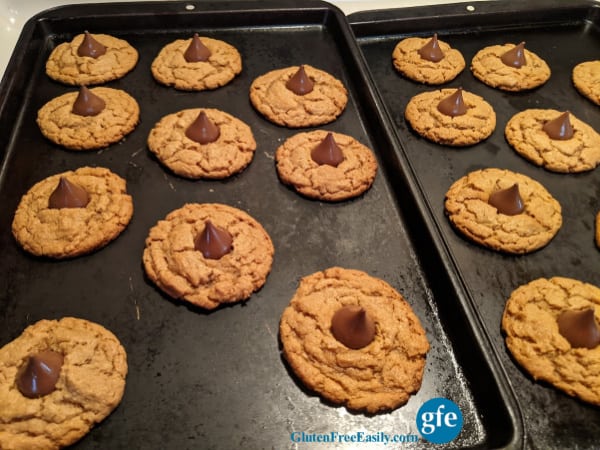 These cookies are best eaten on Day One because the Hershey's Kisses on the cookies stay soft and melty the very first day. After the cookies sit overnight, the Hershey's Kisses firm up and may fall off the cookies if the cookies are handled very much.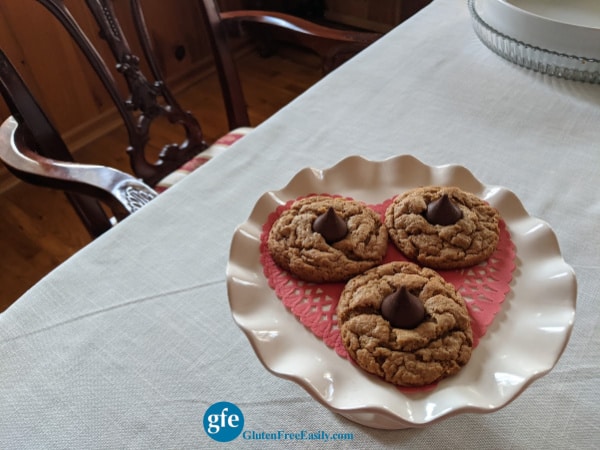 For example, the cookie that is grabbed and turned upside down by the excited toddler or held sideways on the cocktail napkin by the distracted adult. So, please treat any leftover cookies with a little respect.
A Little History of Peanut Butter Blossoms
I was curious about the history of these very popular cookies. My online research shows they originated as an entry to the 1957 Pillsbury Bakeoff from Freda Strasel Smith of Gibsonburg, Ohio.
The story is that they were an "accidental" cookie. Freda planned to use chocolate chips but after mixing her dough, she realized that she did not have any chocolate chips so she placed a Hershey's Kiss in the center of each cookie instead. The cookies understandably crinkled after the placement of the Kisses and Freda decided they looked like Black-Eyed Susans.
Her Black-Eyed Susan cookies did not win the grand prize in the competition but they were more appreciated and more popular than the more time-consuming Accordion Twists that did win.
Freda's cookies have only grown in popularity over the years. In part, because Hershey renamed them Peanut Butter Blossoms. Plus, seeing the obvious marketing opportunity, Hershey added Freda's recipe to every package of Hershey's Kisses.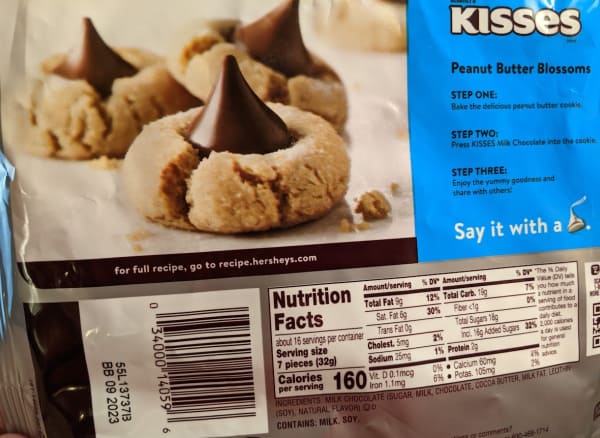 Today, 65 years later, although the full recipe is no longer on the Hershey's Kisses packaging as you can see, the basic instructions are there along with the URL for Hershey's recipe site for access to the full recipe. Of course, that version would not be gluten free as it uses gluten-full flour.
There are in fact, plenty of gluten-free Peanut Butter Blossom Cookie recipes that are made with gluten-free flour versus gluten-full flour. But I'm very pleased with this flourless variation. Just as with my original Flourless Peanut Butter Cookies, there is no flour to get in the way of the rich peanut butter, brown sugar, and chocolate flavors. I hope you will enjoy these cookies just as much as I do!
A Tip on Storing Holiday Cookies Including These Gluten-Free Flourless Peanut Butter Blossom Cookies
If you are making several types of cookies for the holidays, be sure to store them in individual containers. There's nothing worse than various flavors of cookies that have all been stored together and now no longer have their own individual taste and frankly, taste well, bad. A melding of flavors is not a good thing when it comes to storing different kinds of holiday cookies together.
Mixing cookies this way also messes up their individual moisture content. Some cookies are supposed to be thin and crisp. Others are supposed to be plump and moist. Keep each type of cookie the way they're supposed to be! If you're down to only a few cookies of a particular type, Ziploc bags can work as storage containers for the cookies that are less fragile. I still like to store the cookies within the Ziploc bags in a cookie tin or hard plastic storage container though to ensure they don't get broken.
More Holiday-Worthy Gluten-Free Cookies
~ 30 Gluten-Free Christmas Cookies That You'll Want To Make Right Now!
~ Cream Cheese Cut-Out Cookies
~ Over 40 Gluten-Free Peppermint and Candy Cane Dessert Recipes (Including Cookies)
~ White Chocolate Peanut Butter Crisps
Gluten-Free Flourless Peanut Butter Blossom Cookies Recipe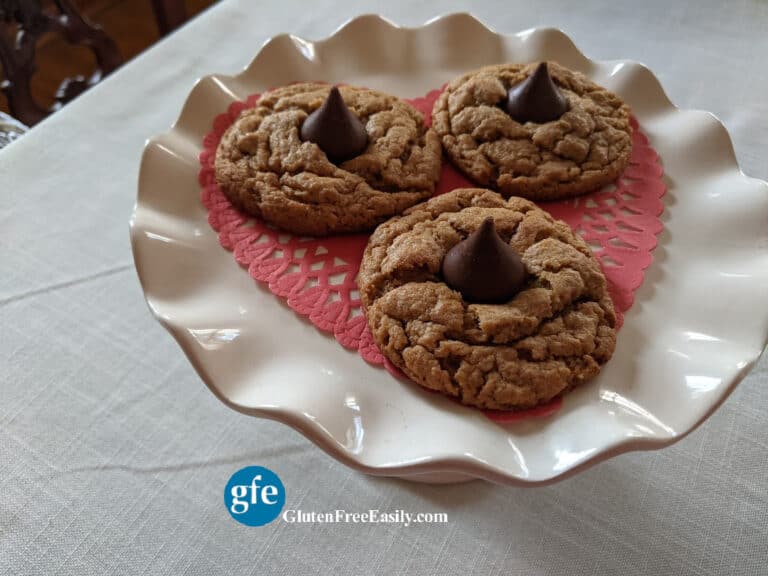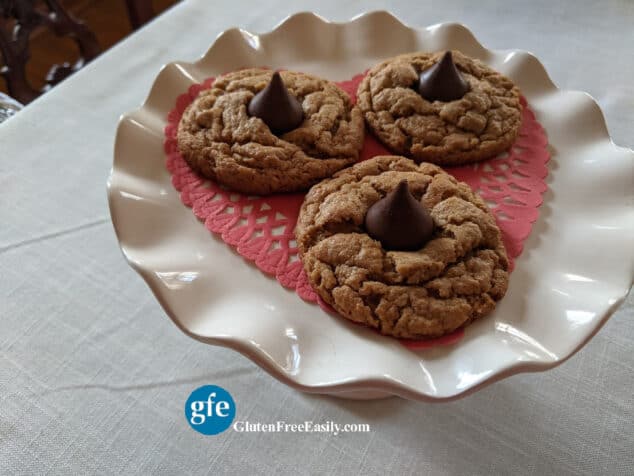 Yield: 20 cookies (about 3 inches in diameter)
Gluten-Free Flourless Peanut Butter Blossom Cookies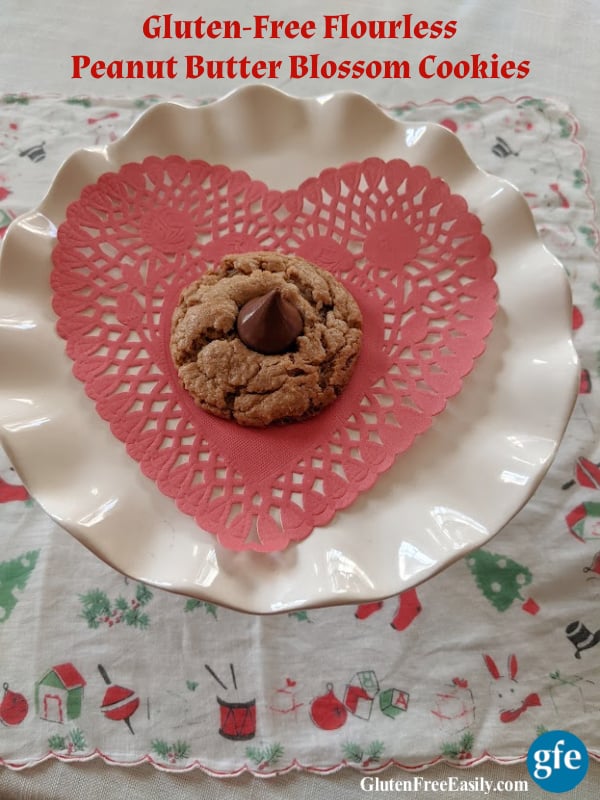 These Gluten-Free Flourless Peanut Butter Blossom Cookies are even better than the original version and so easy to make! Plus, they're more delish. With just a handful of ingredients, the peanut butter and chocolate are center stage in these cookies!

Prep Time 10 minutes

Cook Time 8 minutes

Additional Time 10 minutes

Total Time 28 minutes
Ingredients
1 cup peanut butter, smooth/creamy (or almond butter or SunButter)
1 cup light brown sugar (or coconut sugar)
1 large egg (see notes for substitution options)
1 tsp baking soda
½ tsp vanilla extract
Hershey's Kisses, original chocolate flavor
Instructions
Preheat oven to 350F degrees.
In a large bowl, mix all ingredients together well.
Grease or moisten hands slightly and form dough into 1-inch balls.
Place balls a few inches apart on two ungreased baking sheets. (DO NOT press down as in some traditional recipes.)
Count the number of cookies and set aside the same number of Hershey's Kisses.
Place baking sheets in the oven and bake 8 minutes until golden brown and cookies look mostly "set," but not done. Do not overcook. While cookies are baking, remove wrappers from Hershey's Kisses so they will be ready to press into the cookies as soon as they come out of the oven.
Remove baking sheets from the oven.
Immediately, press one Hershey's Kiss into the center of each cookie pressing down slightly until the Kiss is in place and the cookies cracks around it.
Allow cookies to sit on the baking sheet for 10 minutes or more. (This step is very important because cookies finish cooking during this time and finish setting up.)
Remove cookies from the baking sheet after they are completely cooled. I like to leave these cookies uncovered or in a container with the lid slightly ajar so that the cookies don't soften too much.


Notes
If you do not tolerate eggs, commercial egg replacer, flax gel eggs, or chia seed gel eggs work well as egg substitutes in my original Flourless Peanut Butter cookies recipe so they should work just as well in this recipe.

Originally published December 14, 2022; updated April 15, 2023.