For affiliate links and as an Amazon Associate I earn from qualifying purchases.
My collie Dozer is spending lots of time either on the AC floor vent or under the ceiling fan (which is set on the highest speed) and I'm making another batch of this Two-Ingredient Freezer Fudge recipe. That should tell you that it's already plenty hot here in Virginia.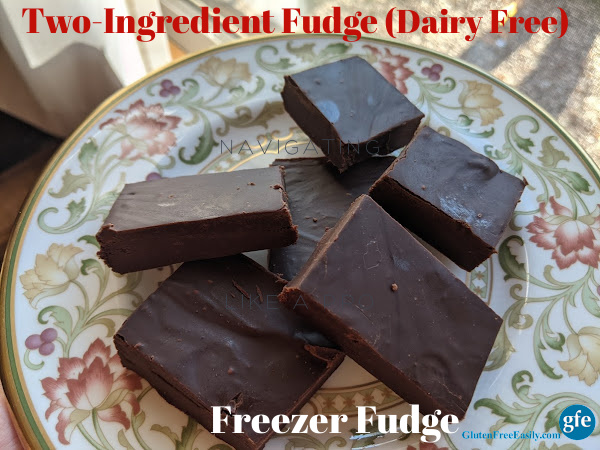 Summer doesn't officially start until Tuesday, June 21, this year but trust me, it's happening here at my house! I guess that's why the meteorologists are always reminding us that meteorological seasons and astronomical seasons are slightly different. Meteorological seasons are more dependent on temperature patterns and calendar quarters while astronomical seasons are based on the earth's location in its orbit around the sun.
Anyway, I think we can all agree that chilled treats are a must during hot weather, whether it's summer—astronomical or meteorological—or not. While we don't usually think of fudge in the chilled treat category, we should when we're talking about freezer fudge. And what better time to be discussing the merits of freezer fudge than now, as it was National Fudge Day (June 16) yesterday and June is National Candy Month.
My Two-Ingredient Freezer Fudge is a re-make of a popular fudge from "back in the day." The difference with today's recipe is that I made a dairy-free version. That was not an option with the original version, which was called 3-Minute Fudge or Eagle Brand Fudge and sometimes 3-Ingredient Fudge.
It was called Eagle Brand Fudge because it was made using Eagle Brand Sweetened Condensed Milk and chocolate chips. Sometimes vanilla extract was also added, which led to the 3-Ingredient Fudge title.
Interestingly enough, I have never made the original recipe, the one with Eagle Brand Sweetened Condensed Milk (or any other brands of sweetened condensed milk, such as Borden and Nestle). But when I stocked up on Nature's Charm Sweetened Condensed Coconut Milk a while ago so I could make dairy-free versions of any recipe that called for sweetened condensed coconut milk (e.g., Key Lime Pie), this fudge suddenly came to mind.
So, I made it. And I was not disappointed. At all.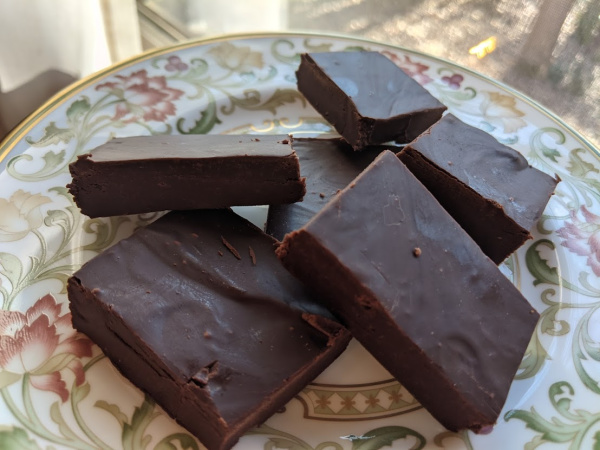 It's very rich and very satisfying. After removing the fudge from the freezer once it is set, it ends up being a slightly softer fudge than the old-fashioned fudge made using Hershey's cocoa.
Do any of you remember Hershey's fudge? Did you ever sample it? Did you like it? The recipe was on the back of the Hershey cocoa container for many years. That's the fudge my family always loved. It was the only fudge that Mom made.
Although I have not seen the recipe on a container of Hershey cocoa recently, I did just find it, Hershey's Rich Cocoa Fudge, on Hershey's website. I couldn't help but notice the warning on the recipe:
"For best results, do not double this recipe. This is one of our most requested recipes, but also one of our most difficult. The directions must be followed exactly. Beat too little and the fudge is too soft. Beat too long and it becomes hard and sugary."
That summary is excellent. Yes, it's a beloved recipe and it's also a difficult one. However, it was rare that Hershey's fudge recipe didn't turn out perfectly for my mom. She never used a candy thermometer (although I gave her one that was built into a large stirring spoon many years ago). She simply knew when the fudge was ready by the feel of it when stirring and also by making an eyeball assessment of its consistency.
She would make Hershey's fudge for our holiday dessert table and also some as a gift for me and my sister every Christmas. We each received a small holiday tin of it and oh my goodness, was it special, appreciated, and very cherished!
My sister and I were willing to share a piece (maybe two) with our own family members but that was usually the extent of our sharing. The remainder was for ourselves—our special gift from Mom. We'd eat it over several days, relishing every bite.
A few years ago, Mom had too much on her Christmas agenda to make the Hershey's fudge and we graciously let her drop the annual commitment. While we truly loved that fudge, we didn't need a tin of fudge every year and we didn't want her toiling at the stove on our behalf so we let that tradition go.
Now it's in our past as neither my sister nor I have a desire to make the "difficult fudge," as much as we enjoy it.
Today's Two-Ingredient Freezer Fudge recipe is different than that fudge but it's still wonderful! And just as importantly, it's incredibly easy to make. This means I don't give a second thought to making it when the fudge craving hits. I just make it in a matter of a few minutes and there's zero stress involved. You have to love that!
There's no worrying about the fudge coming to the soft boil stage/right temperature. I don't mind at all that while this fudge freezes hard, once it sits for just a minute or so, it softens quite a bit. I actually think most individuals actually prefer a softer fudge because that's what they're used to.
I have made this fudge several times now and it always turns out great. One time, I used a mixture of chocolate chips, which was about half regular-sized chocolate chips and half mini chocolate chips.
Surprisingly, the combination did not melt completely. Even after I added an extra 20-second cycle. I was reluctant to cook it longer because I didn't want to take a chance on burning it. Because all the chocolate chips did not melt completely, the fudge had a tiny bit of crunchiness with every bite.
It was an interesting and not unpleasant feature but it was just a bit distracting—for lack of a better description. As a gluten-free individual, I'm always subconsciously on the alert for hidden gluten in menu items and any products labeled gluten free. Unexpected crunchiness has always been an alert for me to stop eating and double-check that an item is actually gluten free. Have you experienced that?
Therefore, if you respond the same way to unexpected crunchiness, I'd recommend using all the same size chocolate chips in this recipe. I hope you enjoy this Two-Ingredient Freezer Fudge. I know you will enjoy how quick and easy it is to make it. Move over Hershey's Rich Cocoa Fudge!
More Favorite Fudge and Other Fudgy Recipes
~ Peanut Butter Chocolate Fudge
~ Peanut Butter Cup Fudge (Keto)
~ Slow Cooker Peanut Butter Hot Fudge Cake
~ Triple Chocolate Double Bacon Freezer Fudge
~ Triple Chocolate Freezer Fudge
~ White Chocolate Candy Cane Fudge
Two-Ingredient Freezer Fudge (Dairy-Free) Recipe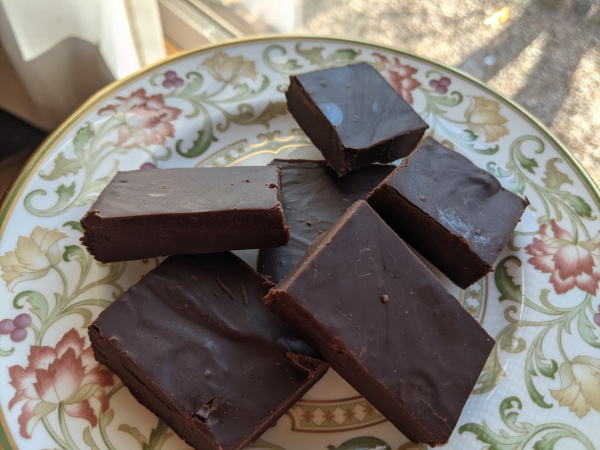 Yield: 16 to 20 pieces
Two-Ingredient Freezer Fudge (Dairy Free)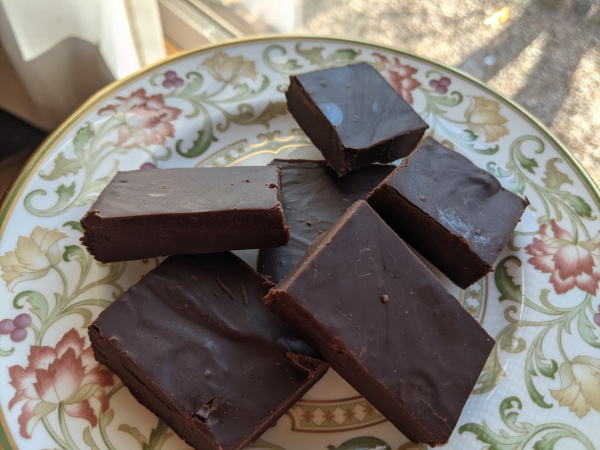 This easy fudge has only two ingredients and takes less than 5 minutes to prepare (not including time in the freezer). It comes out dense but creamy and super chocolatey and tastes just like classic fudge.
Additional Time
30 minutes
Ingredients
One 10-ounce bag of gluten-free dairy-free chocolate chips (semi-sweet or dark; see notes)
Instructions
Line an 8 x 8-inch baking pan with parchment paper (leaving the paper extending beyond the top of the pan).
Add ingredients to a large microwave-safe mixing bowl. Heat in microwave at full power in 30-second intervals, stirring with a wooden spoon or spatula at the end of each heating period, until the chocolate is completely melted and the mixture becomes uniform in color and smooth. Stir vigorously to ensure that the condensed milk is fully incorporated into the fudge mixture and there are no streaks of condensed milk remaining. Do not overcook. Remember … you actually have to stir the mixture to determine if the chocolate is melted completely because chocolate chips hold their shape. (Note: It almost always takes just two 30-second cooking intervals when I make this fudge.)
Pour fudge mixture into prepared pan. You can gently tap the bottom of the pan against your counter to level the fudge batter if needed.
Place pan in the freezer until fudge is set. The fudge is ready when it feels firm to the touch. It usually takes 20 to 30 minutes. Cut fudge with a sharp knife or spatula, lifting out using the parchment paper and placing on a cutting board before cutting if needed. (I use a spatula at a 90-degree angle to cut the pieces when I'm ready to serve the fudge.)


Notes
The fudge batter starts setting pretty quickly so make sure you don't let it sit out in your mixing bowl. Immediately after mixing, pour the fudge mixture into the prepared pan.

Store fudge in the freezer, covered, between serving times.
Shirley
Not just gf, but gfe!
Originally published June 17, 2022.