For affiliate links and as an Amazon Associate I earn from qualifying purchases.
Today's final Suite of Sweets for Sweethearts entry, gluten-free Crustless Fudge Pie, is a bit of a "cheat" of sorts as it is not really one of my new recipes. It was originally featured in a holiday guest post on a friend's gluten-free blog.
I am reprising my guest post plus, adding more in the way of a mega SSS giveaway. I hope you will be glad that I have brought this Crustless Fudge Pie recipe "home" to gfe!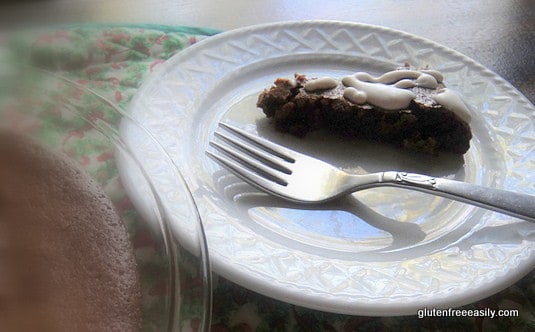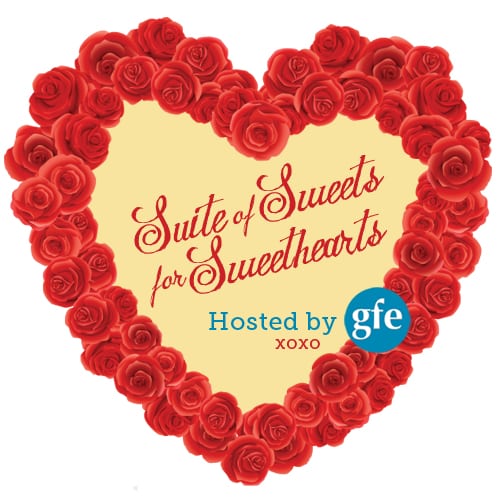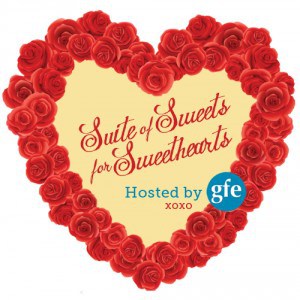 This gluten-free Crustless Fudge Pie is the Clark Kent of chocolate desserts. A quick look reveals a perfectly respectable chocolate dessert, but after a glance you might move on.
Yes, it's chocolate (and many of us consider chocolate to be its own food group, and rightly so—in my humble opinion), but like Clark, this pie looks "average" in its appearance. Understated, if you will.
It's the thick gooey chocolate desserts that often grace the holiday table that inspire visions of Superman flying in to whisk us away from all our woes … as he so often did with Lois Lane. Complete with the cape and tights, of course. (Love those tights!)
But we often ignore the plainer chocolate desserts just as we bypass Clark or take him for granted. You take a look at this pie and think, hmmm, I may come back for that later. You tell yourself it will still be there if you are interested.
But if you dig a little deeper—and in this case you want to be digging with fork in hand—you'll find that, like Clark, this Crustless Fudge Pie has hidden super powers. So much so, that a small sliver is enough.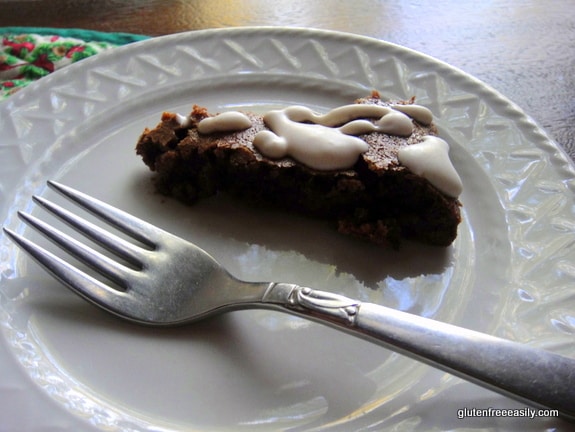 Anything more and you might be propelled to the planet Krypton. That might not necessarily be a bad thing if you don't like the folks with whom you are eating your holiday dinner, but superpowers are to be optimized for the greater good, not abused.
You'll want to read my notes in the recipe for making substitutions in this pie, adding nuts, adding a crust, etc. All in all, I personally prefer the crustless version without nuts for chocolate superpower optimization.
A crust just seems to take away from that … sort of like an energy shield deflects all energy, good and bad. Can you tell that I've been living with two males in the house and have watched a lot of sci-fi and super hero movies over the years?
It wasn't all bad though. After all, Superman was in those tights …
You can scroll to the bottom to get the Crustless Fudge Pie recipe (and you should!), but we better get to today's giveaway. It's a big one!
The following giveaways are now closed.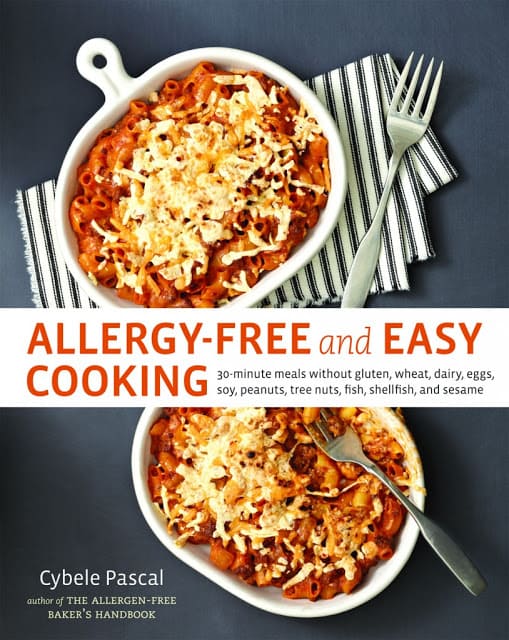 ~ Allergy-Free and Easy Cooking: 30-Minute Meals Without Gluten, Wheat, Dairy, Eggs, Soy, Peanuts, Tree Nuts, Fish, Shellfish, and Sesame ~ Cybele Pascal is following up her super popular The Allergen-Free Baker's Handbook with a "main dish" cookbook that also steers clear of the big 8 allergens (plus sesame) in helping you get a delicious meal on the table in a reasonable time.
You'll find many classics here like Creamy Mac 'N Cheese, Quick Ratatouille, Shepherd's Pie, Fettucine Alfredo, Sloppy Joes, and Twice Baked Potatoes—all made without those offending ingredients. However, it's clear from the beautiful photos that these "re-invented" recipes are just as satisfying as ever!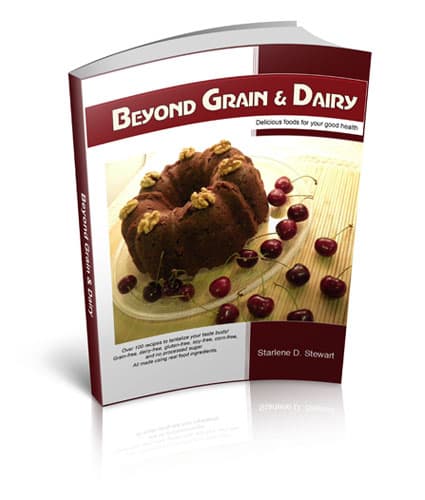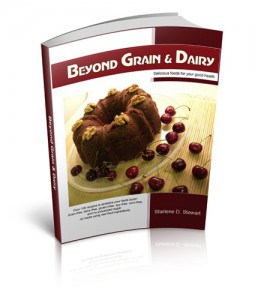 ~ Beyond Grain & Dairy ~ This ebook from Starlene Stewart of GAPS Diet Journey is terrific. It includes 113 recipes, in all categories—Soups, Appetizers, Main Dishes, Meat, Vegetables, Salads, Condiments & Sauces, Smoothies, Eggs, Breads, Desserts & Sweets.
I made Starlene's Pork Croquettes recipe and Mr. GFE and I loved them. It's really a great way to use leftover pork loin. You can even get a sample of one of Starlene's recipes (that's also included in her book), Polka Dot Chocolate Cake, here at gfe from Starlene's previous guest post.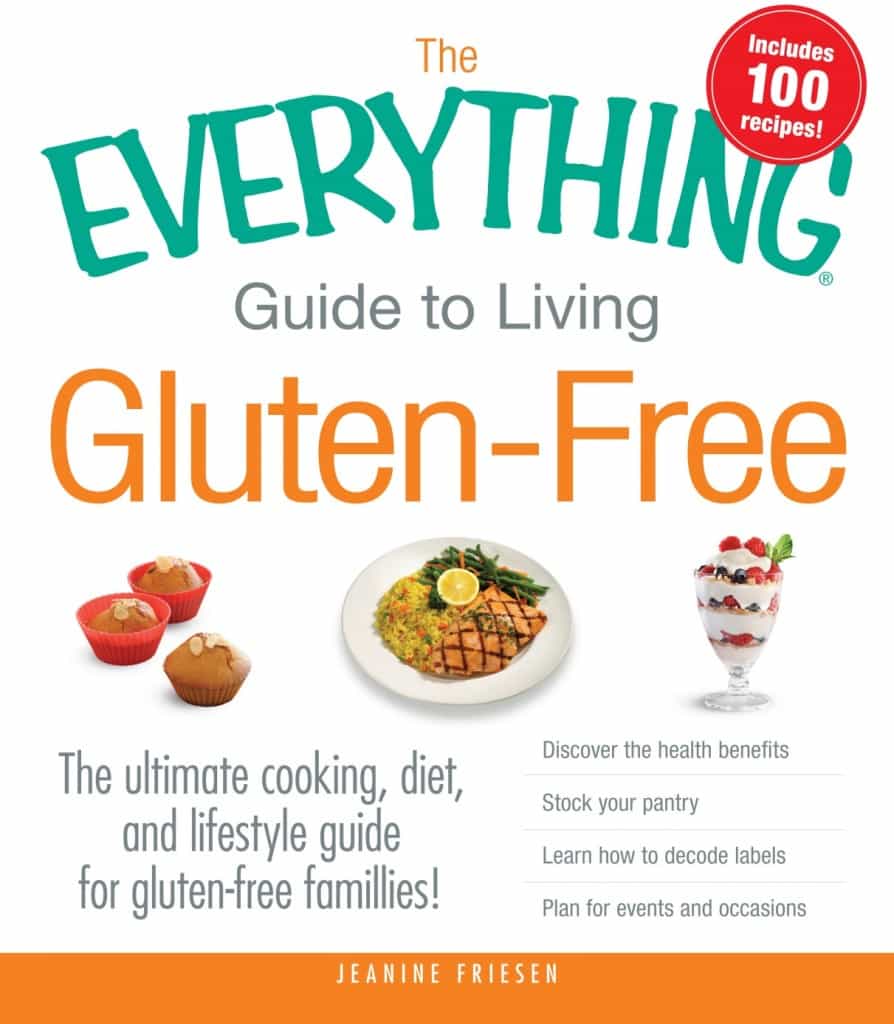 ~ The Everything Guide to Living Gluten Free ~ Do you know Jeanine Friesen of Faithfully Gluten Free? Jeanine is well known from her blog, her tv appearances, cooking classes, and her many amazing baked goods and other recipes. Now Jeanine's put her expertise to work in her new book, The Everything Guide to Living Gluten Free.
While this book does include 100 great recipes (like Blueberry French Toast Casserole, "Shake It and Bake It" Drumsticks, Chicken Alfredo Pasta, and Crisp Chocolate Wafers—yum on all!), the first part is focused on everything else besides recipes … what is gluten, why you might need to be gluten free, symptoms, testing, navigating living gluten free and learning to embrace living gluten free. I love that last part!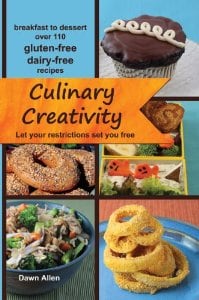 ~ Culinary Creativity: Let Your Restrictions Set You Free ~ Dawn Allen blogs at Cuter Than Gluten. Her cookbook features over 110 gluten-free, dairy-free recipes from breakfast to dessert. Size wise, it's a compact cookbook, but it's packed with her colorful and appealing recipes. A few of the recipes that caught my eye were Carrot Almond Ginger Soup, Apple Juice Chicken, Pumpernickel Bread, and Chocolate Truffle Pie.
Parents especially will love the section on Bento Boxes. Dawn is very clever with her lunch creations and in less than a minute she can turn an orange into a kitty face. Super cute and certainly fun for anyone to open one's lunch and find that! Appealing food is much more likely to be eaten, too.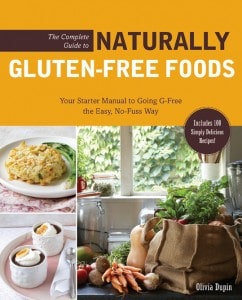 ~ The Complete Guide to Naturally Gluten-Free Foods: Your Starter Manual to Going G-Free the Easy, No Fuss Way ~ Olivia Dupin is the author of this brand new manual and cookbook (this book included 100 "Simply Delicious Recipes"). I almost met Olivia a few years ago. She was the chef for a gluten-free getaway weekend. I didn't make it to that event, but we connected online and I've been following her gluten-free cooking adventures ever since. Naturally gluten-free foods and recipes made from them are, of course, the basis of my gfe approach, so it should come as no surprise that I love Olivia's book.
It starts with a 73-page guide on symptoms related to celiac disease/non-celiac gluten and wheat issues, information on testing, tips for learning to live gluten free, and much more. I was very impressed with this section!
The rest of the book is devoted to Olivia's great recipes, which are wonderfully straightforward and practically jump off the page because terrific real food recipes are simply beautiful and that's reflected in the photos. And rest assured that these recipes will work for everyone in the family. When you are making recipes like her Seared Scallops with Creamy Corn and Spinach Sauce, Chicken with Sun-Dried Tomato Cream Sauce, and Sweet Mango Guacamole, Honey Nut Trail Mix Bars, nobody is going to mention or even know that they are "gluten free." This book is another score for real food!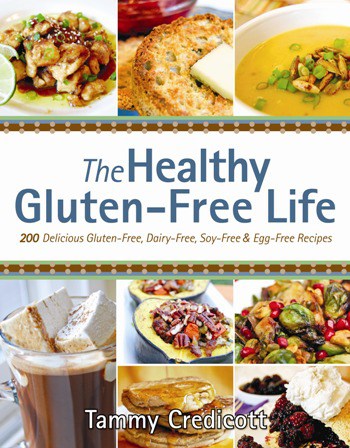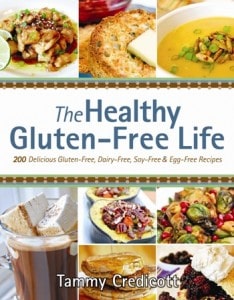 ~ The Healthy Gluten-Free Life: 200 Delicious Gluten-Free, Dairy-Free, Soy-Free & Egg-Free Recipes ~ This cookbook is Tammy Credicott's first one from early last year. It has 159 reviews on Amazon … all 5 stars. The photos in this book are large … even larger than life size, which is terrific when you are drooling over her Pancakes, Italian Meatballs, Black Bean Tostados, Ginger Lime Chicken Bites, Orange Olive Oil Bread, Snickerdoodles … or really any of her recipes. Her No Bake Cookies are perfect for the kids to make after school and her Pumpkin Martini would be just right for me!
Tammy has since come out with Paleo Indulgences: Healthy Gluten-Free Recipes to Satisfy Your Primal Cravings, which, of course, takes gluten free a bit further into grain free recipes.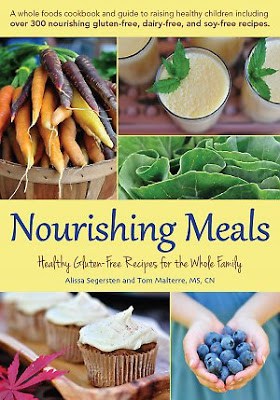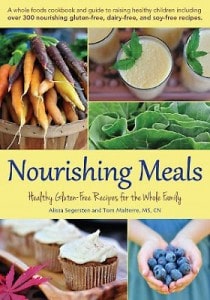 ~ Nourishing Meals: Healthy Gluten-Free Recipes for the Whole Family ~ The team of Alissa Segersten and Tom Malterre, MS, CN, of Nourishing Meals and Whole Life Nutrition, co-wrote this cookbook. The first 60 pages are devoted to Foundations of Health, Raising Healthy Children, and Getting Started. Then there are over 300 gluten-free, dairy-free, and soy-free recipes. Yes, 300! You'll find plenty that are grain free and/or vegan, too.
This guidebook and cookbook is truly a treasure trove for creating nourishing meals. Each category of recipes comes with its own helpful introduction, and nutrition tips and ingredient tips are added to most recipes. I've made the Winter Green Smoothie, Apple Cider Vinaigrette, Honey Mustard Dressing, and Mango Banana Almond Smoothie thus far. All are simple to make and full of flavor and nutrition. A few of the recipes that remain on my "to make" list are: Sweet Potato Falafels, Vegan Corn Muffins, Apple Cider Baked Beans, and Chocolate Brownie Cupcakes.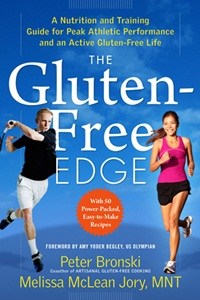 ~ The Gluten-Free Edge ~ While I've mentioned this book by Melissa McLean Jory, MNT (Gluten Free for Good), and Peter Bronski (No Gluten, No Problem and several other gluten-free cookbooks) numerous times in social media and even here before on gfe, this is the first time I've done an official review and giveaway. It won't be the last though because I can't do this book justice in this brief summary and it is one that anyone who is gluten free or interested in living gluten free should have on their bookshelf. This book is subtitled "A Nutrition and Training Guide for Peak Athletic Performance and an Active Gluten-Free Life." If you're an athlete, this book is a "must have," but really who doesn't want an active gluten-free life? That's what all of us who are gluten free should want for ourselves and Melissa and Pete give you the knowledge and tools to do that.
This book gives easy-to-read factual data on how one's body works (and doesn't work) with gluten, citing the many conditions and symptoms that can be related to gluten and how they affect an individual's performance in athletic endeavors and in just day-to-day life. Interspersed throughout are profiles of gluten-free athletes. The profiles tell the athlete's stories and share their favorite gluten-free foods in a footnote. As one who values the power of personal stories in diagnosing folks who need to be gluten free, I greatly appreciated these profiles. I also enjoyed seeing a mix of real, whole foods and gluten-free specialty products listed as the athletes' favorite foods. The book concludes with 50 gluten-free recipes, a few of which I have made (e.g., Granola-Style Energy Bars and Sweet Potato-Walnut Cupcakes) and they were big hits!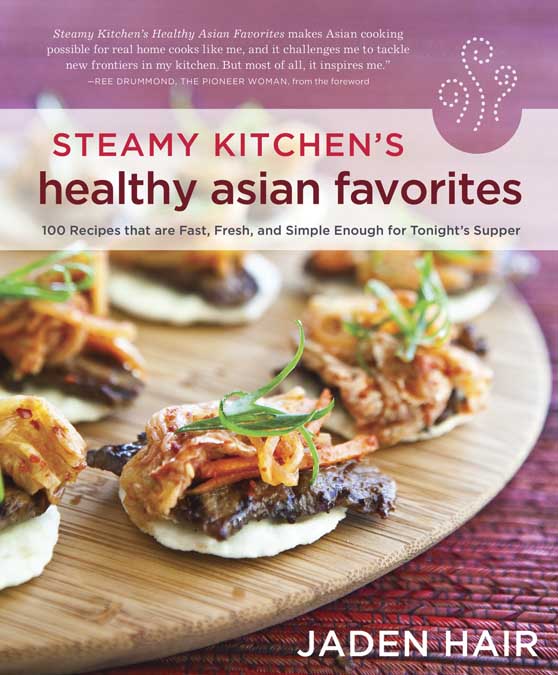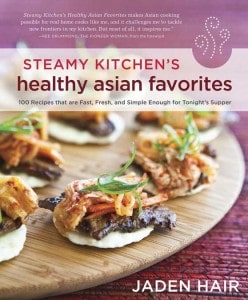 ~ Steamy Kitchen's Healthy Asian Favorites: 100 Recipes That Are Fast, Fresh, and Simple Enough for Tonight's Supper ~ This cookbook from Jaden Hair of Steamy Kitchen just arrived recently. I picked it up and flipped through the recipes. I was surprised by the simplicity of these recipes. To be clear, this cookbook is NOT 100% gluten free. However, most recipes are naturally gluten free and others are gluten free by subbing gluten-free soy sauce, oyster sauce, fish sauce, and the like. (There are really only a handful of recipes that can't easily be made gluten free; e.g., Potstickers, but you can look to Laura Russell's The Gluten-Free Asian Kitchen for help with those and other terrific recipes.) Many of the recipes are naturally vegetarian or vegan as well. Simple Chinese Celery, Seafood Fried Rice, Thai Larb Chicken Lettuce Cups, and Mango Brulee … don't those all get your senses going?
Gluten-Free Crustless Fudge Pie Recipe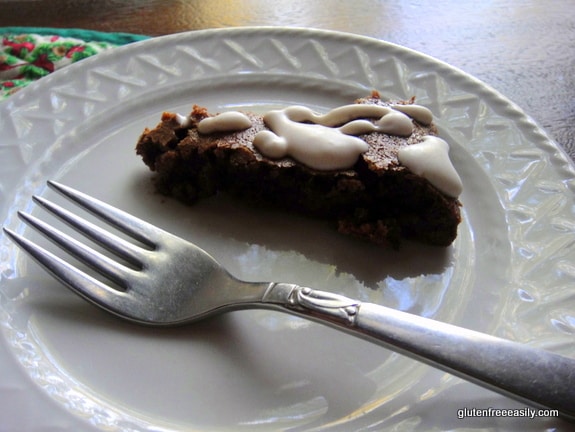 Yield:
Crustless Fudge Pie (Gluten Free)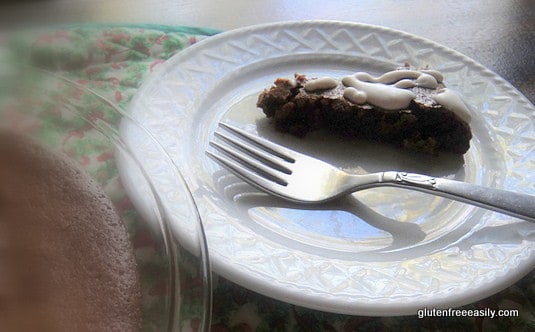 This gluten-free Crustless Fudge Pie is the Clark Kent of pies. Like Clark, it doesn't look overly impressive, but it has hidden super powers and is really a super dessert! A small sliver is rich in chocolate and more, and is perfectly satisfying.
Instructions
Grease pie plate well and preheat oven to 350 degrees F.
Melt butter in medium-sized saucepan. Remove from heat and slowly add in the following ingredients in order, stirring after each addition: cocoa, brown sugar, granulated sugar, eggs, vanilla extract, gluten-free flour mix, and nuts (if used).
Pour filling into prepared 9-inch pie plate.
Bake for about 25 minutes. Test with a toothpick. When the pie is done, the toothpick should have just a smidge of chocolate on its tip. You don't want to overcook this pie.
Serve with whipped cream, if desired. It's not needed, but just a drizzle does make for a prettier dessert (one more worthy of Superman) and the whipped cream can complement the rich chocolate favor. I drizzled mine with a small amount of Honey Cinnamon Whipped Cream as shown.
Notes
Extra virgin olive oil can most likely be substituted for the butter. Filippo Berio recommends a substitution of ¾ cup olive oil for 1 cup of butter. (See Filippo Berio substitution chart here in this PDF.) I love baking with olive oil when I can; it adds richness and moisture to gluten-free baked goods. (Along those lines, you may also be interested in my Perfect Pound Cake recipe, which uses olive oil.)
Liquefied coconut oil would also likely be a good substitution for the butter. I tend to use less coconut oil than is called for when substituting coconut oil for butter.
A cup of coconut/palm sugar (total amount) can be used in place of both the granulated sugar and brown sugar. Sifted coconut flour instead of gluten-free all-purpose flour should work in this recipe, too, as it works fine in my crustless pie recipes, like my Best Ever Pumpkin Pie.
Because this pie will come out very thin if you use a standard (not deep dish) 9-inch pie plate, making this recipe an opportunity to use a smaller pie plate that you don't often get to use. Baking in a smaller pie plate will produce thicker slices; baking time may have to be adjusted slightly. However, using a standard 9-inch pie plate is perfectly acceptable. With any size pie plate, this pie will yield more servings than most pies due to its rich flavor.
If you'd like to make this pie with a crust, reduce the gluten-free flour mix to ¼ cup and pour all into an unbaked pie crust. My No Roll, Never Fail, Press-In Pie Crust is a good, easy option for a pie crust for this fudge pie.
Adding nuts can be a great (and more nutritious) option for those who can indulge in them, but I find that I prefer this pie most often without nuts. I don't like nuts in my fudge and adding nuts to this pie makes it more of a brownie pie than a fudge pie in my opinion. When I do add nuts (usually walnuts) per request, I tend to prefer the version of this pie with a crust to balance the slightly more substantial filling.
All in all though, I prefer the crustless version without nuts for the ultimate in chocolate flavor.
Originally published February 22, 2013; updated August 21, 2021.