For affiliate links and as an Amazon Associate I earn from qualifying purchases.
Today's post and this grain-free Polka Dot Chocolate Cake with Chocolate Almond Butter Frosting recipe comes from Starlene over at GAPS: A Food Experiment. Starlene writes about her journey on the GAPS diet at her blog, but on occasion comes up with a recipe that isn't fully "GAPS legal," so she asked me if I would host this gluten-free, grain-free, refined sugar-free recipe here at gfe. I'm so happy to oblige, especially when the recipe featured is as gorgeous and mouth watering as this one! Note that this cake might also be considered paleo and/or primal by those who include butter in those diets.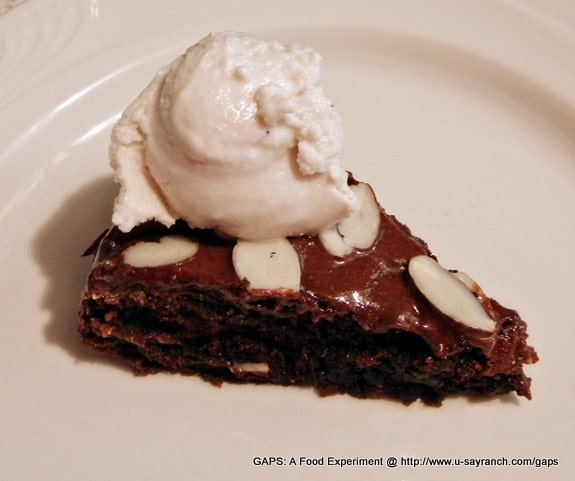 My husband loves chocolate and I wanted to make him a special treat for Father's Day. I could cheat a little and enjoy it as well. (Baking soda and cocoa powder are not allowed on GAPS.)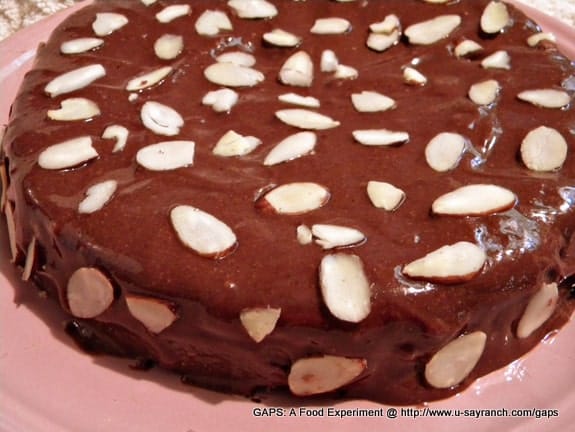 Yield:
Paleo Polka-Dot Chocolate Cake with Chocolate Almond Butter Frosting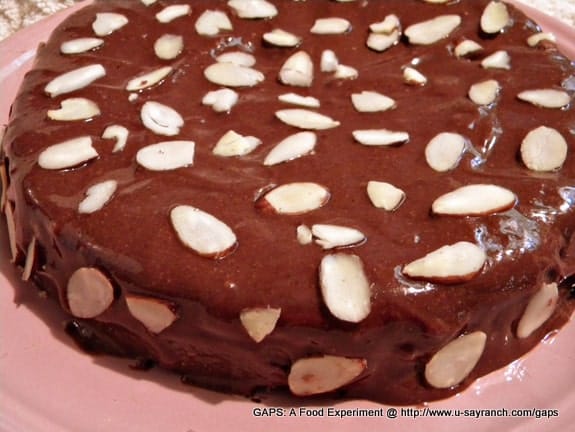 Who doesn't love polka dots? This delicious paleo chocolate cake recipe uses a super easy and natural way to add polka dots to this treat. Such fun for a special occasion!
Ingredients
Chocolate Cake Ingredients:
2 cups and 1 Tablespoon blanched almond flour
1/2 cup cocoa powder
1/2 teaspoon salt
1/2 teaspoon baking soda
1/2 cup honey
2 whole eggs
1 Tablespoon vanilla extract
Frosting Ingredients:
1/2 cup raw almond butter, at room temperature
2 Tablespoons softened butter
2 Tablespoons and 1 teaspoon honey
1/4 cup cocoa powder
pinch salt
sliced almonds as garnish, optional
Instructions
Cake Instructions:
Preheat oven to 350°F. Gently whisk cocoa into the almond flour, then add the salt and baking soda, whisking again. In a different bowl, mix the wet ingredients together: honey, eggs and vanilla extract. Pour the wet into the dry and stir just until fully mixed. Butter an 8-inch cake pan (the kind with the little piece that goes around to help release the cake works best) and flour lightly with almond flour. Don't forget to flour with almond flour as this cake will stick. Bake for 20-25 minutes. The texture of the cake will be brownie-like.
Frosting Instructions:
Mix the frosting ingredients together. Frost the cake when it has cooled for about fifteen minutes. Frosting it while warm helps the frosting spread easily. The frosting is just enough for a one-layer cake.
Notes
Serves eight. This cake is very rich and decadent. Also tastes great frozen for twelve hours.Cake portion of this recipe is adapted from Elana Amsterdam's The Gluten-Free Almond Flour Cookbook. Frosting recipe is an original recipe from Starlene. The ice cream shown in the photo is Elana's Vegan Vanilla Ice Cream.
Shirley here: Many thanks to Starlene for sharing her beautiful grain-free Polka Dot Chocolate Cake. I, for one, can't wait to try this recipe! I'll substitute coconut oil or another dairy-free equivalent (like(Earth Balance) for the butter in the Chocolate Almond Butter frosting to make a gluten-free, dairy-free version of this cake.  
More Gluten-Free Chocolate Cake Recipes
Flourless Chocolate Quinoa Cake
Double Chocolate Clementine Cake
No-Joke Paleo Dark Chocolate Layer Cake
Simple and Good Chocolate Cake
This recipe is linked to Hearth and Soul Blog Party.