For affiliate links and as an Amazon Associate I earn from qualifying purchases.
One of my favorite things about the wonderful food events and recipe carnivals on the blogosphere is that they get my creative juices flowing, figuratively, and, ultimately, some other types of juices are often created—the really tasty ones from some surprisingly good recipes, like from these naturally gluten-free Blackened Black Bean Burgers.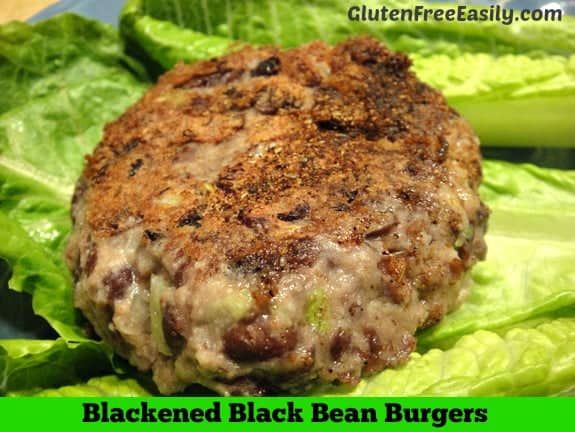 Linda (Gluten-Free Homemaker) announced "Create a Burger" as this month's challenge at the beginning of the month. I knew I'd try to participate, but nothing was really coming to me. Sometimes I crave a hamburger, but not often. I enjoy meat, but not usually ground beef. So as time went on, the more I thought about it, the more I thought I'd make a veggie burger or a fish "burger." I've seen some great ones featured on my favorite blogs. (See listing at the end of my post.) Then, I made Blackened Catfish using Ashlie's recipe from her post at Carrie's 30 Days of Quick and Easy Meals event. Wow. Such a simple, but sensational recipe. I had tweaked her blackened seasoning mix to be a little less spicy for our tastes and to work with the seasonings I had on hand. Again, great recipe!
How I Ended Up Making Blackened Black Bean Burgers
Still thinking of Linda's challenge, I looked in the pantry thinking I'd make a veggie burger using chickpeas (you guys know I love chickpeas … remember my Simple Roasted Chickpeas?). Sadly, there were no chickpeas. Chickpeas just don't last long enough in my house. I need a chickpea delivery person stopping by with my weekly supply … but I digress.
What did greet me in the pantry were black beans, which I also enjoy very much. I placed the cans on the counter by the stove. Right beside the stove was the blackened seasoning mix still out from making the catfish dish the night before. Oh, yeah, the ideas were coming together then and the result was these blackened black bean burgers. They are wonderful. Naturally gluten free, dairy free, soy free, sugar free, and vegan, if needed. Sooo very easy to make, too.
I've made two versions of this recipe, one with an egg and one without. (I admit I feel a bit guilty now when I use eggs in recipes for you folks who can't tolerate them or are vegan.) I'm happy to report that both versions are terrific. They even look like traditional hamburgers and have a somewhat similar taste and texture. I'm a little amazed and a lot delighted!
Here's a step-by-step pictorial and then the recipe.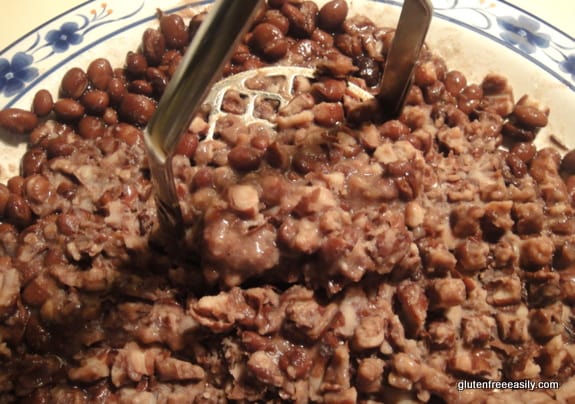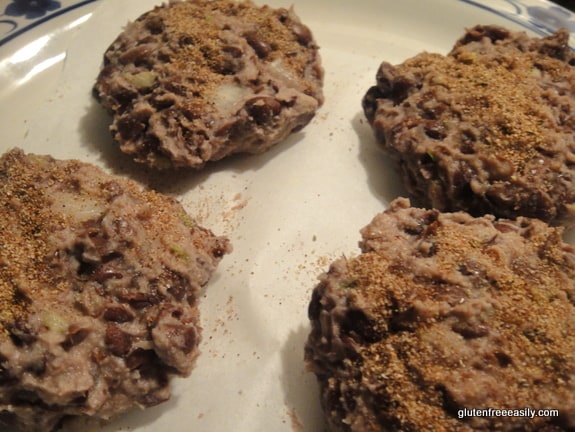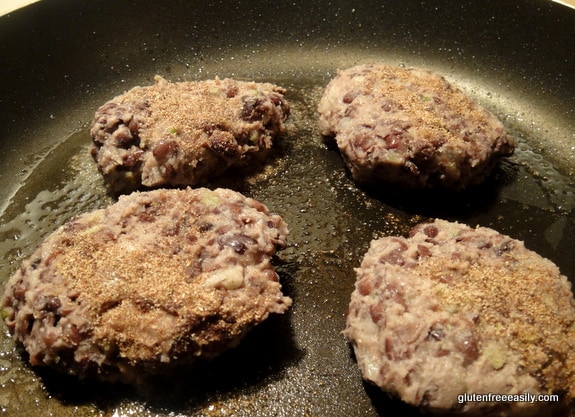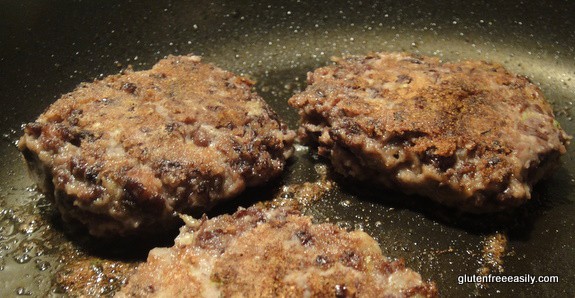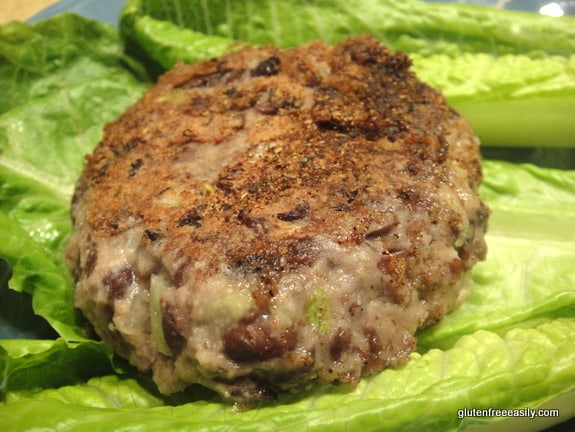 Blackened Black Bean Burgers Recipe (Gluten Free)
Yield:
Blackened Black Bean Burgers (Gluten Free)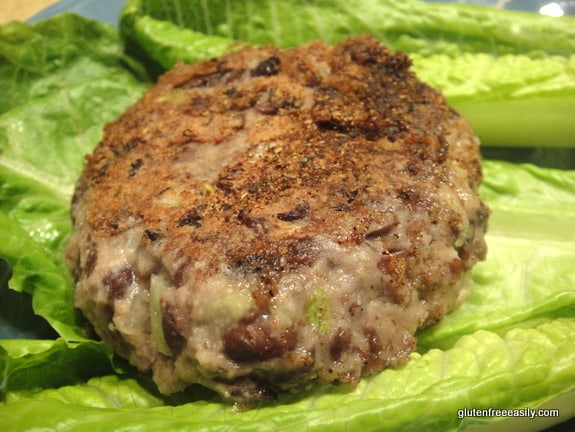 Hearty gluten-free vegetarian burgers (with vegan option) that will delight the veggie-loving members of the family AND the meat lovers!

Prep Time 10 minutes

Cook Time 10 minutes

Total Time 20 minutes
Ingredients
Burger Ingredients
Blackened Seasoning Mix Ingredients (for sprinkling on burgers--use about 1 to 1 ½ tsp per burger)
Instructions
Add about one tbsp of olive oil to skillet. Preheat to medium or medium high setting.
Mash beans using a hand masher (or back of a spoon) on a flat plate.
Mix beans, egg (if used), olive oil, onion, celery, and almond flour.
Form into patties. Sprinkle seasoning mix on one side of each burger.
Add burgers with seasoned side down to preheated skillet. Sprinkle seasoning on other side of burgers.
Cook about 3 minutes or so on each side to desired crispness.
Flip using two spatulas, if necessary, to ensure burgers stay together.
Treat as you would any other burger; e.g., place on a bun; serve on lettuce leaves; top with ketchup, mustard, cheese, or special sauce (I just had one for breakfast topped with a Polynesian-type sauce that I had leftover from making pork chops last night—divine!).
Notes
Makes eight burgers about 3 ½ inches in diameter.

Blackened seasoning mix adapted from Ashlie of The Delshad Duo.

If omitting the egg, you may need to add more almond flour and your burgers might be slightly softer in texture. Therefore, cooking a bit longer may be needed if you want a more burger-like texture. (See readers' notes in comments for the changes they made for egg-free versions.)

For either version of this recipe, remember not to mash the beans so much that you have a mushy mess; you want some whole or half beans remaining for a better burger appearance, taste, and texture. (That means the mixture should not look like it's been through a food processor.)

I'm sure these burgers could also be broiled or grilled, instead of pan cooked. Broiling/grilling about 2-3 minutes on each side should do the trick and give a very nice blackened appearance and taste. I actually slightly undercooked the burgers shown here just to provide better photos.

Originally published June 23, 2010; updated July 29, 2020.