For affiliate links and as an Amazon Associate I earn from qualifying purchases.
Yes, truly Perfect Gluten-Free Fried Chicken Breasts. Perfect gluten-free fried boneless chicken breasts to be exact and you won't believe how easy they are. Unbelievably easy and so very good. With only a couple of ingredients required.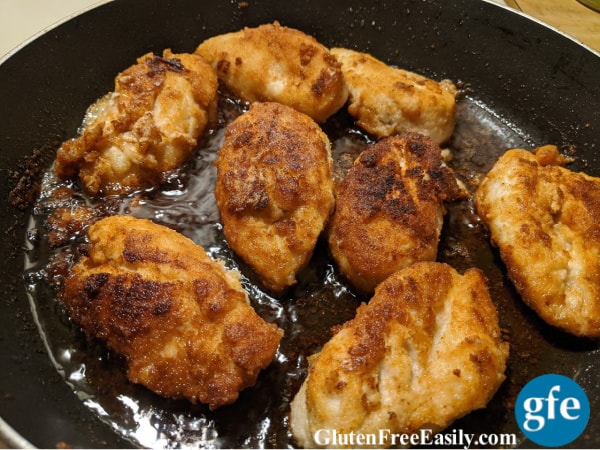 Every now and then, I have two or more recipes close to being ready to share and I asked my gfe readers on Facebook to tell me which one they'd like to see first. Most recently, the choices I offered were Paleo Apple Crumb Muffins, Classic Cucumber Salad, and the Best Gluten-Free Fried Chicken Breasts.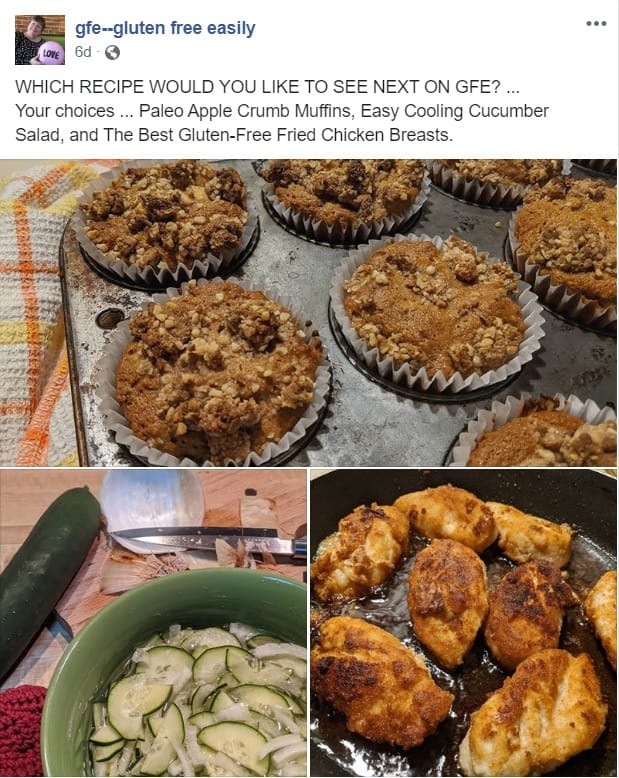 There were votes for each recipe but it was the fried chicken recipe that most of the gfe readers wanted right away. I've since renamed this recipe Perfect Gluten-Free Fried Boneless Chicken Breasts because I've decided that's a much more fitting description than "Best." In my opinion, these chicken breasts are truly perfect—inside and out.
These chicken breasts do not have a thick crunchy coating that you'd get from say, Kentucky Fried Chicken back in the day. But they do have a very simple and delicious breading—which we love and actually prefer—and they are moist and flavorful inside, despite the fact that they are boneless.
I point that out because boneless chicken breasts have a reputation of being dry compared to bone-in chicken breasts. Which makes these chicken breasts perfect because they are in no way dry at all. We've been newly impressed each time I've made them during the last several weeks.
Like many of my favorite and most popular gfe recipes, this one was both a bit of happenstance, necessity-is-the-mother-of-invention kind of thing. I wanted to cook chicken breasts for dinner. I thought about the Coconut-Crusted Chicken Tenders we'd enjoyed in the past. But the coconut flakes in the fridge were past their prime and I wasn't able to locate the new bag in my very full pantry.
So, I decided to simply bread the chicken breasts with coconut flour instead and fry them in cooking oil. Just for fun—as I had with the chicken tenders—I added a dash of chili powder to the coconut flour. The longer I tended to the chicken breasts while they were frying, the more delicious they looked.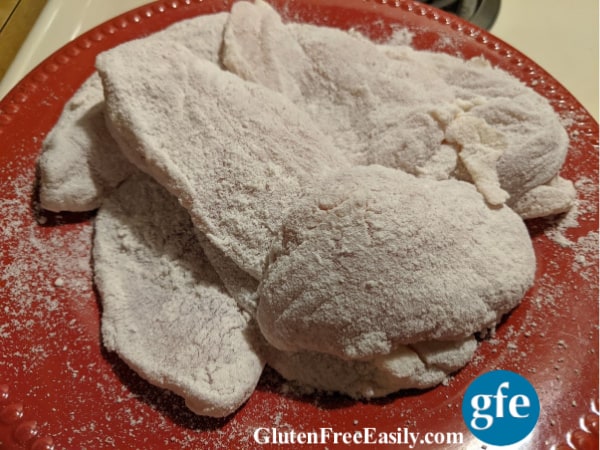 But of course, the true test was the taste test. I served them with our dinner and about the same time, we all said something to the effect of "Wow, this chicken is really good!" And it was!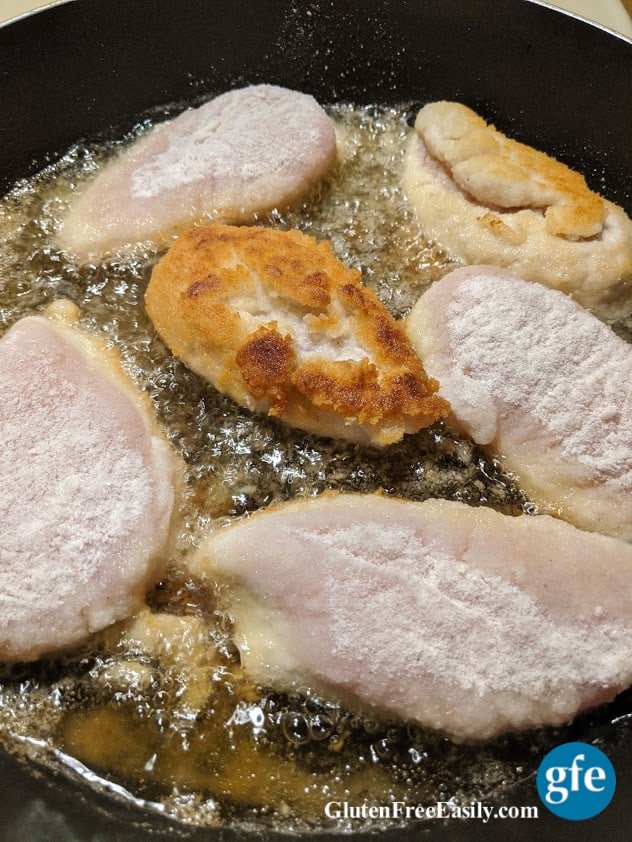 There was one chicken breast left the next day and to keep Son and me from "fighting" over it we decided to split it. I promised that I'd make these Perfect Gluten-Free Fried Boneless Chicken Breasts again as soon as possible.
Son after eating just half of that leftover chicken breast:
"That's some comfort food right there; I tell you!"
And he was so right.
The first time I made these, I cooked four chicken breasts. Now I cook six to eight at a time because I know that we are going to want leftovers and we are each going to want our own chicken breasts. We aren't going to want to share.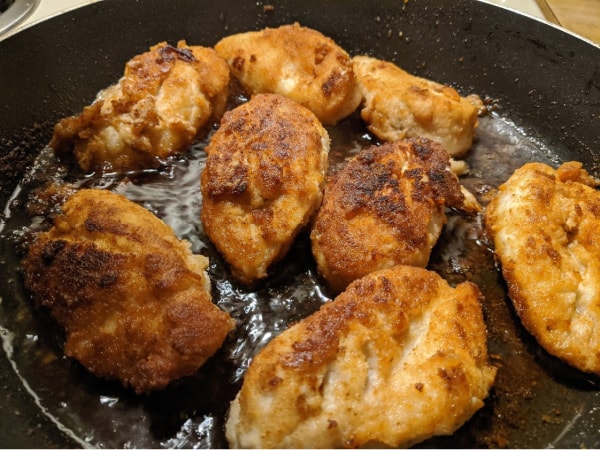 I had to find out if the perfection of these chicken breasts was a fluke or if they were really as good as we all thought. I also wanted to try a different brand of coconut flour as well as frying them in different types of oil.
Would these perfect gluten-free boneless chicken breasts be just as good when made with all brands of coconut flour?
The first time I used my go-to coconut flour these days, Nutiva Coconut Flour. As I said, the results were perfection. An A+ for sure!
Next, I made them using Tropical Traditions coconut flour. The resulting chicken breasts were still good but they were drier on both the outside and the inside. We graded them a B-.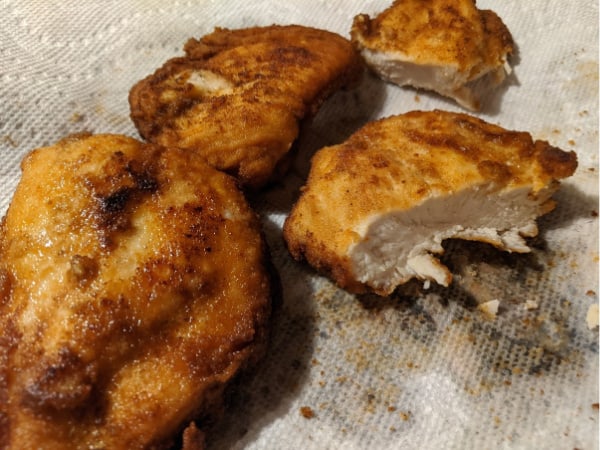 How are these chicken breasts when made with other brands of coconut flour? I don't know. I have no desire to try them made with other brands of coconut flour. I've found perfection and I'm sticking with it!
If you happen to try any other brands and have great success—i.e., Perfect Gluten-Free Boneless Chicken Breasts—please let us know by leaving a comment!
What cooking oil works best for these gluten-free fried chicken breasts?
The first time I fried the chicken breasts in corn oil. As I've said, they came out perfectly.
The next time I tried coconut oil. Frying in coconut oil often produces delectable results so I expected to like the results better but using coconut oil resulted in the chicken breasts cooking more quickly and having some overcooked spots.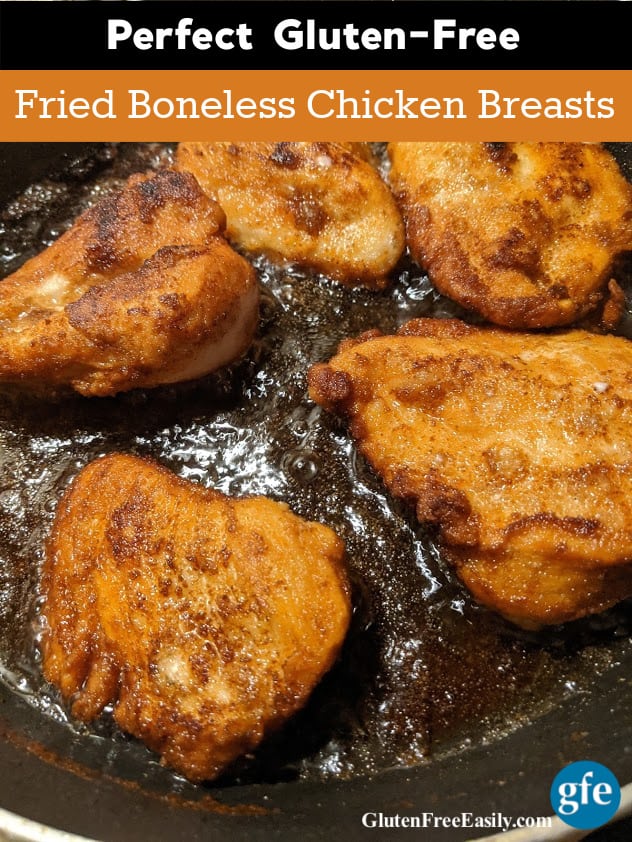 Another time, I used extra virgin olive oil with a little soy-free Earth Balance added. The chicken breasts turned out well but also seemed to cook a little more quickly and burn a little more easily.
Of the other oils I personally use, I believe that avocado oil and grapeseed oil would work pretty well but I have not yet tried them for these Fried Chicken Breasts. I'm sure canola oil and basic cooking oil would work but those aren't my personal choices. Feel free to leave a comment if you have success with another oil.
Will this method work with bone-in chicken or boneless chicken thighs?
I know that common guidance is that bone-in chicken breasts are much better. However, my current home grocery delivery only offers boneless chicken breasts.
I'm not complaining though. The boneless chicken breasts work just fine using this method. It's quick and easy to coat them completely with coconut flour and they cook pretty evenly.
If you try bone-in chicken or boneless chicken thighs with success, please let us know by leaving a comment.
These Perfect Gluten-Free Boneless Chicken Breasts will be on repeat for our dinner menu. And when we get back to dining with friends, I'll be sure to make this recipe to share with them!
Oh, and those Paleo Apple Crumb Muffins and Classic Cucumber Salad recipes that some of you voted for on Facebook, I'll be sharing those here on gfe in the near future.
More delish gluten-free chicken recipes for you
~ Chicken and Rice Casserole (without canned soup)
~ Greek Chicken Foil Packets from Kalyn's Kitchen
~ Green Chile Chicken Casserole
~ Proposition's Gluten-Free Fried Chicken from Fearless Dining
~ Southern Fried Chicken from Mama Knows Gluten Free
~ Top 20 Gluten-Free Chicken Noodle Soup Recipes
Perfect Gluten-Free Fried Boneless Chicken Breasts Recipe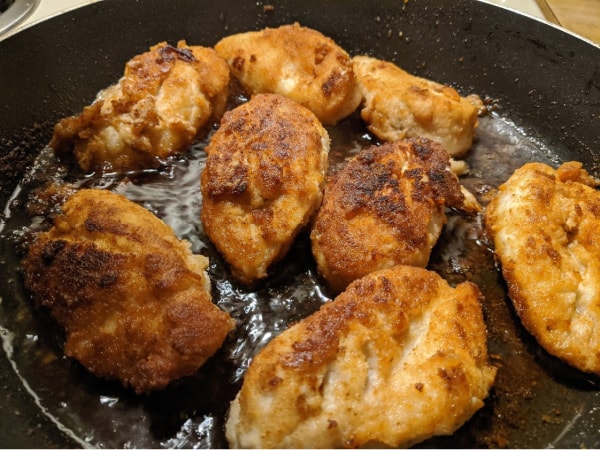 Yield: 4 to 8 servings
Perfect Gluten-Free Fried Boneless Chicken Breasts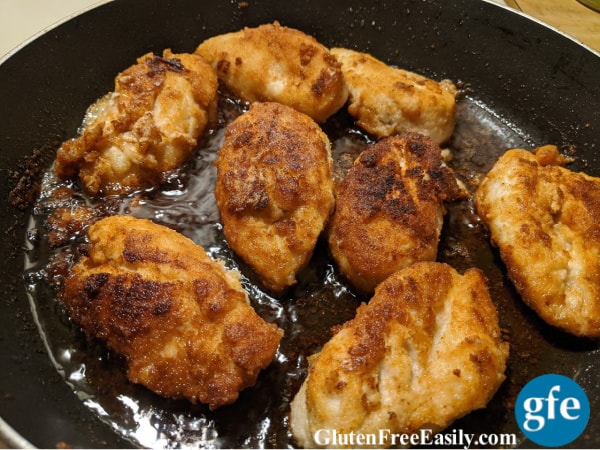 You won't believe how easy these Perfect Gluten-Free Boneless Chicken Breasts are. Unbelievably easy and so very good. With only a couple of ingredients required.

Prep Time 5 minutes

Cook Time 20 minutes

Total Time 25 minutes
Ingredients
Boneless chicken breasts
Coconut flour (Nutiva brand is the only brand I can recommend), sifted, about ¼ cup for every two to three breasts
Seasonings of choice (salt, pepper, chili powder, Cajun seasoning, etc.), optional
Vegetable oil of choice for frying (I like corn oil best)
Instructions
Add oil to deep skillet until it's about half an inch deep and heat to between medium and medium high while you prepare chicken breasts.
Add coconut flour and any seasonings to a deep bowl or Ziploc bag. Stir or shake to mix seasonings with coconut flour.
Either dredge chicken in coconut flour in bowl until fully coated or add chicken breasts to bag one at a time, closing and shaking until each breast is completely coated with coconut flour.
Add chicken breasts to skillet and fry about 15 to 20 minutes depending upon how large and thick the chicken breasts are. Stand nearby the stove and turn several times during cooking to ensure chicken breasts don't burn. (I also highly recommend that you use a splatter screen while frying the chicken. I've been burned by hot grease spattering while frying items in the past and it's never pleasant. Please stay safe.)
Drain on paper towels and then serve.
Notes
These chicken breasts do not need to be dipped in egg or milk before dredging or shaking in coconut flour because raw chicken breasts have a sort of natural stickiness that makes the coconut flour adhere very well. One time I rushed my still slightly frozen chicken breasts so I could make this recipe by running them under cold water for several minutes. The natural stickiness was lost, the coconut flour didn't adhere as well, and the results were different. Don't do that.

Don't overcrowd your chicken breasts. Leaving room between chicken breasts ensures that breading does not get knocked off.

You can definitely substitute boneless chicken tenderloins (aka chicken tenders) for chicken breasts if you prefer. Obviously, they would require a shorter cooking time.

Originally published September 7, 2020; updated August 9, 2023.