This post may contain affiliate links. If you purchase through them, your cost will stay the same, but gfe will receive a few cents for every dollar spent. Thanks for supporting gfe!
Today we continue with the Bountiful Bread Basket series, Part 9, with the Top 15 Gluten-Free Challah Bread Recipes. Beautiful and wonderful gluten-free challah bread recipes. The best gluten-free challah bread recipes. Even grain-free recipes. (More on the grain-free factor in a moment.) Even vegan recipes. There's even a great gluten-free Sourdough Challah recipe!
Challah (pronounced HAH-lah) is usually a braided bread that is traditionally eaten on Jewish holidays, at certain Jewish celebrations, and at Shabbat, the weekly Sabbath meal.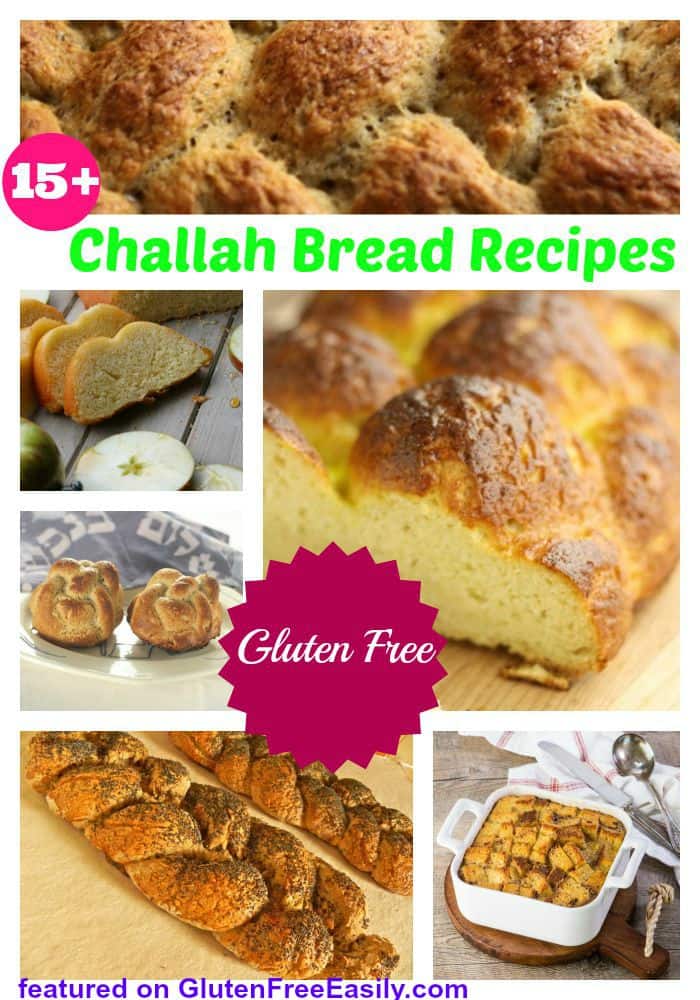 I learned that there is important religious symbolism in the appearance and presentation of challah. For example, holiday challah, such as for Rosh Hashanah, is baked in a circle rather than presented as the more traditional braided loaf. Rosh Hashanah is the Jewish New Year—which is considered a time of renewal–and the circle represents the cycle of life and the wholeness of the universe.
There are other meanings for the seeds and twin loaves (when used) and even symbolism for the flour used in the recipes and for the loaf itself. Rosh Hashanah is a serious and respectful time marked by many traditions and rituals, and enjoying challah bread–gluten-free challah bread for all of us who eat gluten free–is an important one.
Challah Baking Pans and Molds
Some gluten-free versions of challah are actually braided from three strands of dough, but others—especially grain-free versions—are made using a mold, such as The Kosher Cook Amazing Perfect Braid Royal Challah Silicone Bakeware or this Kaiser Bakeware 15-Inch Classic Braided Loaf Pan. Other options are the Kaiser 13-Inch Classic Braided Ring Mold  and The Kosher Cook Deluxe Royal Challets/Rolls Silicone Baking Pan. One of the readers who commented on one of these recipes stated that she used a Bundt pan to make her round challah.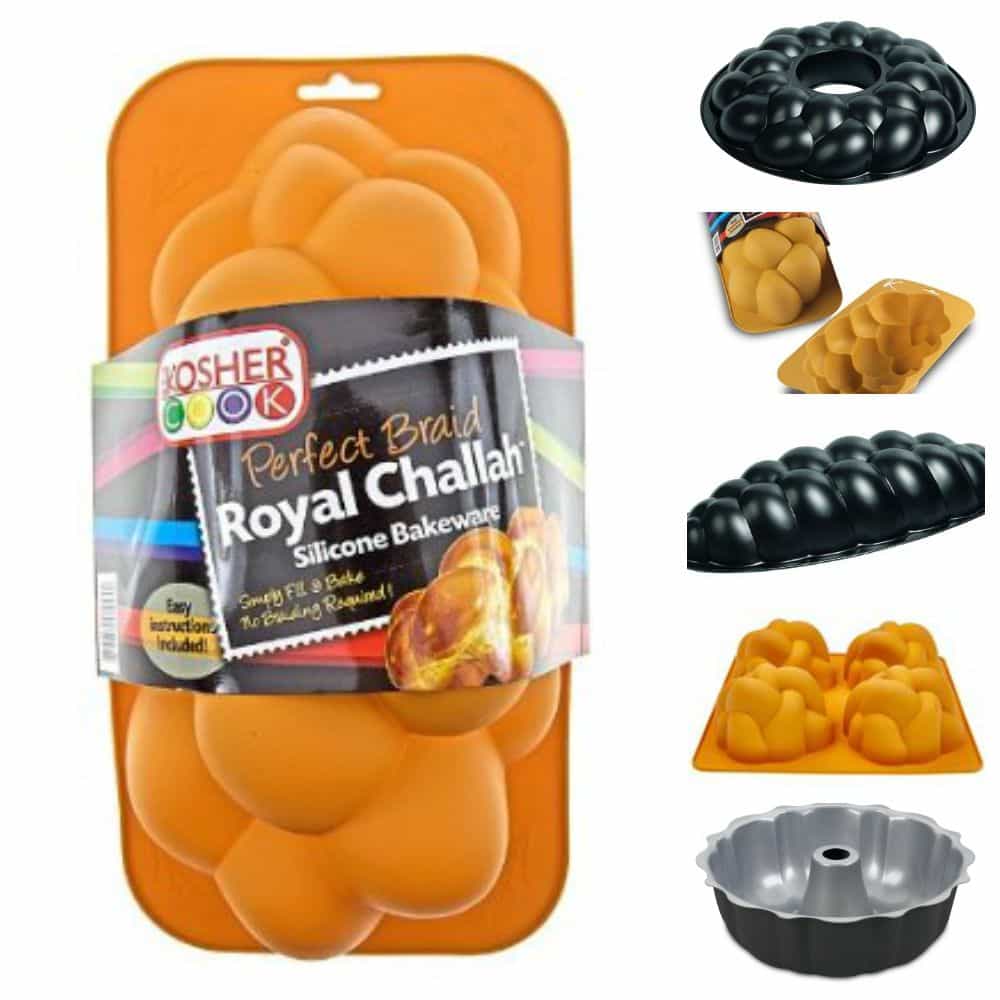 An important note:  Per my research for this post, for bread to truly be considered challah and suitable for religious purposes per the Jewish faith, it must contain a certain amount of grain-full flour. The flours specified by Judaism all contain gluten except for oat flour IF one uses certified gluten-free oat flour that is made from purity protocol oats. My understanding is that over half of the weight of the flour must be oat flour for the challah to qualify as Hamotzi and be used in the Hamotzi Braccha for Orthodox Jews.
If you are Jewish and seeking a recipe for that purpose, please check with your rabbi on the suitability of the recipe you have in mind beforehand. Some of these recipes contain neither grains nor oat flour and may not be suitable for religious purposes. However, knowing that some of you who are gluten free also can't tolerate certified gluten-free oats, personally, I hope that sometimes exceptions are made.
Now, let's get to these delicious challah recipes! (Click on the recipe title or the recipe photo to go the recipe.)
Gluten-Free Challah Bread Recipes
~ The Best Gluten-Free Challah Recipe from Just Call Me Chaviva ~ gluten free, dairy free, vegetarian
Chaviva says this is the challah that she "perfected in her kitchen, that her son prefers to regular challah and that was recently a hit at a friend's conference." She uses The Kosher Cook Deluxe Royal Challets/Rolls Silicone Baking Pan for making her challah.
~ Easy 1-Hour Gluten-Free and Grain-Free Challah from Gluten Free A to Z ~ gluten free, grain free, dairy free, refined sugar free, yeast free, vegetarian
Judee notes that with this recipe if you want a braided look (as shown in her photo below)—versus making a regular loaf of bread—you need to use The Kosher Cook Amazing Perfect Braid Royal Challah Silicone Bakeware. She adds that this bread "slices beautifully and taste like a mildly sweet bread. It is perfect for French toast. It was so so easy to make the batter (I just mixed it in a bowl) and then I poured it into the mold. Actually, I made it with my 3 and 6 year old grandkids. Does it get any easier?"
~ Gluten-Free Batter Bread Challah from Better Batter ~ gluten free, vegetarian
Reader review:  "I used this recipe with a "braided-loaf" pan to make gf challah for my son's Bar Mitzvah. It was fantastic, and the challah was GONE within five minutes." and "It's only been a few years since I had "real" challah, but this tasted EXACTLY like the real thing to me, and made in the "braided-loaf" pan, it looked like the real thing, too!
~ Gluten-Free Braidable Challah from Better Batter ~ gluten free, vegetarian, with dairy-free option
Naomi says: "Challah is an egg bread, very similar to brioche bread, but a bit denser.  It stays very moist, for days, and is great for dunking in soups or using in bread puddings and other applications where a sturdy structure is called for.  Challah is also very sweet. This makes a very large braid or two regular sized ones."
~ Gluten-Free Challah from No Gluten, No Problem ~ gluten free, vegetarian, with dairy-free and refined sugar-free options (Note that Pete and Kelli used this challah mold.)
Reader reviews:  "The bread is delicious!" and "Hi! I just finished eating 2 slices of this recipe & it is FANTASTIC!! Though I must admit I've never had challah before today. I made this with a gf flour mix I made that's very close to your mix. This was the EASIEST gf bread I've made yet, & I've been at this about 3yrs! I'm NO expert OR blogger just a simple girl trying to feel better by eating gf…. & NOT going broke while doing so! I will make this again!"
~ Gluten-Free Challah with Apples and Raisins from GF Jules ~ gluten free, vegetarian, with dairy-free option (Read Jules' 18 Tips for Baking Gluten-Free Bread.)
Reader review:  "Oh my goodness…Jules! Thank you!! This challah is absolutely delicious. I love the texture of the challah as well…I have only 1 major issue…I might eat it all before my kids and husband get home. OY!! Oh well…happy baking and eating."
~ Gluten-Free Challah Crown from GF Jules ~ gluten free, vegetarian, with dairy-free option (Note: Here are Jules' directions for making this recipe in a bread maker. "Add the liquids first in the bread maker then add whisked dry ingredients next. Let the bread maker mix the dough for you and bake as a regular loaf, or take out the mixed dough and shape per the recipe and bake in the oven." (Be sure to check out Jules' 18 Tips for Baking Gluten-Free Bread.)
Reader review: "I tried the recipe tonight for the first time and my child devoured the challah! Great recipe! Thank you Jules best GF challah we found to date!" and "Seriously, this is amazing. I have so missed challah; it's a part of our every week Sabbath table and I have been searching for a GF replacement. I have found it!!!! I really don't like baking, but this is worth the time and expense. It will be on our table every week."
~ Gluten-Free Rosh Hashanah Challah from Gluten Free Canteen ~ gluten free, dairy free, vegetarian
Reader review: "Tried this bread today, and it is GREAT!! Very thankful to have found this recipe!" and "Came out great tonight!!!" and "I just finished making your Challah bread for the first time. As with all your recipes, it is amazingly delicious."
~ Gluten-Free Sourdough Challah from Nourishing Foodways ~ gluten free, dairy free, vegetarian, with refined sugar-free options
Dori's inspiration for this bread was a sourdough bread recipe from Wild Fermentation, which is an outstanding resource that I have spoken about and given away here before on gfe. Because this challah is a sourdough recipe, Dori shows you how to make a gluten-free starter culture using what she calls a "whole flour mix," a common fruit to introduce natural yeast into the process and water. She says this bread is "excellent sopped in extra-virgin olive oil and balsamic vinegar."
~ Gluten-Free and Vegan Challah from The "V" Word ~ gluten free, dairy free, egg free, vegan
Rhea says it took "a gazillion attempts" to create this delicious gluten-free, vegan challah, but she persisted because her followers "kept asking for a recipe—whether it was for their child who was gluten-free and feeling left out at school or for a special occasion coming up like Jewish New Year. Well, my persistence paid off. This challah is perfect! My vegan and gluten-free challah is soft, moist, light and tender. And it was still soft and tender the next day when it made delicious French toast (recipe to come soon). It even held together on the 3rd day when sliced thinly and put in the toaster." Note that she used the The Kosher Cook Amazing Perfect Braid Royal Challah Silicone Bakeware Mold.
~ The Ultimate Gluten-Free Oat Challah from Couldn't Be Parve ~ gluten free
Shoshana says: "Each time I have made this challah I have changed it just a bit more, until I have a final version that I adore. I kept the basic blend of flours the same as that original recipe but I have changed the ratio of pretty much everything else. More honey to give it extra sweetness, an extra egg yolk for added moisture, even a bit of gelatin to give it a bit more of that chew that I want in my challah. The end result does not taste exactly like traditional challah, but it is sweet and delicious in that special shabbat way. And it makes my gluten-free son very happy to have his challah like everyone else."
She uses the same Royal Challah Silicone Baking Pan used by so many others or this Challah Rolls Pan, which yields what she calls mini challahs (shown below). For smaller, individual challah rolls, Shoshana recommends using a muffin tin.
Final note on this recipe:  Shoshana is a rabbi herself. She says that her research, "including extensive conversation with other rabbis," indicates to her that "the amount of oat flour in this challah is sufficient to deem it hamotzi, especially if it is being used for that purpose. The rules of what makes something hamotzi or mezonot are quite complicated, but this is similar in composition to a standard challah recipe in terms of ratio of eggs:honey:flour."
~ Grain-Free Challah from Zenbelly ~ gluten free, grain free, refined sugar free, vegetarian, primal
Simone used this Kaiser Bakeware Braided Loaf Pan to create her Grain-Free Challah. She jokes about what the pan and resulting loaf remind her of, but I think her loaf is really very pretty in the photos. She said she plans to use The Kosher Cook Amazing Perfect Braid Royal Challah Silicone Bakeware shown above in the future. She adds that:  "It's so amazing for French toast! Seriously just like I remember it from my pre-paleo days."
Reader reviews:  "I made it today and it was a great success! I used the ground flax meal instead of psyllium husk. Thinking of the difference in the behavior of the two ingredients I upped the flax to a generous 3 tbls." and "I have to say again how fantastic this is and how grateful I am for the efforts that must have gone into perfecting it. Even my "I wish you'd never started this stupid Paleo diet" kids ask if they can have a slice (or two, or three) of this bread. I may have to bake it again before Thursday. It's going fast." and "I don't have the challah pan and only own one loaf pan…. So I've been making it in my Bundt pan! It turns out really well, though it does have to bake a bit longer. I'm making it for the 3rd time tonight – it's my hubby's favorite grain-free bread."
~ Updated Grain-Free Challah from Zenbelly ~ gluten free, grain free, dairy free, refined sugar free, paleo, primal, vegetarian
Simone says:  "This challah recipe is a variation of the original Grain-Free Challah that I wrote last year around this time. I've updated it to yield a regular sized loaf, and also to be dairy-free, so it is both more Paleo compliant and suitable to be eaten with meat if you're kosher." She adds that this recipe works fine in a traditional loaf pan, or the braided loaf mold (which is what she used to make the loaf shown in the photo below) or the challah rolls mold may be used.
~ Rosh Hoshanah Oat Challah from Gluten Free Canteen ~ gluten free, dairy free, vegetarian
Lisa says: "It's also a quick challah with one rise, cold-oven baked which means you can be ready for the holiday in short order. The oat challah is one that everyone will want to share because it tastes that good."
One additional note … it was a comment from one of Lisa's readers that was the inspiration for this recipe. Related to the earlier discussion on when gluten-free challah can be considered hamotzi and used for the bracha blessing for Orthodox Jews, Lisa's reader stated that more than half of the flour used in the bread recipe must be oat. Lisa  delivered. With this new challah recipe, Lisa says that 59% of the flour is oat flour (again, certified gluten free, of course).
~ Water Challah Rolls and Egg Challah Rolls from Levana Cooks ~ gluten free, vegetarian with refined sugar-free options
Levana says:  "This gluten-free bread recipe is quite elastic, and might well be the solution to your gluten-free bread cravings. This is quite a place to include some super foods ingredients your children might ordinarily resist if they were offered in recognizable forms. Here's all I ask if you want to pull this off perfectly:  Don't shape the dough into loaves until you get more experienced. Rather, shape into rolls. There will be much less room to end up with a dried-out bread."
Reader reviews:  "The challah recipe is amazing! I have tried every type of recipe for four years and this has been by far the best." and "I used all oat flour (plus the tapioca) and it was lovely GF dough that rose well."
Recipes Made with "Leftover" Gluten-Free Challah Bread
Note that not all of these recipes may be suitable for Jewish holidays, kosher, etc., but leftover challah can be used in all.
~ Challah French Toast Casserole from Gluten Free Canteen ~ gluten free, dairy free, vegetarian
Lisa says:  "We like to make challah  but we always have leftovers. And then we forget we have leftovers until the bread is pretty stale. Then we are awfully sad, but not for long. This recipe is a good and tasty save. Meet re-purposed challah transformed into French Toast casserole."
~ Cornbread Challah Stuffing from Gluten-Free Canteen ~ gluten free, dairy free
Lisa says: "Cornbread and Challah? You might think it an odd combination, but it makes a really tasty savory stuffing. The egg bread – Challah – lends a richness that you can't get from some other GF breads. The savory herb cornbread made without sugar is a nice contrast to the Challah. Together they make a great team. And both breads are easy to make."
~ Mini Maple French Toast Casseroles from Go Dairy Free ~ gluten free (use the gluten-free option), dairy free, with egg-free, vegan options
This recipe from Alisa has only five ingredients! She says "they can be made on the spot or in advance. You can chill them unbaked, or stash a couple baked ones in your fridge for reheating on demand."
~ Old-Fashioned Bread Pudding from Gluten Free Easily ~ gluten free, vegetarian, with dairy-free option
In the photos shown for this recipe, I used leftover ready-made gluten-free challah, which had been sent to my support group for one of our meetings. Note that any bread will work though, even the occasional loaf of "failed" bread.
Reader reviews:  "I made this recipe today and it is absolutely delicious! I used gluten-free cinnamon raisin bread and cut back on the cinnamon and nutmeg. I have tried other recipes for gluten free bread pudding but this one is the best! Thank you for sharing!" and "I just made this recipe with some adaptations [for my diet]. Its sweetness is just right and a good texture too. Thanks for the great framework!"
If you're interested in more terrific gluten-free bread recipes—in all categories—you'll want to check out the whole series via the links below.