For affiliate links and as an Amazon Associate I earn from qualifying purchases.
The recipe for these Best Ever Gluten-Free Salmon Cakes comes from one of my very dear friends, Jennifer. She's both a longtime gluten-free friend and longtime member of my support group.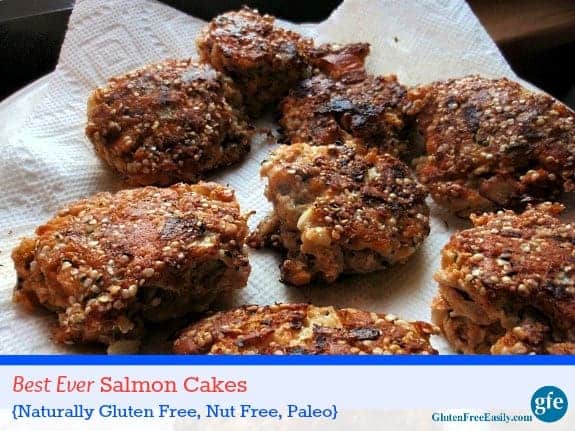 Jennifer first made these salmon cakes for our holiday support group meeting several years ago. (I talked about them when I shared my Popover recipe; you can see them on the far right in the photo of the full table below.) We all absolutely fell in love with these salmon cakes!
So when Jennifer asked what she should bring to our holiday tea event earlier this month, I immediately said, "Bring your salmon cakes!" I wanted to be sure that we had more than sweets to enjoy, and like I said, her salmon cakes are the best.
I have a recipe for Chipotle Salmon Corn Cakes here on gfe and they're excellent, but still not as good as Jennifer's Salmon Cakes. So I made that request and Jennifer honored it and we were all so happy.
We were so happy, in fact, that I didn't think to snap any photos until there were only four somewhat battered salmon cakes remaining on the platter, and these are truly just hurried snapshots of those. My apologies for that.
And, yes, that's the lovely and wonderful Jennifer shown below. She's wearing a fascinator from my historic hat collection for our tea event, and, of course, eating one of her salmon cakes!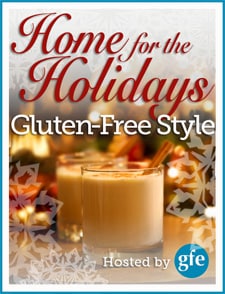 You'll want to make these salmon cakes and see for yourself on all. They are pretty, healthy, and incredibly good, like addictively good. There were not very many of us at our tea event but still, Jennifer's salmon cakes went quickly!
These salmon cakes require only four-ingredients and are so easy to prepare, but make such an excellent quick meal. Those factors are appreciated any time, but especially during the hectic holiday season.
You can make your salmon cakes larger and serve them on a gluten-free bun if you like (my Brazilian Un-Cheese Rolls would be a good choice) or you could serve them with some Dijon mustard and a serving of veggies on the side.
The key ingredient is the hemp seeds. (This is the brand I use.) Hemp seeds seem very expensive, but they are another whole food product that actually goes a long way for me so when you consider cost per serving, they're reasonable.
That's not even considering their nutritional benefits. I'm willing to pay more for ingredients that pack a healthier punch!
If you've never used hemp seeds before, here are just a few of their benefits:
Hemp seed is a high protein seed. It contains all nine of the essential amino acids, and both kinds of omegas.

It's a nut-free way to get that crunchy texture and yummy nutty taste in recipes.

Hemp seed does not contain phytic acid that is present in such foods as tree nuts which makes foods less digestible. Therefore, hemp seed is considered pretty digestible.
Kimi from The Nourishing Gourmet did an excellent post on the nutritional value of hemp seeds a while back. Melissa of Gluten Free for Good also addresses hemp seeds/protein in her Hemp Protein Smoothie post.
Both articles are worth a read, and you'll find the answer to that other question that you might be wondering about and that I didn't answer. Think bell bottoms, Janis Joplin, etc., as Melissa addresses in her post and you'll know what I'm talking about.
The Best Ever Gluten-Free Salmon Cakes Recipe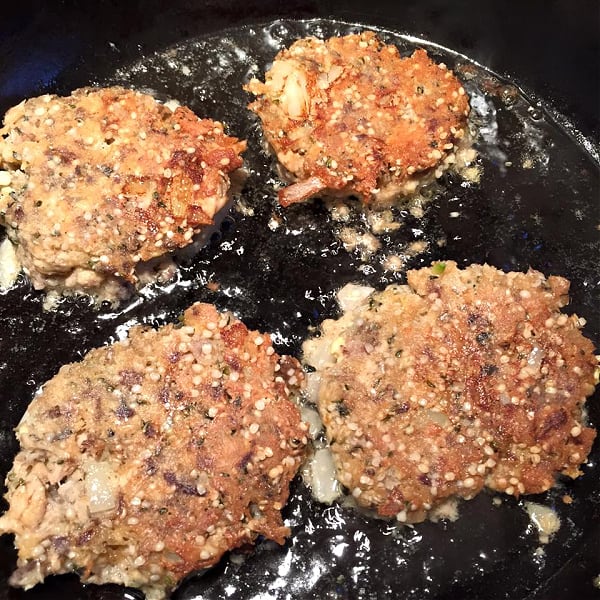 Yield: 8 servings
The Best Ever Gluten-Free Salmon Cakes (Grain Free, Dairy Free, Nut Free and More)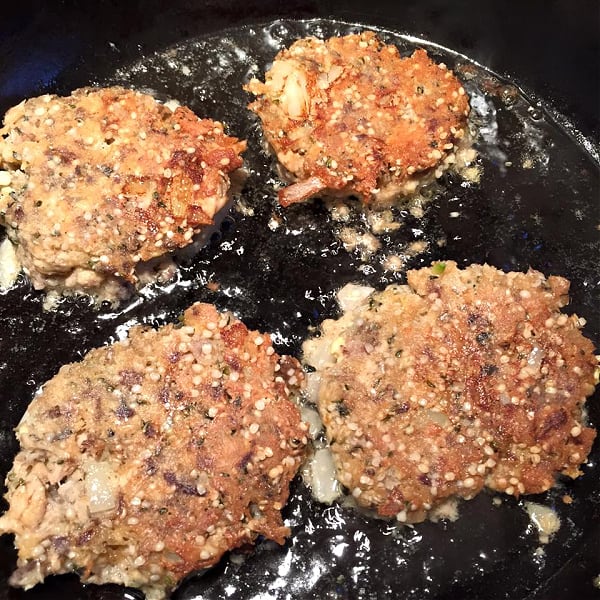 These Best Ever Gluten-Free Salmon Cakes are naturally gluten free, grain free, dairy free, nut free, and "more free" and absolutely delicious! In fact, they're so good they're addictive! Hemp seeds are the "secret ingredient" that makes these salmon cakes so special.
Ingredients
1 large can wild-caught salmon, about 15 ounces, drained
1 large lovey egg* (see notes) 
1/2 cup onion, chopped
1/2 cup hemp seeds
Coconut oil (or oil of choice for frying; coconut oil is best for flavor)
Instructions
Mix all ingredients in a small bowl.
Shape mixture into five or six patties, about 2 ½ inches in diameter.
Heat oil to medium to medium-high temperature.
Add salmon cakes. Fry about 6 minutes on each side, "til crispy." Watch carefully though so you don't overcook the salmon cakes; reduce heat if needed. Ideally, you want the salmon cakes to be crispy and to stay together, but you only want to flip them once.
Serve with Dijon mustard, if desired.
Notes
Jennifer say "lovey egg is not a typo!" She means an egg that's given with love from a well-loved, free-roaming chicken like hers are.
Originally published December 19, 2012; updated November 18, 2022.