For affiliate links and as an Amazon Associate I earn from qualifying purchases.
I'm known for my late night cookie creations (sometimes with the help of Son) as well as creating something wonderful per the limitations of ingredients I have on hand. These Hemplicious Paleo Chocolate Chip Cookies, aka Paleo Chocolate Chip Cookies with Hemp Seeds, are the latest example of both. I love these cookies with their "nuttiness" and extra protein boost of hemp seeds!
How I Created Hemplicious Paleo Chocolate Chip Cookies (Chocolate Chip Cookies with Hemp Seeds)
My intent was to make my Toasted Coconut Chocolate Chip "Samoa Taste" Cookies, but I quickly discovered that I did not have any shredded coconut on hand. I knew I was not looking for a really sweet treat and Andrea's Chocolate Hemp Protein Muffins from March Muffin Madness suddenly came to mind.
Next thing I knew I was replacing the shredded coconut with hemp seeds and adding an egg to the recipe. Plus, I left out the coconut sugar because I decided the honey would provide more than enough sweetness. I was right.
The resulting cookie dough was soft so I dropped the dough onto the baking sheets instead of rolling it into balls as I'd done with the original recipe. As with the original recipe, these cookies seem underdone when removed from the oven, but they continue setting up as they bake on the baking sheet.
These cookies are soft, nutty, and have the perfect balance of cookie base and chocolate chips. Hemp seeds and dark chocolate chips are an ideal combination in my opinion.
These Paleo Hemplicious Chocolate Chip cookies are full of grain-free goodness from ingredients like almond flour, hemp seeds, coconut flour, and honey, and taste really good, too! They make me happy. I hope they'll make you happy, too!
Oh, and let me add that they've already made one blogger friend happy. I shared the recipe with Johnna of In Johnna's Kitchen and she immediately made these cookies, loved them, and shared her photos with me. Woohoo—thank you, Johnna!
Completely unrelated to these Hemplicious Paleo Chocolate Chip Cookies, but speaking of Johnna, I want to recommend that you check out her newest recipe, Johnna's Best Mac and Cheese, too.)
Yield: 15 cookies (2 1/2-inch cookies)
Paleo Hemplicious Chocolate Chip Cookies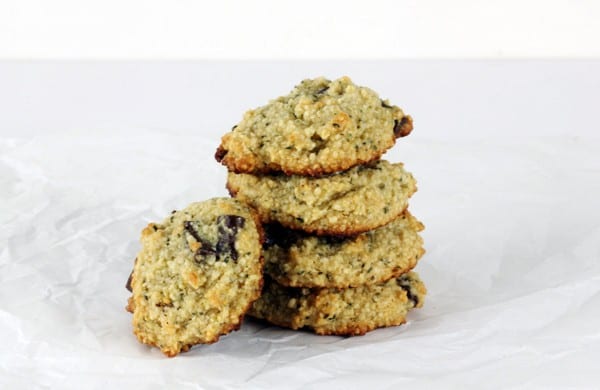 The gluten-free and paleo Hemplicious Chocolate Chip Cookies offer nutty deliciousness without any nuts thanks to hemp seeds.

Prep Time 5 minutes

Cook Time 8 minutes

Inactive Time 10 minutes

Total Time 10 minutes
Ingredients
1 large egg
¾ cup hemp seeds
¾ cup finely ground blanched almond flour, packed (not almond meal)
2 tbsp coconut flour, sifted
1 tsp baking powder
¼ tsp sea salt
⅓ cup honey
2 tbsp coconut oil, liquefied and cooled slightly
Instructions
Preheat oven to 350F degrees. Line two baking sheets with parchment paper.
Add egg to large mixing bowl beating slightly.
Add in remaining ingredients except chocolate chips mixing all until incorporated. I use a wooden spoon for the mixing; that's all that's needed.
Drop batter by tablespoonful onto the parchment lined-baking sheet.
Bake for about 8 minutes or so. Outer edges should be brown, and middles should be non-glossy, but not very brown.
Cool on baking sheets for 10 minutes. Cookies will continue baking/setting up during this time, so do not skip this step. Remove from baking sheet to wire rack or serving plate to cool additionally as needed.
Notes
I always scoop and semi-pack my almond flour in the cup, so I'm sure to get the same measurement each time.

Store these cookies on an open plate or in an open container. Do not put in a closed container as these cookies will soften too much and may spoil.

Originally published April 26, 2016; updated December 5, 2021.