For affiliate links and as an Amazon Associate I earn from qualifying purchases.
Magic happens when Son comes in at midnight and we get to talking. Like Paleo Chocolate Coconut Hazelnut Cookies kind of magic.
That's because as he's sharing his latest adventures, he inevitably wants a treat. Ideally, a homemade treat from Mom.
But it's sometimes hard for me to do enough baking to keep up with his treat appetite when he returns home. Even living in a city with many gluten-free, dairy-free options, he does not often get to indulge in worthy baked goods. When he came in late "scouring the cupboards" and "rummaging around in the fridge," there were no treats to be found as he'd already eaten all that I'd made for him earlier.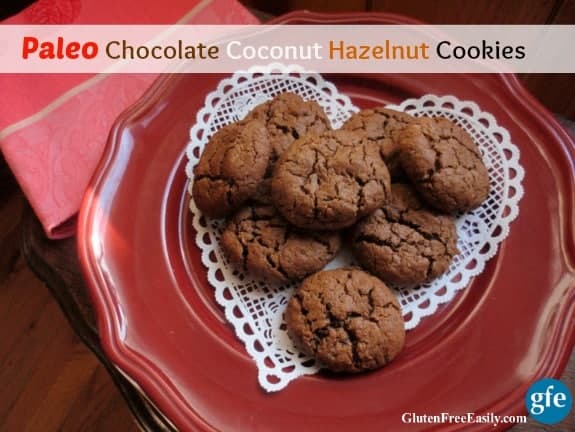 Then Son decided that he specifically wanted cookies and I thought he'd enjoy my Paleo Disappearing Mounds Cookies. However, I quickly discovered that I did not have quite enough almond butter.
Then doing my own rummaging around in the fridge I spied hazelnut flour and I thought, I bet that will work as a substitute. And it did. Oh so well!
Like I said, magic happens. And life in general needs more magic.
I'm going to be perfectly honest here. Because of the hazelnut factor, I rate these cookies slightly above my Paleo Disappearing Mounds Cookies even though they are only a very slight variation to that recipe.
And the Paleo Disappearing Mounds Cookies were a very slight variation of Flourless Chocolate (Cocoa) Cookies. One really good cookie recipe always leads to another!
You might even want to make these Paleo Chocolate Coconut Hazelnut Cookies the day before you want to eat them because the chocolate and hazelnut combo really comes together nicely after sitting overnight. Plus, the chewiness factor is almost off the charts the next day and, admittedly, I love that part!
I know that all the peanut butter lovers will ask if peanut butter can be substituted for the almond butter and those of you who don't have hazelnut flour on hand will ask about subbing almond flour. The answer is yes, of course, you can substitute for both, and the results will be good, but a peanut butter version will not be paleo and more importantly either change will mean that the cookies will taste different from the magical ones I made that night.
I know because I've made this recipe since using both substitutions and they're good but you don't get that divine flavor combo of chocolate and hazelnut and when made with peanut butter the cookies do not spread as much as the almond butter version, resulting in smaller and denser cookies.
However, I will add that on the latter version Mr. GFE did not complain. In fact I was gone all day after I baked the peanut butter version and returned home to find that he had consumed all but four cookies. Mr. GFE is not usually a big sweet eater so that was quite a compliment!
I guess that in the end, everyone's definition of magic might be just a little bit different. Note that the cookies shown in the photos are the peanut butter version (made with hazelnut flour)—the same ones that Mr. GFE enjoyed. I snapped some photos before I headed out the door that day.
Paleo Chocolate Coconut Hazelnut Cookies Recipe
Yield: About 16 cookies
Paleo Chocolate Coconut Hazelnut Cookies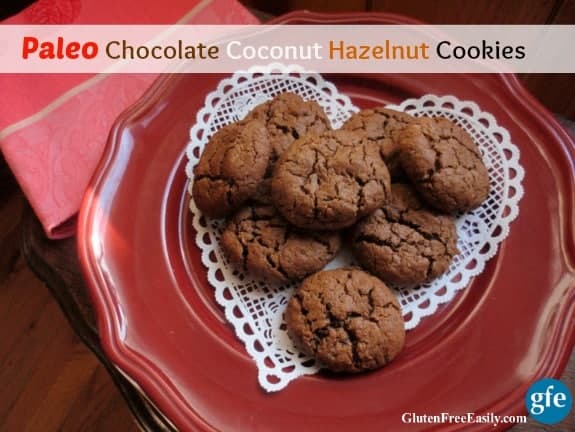 The ever appealing combination of chocolate and hazelnut with the sweet chewiness of coconut in one magical cookie!

Prep Time 5 minutes

Cook Time 8 minutes

Inactive Time 10 minutes

Total Time 23 minutes
Ingredients
1 large egg
½ cup almond butter (see notes)
½ cup shredded coconut
½ cup coconut sugar (or light brown sugar, packed; not paleo)
2 tbsp raw cacao powder (or cocoa powder)
½ cup hazelnut flour (almond flour can be substituted; see notes)
1 tsp baking soda
½ tsp vanilla extract
Instructions
Preheat oven to 350F.
In a large bowl, mix all ingredients together well. I use a wooden spoon to mix my cookies, breaking the yolk of the egg with the spoon right inside the mixing bowl and slightly beating it before stirring in the other ingredients. Mix well.
Form dough into 1-inch balls.
Places balls on ungreased baking sheets about 1 ½ to 2 inches apart. Press down/flatten cookies slightly with fingers.
Bake about 8 minutes. Cookies will look set, but not done.
Remove baking sheet from oven and allow cookies to sit for another 5 to 10 minutes. (This step is very important because cookies finish baking during this time and totally set up.)
Remove cookies for cooling.
Notes
Makes up to 16 cookies (2 to 2 ½ inches in diameter).

Homemade almond butter with allowed sweetener---or no sweetener---ensures this recipe is truly paleo.

Peanut butter or Sunbutter will work in place of almond butter, but will slightly change the overall flavor of these cookies. In my opinion, Sunbutter has a much stronger flavor than nut butter or peanut butter, so you might wish to add a bit more raw cacao powder or cocoa powder when you use that option.

The use of Sunbutter will take away from the more delicate chocolate hazelnut flavor combo. Peanut butter will do the same and the cookies will not spread as much. Plus substituting peanut butter means the cookies will not be paleo.

Almond flour can be substituted for the hazelnut flour but, of course, you'll miss out on the famous chocolate hazelnut flavor combo. Only use a finely ground almond flour like Honeyville (or make your own).

I don't recommend Bob's Red Mill; the results will not be the same as mine.Using unsweetened shredded coconut makes for a mildly sweet cookie. Using sweetened shredded coconut makes for a much sweeter cookie and, of course, results in a non-paleo version.

For a more decadent version of this cookie, feel free to add a small amount chocolate chips to your recipe. I'd recommend Enjoy Life mini chocolate chips or another brand that fits your dietary requirements.

Originally published January 13, 2015; updated March 12, 2021.