For affiliate links and as an Amazon Associate I earn from qualifying purchases.
Almost all of us love chocolate chip cookies and the inclusion of chocolate chips can turn a so-so recipe into a winner for sure, but I'll confess something. I don't always like having to keep chocolate chips on hand. They add to the grocery bill, are one more thing to remember to purchase, and they often get eaten alone—sans recipe—when I'm having a chocolate craving. Anyone else do that?
Plus, even with "healthier," "allergen-free" chocolate chips, I don't always feel great after I eat them. So I decided to look for another solution for today's Flourless Chocolate Cookies recipe to get my chocolate fix.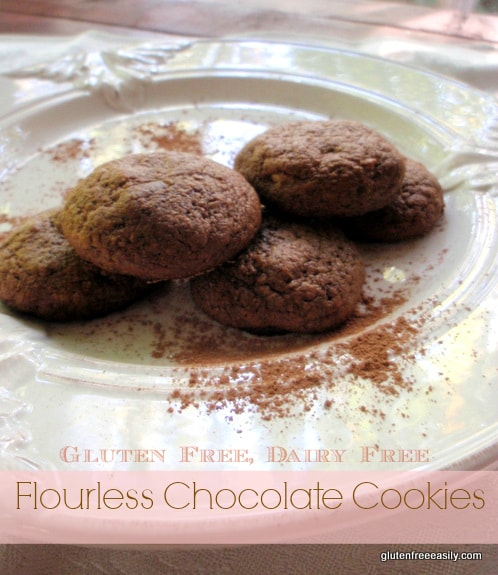 How could I make chocolate cookies without chocolate chips and make them easily? The solution was quite simple really. I just added some cocoa powder to my standby Flourless Peanut Butter Cookie (or Nut/Seed Butter Cookie) recipe to create Flourless Chocolate Cookies.
Either raw cacao powder or regular old Hershey's cocoa powder will do the trick. All it took was one tablespoon to add just the right amount of chocolate flavor when I made the recipe using almond butter.
I first made these cookies using almond butter and coconut sugar and shared them at our recent support group picnic and they were a big hit! They were especially loved by my friend and support group member Kathy who has been following the Paleo Autoimmune Protocol and is slowly reintroducing some foods, like nut butter. (You can find Kathy at Kickshaws Downtown Market.)
The next time I made them at home, I was making them with peanut butter but was a wee bit short—about ¼ cup—so I used ¼ cup packed almond flour to make up the difference. The resulting cookie was softer in the middle, a bit puffy if you will (I like Puffy Cookies), and was slightly less sweet but was honestly even more delicious. And very photogenic, too, I think!
Honestly, I'll be making this chocolate-fied recipe much more often now to get my chocolate fix. And I won't have to be sure if I have chocolate chips in my pantry.  I love that!
Did I mention that these cookies are naturally dairy free, too? Take a look at the recipe. These cookies will work for so many special diets, all the while giving you delicious chocolate cookies that truly lack for nothing!
Flourless Chocolate Cookies Recipe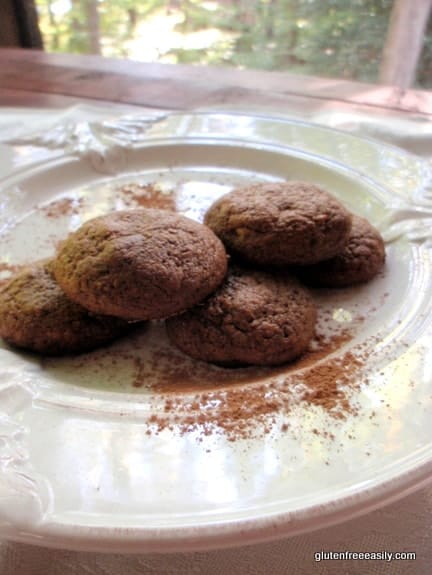 Yield:
Flourless Chocolate Cookies ... No Chocolate Chips Needed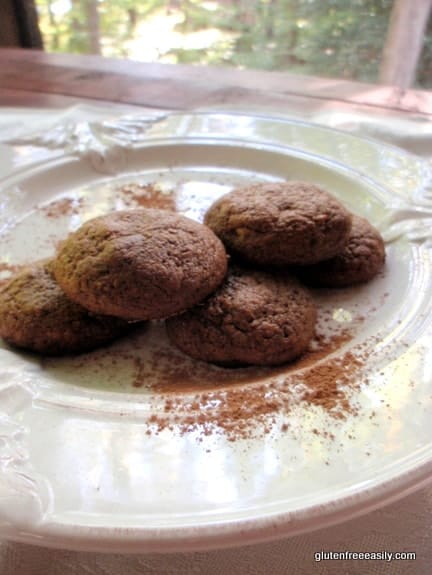 These Flourless Chocolate Cookies are made using cocoa instead of chocolate chips but they still provide rich chocolate flavor! Even if you're a lover of cookies made with chocolate chips, you'll love this recipe---especially when your chocolate chips have "disappeared"!
Instructions
Preheat oven to 350F degrees. In a large bowl, mix all ingredients together well.
Form dough into 1-inch balls.
Places balls on ungreased baking sheets. (Do not press down as in some traditional recipes. See exception in Notes.)
Bake about 8 minutes. Cookies will look set, but not done.
Remove baking sheet from oven and allow cookies to sit for another 5 to 10 minutes. (This step is very important because cookies finish baking during this time and totally set up.) Remove cookies for cooling.
Makes about 16 to 18 cookies.
Notes
The color/darkness of the cookies will vary according to whether or not nut, seed, or peanut butter is used, and if almond flour is added.
If using natural peanut butter, sometimes it's best to press down a bit before baking—with a fork or the bottom of glass—for them to spread enough. I don't press down when I use almond butter or homemade nut butter though, so you might want to experiment to see which method you prefer.
SunButter has a much stronger flavor than nut butter or peanut butter, so you might wish to add a bit more raw cacao powder or cocoa powder.
Brown sugar can be substituted for the coconut sugar.
For other variations, you can make "Nutella" Sandwich Cookies by spreading my homemade Double "Nut-ella" on the underside of one cookie and then pressing another cookie on top (method shown here in original version). Or you can make Cookie S'mores---one of my very faves!
When you're feeling really decadent, you might even want to add some chocolate chips to this new recipe for a super chocolate-y effect. IF you have chocolate chips on hand, that is!