This post may contain affiliate links. If you purchase through them, your cost will stay the same, but gfe will receive a few cents for every dollar spent. Thanks for supporting gfe!
You just hit the lottery. No, not the Powerball lottery, but the Power Ball  lottery. And you didn't even have to offer up any money. I give you the perfect sweet enough protein "power" treat—Paleo Power Balls! You see … my need for chocolate treat recipes sans chocolate chips (recently demonstrated by my Flourless Chocolate (Cocoa) Cookies) continues. And there's a new component. When I make chocolate treats without chocolate chips, I need some built-in portion control.
Extracting the last little bit of almond butter from my jar and adding in a few other simple ingredients, including cacao (or cocoa) powder, I easily created these Power Balls. Almond butter, cacao (or cocoa) powder, coconut flour, and honey make for Power Balls with a slightly bittersweet taste and creamy texture which I simply love.
I ate both of my Power Balls midafternoon and my chocolate and sweet cravings were satisfied. I loved that! But I think next time, I might just split up my treats … one for midmorning and one for midafternoon or maybe one for midafternoon and one for a late-night snack. Or maybe one for midafternoon and one for dessert after dinner. Hmmm, maybe there's just enough almond butter left in that jar … I feel more powerful just thinking about these Paleo Power Balls!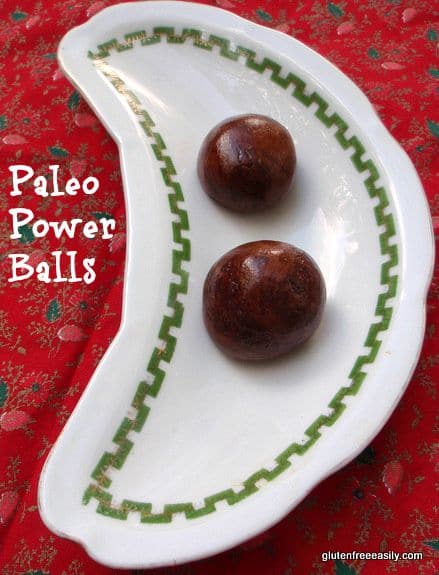 Paleo Power Balls Recipe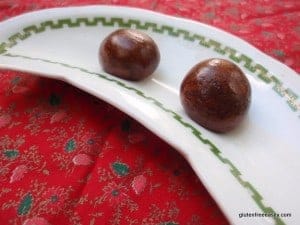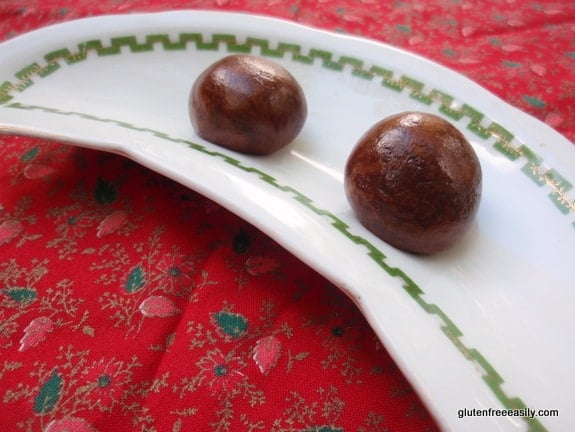 Print
Power Balls (Paleo, Vegan)
Ingredients
1 heaping tbsp almond butter
2 tsp raw cacao powder (or cocoa powder)
1 to 2 tsp coconut flour, sifted (more or less, as needed; see directions)
½ tsp raw honey (or other sweetener for vegan option--such as maple syrup, stevia, coconut sugar, agave nectar; adjust amount as needed)
Instructions
Using a small spoon, mix all ingredients together in a small bowl. Let sit about 2 minutes. See if you can easily roll the mixture into a ball. It should be only slightly sticky.
If the mixture cannot be rolled into a ball easily, mix in up to 1 tsp more coconut flour and let the mixture sit again for about 2 minutes.
Roll into two balls, each about the size of a nickel in diameter. Or make one larger than the other if you'll need more of power hit at one time of the day than the other.
Makes two balls. One serving.
Notes
I used barely filtered raw honey from our bees, so mine had some beeswax in it and, therefore, was thicker than most honey. Therefore, I only had to add one tsp of coconut flour, but with thinner honey and/or thinner almond butter, you'll need more coconut flour to get the right consistency.