For affiliate links and as an Amazon Associate I earn from qualifying purchases.
These gluten-free Fluffy Puffy Almond Butter Cookies were created by my friend and support group member Ariel. She graciously gave me permission to share and/or adapt her recipe long ago. (Thank you again, Ariel!)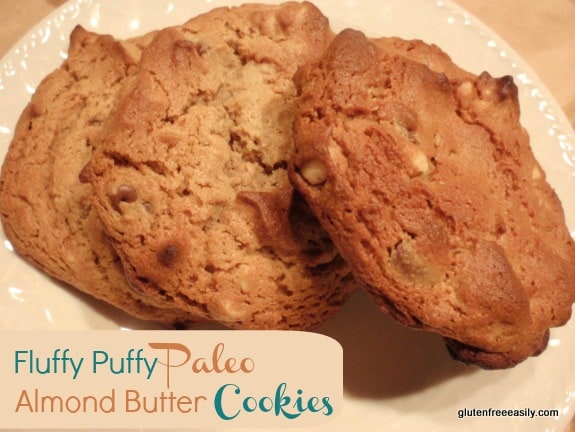 When Sunny of And Love It, Too! announced her theme for this month's Go Ahead Honey It's Gluten Free event—Primal Travel Food— I immediately thought of these cookies because they're not only gluten free, they're also grain free, dairy free, refined sugar free, and fit the paleo/primal category.
I've often seen big cookies in airport gift shops, but they were always gluten-full. With this recipe, we can all easily make our own big cookies to take along on all our trips!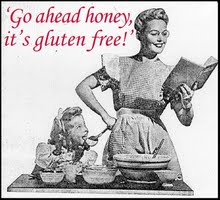 Let's face it … big cookies are fun and it's much easier to carry along a dozen of these healthy big cookies than it is a tin full of average-sized cookies.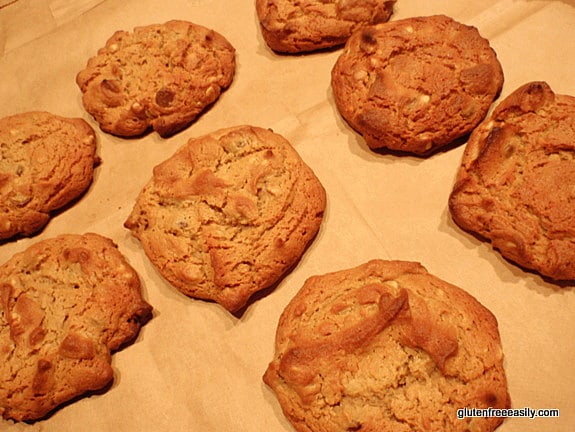 As written, these cookies are only mildly sweet. Personally, I think that's a good thing, but if you like your cookies sweeter, see notes on easy ways to modify this recipe.
Here's the recipe for you! Be sure to check out all the entries here in Sunny's roundup post!
Yield: 12 cookies
Paleo Fluffy Puffy Almond Butter (or Sunbutter) Cookies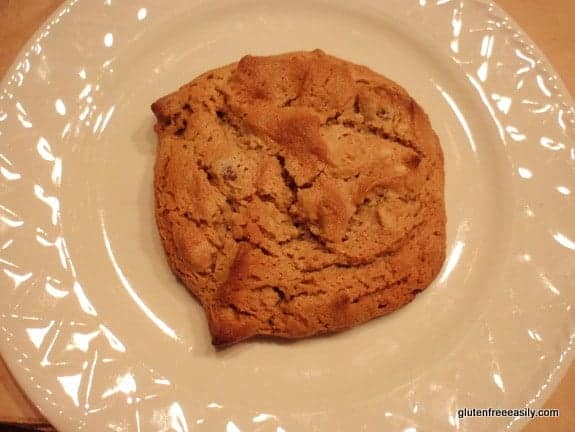 Know those big cookies that are often sold in bakeries and airport gift shops? They're never gluten free but now you can make your own--these gluten-free Fluffy Puffy Almond Butter Cookies (or a Sunbutter version) to enjoy at home or take on the road/plane!
Ingredients
1 cup almond butter (and/or sunbutter; I used a combination of almond butter and sunbutter)
1/3 cup raw honey (see notes)
1 large or extra large egg
1 1/2 tsp baking soda
2 tbsp coconut flour (sifted]
1/4 cup Enjoy Life chocolate chips; optional
Instructions
In large bowl, mix almond butter, honey, egg, and baking soda thoroughly.
Mix in coconut flour.
Mix in chocolate chips and/or nuts of choice, if used.
Drop by heaping tablespoons onto baking sheet leaving plenty of room between each.
Bake at 350 degrees Fahrenheit for 9-10 minutes or until cookies appear done and are golden brown.
Let cookies sit on baking sheet 10 minutes before removing to cool.
Notes
If you like your cookies sweeter, add a tad more honey, a few more chocolate chips, or one dropper full of liquid stevia. Makes about a dozen cookies each about 3 1/2 inches in diameter.
Note that your fluffiness and puffiness "mileage" may vary according to brand of almond butter and freshness of almond butter (or sunbutter).
Also, if you're subbing in Sunbutter for almond butter, it's important to know that there is a known reaction that can occur between Sunbutter and baking soda, which can cause the inside of baked goods made with these ingredients to turn green. The chlorophyll in the sunflower seeds/Sunbutter creates a chemical reaction with the baking soda and results in the green color. I've read that adding a very small amount of lemon juice or apple cider vinegar to the recipe can keep that from happening without changing the taste/texture, but I haven't personally tried that. Reducing the amount of baking soda by about half can also prevent the green coloring, but then these cookies wouldn't be as puffy and I'm not sure what the exact results would be as I haven't tried that myself. (You can ignore the green results and/or serve them for St. Patrick's Day, Halloween, etc.) Update: One reader did share that she used 3/4 tsp baking soda and 1/2 tsp baking powder and that successfully kept her cookies from greening, plus she had to bake the cookies an extra 5 minutes due to those changes, but she said they were still nice and fluffy.
Originally published June 29, 2013; updated February 9, 2020.