For affiliate links and as an Amazon Associate I earn from qualifying purchases.
Today is World Nutella Day. So I thought it was time to update this post and remind you of this version of Nutella that I created a few years back. Double Nutella Chocolate Hazelnut Almond Spread.
I admit it. I'm a Chocolate Hazelnut Spread, aka Nutella, lover. But here's the thing, while Nutella is gluten free, it is not dairy free. I know that I need to eat dairy free as much as possible.
Plus, Nutella is not exactly health food either. The specifications/ingredients per its manufacturer, Ferrero, are as follows:
Over 50 Hazelnuts per 13 oz. Jar

• Contains No Artificial Colors
• Contains No Artificial Preservatives

Ingredients: sugar, palm oil, hazelnuts, cocoa, skim milk, reduced minerals whey (milk), lecithin as emulsifier (soy), vanillin: an artificial flavor.
And no matter how much I have thought that I would be wise and eat in moderation when I have opened a jar of Nutella in the past, that has simply never happened. Never ever. Are you with me on that?
Okay, maybe it has happened when I was using Nutella to make Flourless Peanut Butter Nutella Sandwich Cookies for an event. That's forced self-control in that case, but otherwise, I have had no willpower once I've opened a jar of Nutella.
It is most likely because of that very first ingredient, the one that makes up 55% of Nutella … sugar. Ah, that addictive sugar. Clearly, the hazelnuts and cocoa—as in "chocolate hazelnut"—only come in by weight as the third and fourth ingredients. Note that Ferrero pointed out that there were "No Artificial Colors" and "No Artificial Preservatives," but they didn't say, "Oh, there are artificial flavors." Sure, one can read the label, but I just want to point out the marketing strategies used. And do your own research on vanillin and whether you want to consume it (especially if you suffer from migraines). Vanillin is at the least a semi-synthetic, which actually contains no vanilla extract, and at the worst, it contains other ingredients you may wish to avoid.
So you know where this is going. I wanted to make my very own Chocolate Hazelnut Spread; i.e., my own homemade version of Nutella, a healthier one that contains more of the real food ingredients that one would expect, and I did, but let me tell you how that happened. The kind folks at Nuts.com sent me a sample of their flours—almond, chestnut, and hazelnut—quite some time ago. Life got busy and while I tested the flours out in a few of my usual recipes and even for this adoption post where I made Nut Butter Banana Chocolate Chip Muffins, I didn't get to the "playing around"/recipe creation that I wanted to do. Until this weekend.
Finally, yesterday I took an idea that had been planted in my head by a blogger friend, Jules (GF Jules). I brought that idea to life in the creation of this Double Nutella; i.e., Homemade Chocolate Hazelnut Almond Spread. Jules' words were: "Be careful when grinding almonds or other nuts, as over-processing will quickly take flour/meal to nut butter!"
Now I've seen many recipes for homemade "Nutella," Chocolate Hazelnut Spread, over the years. All required starting with hazelnuts. Okay, that makes sense, right? But I didn't have hazelnuts and I didn't particularly want to order them online, roast them, rub the skins off, and process them into hazelnut butter.
That process seemed way too laborious to me. I know … I can be lazy and, admittedly, I might have felt differently if I could have picked up a pound at my local grocery store. ("Might" being the operative word there.)
But I did have hazelnut flour from Nuts.com … hazelnut flour + the idea planted from Jules' word of caution = Eureka! Yes, I finally realized that I could start with the hazelnut flour versus hazelnuts. Oh my goodness, making homemade Nutella-style spread using hazelnut flour was sooo much easier than the alternative!
And it's good! I added a small amount of ready-made almond butter to aid in the creaminess and make the hazelnut flavor a bit less pronounced. Now to be clear, my Chocolate Hazelnut Almond Spread does not have the processed creaminess or same "liquidity" of Nutella or even exactly the same flavor, but I really like the rich flavor that it does have and I'm totally fine with the more primitive texture.
Plus, I love the real food ingredients in this version. And, hey, it's lasted two days so far—that's a new record! Without the sugar and with the rich and filling cacao combined with the nut butters, this spread is so filling. A little truly goes a long way!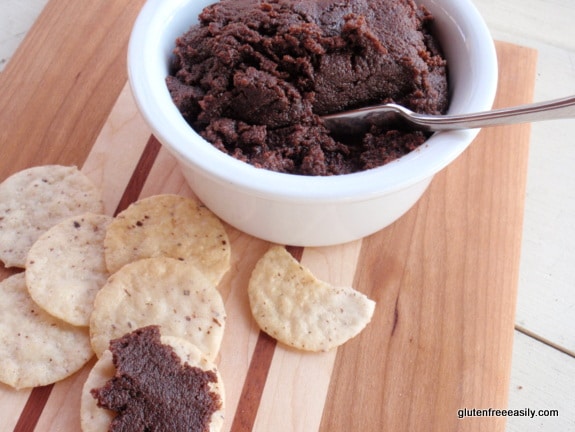 Mr. GFE tried it and I asked for his assessment. While the loaded cracker (my go-to brand) was still in his mouth, I got the mumbled "Good." A few seconds later, his assessment was "Very good." Then he stated, "First, you get the crunchiness and saltiness of the cracker and then you get the rich hit of chocolate. Nice."
Then he proceeded to give me a little explanation on how we experience different tastes via different areas of our tongue and added that there is a tongue map. Uh, that sounded very impressive, but, sorry, Mr. GFE, it turns out that is a myth.
A longstanding myth and one perpetuated in school textbooks, but a myth nonetheless. I looked it up. And thank goodness it is a myth and I can taste this Double Nutella—Chocolate Hazelnut Almond Spread—on every part of my tongue!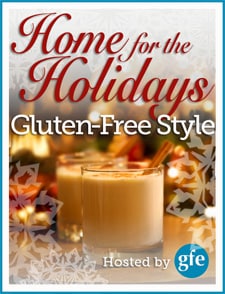 Last, I wanted to let you know that this post is part of this year's Home for the Holidays event. This year's event will be quite a bit different from last year's "over-the-top" and oh, so wonderful event. That one included over 20 amazing gluten-free bloggers and you will definitely want to check out the recipes that mean "home" and "holidays" for them, just re-created to be gluten free.
This year it will just be me sharing recipes and recipe roundups, reviews and giveaways of fantastic cookbooks and resource books, and even a very few giveaways of trusted products. Oh, and anything else that I decide to throw in the mix!
In addition to my recipe, to give you lots of choices on how you make your Chocolate Hazelnut Spread, I'm sharing links to six more fabulous dairy-free recipes for "Nutella" from some of my favorite bloggers below. (There's even one that is nut-free!) Any of these would make a wonderful addition to your holiday table. (Photos—as always—are shared with permission of the originators.)
My quick review of Nuts.com's flours: I found their flours to be very finely ground and top quality, as good as any others that I have purchased. I really like their packaging as you can use the super-grip, zipper-seal feature on these bags of flour and know without a doubt that your flour is 100% sealed! Their products arrive very promptly. Note that all their products are "Packaged in the same facility as peanuts, tree nuts, soy, and milk products." Finally, Nuts.com was founded in 1929 and is still owned and operated by the same family; that's unusual and pretty cool in this age.
More Amazing Nutella Recipes from Friends
~ Alea's (Premeditated Leftovers) Nut-Free Nutella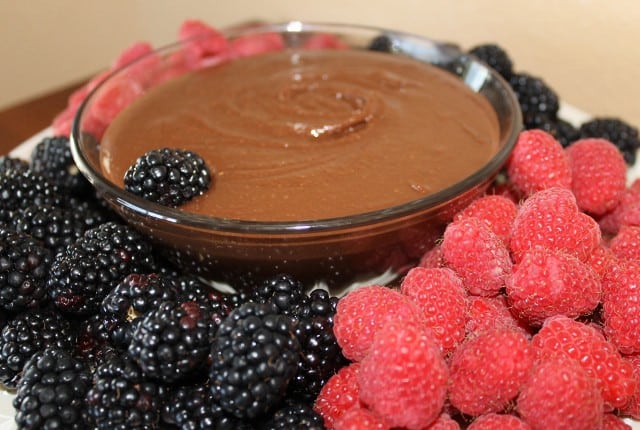 ~ Carolyn's (All Day I Dream About Food) Keto Nutella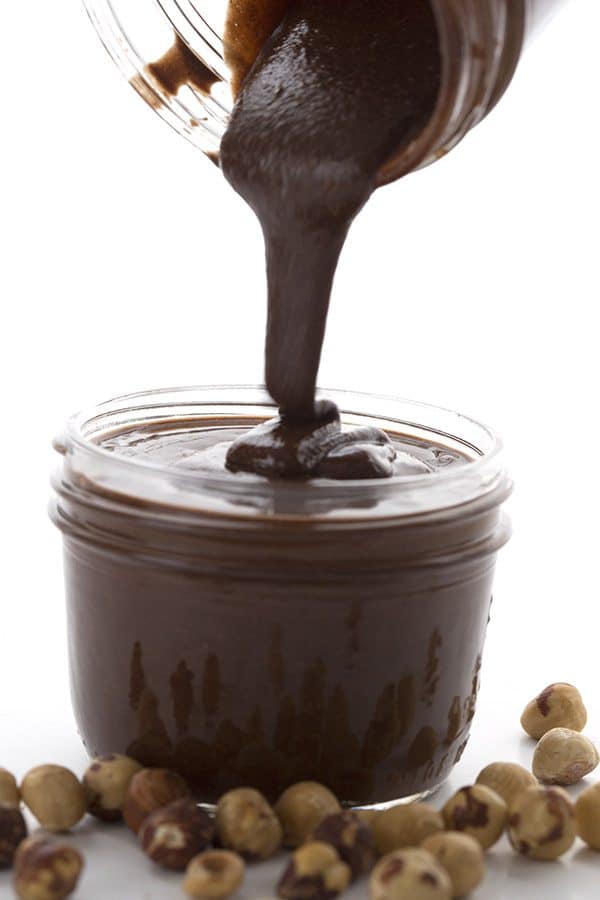 ~ Elana's (Elana's Pantry) Chocolate Hazelnut Spread, aka Homemade Nutella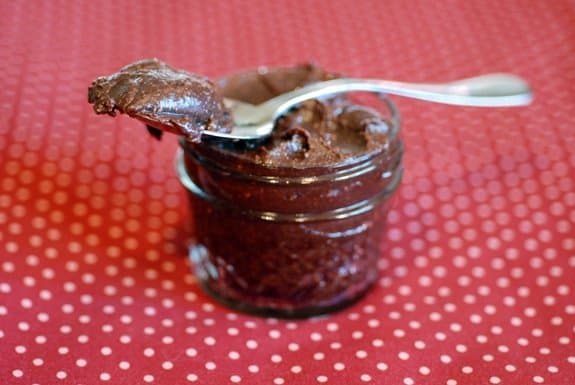 ~ Kelly's (The Spunky Coconut) Chocolate Hazelnut Spread (Homemade Nutella)
~ Tessa's (Tessa, The Domestic Diva) Homemade Keto Nutella (Paleo)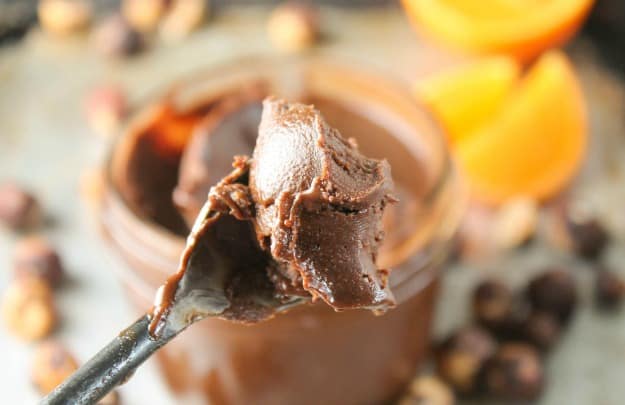 ~ Winnie's (Healthy Green Kitchen) Homemade Nutella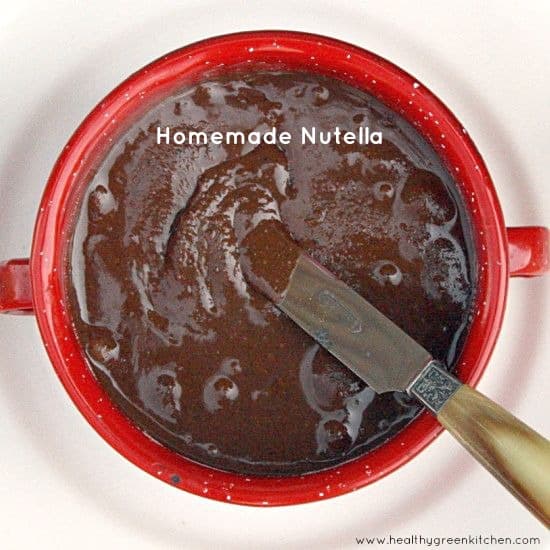 My Double Nutella Chocolate Hazelnut Almond Spread Recipe
Yield: About 2 cups
Double Nutella (Homemade Chocolate Hazelnut Almond Spread)
It's so easy to make your own version of Nutella---and you get to control the ingredients! I call mine Double Nut-ella because it uses both hazelnut and almond ingredients.

Prep Time 10 minutes

Total Time 10 minutes
Ingredients
2 cups hazelnut flour (not packed, just spooned into measuring cup and leveled off; it's easy to make your own)
1/3 cup raw honey (we raise honeybees! )
¼ cup cocoa powder (or raw cacao powder)
2 tbsp plus 1 tsp oil (I used a mixture of grapeseed oil] and [coconut oil; use coconut oil for a raw recipe)
1 tbsp plus 1 tsp almond butter (I used this one)
About 2 tbsp dairy-free milk (optional; see notes)
Instructions
Add hazelnut flour, cocoa powder, and honey to food processor. Process on high for about a minute.
Remove top of food processor and scrape sides.
Add oil, almond butter, and milk (if desired). Process for about 4 more minutes on high. Stop every minute or so to scrape sides to ensure all ingredients are fully incorporated.
Notes
I have an ancient food processor and I'm not sure that that my instructions on speeds and times will work the same for your own food processor, but I don't think you can mess this recipe up too much. Because one starts with hazelnut flour versus hazelnuts, I suspect that even a mini-food processor or perhaps even a blender will work, but I haven't tried those methods yet.

I did not add any dairy-free milk when I made this recipe, but after sitting in the refrigerator overnight, some additional liquid was needed. I added some full-fat coconut milk, just stirring it in by hand. But you're free to add dairy-free milk when you make this recipe, omit it, or add it later, if needed.

Similarly, you might decide you need less or different oil. The oil does settle a bit in the spread after time and the mixture needs to be stirred, but I didn't find that to be a problem for me. I'd like to try using extra virgin olive oil next time as I usually love that in combination with chocolate.

Full disclosure: The nut flour reviewed in this post and provided for the giveaway were provided free of charge from Nuts.com. However, the opinions expressed here are strictly my own.
Originally published December 2, 2012; updated November 28, 2021.