For affiliate links and as an Amazon Associate I earn from qualifying purchases.
We're now over halfway through March Muffin Madness (MMM) and it just keeps getting better! Gluten-Free Blueberry Muffins with Sugar Crunch Topping are on the agenda today.
Yum … blueberry muffins … and sugar crunch topping. Take a look!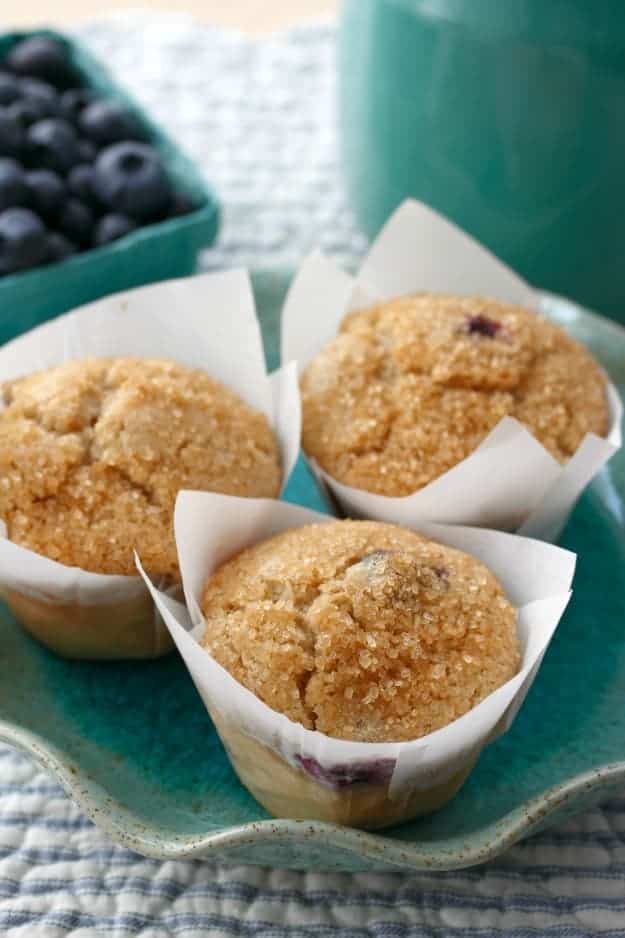 Read on to get the gluten-free Blueberry Muffins with Sugar Crunch Topping recipe, learn more about the person who created this recipe (and the inspiration for these muffins), get the lowdown on this person's allergy-free cookbooks, and, of course, get in all your entries for the overall grand prize giveaway.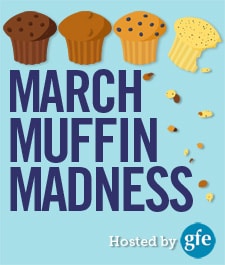 See the whole lineup of bloggers, blogs, and muffin recipes here.
Learning To Eat Allergy Free   

Colette Martin blogs at Learning To Eat Allergy Free and calls herself the Allergen-Free Baker. In her first book, Learning To Bake Allergen Free, Colette shared how she entered the allergy-free world.
Her son was diagnosed with eosinophilic esophagitis and multiple food allergies (wheat, milk, soy, egg, and peanuts) at the age of 10 in 2001. Later, she discovered that she herself had a few food intolerances.
Those of us who are gluten free know how many ready-made foods are removed from our diets with our diagnoses. Adding in four more foods that one has to strictly avoid takes pretty much everything "off the table" that's traditionally there when grocery shopping and dining out.
Colette accepted the challenge in feeding her son to keep him well, of course, because that's what moms do when faced with such obstacles for their children. She learned to feed her family allergy free and went on to use what she learned to become an advocate in the allergy-free community, writing her two cookbooks (to include the info and recipes that she wishes that she'd had when her family's journey began) and serving on the board of allergy organizations.
She's currently on the board of the Asthma and Allergy Foundation of America (AAFA) and speaks and writes for numerous allergy-free resources. 
Gluten-Free Blueberry Muffins with Sugar Crunch Topping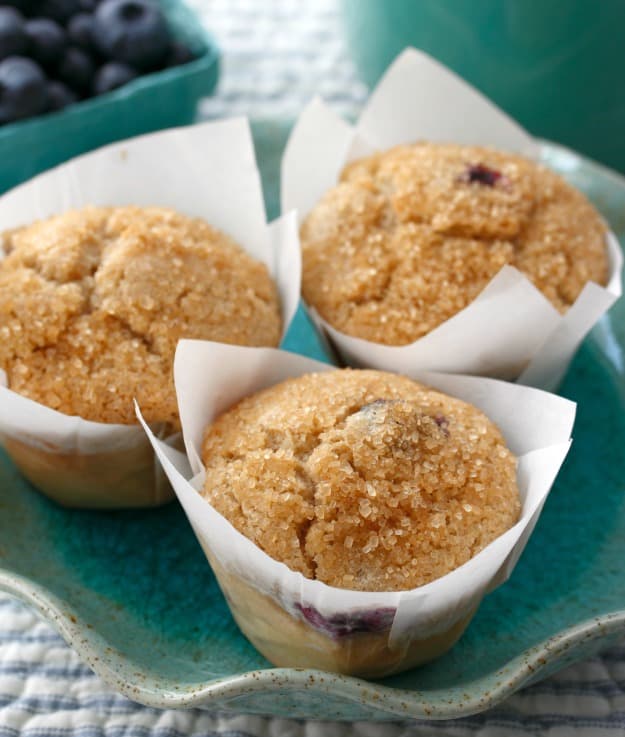 Yield: 12 muffins
Gluten-Free Blueberry Muffins with Sugar Crunch Topping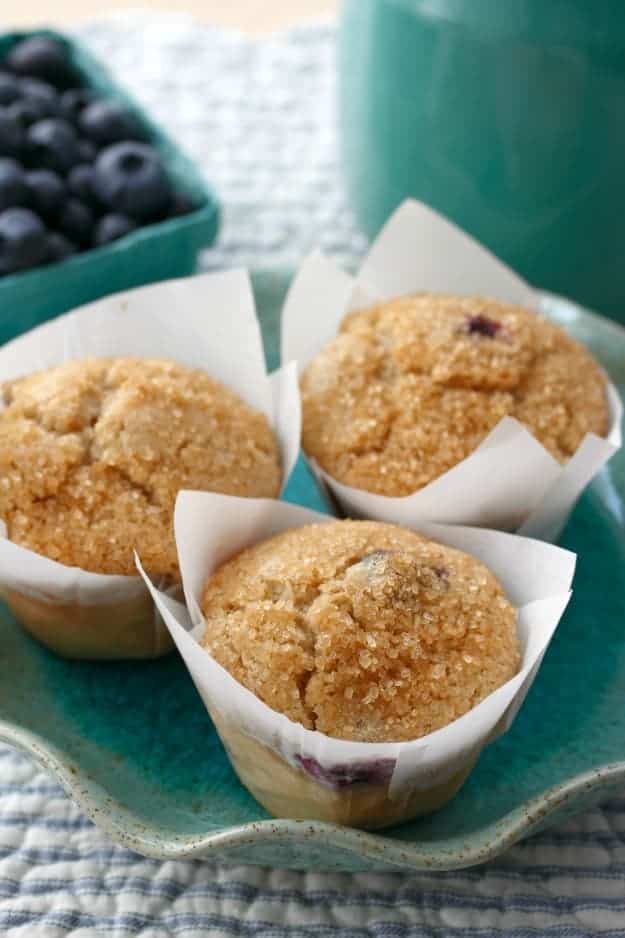 Colette says: "I sometimes dream of blueberry muffins that came from a department store in Rhode Island, where I spent my early childhood. Those luscious muffins had enormous tops covered with sugar that crunched when you bit into them but the large juicy blueberries inside what were truly made them special. These muffins are fabulous when blueberries are in season but also work quite well with frozen blueberries. The raw sugar is what gives these muffins a crunchy top."
Ingredients
2 cups gluten-free flour blend
½ teaspoon xanthan gum (leave out if your flour blend contains xanthan gum)
½ cup granulated sugar
4 tsp baking powder
1 tsp salt
8 tbsp (1 stick) Earth Balance Natural Shortening, melted (see notes)
½ cup flaxseed gel (equal to 2 eggs)
1 cup original hemp milk
1 tsp vanilla extract
¾ cup blueberries (see notes)
¼ cup raw sugar
Instructions
Preheat the oven to 350F. Spray a muffin tin with cooking oil.
Mix the flour, xanthan gum (if needed), granulated sugar, baking powder, and salt together in a medium bowl. Set it aside.
Combine the melted shortening, flaxseed gel, hemp milk, and vanilla extract together in a large bowl, with a mixer on medium-low speed, for about 1 minute.
Gradually add the flour mixture to the wet ingredients. Blend on medium-high speed, about 2 minutes, until the batter is smooth.
Mix in the blueberries by hand. Spoon the batter evenly into the cups of the muffin tins.
Sprinkle about ¾ teaspoon of the raw sugar on the top of the batter in each muffin cup.
Bake for 28 to 32 minutes.
Notes
Reprinted from Learning To Bake Allergen Free with permission from Colette Martin.
Be careful not to overheat the shortening when melting in the microwave. Microwave it for 30 seconds, then for 10-second spurts until the shortening is just liquefied.
If using frozen blueberries, thaw them for a couple hours and then drain before using.
More Gluten-Free Recipes (and More) from Learning To Eat Allergy Free That You Should Check Out
~ Avocado Chickpea Quick Bread
~ Coffee Cake (a recipe from Learning To Bake Allergen Free)
~ Dairy-Free Ice Cream Pie for Pi Day
~ Five Things I Learned About Eosinophilic Esophagitis at The Food Allergy Bloggers Conference
~ Flaxseed Mayo (a recipe from The Allergy-Free Pantry)
Today's Giveaway
Update:  All the giveaways are now closed. Congratulations to the winners and thanks to all who participated!
~ Cookbooks:
Colette's cookbooks:
Learning to Bake Allergen Free: A Crash Course for Busy Parents on Baking Without Wheat, Gluten, Dairy, Eggs, Soy, or Nuts (1 copy, sponsored by gfe)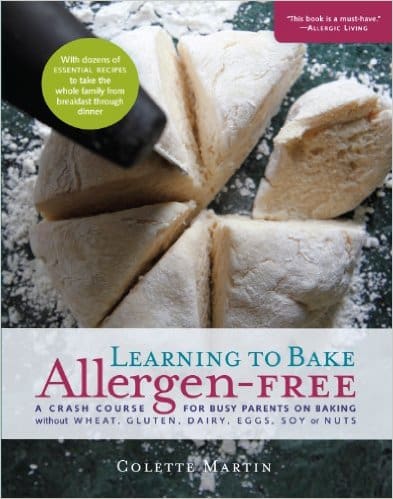 and
The Allergy-Free Pantry: Make Your Own Staples, Snacks, and More Without Wheat, Gluten, Dairy, Eggs, Soy, or Nuts (1 copy, sponsored by gfe)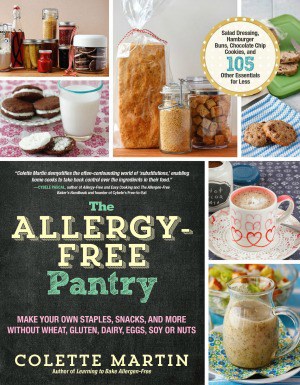 I think the titles for Colette's cookbooks (as well as some of the sample recipes shared or mentioned above) really give you a feel for what they're all about but feel free to "Look Inside" on Amazon by clicking on the cover images on the left side of their Amazon pages.
~ Baking Ingredient:
Turbinado Raw Sugar (2 lbs) (1 winner)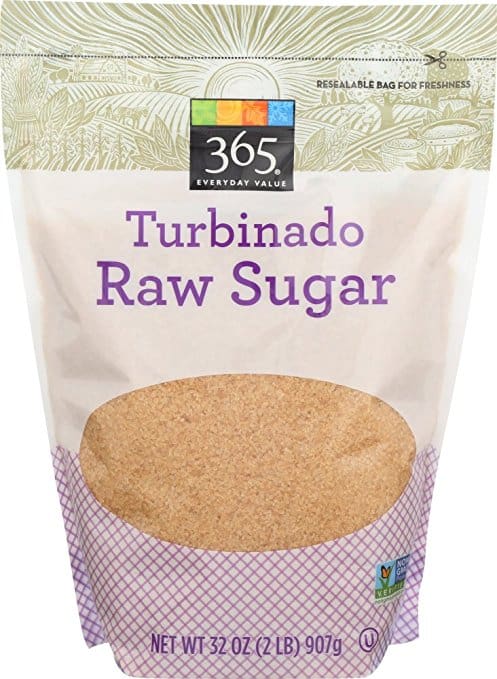 Raw sugar, also known as turbinado sugar, is unprocessed and, therefore, has coarser grains than typical granulated sugar. It's exactly what you need to deliver the "crunch topping" in today's muffin recipe. (Note that brand shipped may be different than what is shown depending upon availability at time of giveaway drawing.)
Grand Prize Giveaway
See all 10 prizes here. Shown are the top six prizes (per monetary value—they're all tops in my opinion). Again, this giveaway is open to everyone, everywhere!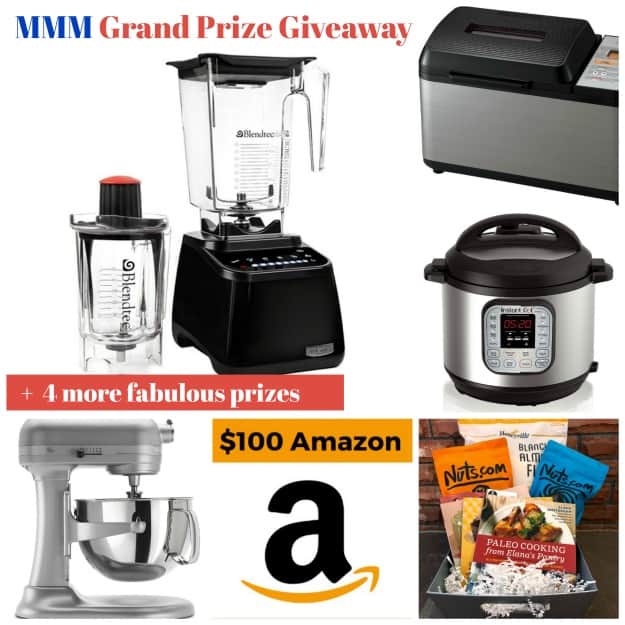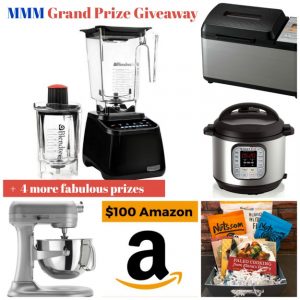 Originally published April 1, 2018; updated September 24, 2018.