For affiliate links and as an Amazon Associate I earn from qualifying purchases.
I mentioned the amazing Harvest Your Health Bundle at the beginning of the week. (Note that this offer is no longer available.) Today I'm sharing two recipes from two of the ebooks that are included in the bundle.
The first is Crockpot Cheesy Sausage Potatoes (shown above) from Stacy Myers' (Humorous Homemaking) Crock On book.
The second is Asparagus Fries from The Veggie Book by Danielle Tate, Debra Worth, Sara Shay, and Kayla Grey. Both recipes look and sound wonderful and would certainly be welcomed in the gfe household!
Many thanks to Stacy, Danielle, Debra, Sara, and Kayla for so graciously sharing their Crockpot Cheesy Sausage Potatoes and Asparagus Fries recipes, respectively, with gfe and being part of this event!
More Favorite Gluten-Free Potato Recipes and Asparagus Recipes
~ Bombay Potatoes and Chickpeas Tomato Curry
~ Chicken and Asparagus with Three Cheeses (ensure your chicken stock is gluten free)
~ Crockpot Mashed Potatoes (and the dairy-free version)
~ Prosciutto-Wrapped Asparagus
~ Quick and Easy Pan-Baked Potatoes
~ Scalloped White and Sweet Potatoes
~ Skillet Scalloped Potatoes with Ham and Peas
Cheesy Sausage Potatoes (Slow Cooker) Recipe
Yield: 5 - 6 servings
Slow Cooker Cheesy Sausage Potatoes
The sausage along with the cheesy sour cream sauce make this slow cooker potato dish something special! If you're a fan of sausage gravy, I think you will especially love this recipe. In fact, this recipe gives you the base to make some additional gravy.
Total Time
6 hours
10 minutes
Ingredients
1 pound ground sausage
6 cups potatoes, chopped into 2-inch chunks (with or without the peel – I leave the peel on)
2 cups sour cream
1 cup shredded cheese (plus more for serving)
one 4-ounce can diced green chilies
½ teaspoon chili powder
1 teaspoon salt
Instructions
Brown sausage in a skillet. Drain. Transfer to a 4-5 quart greased crock pot. Add potatoes, sour cream, 1 cup cheese, chilies, chili powder, and salt. Stir.
Cover and cook on low for 6-8 hours or until potatoes are fork tender. Serve with slotted spoon. Sprinkle each individual serving with shredded cheddar cheese.
Notes
There will be a good amount of juice left in the bottom. You can discard it or thicken it with cornstarch or sweet rice flour to make "gravy."
You can prep the potatoes the night before. Place in a bowl and cover with water. Refrigerate until needed.
We like this as a breakfast-dinner, aka "brinner." Leftovers can be reheated the next morning for breakfast.
Asparagus Fries Recipe
Yield: 3 - 4 servings
Asparagus Fries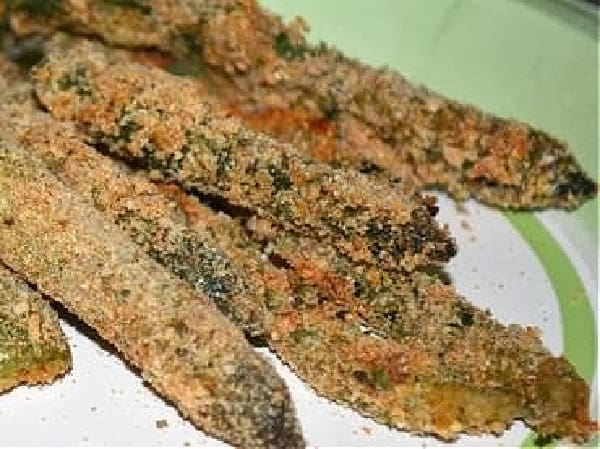 True asparagus lovers enjoy cooked asparagus in the simplest form but this delicious breaded asparagus will make them happy and possibly make the asparagus skeptics among us asparagus lovers!

Prep Time 10 minutes

Cook Time 15 minutes

Total Time 25 minutes
Ingredients
10-12 asparagus spears
2 eggs, beaten
½ teaspoon salt
½ teaspoon pepper
1 teaspoon parsley
Instructions
Trim off the root end of your asparagus and cut each spears in half. If you have spears that are thicker than others you may want to cut them in half length-wise to ensure even cooking.
Place eggs, beaten in a small bowl.
In a separate bowl or plate mix together your salt, pepper, parsley and bread crumbs together.
Dip spears into egg mixture and then breadcrumbs.
Place on greased pan and bake at 375° for 15-20 minutes until desired tenderness is reached.
Notes
There's also a wonderful dipping sauce in The Veggie Book to go with these Asparagus Fries .

Originally published October 10, 2013; updated May 16, 2022.